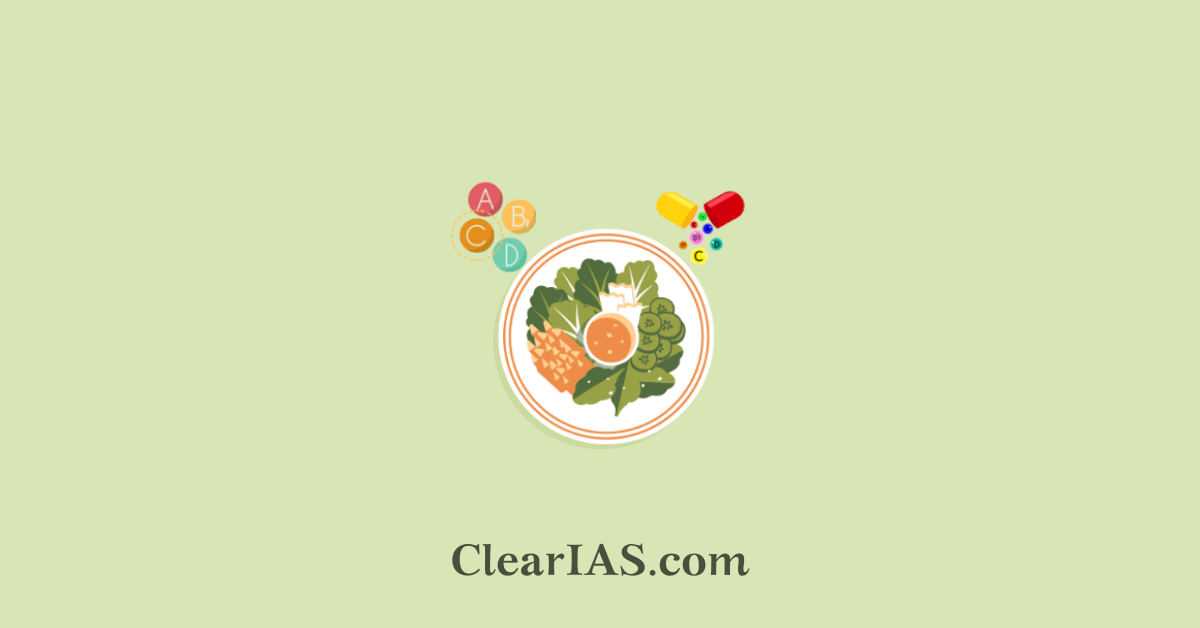 Food fortification is a key step in addressing the nutritional gap globally. Fortifying staple foods and condiments with essential micronutrients is proven to be an efficient way to address deficiencies in the populace. Read here to learn more about food fortification.
The Food Safety and Standards Authority of India's (FSSAI)'s Food Fortification Resource Centre (FFRC) has reported that over 70% of India's population consumes less than half the daily recommended dietary allowance of micronutrients.
These deficits are widespread among populations in metropolitan India as well as among women and children from rural areas.
Fortification is essential in closing the nutrition gap since a portion of the population has limited access to nutrient-rich foods.
What is food fortification?
Fortification is the practice of deliberately increasing the content of one or more micronutrients (i.e., vitamins and minerals) in food or condiment to improve the nutritional quality of the food supply and provide a public health benefit with minimal risk to health.
Adding micronutrients can help restore the micronutrient content lost during processing in addition to boosting the nutritional value of staple meals.
It can be used to treat a proven micronutrient deficiency in the whole population (mass or large-scale fortification) or in particular demographic groups (targeted fortification), such as children, pregnant women, and those who get benefits from social protection programs.
Point-of-use fortification is the technique of adding vitamins and minerals to foods immediately before they are consumed at home, in schools, or in childcare facilities.
Micronutrient deficits can be prevented, reduced, and controlled with the use of fortification, an evidence-based strategy.
In addition to the micronutrient deficiencies, policies, and implementation programs for fortification need to consider an alignment with policies for the reduction of diet-related noncommunicable diseases.
Such is the case of salt iodization, which builds on sodium consumption and, as a result, needs to consider strategies for sodium intake reduction.
Need of fortification
Over two billion people worldwide, including women and children, lack access to the micronutrients necessary for health and survival.
One of the main causes of the lack of essential micronutrients for human development, including iron, folic acid, vitamin A, and iodine, is a poor diet and limited availability of nutrient-rich foods.
To address some of the most prevalent micronutrient deficiencies, large-scale food fortification of the basic meals and condiments individuals consume most often is a proven, sustainable, and economical option.
Since the early 20th century, industrialized countries have included food fortification, which has contributed to the eradication of diseases caused by nutrient deficiencies in high-income countries.
However, its effectiveness in low- and middle-income countries has been somewhat constrained.
Advantages of fortification
To address micronutrient deficiencies, food fortification is a tried-and-true, durable, affordable, and highly successful approach.
Staple foods such as wheat flour, maize flour, rice, oil, pulses, and salt can be fortified with micronutrients, including iron, folic acid, vitamin A, iodine, and others, without affecting taste, texture, or color and with a negligible cost to the consumer.
The folate level of women is improved through mandatory folic acid fortification of staple foods, significantly lowering their chance of becoming pregnant and having children with neural tube abnormalities.
Fortified foods have helped to reduce rates of nutrient deficiency-related illnesses like rickets.
Fortified foods can help maintain healthy micronutrient levels to keep your bones strong, help your digestion, and prevent heart issues.
Fortified foods can boost children's nutrition, alongside a balanced diet., as children are at greater risk of nutritional deficiencies than adults.
Fortified foods help make sure you get enough nutrients if you're vegetarian or lactose-intolerant or have other dietary needs.
Limitations of fortified food
Fortified foods are usually heavily processed. They're often high in sugars, fats, sodium, and other ingredients that can lead to problems like obesity.
There is a risk of an overdose of vitamins and minerals in the diet which can be harmful, especially if supplements are also being taken.
Also, according to experts, men can have side effects of excess iron in their system as they do not expel it as women do during menstruation. An increase in serum ferritin levels is associated with an increased risk of chronic diseases like diabetes and hypertension.
People with thalassemia and sickle cell anemia are advised not to consume iron-fortified food products.
Global stand on Food fortification
The World Health Organization recommends large-scale food fortification as a powerful evidence-informed and cost-effective intervention to fight vitamin and mineral deficiencies, including iodine deficiency disorders, anemia, and iron deficiency, among others.
Recommendations in all settings include:
Universal salt iodization
Fortification of maize flour, corn meal, wheat flour, and rice with vitamins and minerals.
For children living in different settings:
micronutrient powders containing iron for point-of-use fortification of foods for infants and young children 6–23 months old or children 2–12 years.
Mandatory food fortification occurs when governments legally oblige food producers to fortify particular foods or categories of foods with specified micronutrients, providing high certainty over time that they will contain a predetermined amount.
Voluntary fortification occurs when a food manufacturer freely chooses to fortify particular foods in response to the permission given in food law as a means to increase their brand value.
Globally, mandatory regulations are most often applied to the fortification of food with micronutrients such as iodine, iron, vitamin A, and folic acid. Of these, the iodization of salt is the most widely implemented globally.
Food fortification in India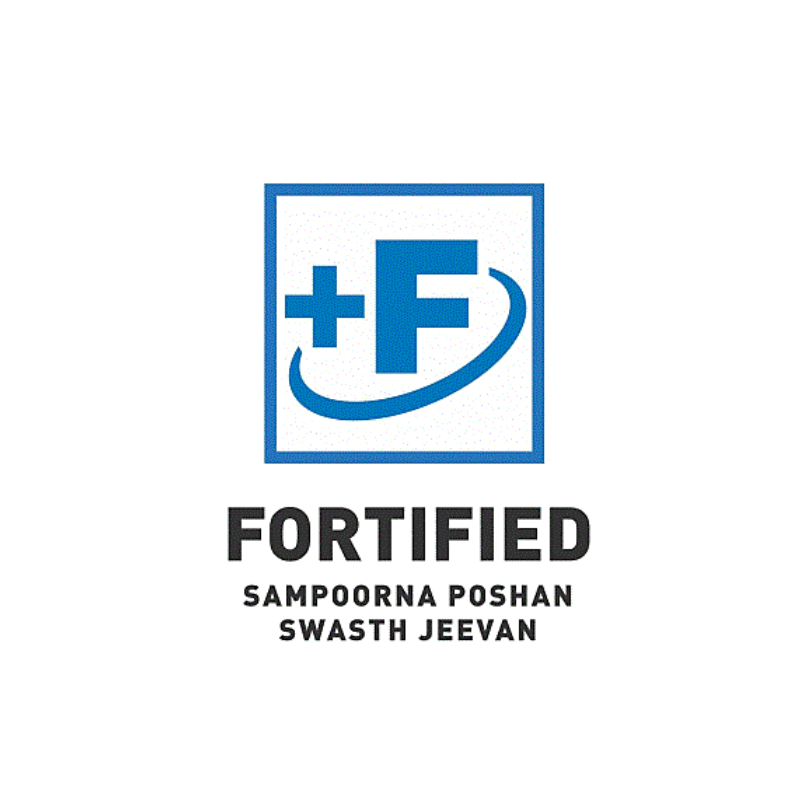 In India, food fortification started in the 1950s with salt iodization and the fortification of vegetable oil.
After a 60-year gap between global evidence, the government fortified other commodities including rice and wheat in the 2000s.
In 2016, FSSAI operationalized the Food Safety and Standards (Fortification of Foods) Regulations, 2016 for fortifying staples namely Wheat Flour and Rice (with Iron, Vitamin B12, and Folic Acid), Milk and Edible Oil (with Vitamins A and D) and Double Fortified Salt (with Iodine and Iron) to reduce the high burden of micronutrient malnutrition in India.
The '+F' logo has been notified to identify fortified foods that were developed by the Food Fortification Resource Centre.
In 2018, Food Safety and Standards (Fortification of Foods) Regulations were notified for the same.
The Centre also issued new mandates to use fortified staples in safety net programs, such as double fortified salt (DFS) and fortified edible oil through mid-day meal (MDM) and Integrated Child Development Schemes (ICDS).
Rice fortification
Fortification is the process of adding Fortified Rice Kernels (FRK), containing FSSAI-prescribed micronutrients (Iron, Folic Acid, Vitamin B12) to normal Rice (Custom Milled Rice) in a ratio of 1:100 (Mixing 1 Kg of FRK with 100 Kg custom milled rice).
Fortified rice is nearly identical to traditional rice in aroma, taste, and texture. This process is done in the rice mills at the time of milling of rice.
Fortification of rice is found to be a cost-effective and complementary strategy to increase vitamin and mineral content in diets with low turnaround time (TAT) and a step towards nutritional security and helps in fighting anemia and malnutrition in the country.
According to the food ministry, the fortification program aims to cover 291 aspirational and high-burden (nutrient deficient) districts across the country by March 2023, for which 9 million tonnes of fortified rice has been produced.
Also read: Nutraceuticals in India
Conclusion
There are still doubts about the fortification of foods, especially with the limitations it possesses.
Hence the question arises, Is mass fortification the answer to rampant anemia in India?
A varied diet that includes frequent consumption of fruits and vegetables is a significant source of micronutrients, according to the government.
However, a sizable portion of the populace might not be able to consistently afford a varied diet.
In order to quickly alleviate iron deficiency, it was decided to add iron to a widely consumed staple like rice.
However universal fortification cannot be the only answer for nutritional deficiencies, especially when pressing gaps exist globally around ensuring the quality of fortified foods.
­-Article written by Swathi Satish