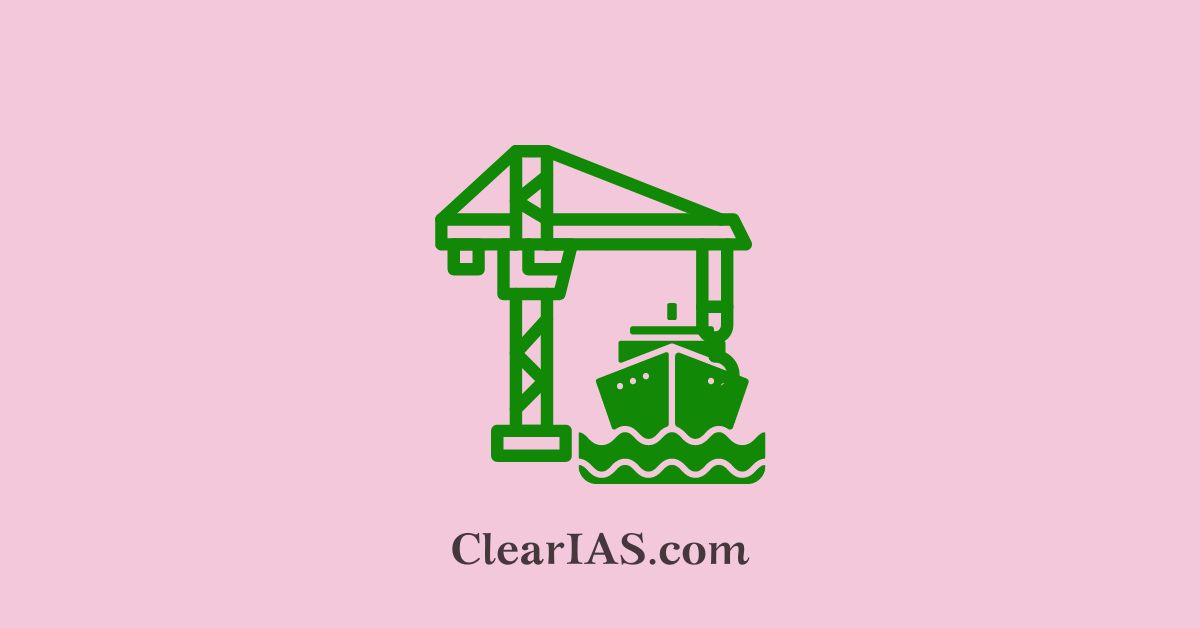 India aims at becoming a Global Hub for Green Ship building by 2030 with the launch of the Green Tug Transition Programme (GTTP). The history of ship building in India traverses time back to ancient civilizations. Read here to know all about Indian ship building.
Green Tug Transition Programme (GTTP) will start with 'Green Hybrid Tugs', powered by Green Hybrid Propulsion systems, and subsequently adopt non-fossil fuel solutions like (Methanol, Ammonia, and Hydrogen).
At least, 50% of all the Tugs will likely be converted into Green Tugs by 2030, which will considerably reduce emissions as the country moves towards sustainable development.
Green Ship Building
Green ship building refers to the construction of environmentally friendly and sustainable ships that have reduced environmental impacts throughout their life cycle.
It involves using innovative technologies, materials, and design approaches to minimize emissions, energy consumption, and other negative effects on the marine environment.
Green shipbuilding aims to contribute to global efforts to combat climate change and preserve marine ecosystems. It envelopes numerous features and advantages:
Energy Efficiency: Green ships are designed to be more energy-efficient, reducing fuel consumption and greenhouse gas emissions. This can be achieved through improved hull designs, hydrodynamic optimization, and the use of advanced propulsion systems like hybrid or electric propulsion.
Alternative Fuels: Green ships often use alternative and cleaner fuels such as liquefied natural gas (LNG), biofuels, hydrogen, or ammonia instead of traditional fossil fuels like heavy fuel oil. These alternative fuels help reduce carbon dioxide (CO2), sulfur oxide (SOx), and nitrogen oxide (NOx) emissions.
Renewable Energy Integration: Some green ships incorporate renewable energy sources such as solar panels, wind turbines, or fuel cells to generate electricity and support onboard systems, reducing the reliance on conventional power sources.
Emission Control Technologies: Green shipbuilding includes the integration of emission control technologies like exhaust gas scrubbers and selective catalytic reduction (SCR) systems to reduce air pollution from engine emissions.
Efficient Waste Management: Green ships adopt efficient waste management practices to minimize the discharge of pollutants into the ocean. This may include advanced wastewater treatment systems and recycling facilities onboard.
Hull Coatings and Antifouling Solutions: Environmentally friendly hull coatings and antifouling solutions help reduce the buildup of marine organisms on the ship's hull, leading to improved fuel efficiency and lower maintenance requirements.
Sustainable Materials: The use of sustainable and eco-friendly materials in ship construction reduces the environmental impact associated with shipbuilding processes.
Life Cycle Assessment: Green shipbuilding considers the entire life cycle of a vessel, from design and construction to operation and end-of-life disposal. A life cycle assessment helps identify and reduce environmental impacts at each stage.
Regulatory Compliance: Green shipbuilding adheres to international maritime regulations and standards set by organizations like the International Maritime Organization (IMO) and regional authorities to limit emissions and pollution from ships.
Green ship building is a vital step toward promoting sustainability in the maritime industry and contributes to reducing the sector's overall carbon footprint.
As the shipping industry continues to evolve, advancements in green shipbuilding technologies and practices are expected to play a significant role in achieving a more sustainable and environmentally friendly maritime sector.
Green Ship Building in India
The country's first National Centre of Excellence in Green Port & Shipping (NCoEGPS) is the result of a collaboration between the Ministry of Ports, Shipping & Waterways (MoPSW) and the Energy and Resources Institute (TERI).
With the NCoEGPS acting as the Nodal entity for the industry, the plan is afoot to make India as the 'Global hub for building Green Ships' by 2030.
With these initiatives, the Centre is aimed at playing a crucial role in the achievement of the UN's Sustainable Development Goal (SDG 14) to sustainably manage and protect marine & coastal ecosystems from pollution, conservation & sustainable use of ocean-based resources.
The center is housed within the TERI complex in Gurugram and will work towards meeting the obligations under the Paris Agreement.
NCoEGPS will act as a technological arm of MoPSW for providing the needed support on Policy, Research, and Cooperation on Green Shipping areas for Ports, DG Shipping, CSL, and other institutions under the umbrella of MoPSW.
The NCoEGPS aims at empowering 'Make in India' in Port, Coastal, and Inland water transport, and Engineering by developing state of art technologies and application products.
It will enable fast-track innovations to provide the most appropriate solutions to various challenges in these sectors.
The Centre also aims to create a pool of competent manpower in the industry equipped with state-of-the-art theoretical and practical know-how.
The NCoEGPS will work on 10 crucial projects, including ones on developing a regulatory framework for the usage of wind energy for marine applications and identifying a suitable biofuel for blending with conventional marine fuels.
It will also work towards identifying a fuel cell technology for long-haul shipping as well as developing a regulatory framework for the transportation of hydrogen up to 700 bar pressure.
It will also prepare detailed project reports on low energy consumption ports, and on an offshore platform for tapping solar energy, production, storage, and usage of green hydrogen.
The PM Gati Shakti – National Master Plan for Multi-Modal Connectivity along with the Green Ports initiative has already accelerated the development of green logistics supply chain in the country.
The ports have also aimed to reduce Carbon emissions per ton of cargo handled by 30% by 2030.
The Maritime Vision Document 2030 is a 10 Year blueprint of India's vision of a sustainable Maritime sector and vibrant blue economy.
India has been selected as the first country under the IMO Green Voyage 2050 project to conduct a pilot project related to Green Shipping.
The ministry has already identified Paradip Port, Deendayal Port, and V.O. Chidambaram Port to be developed as Hydrogen Hubs – capable of handling, storing, and generating of green hydrogen by 2030.
With the development of these infrastructures, India will be able to export Green Hydrogen, produced in the country using renewable sources, with the support of NCoEGPS in technology and market leadership.
Challenges
Green shipbuilding, despite its environmental benefits, faces several challenges that need to be addressed for its widespread adoption.
High Initial Costs: Green shipbuilding often involves the use of advanced technologies, alternative fuels, and eco-friendly materials, which can result in higher upfront construction costs. Ship owners may be hesitant to invest in green technologies due to the initial financial burden, even though the long-term operational savings may be significant.
Lack of Standardization: The green ship building sector lacks standardization and clear regulations for certain technologies and practices. This can create uncertainty and make it challenging for shipbuilders and owners to select the most suitable green solutions.
Availability of Sustainable Materials: Access to sustainable and environmentally friendly materials at a reasonable cost can be limited. Scaling up the production and availability of these materials is essential to meet the demand for green shipbuilding.
Integration of New Technologies: Integrating new and innovative green technologies into ship designs can present engineering and operational challenges. Ensuring seamless integration and compatibility with existing systems is crucial for successful green shipbuilding.
Limited Infrastructure Support: The adoption of alternative fuels, such as LNG or hydrogen, requires adequate infrastructure for fuel supply, storage, and bunkering. The lack of a robust infrastructure network can deter shipowners from opting for green propulsion systems.
Global Regulations and Incentives: Although there are international regulations to reduce ship emissions, there is still a need for more comprehensive and standardized rules to incentivize green shipbuilding. Clear and consistent regulations can encourage shipowners to invest in greener vessels.
Skill and Knowledge Gap: The implementation of green shipbuilding practices may require specialized skills and knowledge. Ensuring that shipyard workers and engineers are adequately trained and equipped to handle green technologies is essential.
Market Acceptance and Demand: Green shipbuilding requires market demand for eco-friendly vessels. Shipowners and operators may be hesitant to invest in green ships if they are unsure of the demand for sustainable transportation services.
Lifecycle of ships: While green shipbuilding aims to reduce environmental impacts, it is crucial to consider the entire lifecycle of the vessel, including end-of-life disposal and recycling. Ensuring proper recycling and disposal practices for green ships is essential to maximize their environmental benefits.
In news
The Ministry of Culture and the Indian Navy signed a Memorandum of Understanding (MOU) to revive the "ancient, stitched shipbuilding method (Tankai method). The Indian Navy will oversee the implementation and execution of the entire project.
The 'stitched shipbuilding method' is a traditional boat-building technique that involves sewing the planks of a boat together with a cord or wire instead of using nails or screws.
Way forward
India's aim to become a global hub for green shipbuilding by 2030 is a major endeavor toward a cleaner, greener environment.
Such initiatives will accelerate India's development of green logistics supply chains and reduce carbon emissions, achieving sustainable development.
But the number of challenges is also to be considered and addressing the challenges will require collaborative efforts from governments, shipbuilders, shipowners, research institutions, and other stakeholders.
Developing supportive policies, investing in research and development, and promoting sustainable practices are vital to overcoming these obstacles and advancing the green ship building industry.
Related Posts
-Article by Swathi Satish