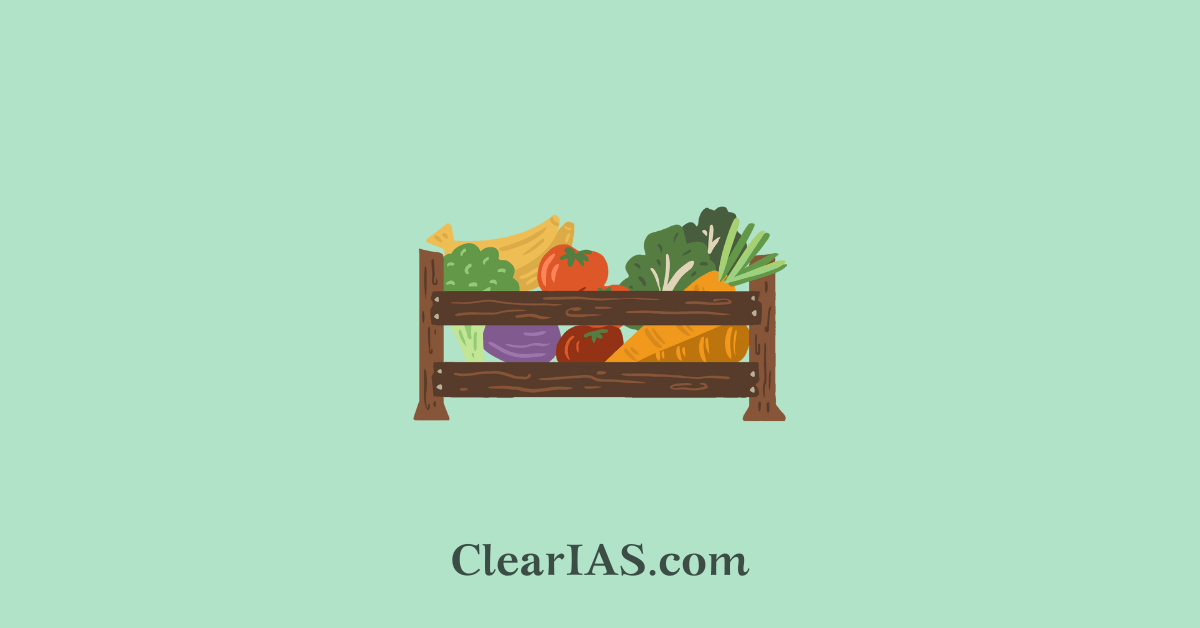 India is the second-largest producer of horticulture crops globally (leading production of various fruits). The government of India implements several schemes for the promotion and benefit of horticulture development. Read here to know more about the horticulture sector of India.
Fruits, vegetables, flowers, and herbs are all grown in horticulture, a subfield of agriculture.
Horticulture primarily focuses on cultivating and maintaining plants for food, medicine, ornamental, and other purposes.
It is the cultivation of gardens using scientific methods to produce more variety and larger amounts of fruits, vegetables, and flowers. In many regions of the world, horticulture is regarded as one of the top agricultural industries.
The horticulture industry has become increasingly important to overall economic growth over time.
A balanced diet and a healthy lifestyle are enhanced by the wide variety of fruits and vegetables that are produced through horticulture.
These foods are a valuable source of nutrients. Thus, as people's concerns about their health and well-being grow, so does the demand for these products.
The demand for flowers for gifts and decorating has also expanded as a result of rising wealth and contemporary lifestyles.
Horticulture in India
In India, the major part of horticulture production comprises fruits and vegetables. India has a highly favorable climate for agro-products such as fruits, vegetables, spices, and aromatic plants.
The horticulture sector in India produces around 320 million tons of products and contributes about 33% of the Gross Value Addition (GVA).
It is a labour-intensive sector and thus provides a lot of employment opportunities, especially for the people of rural regions.
Horticulture has implemented cutting-edge methods that have enhanced productivity and export potential, leading to further expansion.
10% of the land in India is used for horticulture, which accounts for 33% of the agricultural value.
India has advantageous topographical characteristics that promote the development of a wide range of vegetables.
Vegetables of more than 40 different varieties are produced throughout India. Vegetable production in India is second in the world.
More than 10% of the world's fruit production is produced in India.
The majority of fruit is produced in Indian states like Uttar Pradesh, Odisha, Andhra Pradesh, Tamil Nadu, Gujarat, Maharashtra, and Karnataka.
In some parts of the country, the favourable climate encourages the production of a wide range of flowers all year long.
The demand for flowers among the upper and middle classes for aesthetic purposes has increased, which has aided in the development of floriculture as a thriving industry.
Growth of horticulture in India
Between 2004–2005 and 2019–20, the productivity of horticultural crops increased by 38% in India.
Because horticulture products are more resistant to changing weather conditions, their production is economical and practical.
The requirement of area, water, and other resources are much less than other agricultural products and hence reduce the chance of failure thereby giving better returns and income opportunities.
Initiatives by the Government of India
MIDH and CDP are two major initiatives of the Government of India in connection with Horticulture.
The Mission for Integrated Development of Horticulture (MIDH)
It was implemented in 2014.
It is a centrally sponsored scheme with a focus on devising plans and processes to facilitate horticulture production efficiently and cost-effectively.
The government of India sponsors 60% of the total developmental expenditure incurred by different states and 40% is contributed by state governments.
For North-Indian states, the government contribution is 90%.
Through the use of region-specific strategies and action plans, the primary goals of this programme are to assure the overall expansion of the horticulture industry.
Research, technology adaptation and application, harvest management, transportation, storage, processing, and marketing are a few of the different activities.
It focuses on enhancing productivity through the use of superior planting materials and cutting-edge irrigation systems while taking into account the various agro-climatic characteristics of various places.
The programme promotes the growth of local youth's skills and their involvement in horticultural production, which creates job possibilities.
To increase volume and cost-effectiveness, the growers who are active in horticulture production are grouped.
It has five major schemes for horticulture:
National Horticulture Mission (NHM)
Horticulture Mission for North East and Himalayan States (HMNEH)
National Horticulture Board (NHB)
Coconut Development Board (CDB)
Central Institute of Horticulture (CIH), Nagaland
Horticulture Cluster Development Programme (CDP)
It is a central sector programme aimed at growing and developing identified horticulture clusters to make them globally competitive.
The horticulture cluster is a regional/geographical concentration of targeted horticulture crops.
The National Horticulture Board (NHB) of the Ministry of Agriculture and Farmers' Welfare is responsible for carrying it out.
The list of 55 clusters will also include the states of Arunachal Pradesh, Assam, West Bengal, Manipur, Mizoram, Jharkhand, Uttarakhand, etc., identified with their primary/focus crops.
To increase the competitiveness of cluster crops, the CDP seeks to increase exports of targeted crops by around 20% and develop cluster-specific trademarks.
It aims to deal with all important horticulture-related challenges, such as pre-production, production, post-harvest management, logistics, marketing, and branding.
It plans to encourage horticulture clusters' integrated and market-driven growth by leveraging geographical specialization.
It also aims to coordinate with other government programmes like the Agriculture Infrastructure Fund.
Through CDP, significant investment will also be made in the horticultural industry.
Future of horticulture in India
Some future targets to improve the horticulture sector in India are:
Import of technologies to boost the horticultural industry's productivity and skill development.
application of organic farming practices in horticulture to produce goods with positive environmental and financial effects.
Adoption of more standardized horticulture production procedures that aid farmers in using their knowledge and abilities to increase production.
More private companies' involvement in the horticulture industry may increase productivity and open up new export markets.
The government should encourage farms with incentives and offer assistance as they transition from conventional to organic farming to increase the development of organic horticulture.
Offering certificates, incentivize farmers to follow Good Agriculture Practices (GAP).
These methods aid in the production of fruits and vegetables that are of higher quality. In turn, this will increase demand from other countries and boost export activity.
On-field projections:
According to projections, the area devoted to horticulture will grow 2.7% in FY21 compared to FY20.
According to estimates, horticulture production will increase by 5.8 mt in FY21 compared to FY20.
The agriculture ministry has chosen 10 indigenous fruit crops and 10 fruit varieties that are widely consumed.
To meet India's anticipated 650 mt of fruit and vegetable demand by 2050, there is room to increase productivity.
Conclusion
As a diverse agricultural function, the horticulture industry has grown to be a promising source of employment possibilities.
It helps ensure both the sector's and the economy's continuous growth. India has developed into a top producer of horticulture goods and has become a dependable source for the creation of jobs, income, and export promotion.
With the aid of better resource allocation, infrastructure development, technical advancement, and better policy implementation for the development of the horticulture industry, India is anticipated to attain a significant position in the global forum.
Making a deliberate effort to put specific strategies into action would help the horticulture industry expand and thrive in the future.
-Article written by Swathi Satish