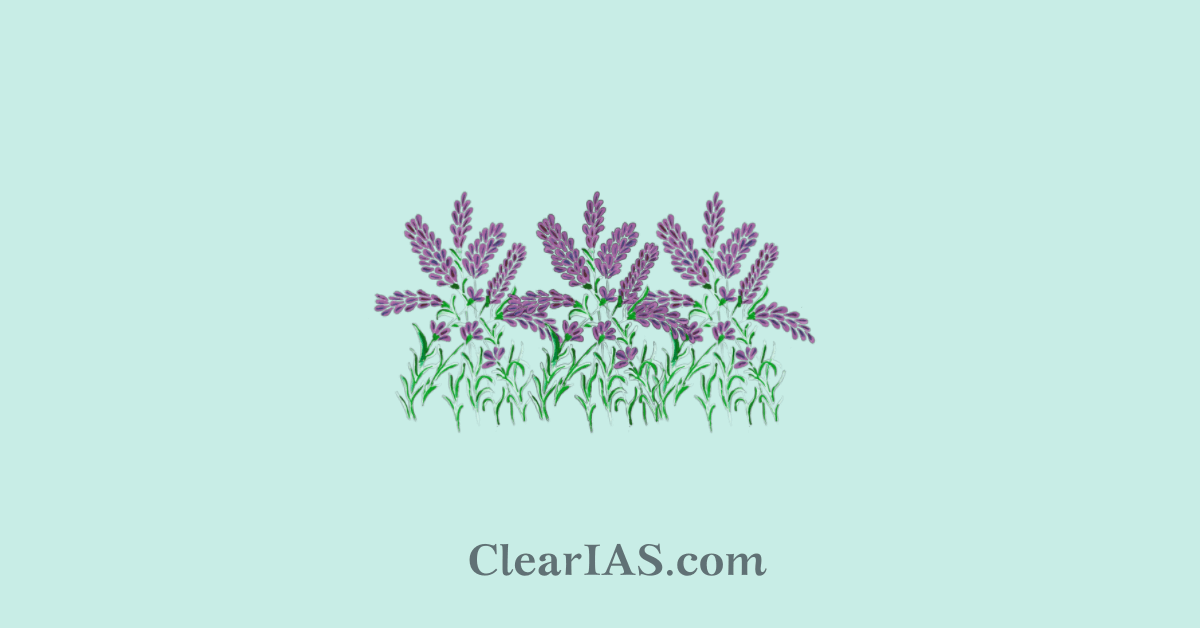 The farmers in Kashmir have moved towards the 'purple revolution' under the Aroma mission. They have transitioned away from conventional crops to the more lucrative production of lavender, a purple-bloomed aromatic shrub. Read here to know more about them.
Lavender farming has been practiced in Kashmir and some areas of Jammu since 2007. It is currently assuming a revolutionary scope.
Today, there are lavender farms in each of the 20 districts of J&K. Particular districts that have achieved substantial progress in this area include Kathua, Udhampur, Doda, Ramban, Kishtwar, Rajouri, Srinagar, Pulwama, Kupwara, Bandipora, Budgam, Ganderbal, Anantnag, Kulgam, and Baramulla.
Union Minister said, the success of the "Purple Revolution" has shifted focus to Agri-tech startups.
CSIR plans to introduce aroma crops in other hilly states like Uttarakhand, Himachal Pradesh, and the North-Eastern States.
CSIR Aroma mission
Through targeted interventions in the areas of agriculture, processing, and product development for fostering the growth of the scent industry and rural employment, the CSIR Aroma Mission is intended to bring about transformative change in the aroma sector.
Aroma Mission aims to bring an additional area of 30,000 hectares under cultivation of these crops by interventions of CSIR to further catalyze the cultivation of aromatic crops in about 60,000 hectares.
This will help in the production of an additional 700 tonnes of essential oil for perfumery, cosmetics, and pharmaceutical industries, and the use of these oils in value addition and herbal products would generate a business of at least 200 crores.
CSIR's Aroma Mission aims to increase the income of the farmers through the cultivation of high-value and high-demand aromatic crops by about Rs. 30,000 to 60,000/ha/year.
About 45,000 skilled human resources capable of multiplying quality planting material, distillation, fractionation, and value addition will also be developed under "Skill India" initiatives.
More than 25,000 farming families would be directly benefitted and employment of more than 10-15 lakhs mandays will be generated in rural areas.
Scientific interventions would provide assured benefits to the growers of Vidarbha, Bundelkhand, Gujarat, Marathwada, Rajasthan, Andhra Pradesh, Odisha, and other states where farmers are exposed to frequent episodes of weather extremes and account for maximum suicides.
The nodal laboratory is CSIR-Central Institute of Medicinal and Aromatic Plants (CSIR-CIMAP), Lucknow.
The participating laboratories are:
CSIR-Institute of Himalayan Bioresource Technology (CSIR-IHBT), Palampur
CSIR-Indian Institute of Integrative Medicine (CSIR-IIIM), Jammu, etc.
CSIR-IIIM introduced lavender to farmers in the Doda, Ramban, Kishtwar, Kathua, Udhampur, Rajouri, Pulwama, Anantnag, Kupwara, and Bandipora districts of J&K.
It provided free quality planting material and an end-to-end technology package on cultivation, processing, value addition, and marketing of the Lavender crop to the farmers.
CSIR-IIIM also installed 50 distillation units (45 fixed and 5 mobiles) at different locations across J&K under CSIR-Aroma Mission.
Purple revolution or Lavender farming
The Ministry of Science and Technology initiated the Purple Revolution or Lavender Revolution in 2016 through the Aroma Mission of the Council of Scientific and Industrial Research (CSIR).
The goal is to promote the indigenous aromatic crop-based agro-economy by shifting from foreign aromatics to homegrown kinds.
Lavender farming was launched as the 'Aroma Mission' of the CSIR and Indian Institute of Integrative Medicine, under the Ministry of Science and Technology.
The CSIR has begun Phase II, which will involve more than 45,000 qualified human resources and assist more than 75,000 households, following the success of Phase I.
Officials claim that Jammu and Kashmir's climate is ideal for growing lavender because this plant can withstand frigid winters and temperate summers.
The agriculture department has been running awareness campaigns for farmers to let them know about the profitability of this plant because lavender farming is thought to be more profitable than growing typical crops.
Additionally, the agriculture department gave away free lavender plants to farmers interested in growing the herb.
They were also informed about the crop's knowledge and productivity.
Uses of lavender:
Lavender is used to extracting oil, which is then utilized to create products like soap, cosmetics, perfumes, air fresheners, and medications.
The lavender plant doesn't need a lot of water, and it's unlikely that it will be attacked by pests or other animals that eat crops.
A single lavender plant can be used after just two years after planting, blooms for fifteen years, and requires little upkeep.
In September 2022, the country's first 'Lavender Festival' was inaugurated at Bhaderwah, the birthplace of India's Purple Revolution.
Significance of purple revolution and aroma mission
It's important because it supports the government's goal of tripling agricultural earnings by 2022.
It would improve the Start-Up India initiative, support the region's entrepreneurial culture, and give prospective farmers and Agri-entrepreneurs a means of subsistence.
The purple revolution helped more than 500 young people, and finally, it caused their income to double.
India today is a net importer of lavender oil and through its extension activities the CSIR's Indian Institute of Integrative Medicine, Jammu targets to make India a net exporter of Lavender oil.
The government has amended the British-enacted Indian Forest Act, which has been in effect for 100 years.
Domestic bamboo has been exempted from the Forest Act as a result of this revision.
The youth may now employ bamboo's adaptable qualities in various industries in addition to agriculture.
There are vast deposits of bamboo even in our near neighborhood in areas like Kathua and Reasi, but these have never been thoroughly investigated.
Way forward
Sustainable Start-Ups and sustainable means of subsistence require sustainable innovations.
In order to accomplish this, it is crucial to collaborate with businesses from the outset and treat them as equal stakeholders, allowing business needs to guide the selection of research initiatives.
To meet global development goals, we need food systems that are wholesome, sustainable, and inclusive but climate-related issues should also be addressed to avoid their effect on the agriculture sector.
Agriculture around the world, including India, is concerned with important issues like agricultural innovations to increase food security and productivity in a sustainable way, climate-resilient food solutions, resource restoration, the future of farming, agricultural sensors, farming drones, and public health and food safety.
-Article written by Swathi Satish