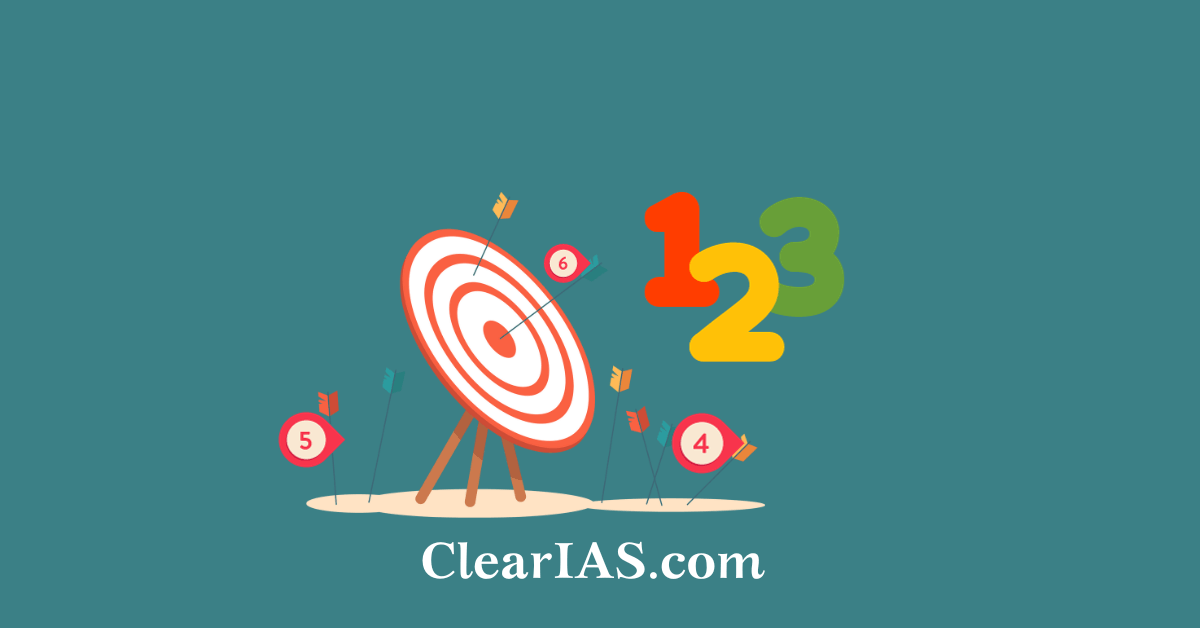 How many attempts does it take to clear the 'IAS exam'? How many times did each candidate appear in the UPSC Civil Services Examination (CSE) before he or she was finally selected?
Many are fascinated by the stories of UPSC Toppers, but not everyone knows the years of hard work they put in to achieve their 'overnight success'.
Here is a study by ClearIAS.com, based on statistics available on the UPSC website, which will help you understand the number of attempts made by candidates before they were finally selected by the UPSC into Civil Service.
90 % of Candidates clear UPSC CSE only after repeated attempts!
Analyzing previous year trends of candidates who were selected into civil services like IAS, IPS, IFS, etc., it is found that 90% of candidates made it into the final rank list only after more than 1 attempt; some only after 8 attempts or more.
Only 1 out of 10 selected candidates is a first-timer!
In 2015-16, only 7.3% out of all the recommended candidates for various services candidates cleared the UPSC Civil Services Exam in their first attempt. In 2016-17, the performance of first-timers was much better, but still low, at 10%.
IAS Exam: A Game of Persistence and Hard Work!
Is the UPSC Civil Services Examination (CSE) a test to be cracked by those with persistence similar to 'Robert Bruce'? The data is pointing in that direction.
The chance of success increases consistently with every additional attempt made by candidates until the 3rd attempt.
The Magical Numbers: 3rdand 4th attempts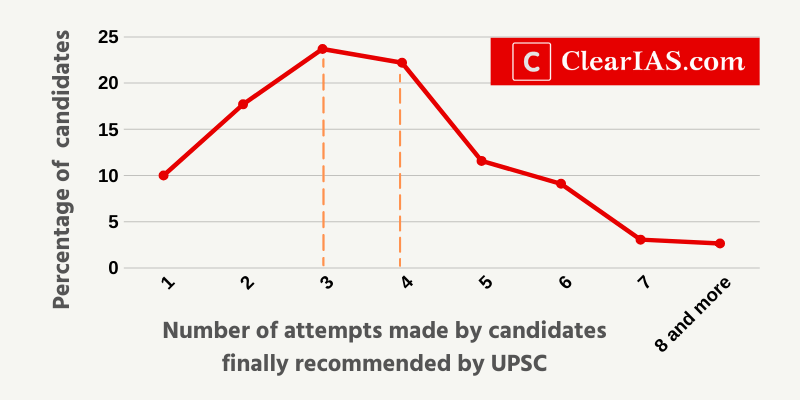 In most of the previous years, the largest chunk of successful candidates belonged to the category of 3 attempts. In 2016-17, 23.7% of selected candidates cleared UPSC CSE in their 3rd attempt. In 2015-16, the share of 3rd timers was 23.1%.
Among successful candidates, there were significant numbers of 4th timers as well. In 2016, the share of 4th-timers was 22.2%, while it was 18.8% in 2015.
What is the average number of attempts needed to clear the UPSC Civil Services Examination (CSE)?
UPSC records show that a recommended candidate, on average, would have made 3-to 4 attempts before wearing the success cap. The average value is 3.6 attempts.
The trends show that the success probability of a candidate drops after his/her 3rd attempt, however, the chance to make it to the final rank list is still much better than for a first-timer.
From this perspective, it is extremely important for IAS/IPS aspirants not to be disappointed if they are not able to clear UPSC CSE on their first attempt. You are just one or two steps away from success!
Persistence is the key – Attempt UPSC CSE again and again!
If you have attempted UPSC CSE, but didn't succeed, treat your attempt as a trial that helped you gain 'invaluable experience'. You are now familiar with the Civil Services exam pattern. This experience will be of great help in the subsequent attempts.
Category
Number of attempts permitted by UPSC
General
6 attempts until 32 years of age
OBC
9 attempts until 35 years of age
SC/ST
unlimited attempts until 37 years of age
NB: Physically Handicapped /disabled candidates belonging to all categories will get additional benefits of attempts/age relaxation. You can read more about the number of attempts here.
Didn't clear UPSC CSE in the first attempt? Don't worry! You are now closer to success!
Did you attempt the UPSC Civil Services Exam (CSE) but did not get selected? Don't lose hope. Don't let others, who don't know the competition level of the UPSC CSE, destroy your self-confidence. Just keep in mind that it took years of hard work for 9 out of 10 toppers before becoming an 'overnight success'!

Not easy to clear the 'IAS Exam' in the first attempt but not impossible either!
Well, if you are an IAS/IPS aspirant just beginning preparation, don't start with the notion that UPSC CSE is so tough that it will take multiple attempts to clear this exam.
There is still 10% of candidates who became toppers in the first attempt itself. An early alignment with the requirements of the UPSC CSE and the right guidance can cut short the time frame required to clear the 'IAS exam'.
In this digital age, where you get guidance, study materials, and mock exams from ClearIAS, the percentage of 'first-time lucky candidates' is only going to increase.