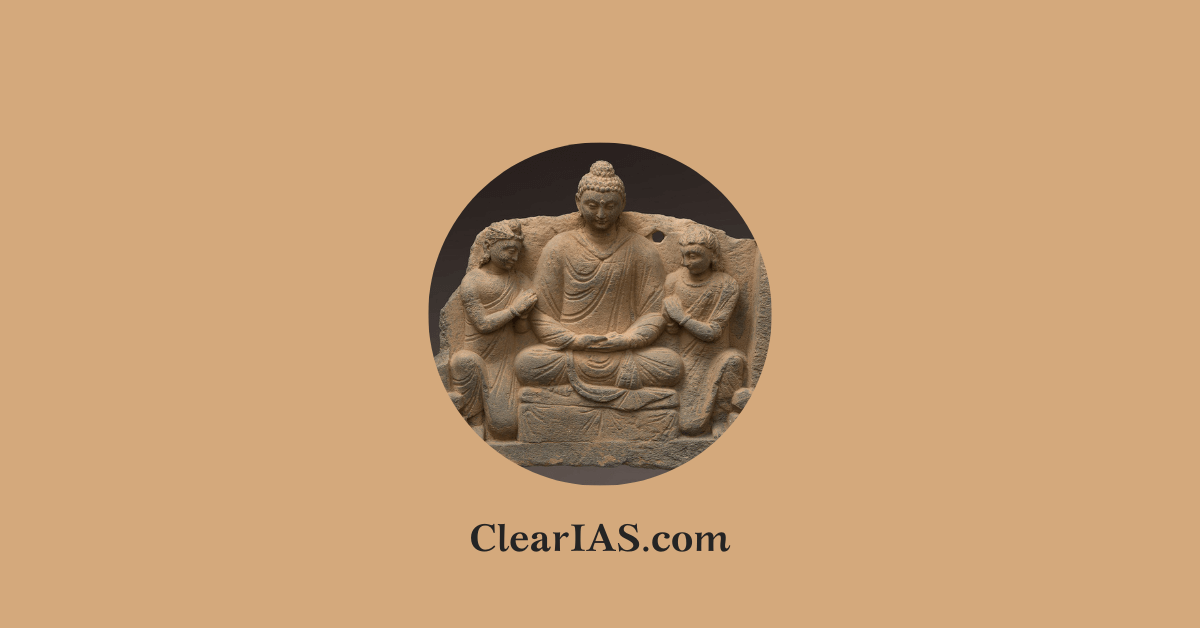 Which are the important terms in ancient history? What do these terms mean? How are they related to different dynasties? Read further to know more.
Important terms in ancient history are a hot topic for UPSC General Science paper 1.
Let us discuss the meaning of certain important terms in ancient history.
In the Prelims, UPSC usually asks 2-3 questions from this section. Candidates should expect this portion of the exam and prepare appropriately.
Terms of Vedic Period
Particular terms like Bali, Dharma, etc were used to denote various activities in the Vedic period.
Bali: Bali ( tribute ), claimed by Raja in the Rig Veda period. This, later on, became a tax.
Dharma: Dharma signifies behaviors that are considered to be in accord with Rita, the order that makes life and the universe possible, and includes duties, rights, laws, conduct, virtues, and the " right way of living
Sabha: An assembly of a few select ones/elders was first found in the Rig Veda.
Samiti: Samiti was a folk assembly in which people of the tribe gathered for discussing philosophical issues and may also have played a role in electing the king / Rajan.
Kulapa: Head of a family
Rajsuya/Vajpeya: Sacrifices performed by the King
Rita: In the Vedic religion, Rita is the law of natural order which regulates the operation of the universe and everything within it.
Sangrihitri: The officer responsible for collecting and levying taxes
Vidhata: Vidatha was also a tribal assembly, Women actively participated in the deliberations with men in Vidatha.
Vrajapati/Gramini: Head of grama ( community ) during the Vedic Period. He is also mentioned as being in charge of pastoral Lands.
Terms of Buddhism and Jainism
Buddhist and Jain literature used various specific terms to describe their activities.
Anekantavada: Anekantavada refers to the Jain doctrine that the ultimate truth and reality are complex and have multiple aspects. It is closely related to Syadavada.
Arhat: Theravada Buddhism defines arhat ( Sanskrit ) or arahant ( Pali ) as " one who is worthy " or as a " perfected person having attained nirvana. Most Texts describe them as having attained nirvana and disappearing from the cycle of rebirths.
Boddisatva: A Buddhist concept. He / She is a supremely wise compassionate being who refrains from nirvana to help other Buddhists attain nirvana.
Kaivalya: Kaivalya, also known as Kevala Jnana, means omniscience in Jainism and is roughly translated as complete understanding or supreme wisdomEvery soul has the potential to obtain omniscience by shedding off karmic particles attached to the soul. A soul who has attained kevala jnana is called a kevalin
Parigraha: Paramita, Parigraha / Aparigraha in Jainism is a vow to limit attachment worldly to possessions.
Sramana: A term generally used to indicate heterodox movements like Buddhism, Jainism etc
Syadvada: Syadvada is a Jain doctrine that all judgments are conditional, holding good only in certain conditions, circumstances, or senses, expressed by the word syât ( Sanskrit: "maybe" ). The ways of looking at a thing ( called naya ) are infinite in number.
Theravada: Theravada is the dominant form of Buddhism in most of Southeast Asia.
Therigatha: Meaning Verses of the Elder Nuns is a Buddhist text, a collection of short poems of early women nuns ( Bhikkhunis ) and is part of suttapitaka
Tripatikal: Tripitaka is the traditional term for the Buddhist scriptures.The three pitakas are Vinaya , Sutta and Abhidhamma
Upasika: Followers of Buddhism who are not monks or nuns.
Terms of the Mauryan period
Sannidhata – Treasurer and keeper of the stores in the Maurya Period. He was in charge of the collection of revenue from various parts of the kingdom and looked after the income and expenditure by supervising the works of akshapataladhyaksha (Accountant-General)
Samharta– His function was to collect Revenue both in cash and kind.
Amatyas–They were some sort of administrative personnel or civil servants who filled the highest administrative and judicial appointments.
Rajukas–Ashoka appointed a class of officers known as the Rajukas, who was vested with the authority of rewarding as well we punishing people.
Adhyaksas-­ The officers who looked after the various departments.
Yuktas– They appear to have been the subordinate official whose duties were largely secretarial works and accounting.
Gopa and Sthanika- There was an intermediate level of administration between the district level and village level, which the Gopa and Sthanikas administered.
Gramika– Head of the village. He was not a paid servant and was chosen among village elders.
Grambhojaka– Gramika was helped by Grambhojaka.
Pramukha– Eighteen chief handicrafts of the time were organised in guilds called Shrenis, the president of Shrenis was known as Pramukha.
Other Bureaucratic terms
Nagaraka: in charge of the city administration
Sita Adhyaksha: Supervisor of agriculture
Navadhyaksha: Superintendent of ships
Sulkaadhyaksha: Collector of tolls,
Akaradhyaksha: Superintendent of mines
Pauthavadhyaksha: Superintendent of weight and measures etc.
The four divisions of the army infantry, cavalry, chariots, and elephants were placed under officers known as the patyadhyaksha, ashvadhyaksha rathadhyaksha, and hastyadhyaksha respectively.
Also Read: Ancient India: Maurya and Post-Maurya Rulers (NCERT) – Clear IAS
Terms of the Gupta empire
Uparika– He was directly appointed by the king as a provincial governor.
Kumaramatyas– A link between the central and the provincial administration under the Guptas was provided by the officers called Kumaramatyas and Ayuktas. Kumaramatyas was a body of top-ranking officials attached not only to the king but also to the crown prince and sometimes placed in charge of the district.
Gopasramin– In Samudraguptas period an officer working as akshapataladhikrita. Their function was to enter numerous matters in the accounts register, recover royal dues and check embezzlement and recover fines.
Sandhivigrahika-The foreign minister, minister of war and peace. First appeared under the rule of Samudragupta.
Mahabaldikarta-Commander-in-Chief.
Mahapratihara– Chief of palace guards.
Pustapala– Record-keeper. Maintained record of land transactions in a district. They were also known as Karanika.
Vishaya– Vishayas were divided into smaller parts called Vithis which were the villages and consisted of the lowest unit of administration.
Mahattama, Mahattaka, and Mahattara– Elder who assisted the Gramika in the village administration.
Agharikas– During the reign of Harsha, Agharikas looked after the land given in charity.
Samantas– Feudal chiefs.
Tax Terms
Bhaga: Bhaga was a term used for the king's share of grains produced.
Bhoga: Bhoga may have referred to the periodic supplies of firewood etc to the king.
Shulka: Term used for Urban tolls. Shaulkika was a collector of shulka.
Hiranya: king's share of the agricultural produce paid in cash.
Vishti: Forced Labour.
Also Read Ancient India: Gupta and Post-Gupta (NCERT) – Clear IAS
Terms of the Chola empire
Terms of the Chola empire include administrative terms, Cholan taxes and economic terms, and South Indian assemblies.
Cholan administrative terms
Types of land
Chola inscriptions mention several categories of land :
Vellanvagai: land of non-Brahmana peasant proprietors
Brahmadeya: land gifted to Brahmanas.
Taniyurs: Brahmadeyas who were independent status from the nadu administration.
Shalabhoga: land for the maintenance of a school
Devadana, tirunamattukkani: land gifted to temples
Pallichchhandam : land donated to Jaina institutions
Cholan taxes and economic terms
Perundaram , Sirutaram :Royal Officials .
Kadamai: The Main Land tax
Vetti / Muttaiyal: Forced Labour
Kaniudaiyar: Land-owning Farmers
Ulukudi : Tenant Farmers
Valanadu: Group of Nadus created for revenue collection.
Puravu vari thinaikkalam / Shri Karanam : Department that looked after Taxes .
Eripatta: Tax for maintenance of Eri / Tank
South Indian assemblies
Sabha was an assembly of brahmin landowners. This assembly functioned through subcommittees, which looked after irrigation, agricultural operations, making roads, local temples, etc.
Variyams were committees under Sabhas which monitored various functions.
Ur was a village assembly found in areas where the landowners were not brahmins,
Nagaram was an organization of merchants whose members/head was known as nagarattar.
Nadu / Kurram / Kottam is a district or a subdivision; also used in the sense of the local assembly to administer the area.
Erivariyam is the tank maintenance committee.
Terms of the Pandya empire
Mangalam or Chaturvedi Mangalam: Mangalam or Chaturvedi Mangalam were Brahmin communities with irrigation amenities constructed by kings and local chiefs.
Eluttu Mandapam: The royal secretariat was known as Eluttu Mandapam.
Tattarkani: Tattarkani was the name given to the ironsmiths' land.
Salabogam: Salabogam was the territory allocated to Brahmins.
Taccu-maniyam: The Carpenters' land was given the name Taccu-maniyam.
Bhattavriutti: The area donated to the Brahmin community for educational reasons was known as Bhattavriutti.
Terms from NCERT
Gahapati – A gahapati was the owner, master or head of a household, who exercised control over the women, children, slaves, and workers who shared a common residence.
An agrahara was land granted to a Brahmana, who was usually exempted from paying land revenue and other dues to the king and was often given the right to collect these dues from the local people.
Devanampiya and Piyadassi are often translated as " beloved of the gods " and " pleasant to behold. The name by which Asoka is mentioned in some inscriptions.
Kutagarashala – literally, a hut with a pointed roof, in Buddhism a place where travelling mendicants halted and debates took place in them. If a philosopher succeeded in convincing one of his rivals, the followers of the latter also became his disciples.
Vanik: A term used in Sanskrit texts for Traders
Charanachitras – Storytelling scroll paintings.
Shalabanjika – sculptures of beautiful women swinging from the edge of the gateway, holding onto a tree often seen in Buddhist reliefs.
Muvendar: This is a Tamil word meaning three chiefs, used for the heads of three ruling families of the Sangam period, the Cholas, Cheras, and Pandyas.
Manigramam, Ayyavole, Anchuvannam, and Nanadesi: South Indian trade guilds that traded extensively both within the peninsula and with Southeast Asia and China.
Article Written By: Atheena Fathima Riyas