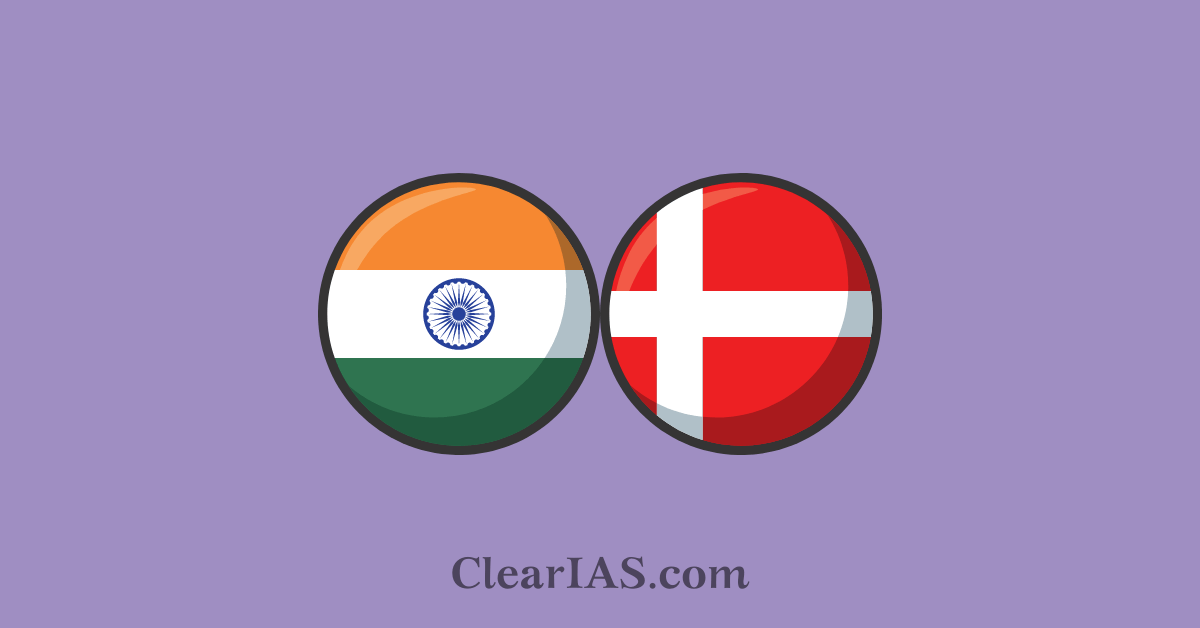 India-Denmark share a cordial and friendly bilateral relationship, based on cooperation in political, economic, academic, and research fields. Read here to know more.
Prime Minister Narendra Modi met his Danish counterpart Mette Frederiksen and the two leaders are expected to discuss a wide range of issues of mutual interest to boost the bilateral relationship.
India-Denmark: A Green Strategic Partnership' was established during a virtual summit in September 2020. This partnership was translated into a result-oriented five-year action plan during Prime Minister Frederiksen's India visit in October 2021.
History of India-Denmark relations
The first contact between the two nations was in the 17th century when a Danish colony was established in 1620 at Tranquebar, now located in Tamil Nadu.
The Danish established other trading posts in other parts of India out of which Serampore in West Bengal was important. The Nicobar Islands was also a Danish colony,
All the Danish colonies were sold to the British in 1845, including the Nicobar Islands in 1868.
The diplomatic relations between India and Denmark, established in September 1949, are marked by regular high-level exchanges; and are based on historical links, common democratic traditions, and a shared desire for regional, as well as international peace and stability.
After independence, Pandit Jawaharlal Nehru's visit to Denmark in 1957 laid the foundation for a friendly relationship between India and Denmark.
In 2011 the relations got affected due to the non-extradition of Niels Holck Nielsen, a Danish national involved in the Purulia Arms Dropping Case in 1995.
Although that case is still pending, it seems that India has been willing to understand that neither the Danish government nor its politicians are responsible for this, given it was decided by the Danish courts, and has been willing to engage with the country for the sake of a 'greener' partnership.
This understanding has created space and goodwill in which the relationship has been able to flourish.
The inaugural meeting of the India-Denmark joint commission was held in New Delhi in 2010. The two sides discussed key areas of bilateral cooperation as well as regional and global issues of importance to both counties. It was agreed to set up three new Joint Working Groups on Shipping; Food, Agriculture, and Fisheries.
The two sides also agreed to convert the three joint committees established earlier into Joint working Groups, viz. (i) Biotechnology; (ii) New and Renewable Energy; and (iii) Labour Mobility.
Economic relations
Major Danish investments in India have been made in sectors like harbor/port modernization and expansion, beer breweries, wind turbine/rotor blade manufacturing, agro-intermediates/insecticides, and the engineering sector
The major export items from India to Denmark are as follows:
Textiles
Apparels
Yarns
Road vehicles and components
Metal goods
Iron
Steel
Chemical products
Major Danish exports to India are as follows:
Medicinal goods
Power generating machinery
Industrial machinery
Organic Chemicals
Important India-Denmark bilateral agreements
Technical Cooperation Agreement – 1970
Bilateral Agreement on an Integrated Fisheries Project at Tadri, Karnataka- 1981
Bilateral Investment Promotion and Protection Agreement- 1995
Protocol on Avoidance of Double Taxation – 1995
MoUCooperation between CII and Confederation of Danish Industries – 1995
Protocol on Foreign Office Consultation – 1995
Joint Business Council Agreement between FICCI and the Danish Industry – 2002
MoU Biotechnology for Bilateral Cooperation – 2004
MoU Clean Development Mechanism – 2008
MoU Cooperation in the area of Environment – 2009
MoU Labour Mobility Partnership – 2009
Social Security Agreement – 2010
Bilateral relations were elevated to the level of "Green Strategic Partnership" during theVirtual Summit held on 28 September 2020 between Prime Minister Shri Narendra Modi and Prime Minister of Denmark Ms. Mette Frederiksen.
The current development of renewed India-Denmark relations has been guided by the "Green Strategic Partnership".
Cultural relations
India's 75th Independence Day was celebrated in Copenhagen with a great enthusiasm with a flag hoisting ceremony and vibrant Azadi Ka Amrit Mahotsav celebrations, attended by a large number of the diaspora.
The International Day of Yoga is celebrated every year by the Embassy across Denmark with the active participation of several organizations like Art of Living, Brahma Kumaris, and the Danish Sports Yoga Federation.
As part of the 150th Birth Anniversary Celebrations of Mahatma Gandhi, the Embassy organized various events including talks on Gandhiji and tree-planting ceremonies at more than 20 educational institutions including Copenhagen and Roskilde Universities, Kold College, IBC Kolding, Zealand Business College, and schools, etc.
Latest developments in India-Denmark relations
India's new Green Strategic Partnership with Denmark is helping to build a more sustainable relationship between the two countries.
The partnership was announced to expand cooperation in renewable energy, environmental policy, trade, climate policy, and science and technology.
Both countries have agreed to expand existing partnerships into the health and agricultural sectors, as well as the signing of four government-to-government agreements that will contribute to the deepening cooperation in areas of water, science and technology, and climate change as part of a five-year Joint Action Plan.
India and Denmark already have strong trade and investment ties, with more than 200 Danish companies present in India and over 60 Indian companies present in Denmark, but the Partnership is broadening and deepening the India-Denmark relationship, especially in sustainable development.
India-Nordic summit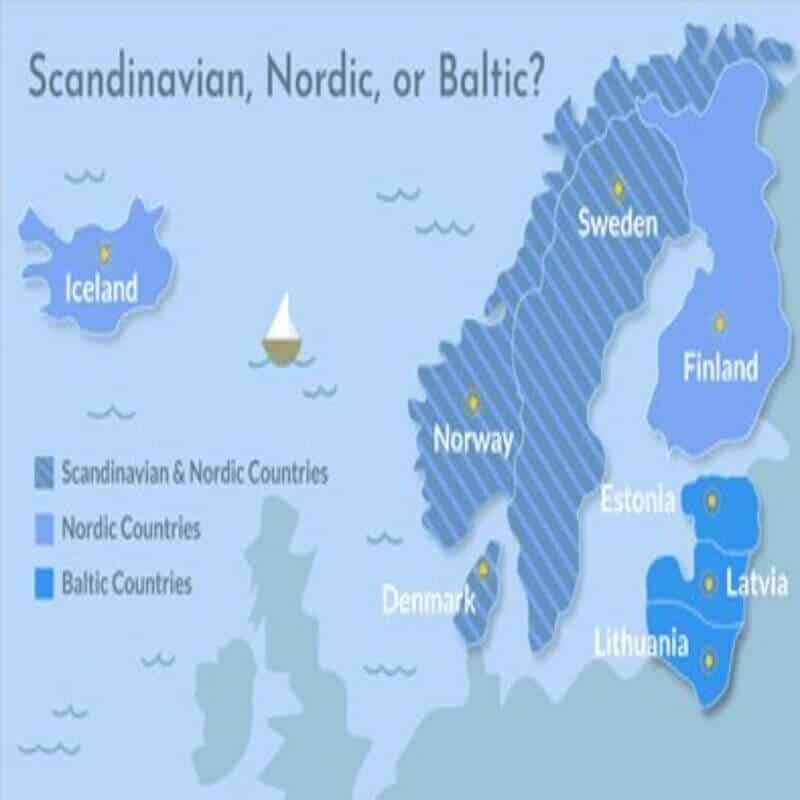 India and US are the only countries with summit-level engagements with Nordic countries.
The first India-Nordic Summit took place in 2018 in Stockholm. This Summit reiterated the six countries' commitment to global security, economic growth, innovation, and climate change.
The Summit helps in expanding India's multifaceted cooperation with the Nordic region.
This year's summit focused on subjects like post-pandemic economic recovery, climate change, innovation and technology, renewable energy, the evolving global security scenario, and India-Nordic cooperation in the Arctic region.
Nordic countries are important partners for India in sustainability, renewable energy, digitization, and innovation.
Matters of regional and global interests were also discussed.
The principal focus of the Summit was how to carry forward the agenda of bilateral engagement between India and the Nordic countries.
These present enormous opportunities for India to plug into the strengths of these countries for mutual benefit.
Way forward
The partnership has the potential to be ground-breaking for India and the region.
For now, Denmark is the only nation with whom India has a Green Strategic Partnership, but this step toward sustainable development is crucial as it can help India to strike similar agreements with other partners in the region and beyond.
The Nordic countries (Norway, Sweden, Iceland, Finland, and Denmark) collectively represent a huge economy. Total bilateral trade in goods and services between India and the Nordic countries is also significant.
These countries figure among the top achievers in several areas of human endeavor, particularly innovation, clean energy, green technologies, and education. Hence India needs to maintain good relations with these countries.