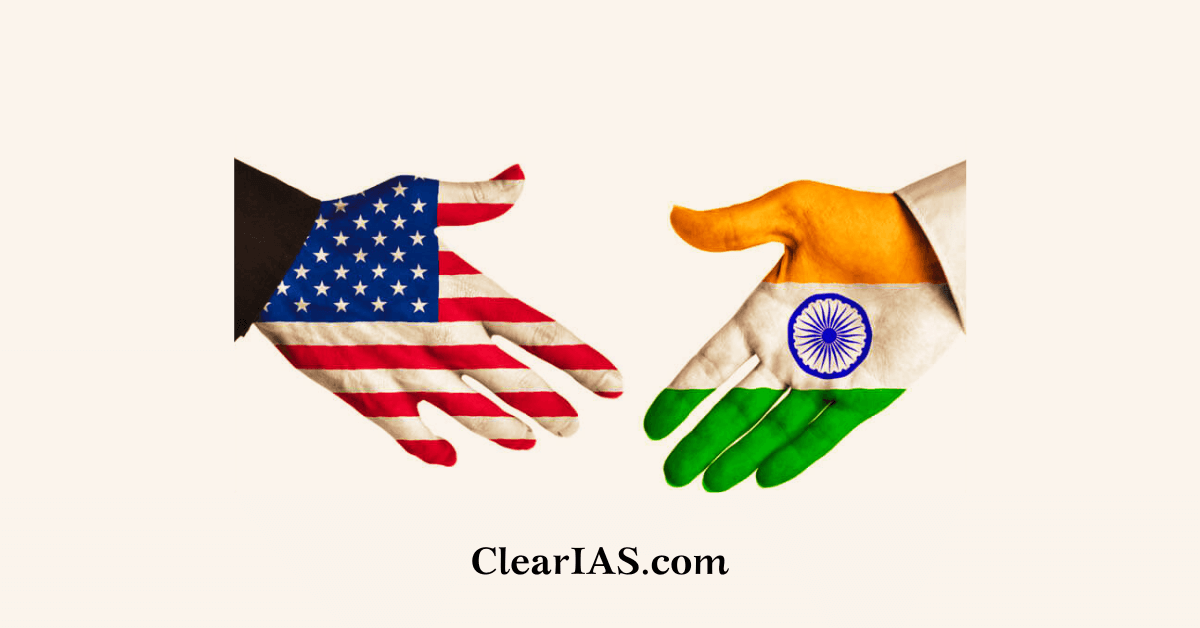 Eliminating the hesitations of history, India and the United States have built a strong and strategic bilateral relationship and continues to contribute the stability and prosperity of the world. The first Prime Minister of India Jawaharlal Nehru likened American Imperialism to that of British.
He propounded and propagated the Non-Alignment Principle whereby India refused to join either the capitalistic US or the communist Soviet Union.
India's socialistic economic principles and deep scepticism to the US hegemony resulted in its predilections towards USSR much to the ire of the West. As the ideological Cold War ended after a myriad of international convergences and divergences, India was forced to look West given the paradigm shift in the geopolitics of the world and in Francis Fukuyama's words "End of History". Today both India and US are among the most vibrant foreign cohorts and strategic partners.
India-USA: History of Relations
The birth of Indian Republic was accompanied by Pakistan's occupation of Kashmir. Nehru's efforts to garner support from the international community was fruitless.
India declined the American offer to accept a seat at the United Nations Security Council and rather pushed for the membership of the People's Republic of China which it has immediately recognized as a sovereign nation. (Reference – TheHindu)
In the year 1950, India abstained from a US-sponsored resolution calling for UN's military involvement in the Korean War. India even voted against UN forces crossing the 38th Parallel and naming China as an aggressor.
1955: Pakistan officially aligned with the United States via the South East Asian Treaty Organization (SEATO) and Central Treaty Organization (CEATO) also known as Baghdad Pact. Meanwhile, India, being the chief proponent of Non-Alignment Movement (NAM), held the first Afro-Asian Conference at Bandung, Indonesia.
The rogue state of Pakistan became an important ally to the US in the containment of the Soviet Union, giving rise to strategic complications with India.
In the Sino-Indian war of 1962, the US extended help to India against China's belligerence by sending an American carrier- The Enterprise- to the Bay of Bengal. China, however, had declared unilateral ceasefire the next day. Indian leaders and public welcomed American intervention.
1966: In response to India's criticism of the US intervention in Vietnam, President Lyndon B. Johnson restricted the supply of grain shipments to India under Public Law 480 programme.
1967: A predominantly Anti-American worldview led India to reject a founding membership in the Association of Southeast Asian Nations (ASEAN).
1968: India rejected the Non-Proliferation Treaty (NPT) proposed by the world's leading nuclear powers.
1971: The USA had maintained a studious silence on Pakistan's repressive policies in East Pakistan. The then Secretary of State Henry Kissinger visited Delhi to make India comply to not support liberation movements in East Pakistan. Indira Gandhi's intransigence was met with diplomatic muscle-flexing. Next month, India signed a Treaty of Friendship, Peace and Cooperation with the Soviet Union, seen as a blatant shift from India's Non-Alignment policies. US President Richard Nixon in a retaliatory move chose to explicitly tilt American policy in favour of Pakistan and suspended $87 million worth of economic aid to India. American naval fleet USS Enterprise traversed the Bay of Bengal, issuing mild threats. India won the Bangladesh Liberation War as the Pakistani Army embarrassingly surrendered more than 90,000 troops.
1974: India conducted its first nuclear weapon test at Pokhran, and it came as a major jolt to the USA who made plans to upgrade its presence at Diego Garcia, a British-controlled island in the Indian ocean.
1975: India faced considerable domestic turmoil and entered into a state of Emergency.
1977: The Emergency ended and the US immediately eased restrictions it has placed on World Bank loans to India and approved direct economic assistance of $60 million.
1978: US President Jimmy Carter and Indian Prime Minister Desai exchanged visits to each other's nations.
The 1980s: Large amounts of military aid was pumped into Pakistan by the USA in order to fight a proxy against the Soviet Union in Afghanistan. This created significant repercussions in the internal security of India as the Pakistani mujahedeen fighters infiltrated into Kashmir as militants.
1988: Prime Minister Rajiv Gandhi made a historic visit to China which led to normalization of relations between India and China.
1990: India hesitatingly provided a brief logistical support for American military operations in the Gulf War.
Post-1991: The Soviet Union disintegrated into independent nations and the United States emerged as the single largest hegemon, making the world unipolar. It coincided with India opening doors to foreign private capital in its historic Liberalization, Privatization, and Globalization move.
Trade between India and the US grew dramatically and is flourishing today.
Why India Matters to the USA?
India is an indispensable partner for the United States. Geographically, it sits between the two most immediate problematic regions for U.S. national interests. The arc of instability that begins in North Africa goes through the Middle East, and proceeds to Pakistan and Afghanistan ends at India's western border.
The Indian landmass juts into the ocean that bears its name. With the rise of Asian economies, the Indian Ocean is home to critical global lines of communication, with perhaps 50 percent of world container products and up to 70 percent of ship-borne oil and petroleum traffic transiting through its waters.
India's growing national capabilities give it ever greater tools to pursue its national interests to the benefit of the United States. India has the world's third-largest Army, fourth-largest Air Force, and fifth largest Navy. All three of these services are modernizing, and the Indian Air Force and Indian Navy have world-class technical resources, and its Army is seeking more of them.
India is an important U.S. partner in international efforts to prevent the further spread of weapons of mass destruction.
India's broad diplomatic ties globally (most importantly in the Middle East), its aspirations for United Nations (UN) Security Council permanent membership, and its role in international organizations such as the International Atomic Energy Agency makes New Delhi an especially effective voice in calls to halt proliferation.
India's position against radicalism and terrorism corresponds with that of the United States.
India's English-speaking and Western-oriented elite and middle classes comfortably partner with their counterparts in U.S. firms and institutions, including more than 2.8 million Indian Americans. The U.S. higher education system is an incubator of future collaboration, with more than 100,000 Indian students in American universities.
As India modernizes and grows it will spend trillions of dollars on infrastructure, transportation, energy production and distribution, and defence hardware. U.S. firms can benefit immensely by providing expertise and technology that India will need to carry out this sweeping transformation.
India-USA cooperation is critical to global action against climate change.
India is genuinely committed to a world order based on multilateral institutions and cooperation and the evolution of accepted international norms leading to accepted international law.
Indian culture and diplomacy have generated goodwill in its extended neighbourhood. New Delhi has positive relations with critical states in the Middle East, in Central Asia, in Southeast Asia, and with important middle powers such as Brazil, South Africa, and Japan—all of the strategic value to the United States. India's soft power is manifest in wide swaths of the world where its civil society has made a growing and positive impression.
Indian democracy has prospered despite endemic poverty; extraordinary ethnic, religious, and linguistic diversity; and foreign and internal conflicts.
Why the United States matters to India?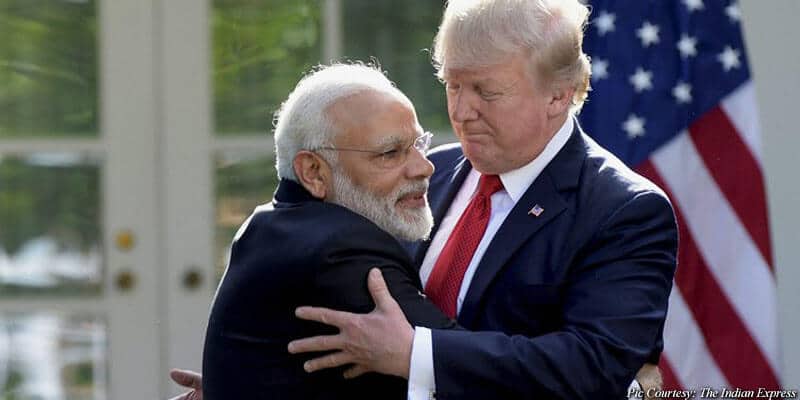 America remains the critical stabilizing force in Asia through its military and diplomatic power projection and commitments to the region.
The twentieth century bore witness to a multigeneration U.S. efforts to prevent the emergence of any hostile hegemon on the Eurasian landmass, a function that the United States continues to fulfil today with the help of its Asian partners.
China has chosen episodically to ignore global nonproliferation norms, a pattern of behaviour that the United States has assiduously sought to curtail. Though no nation can a priori prevent future Chinese proliferation activities, only a U.S.-led international effort has any chance of success.
India will be better able to protect its national interests in Pakistan and Afghanistan in coordination with the United States.
The United States will continue to be important for India's economic success. India's economy has been built around unleashing domestic consumption rather than relying on exports.
The United States has also remained one of the top sources of foreign direct investment in India, bringing important managerial expertise, capital, and technology with it to the dynamic Indian market.
The United States has a long-term commitment to maintain security and freedom of navigation on the high seas, something critical to India as a net energy importer.
Washington retains unparalleled power and influence in global governance institutions.
As India seeks a larger role in the UN Security Council and international monetary institutions, U.S. support for India will be critical to reforms that benefit New Delhi's national interests.
The United States retains a sizable technological edge on many commercials, aerospace, and defence technologies, the access to which benefits Indian national interests as well as Indian firms and customers.
India-USA: Five Pillars of Strategic Partnership
Strategic Issues
Energy and Climate Change
Science and Technology
Health and Innovation
Education and Development
India-US Civil Nuclear Deal
The deal is seen as a watershed in India-USA relations and introduces a new aspect to international nonproliferation efforts. Since July 18, 2005, the deal lifts a three-decade U.S. moratorium on nuclear trade with India. It provides U.S. assistance to India's civilian nuclear energy program and expands India-USA cooperation in energy and satellite technology.
Terms of the deal:
India agrees to allow inspectors from the International Atomic Energy Association (IAEA), the United Nations' nuclear watchdog group, access to its civilian nuclear program. By March 2006, India promised to place fourteen of its twenty-two power reactors under IAEA safeguards permanently.
India commits to signing an Additional Protocol (PDF)-which allows more intrusive IAEA inspections of its civilian facilities.
India agrees to continue its moratorium on nuclear weapons testing.
India commits to strengthening the security of its nuclear arsenals.
India works toward negotiating a Fissile Material Cutoff Treaty (FMCT) with the United States banning the production of fissile material for weapons purposes. India agrees to prevent the spread of enrichment and reprocessing technologies to states that don't possess them and to support international nonproliferation efforts.
US companies will be allowed to build nuclear reactors in India and provide nuclear fuel for its civilian energy program.
An approval by the Nuclear Suppliers Group lifting the ban on India has also cleared the way for other countries to make nuclear fuel and technology sales to India. India would be eligible to buy U.S. dual-use nuclear technology, including materials and equipment that could be used to enrich uranium or reprocess plutonium, potentially creating the material for nuclear bombs. It would also receive imported fuel for its nuclear reactors.
Ashley Tellis of the Carnegie Endowment for International Peace-who was intimately involved in negotiating the civil nuclear agreement with India as a senior adviser to the U.S. undersecretary of state for political affairs–said in congressional testimony in 2005 that the deal recognizes this growing relationship by engaging India, which has proven it is not a nuclear proliferation risk. (Reference: Council on Foreign Relations)
Five developments in the India-US relations since the deal: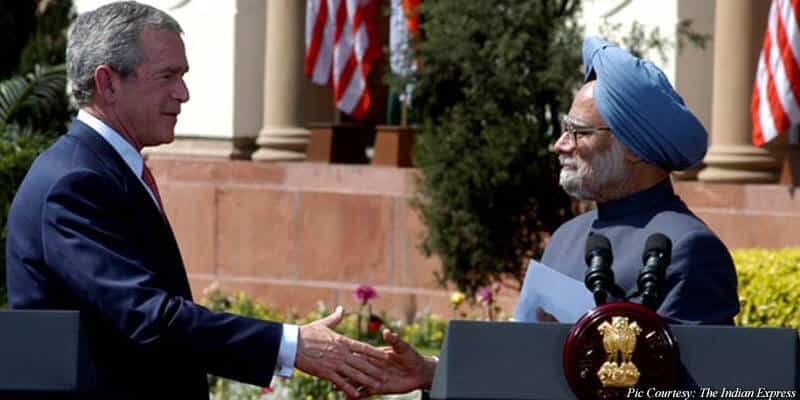 The US has removed many high technology sanctions imposed on India since 1974. If Delhi was prevented by law from importing anything for its nuclear programme over the last few decades, it is boosting atomic power generation in India through imported uranium and is negotiating with multiple vendors for the purchase of new reactors.
The US has become India's largest trading partner in goods and services, and the two sides have set an ambitious goal of half a trillion dollars for future trade. The growing commercial engagement has been reinforced by an intensification of people-to-people contact and the presence of the 3 million strong Indian diasporas in America.
Cooperation on counter-terrorism and intelligence-sharing have expanded rapidly over the last decade. The US has become one of India's major suppliers of arms, and the two sides are discussing ideas that would once have been dismissed as inconceivable — for example, US support in the development of India's next-generation aircraft carrier.
In refusing to extend the civil nuclear initiative to Islamabad, Washington removed the hyphen in its relations with Delhi and Islamabad. Since 2005, America has also discarded the idea of mediating between India and Pakistan, especially on the Kashmir question.
While traditional differences between Delhi and Washington on global issues have endured, the two sides are now avoiding confrontation in multilateral fora dealing with trade and climate change.
Controversial issues with the deal:
In March 2006, the U.S. Congress also took up the agreement and formally made it into legislation (Hyde Act) after the committee level deliberations and conciliations in terms of words by both the House and the Senate.
On 1 August 2007, U.S. and Indian negotiators concluded a separate technical agreement under section 123 of the U.S. Atomic Energy Act, which spells out the precise terms, conditions, responsibilities, obligations and promises that each party undertakes.
As the Hyde Act had imposed restrictions on how India could utilize U.S. nuclear supplies, the implementation of the agreement has received a setback because of the opposition by the Communist parties that supported India's UPA government from outside. Leaders of almost all the political parties of India had categorically expressed their dislike and apprehensions for provisions that provided for cutting off aid if India conducts any future nuclear tests and the return of the all nuclear material or equipment provided by U.S. suppliers.
Section 17b in the Civil Liability for Nuclear Damage Bill, 2010 according to which the Operator cannot seek recourse in case of nuclear accidents because of patent or latent defects in the material, equipment and even in the services provided. The US defies it to be against international norms whereas India says that it is according to Convention on Supplementary Compensation.
The Civil Liability for Nuclear Damage Bill, 2010
The Civil Liability for Nuclear Damage (CLND) Bill, 2010 fixes liability for nuclear damage and specifies procedures for compensating victims.
The Bill fixes no-fault liability on operators and gives them a right of recourse against certain persons. It caps the liability of the operator at Rs 500 crore.  For damage exceeding this amount, and up to 300 million SDR, the central government will be liable.
All operators (except the central government) need to take insurance or provide financial security to cover their liability.
For facilities owned by the government, the entire liability up to 300 million SDR will be borne by the government.
The Bill specifies who can claim compensation and the authorities who will assess and award compensation for nuclear damage.
Those not complying with the provisions of the Bill can be penalized.
Analysis of the Bill and further issues:
The liability cap on the operator:
(a) may be inadequate to compensate victims in the event of a major nuclear disaster;
(b) may block India's access to an international pool of funds;
(c) is low compared to some other countries.
The cap on the operator's liability is not required if all plants are owned by the government. It is not clear if the government intends to allow private operators to operate nuclear power plants.
The extent of environmental damage and consequent economic loss will be notified by the government. This might create a conflict of interest in cases where the government is also the party liable to pay compensation.
The right of recourse against the supplier provided in the Bill is not compliant with international agreements India may wish to sign.
The time-limit of ten years for claiming compensation may be inadequate for those suffering from nuclear damage.
Though the Bill allows operators and suppliers to be liable under other laws, it is not clear which other laws will be applicable. Different interpretations by courts may constrict or unduly expand the scope of such a provision.
The understanding reached with the United States on January 25, 2015, during the visit of President Obama to India:
India and the United States have reached an understanding on the issues related to civil nuclear liability and finalized the text of the Administrative Arrangement to implement the September 2008 bilateral 123 Agreement. This will allow us to move towards commercial negotiations on setting up reactors with international collaboration in India and realize the significant economic and clean energy potential of the civil nuclear understanding of 2005-2008.
There is no proposal to amend the Civil Liability for Nuclear Damage Act of 2010 Act or the Rules.
How have U.S. concerns over the CLND Act then been resolved?
During the course of the discussions in the Contact Group, using case law and legislative history, the Indian side presented its position concerning the compatibility of the Civil Liability for Nuclear Damage (CLND) Act and the Convention on Supplementary Compensation for Nuclear Damage (CSC). The idea of the India Nuclear Insurance Pool as a part of the overall risk-management scheme for liability was also presented to the U.S. side. Based on the presentations by the Indian side, and the discussion thereon, there is a general understanding that India's CLND law is compatible with the CSC, which India has signed and intends to ratify.
India-US Trade Relations
There are more than 50 bilateral dialogue mechanisms between the two governments.
India-USA bilateral trade in goods and services increased from $104 billion in 2014 to $114 billion in 2016.
Both countries have made a commitment to facilitate actions necessary for increasing the bilateral trade to $500 billion.
In June 2016, Prime Minister Modi and President Obama pledged to explore new opportunities to break down barriers to the movement of goods and services, and support deeper integration into global supply chains, thereby creating jobs and generating prosperity in both economies.
The U.S. is the fifth largest source of foreign direct investments into India.
Among large Indian corporations having investments in the U.S. include Reliance Industries Limited, Tata Consultancy Services, Wipro, Essar America, Piramal, Mahindra, Lupin, Sun Pharma, etc.
There are several dialogue mechanisms to strengthen bilateral engagement on economic and trade issues, including a Ministerial Level Economic and Financial Partnership and a Ministerial Trade Policy Forum. For greater involvement of private sector in the discussions on issues involving trade and investment, there is a bilateral India-USA CEO's Forum.
India and the US have set up a bilateral Investment Initiative in 2014, with a special focus on facilitating FDI, portfolio investment, capital market development and financing of infrastructure.
US firms will be lead partners in developing Allahabad, Ajmer and Vishakhapatnam as Smart Cities.
India-US Defence Cooperation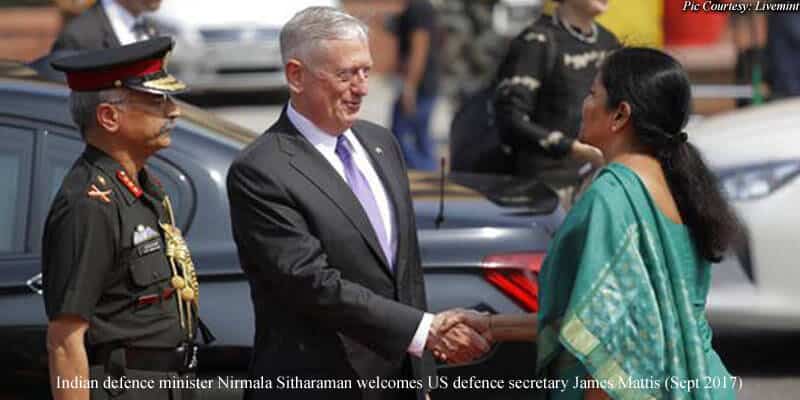 Defence relationship has emerged as a major pillar of India-USA strategic partnership with the signing of 'New Framework for India-U.S. Defense Relations' in 2005 and the resulting intensification in defence trade, joint exercises, personnel exchanges, collaboration and cooperation in maritime security and counter-piracy, and exchanges between each of the three services.
India participated in Rim of the Pacific (RIMPAC) exercise in July-August 2016.
The agreements signed during the past one year include:
Logistics Exchange Memorandum of Association (LEMOA)
Fuel Exchange Agreement
Technical Agreement (TA) on information sharing on White (merchant) Shipping
Information Exchange Annexe (IEA) on Aircraft Carrier Technologies
Pending agreements are:
Communication and Information Security Memorandum of Agreement (CISMOA)
Basic Exchange and Cooperation Agreement (BECA)
India-US: Cooperation in Energy and Climate Change
The India-USA Energy Dialogue was launched in May 2005 to promote trade and investment in the energy sector.
There are six working groups in oil and gas, coal, power and energy efficiency, new technologies and renewable energy, civil nuclear co-operation and sustainable development under the Energy Dialogue.
As a priority initiative under the PACE (Partnership to Advance Clean Energy), the U.S. Department of Energy (DOE) and the Government of India have established the Joint Clean Energy Research and Development Center (JCERDC) designed to promote clean energy innovations by teams of scientists from India and the United States, with a total joint committed funding from both Governments of US$ 50 million.
India-US: Cooperation in Education
India is learning from the U.S. experience in community colleges in order to meet our demands for skill-development. It has been agreed to collaborate with U.S. institutions in the area of Technology Enabled Learning and Massive Open Online Courses (MOOCs) to extend the reach of education in India. Under the Global Initiative of Academic Networks (GIAN) launched by India, up to 1000 American academics will be invited and hosted each year to teach in Indian universities at their convenience. The two sides are also collaborating to establish a new Indian Institute of Technology in Ahmedabad.
India-US: People to People Contacts
The 3.5-million-plus strong Indian American community is an important ethnic group in the U.S., accounting for about 1% of the total population in the country. Indian American community includes a large number of professionals, business entrepreneurs and educationalists with increasing influence in the society. The two countries have been working together to facilitate travel of their respective citizens, and to this end, an MOU has been signed in June 2016 to facilitate India's joining of the Global Entry Programme for expedited immigration for eligible Indian citizens at U.S. airports.
It appears highly likely that in strategic, political, security, defence and economic terms, relations between India and the USA will continue their upward trajectory under President Trump. Impact of USA's relations with Pakistan over India is likely to be beneficial and positive. Geopolitical manoeuvres can have significant impact on India-USA relations, however, it would remain to be multi-faceted and an "indispensable partnership"
Article by: Mausam Bharati