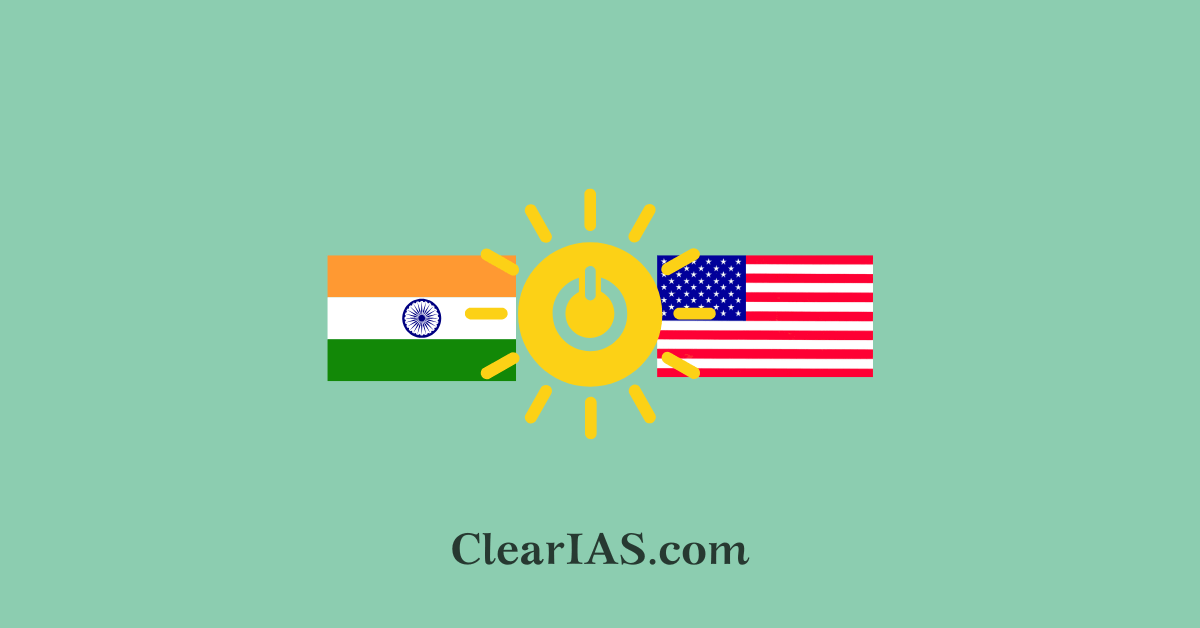 India-US Strategic Clean Energy Partnership ministerial meeting was held recently in New Delhi. In the face of the climate-related threat, the US and India are committed to accelerating the development and deployment of clean energy solutions through this strategic partnership. Read here to learn more.
The Ministerial meeting of the U.S.-India Strategic Clean Energy Partnership (SCEP) was held between the Indian Minister of Petroleum and Natural Gas and the U.S. Energy Secretary in New Delhi.
During the meeting, the sides noted the growing importance of bilateral energy cooperation between the countries while underscoring the critical importance of bilateral clean energy engagement and the achievements of the SCEP in strengthening energy security, creating opportunities for clean energy innovation, addressing climate change, and creating employment generation opportunities.
India-USA Strategic Clean Energy Partnership
Strategic Clean Energy Partnership (SCEP) was established as Strategic Energy Partnership in 2018.
SCEP was established as one of the two-track engagements launched under the US-India Climate and Clean Energy Agenda 2030 Partnership.
2030 agenda was announced in 2021 to accelerate progress toward shared climate and clean energy goals.
The five technical pillars of the India-USA Strategic Clean Energy Partnership are:
Power & Energy Efficiency
Renewable Energy
Responsible for Oil & Gas
Sustainable Growth
Emerging Fuels and Technologies
Previously, the meetings had the importance of facilitating increased energy investments to ensure sustainable, affordable, reliable, resilient, and cleaner energy systems. Enhanced bilateral efforts included:
Strengthening the power grid to ensure reliable, affordable, and resilient clean energy supply including through smart grids and energy storage;
Assessing grid-integrated buildings, electric vehicles, and other distributed energy resources to support load management;
Advancing renewable energy development and deployment, including supporting India's goal of achieving approximately 50 percent cumulative electric power installed capacity from non-fossil fuel-based energy resources by 2030;
Advancing energy efficiency and conservation in appliances, buildings, and the industrial sector;
Electrifying and decarbonizing the transportation sector including creating an enabling ecosystem through setting up an Electric Vehicle (EV) financing services facility in India;
Reducing emissions across the oil and gas value chain including efforts at deploying methane detection and abatement technologies;
Decarbonizing the industrial sector through efforts at electrification, carbon capture and storage, and deployment of other clean emerging energy technologies;
Deepening cooperation between Indian and U.S. Department of Energy labs and agencies, like the EIA, on energy data management, modeling, and low-carbon technologies.
Also read: Mineral Security Partnership and India
India-USA Strategic Clean Energy Partnership 2023
The sides reviewed the ambitious and dynamic SCEP mandate, which over the years has deepened and strengthened collaboration across a wide breadth of clean energy work streams, including:
Clean and renewable energy, energy efficiency, and increased collaboration in emerging technologies like battery storage and swapping technologies, gas hydrates, advanced biofuels, and hydrogen and electrolyzer production.
In this context, the sides recognized the importance of producing green/clean hydrogen as a critical energy source for global decarbonization and agreed to support each other's national hydrogen missions.
Key highlights of the 2023 meeting are:
Establishment of the public-private Energy Storage Task Force and related efforts to support large-scale integration of renewable energy needed to support the clean energy transition;
Deepened collaboration to scale and accelerate deployment of hydrogen technologies through the public-private Hydrogen Task Force and other efforts in support of their national hydrogen strategies, including a focus on common cost reduction goals;
Launch of the U.S.-India New and Emerging Renewable Energy Technologies Action Platform (RETAP) to accelerate the development of key technologies to advance common ambitious clean energy goals.
"Electric Vehicle (EV) financing services facility" will create dedicated e-mobility funds.
The Global Biofuels Alliance will play a role in strengthening markets, facilitating global biofuels trade, developing concrete policy lesson-sharing, and providing technical support for national biofuels programs worldwide.
Advancing emerging technologies to support electrification and decarbonization of hard-to-abate sectors.
Recognizing the role of carbon capture, utilization, and storage to reduce emissions, the sides agreed to spur partnership in this area by building on existing cooperation and welcoming new collaboration including exploring the geologic carbon storage potential.
The South Asia Group for Energy (SAGE) was launched to deepen the engagement between Indian agencies and US national laboratories to support research, analysis, and capacity-building activities such as building modeling capacity in the Life Cycle Assessment of low carbon technologies and analytics on energy consumption in the building sector.
India-US Energy partnership journey
2005: Initiated the US-India Energy dialogue
2009: Launched Partnership to Advance Clean Energy Research (PACE-R)
2017: India and the US agreed to elevate the bilateral energy cooperation
2018: Strategic Clean Energy Partnership (SCEP) was established as Strategic Energy Partnership
2019: Four technical pillars established under the partnership
2021: 2030 agenda was announced
2021: SCEP officially launched and the first ministerial meeting held
Conclusion
Amidst volatility in global energy markets, continuing recovery from the COVID-19 pandemic, and increasingly frequent climate-related challenges, the United States and India reiterated their commitment to accelerating a just and sustainable energy transition.
As climate and clean energy leaders, the US and India share a common vision to deploy clean energy at scale during this critical decade to reduce emissions and achieve climate change mitigation goals, taking into account different national circumstances.
Through regular consultations on global energy markets, efforts to strengthen collective energy security, and deepening technical engagement to support economy-wide decarbonization, the two countries are proactively addressing the multiple crises that the world faces through the India-US Strategic Clean Energy Partnership.
-Article by Swathi Satish