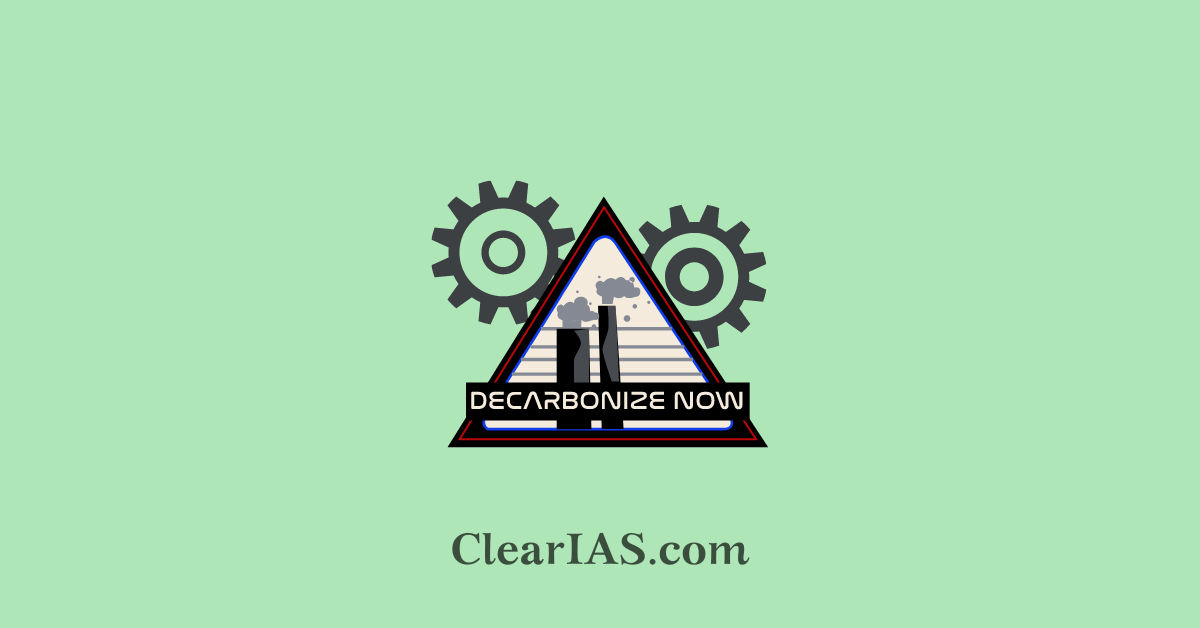 Decarbonizing Iron and Steel Sector is crucial for the improvement of resource efficiency in the Steel Sector. According to a new analysis, the iron and steel sector can produce less emissions and increase its output at the same time. Read here to learn more about decarbonizing.
Although the iron and steel industry contributes significantly to the nation's economic development, it is also a leading sector in terms of greenhouse gas emissions.
India, which now ranks as the second-largest producer of crude steel worldwide, intends to roughly increase its output by 2030.
By 2030, it is predicted that the Carbon dioxide emissions from the manufacture of crude steel will have increased by approximately 2.5 times under the status quo.
What is Decarbonization?
Decarbonization translates as carbon reduction.
The transition to an economic system that sustainably lowers and compensates for carbon dioxide (CO2) emissions is what is intended.
A CO2-free global economy is a long-term objective.
The IPCC (Intergovernmental Panel on Climate Change) estimates that the transport sector is responsible for around 14% of the world's greenhouse gas emissions, a number that is increasing.
Decarbonization of the energy mix has two main objectives: one is the displacement of fossil fuels from the electricity generation sector, and the other one is their displacement from the transportation sector.
Decarbonizing Iron and steel sector
A new analysis shows it is possible to bring down carbon dioxide emissions from the iron and steel sector drastically by 2030 while tripling India's output of steel.
The analysis also gave several recommendations to achieve these goals like-
The analysis was carried out by the Delhi-based non-profit, Centre for Science and Environment (CSE). They laid down some calculations based on four scenarios:
Business as usual (BAU): Based on production in 2030 and the technologies being used currently, GHG emissions will grow 2.5 times by 2030 compared to 2020-21.
Low-carbon growth pathway: Based on emission targets set by the National Steel Policy 2017, a reduction of 12.5 percent (82 million tonnes or MT) from the BAU scenario is possible.
Improved low-carbon growth pathway: Based on voluntary targets by large steel companies, a reduction of 22.5 percent (148 MT) from the BAU scenario can be aimed for.
Accelerated low-carbon growth pathway: CSE's proposal, which is based on the best available technologies and options for decarbonization of the sector, will lead to deeper emission reductions of 419 to 519 MT by 2030.
In the iron and steel sector, the manufacturing process determines the amount of CO2 an industrial unit will produce.
Coal is key to the production of iron in a blast furnace, as well as for making steel through a basic oxygen furnace.
This makes decarbonizing iron and steel sector difficult until the coal or fossil fuels can be replaced.
The other way to manufacture iron is the direct reduced iron (DRI) or sponge iron method.
In this, iron is extracted using reducing agents like coal or gas, and steel is produced thereafter through an electric arc or induction furnace.
This production process is easier to decarbonize as coal can be replaced by natural gas; also, steel scrap can replace iron ore completely.
Direct reduction process by hydrogen
In the production of steel, a technique known as direct reduction by hydrogen (DR-H) uses hydrogen gas to convert iron oxide (Fe2O3) into metallic iron (Fe) without the need for a blast furnace.
Because it greatly lowers the carbon emissions produced by conventional steelmaking methods, this technology is sometimes referred to as the "green route" for the manufacturing of steel.
Iron ore lumps or pellets are commonly mixed with hydrogen gas in a reactor vessel during the direct reduction process at temperatures between 600 and 800 °C.
Using Hydrogen as a reducing agent produces only water vapor as a by-product making it a much cleaner alternative to coal/coke.
Government efforts for decarbonizing Iron and steel production
Ministry of Steel is committed to a Net-Zero target by 2070.
Towards this, in the short term (FY 2030), the reduction of carbon emissions in the steel industry through the promotion of energy and resource efficiency, renewable energy, etc. is the focus.
For the medium term (2030-2047), Green Hydrogen and Carbon Capture, Utilisation, and Storage are the focus areas.
For the long term (2047-2070), disruptive alternative technological innovations can help achieve the transition to net zero.
Other steps taken to promote decarbonization in the steel industry include:
The government is promoting green steel as an alternative to reduce emissions from the sector.
Steel Scrap Recycling Policy, 2019 enhances the availability of domestically generated scrap to reduce the consumption of coal in steel making.
Ministry of New and Renewable Energy (MNRE) has announced National Green Hydrogen Mission for green hydrogen production and usage. The steel sector has also been made a stakeholder in the Mission.
Motor Vehicles (Registration and Functions of Vehicles Scrapping Facility) Rules September 2021, shall increase the availability of scrap in the steel sector.
National Solar Mission launched by MNRE in January 2010 promotes the use of solar energy and also helps reduce the emission of the steel industry.
Perform, Achieve and Trade (PAT) scheme, under National Mission for Enhanced Energy Efficiency, to incentivize the steel industry to reduce energy consumption.
The steel sector has adopted the Best Available Technologies (BAT) available globally, in the modernization and expansion projects.
Japan's New Energy and Industrial Technology Development Organization (NEDO) Model Projects for Energy Efficiency Improvement have been implemented in steel plants.
The financial impact on the steel sector due to climate transition will be contingent on the actual measures taken to achieve the Net-Zero target by 2070.
Also read: Decarbonising Transport Sector
Way forward
Decarbonizing the steel sector will help numerous companies to perform better in the global market.
Significant emissions reductions may be achieved more effectively through investments and strategies put in place today, especially when considering the long-term horizon of developing or renovating industrial sites.
The transition to net-zero steel production would probably need cooperative action from regulators, governments, and industry stakeholders to alter the economics of production, make it easier to acquire necessary financing, and boost demand.
Installing carbon-capture machinery at existing steel plants is one way to decarbonize the steelmaking process. This would enable steel manufacturers to keep operating their facilities without harming the environment.
Another strategy is constructing brand-new steel facilities with low or no CO2 emissions. In contrast to the traditional steel factories of today, these would utilize green hydrogen to power the direct reduction of iron ore, which would then be fed into electric arc furnaces, which would also use renewable energy.
Related posts
-Article written by Swathi Satish