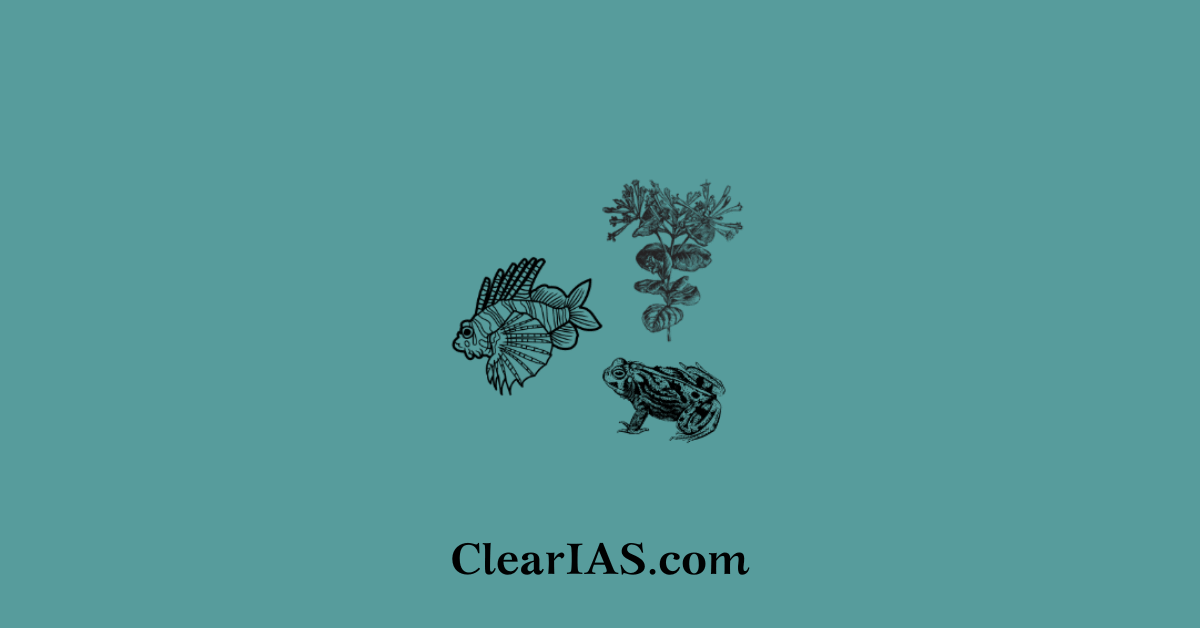 Invasive species are non-native organisms that, when introduced to new environments, can cause significant harm to ecosystems, economies, and human health. Read further to learn more about the impact of invasive species on the environment.
According to a new study, extreme weather might be wreaking havoc across the globe, but some non-native plants and animals could be benefiting from the disasters, adding risk to already threatened local species.
These species can outcompete or prey upon native species, disrupt natural habitats and lead to biodiversity loss.
Invasive species are a major driver of global environmental change.
Invasive species
Invasive species are usually introduced to new environments either intentionally or unintentionally by human activities. This can occur through trade, transportation, agriculture, or even as pets.
These species, often transported by human activity, are thought to be playing a major role in global extinction rates and the catastrophic declines of biodiversity threatening the well-being of people and the planet.
Once introduced, they can spread rapidly and establish self-sustaining populations.
Ballast water from ships is a common pathway for the introduction of non-native species. Species from one region may be inadvertently transported in ballast water and released in a new location.
Global trade and climate change contribute to the spread of non-native species. Changes in temperature and precipitation patterns can create new suitable habitats for invasive species.
Examples of Invasive Species:
Plants: Kudzu (in the United States), Water hyacinth (in various regions), Japanese knotweed (in Europe and North America), and Chestnut blight (in North America, and Europe).
Animals: Brown tree snake (in Guam), Cane toad (in Australia), Burmese python (in the Florida Everglades), Zebra mussels (in North America and Europe), European starling (in North America, Australia, and South Africa).
Microorganisms: Dutch elm disease (affecting elm trees globally).
Impact on Biodiversity
Invasive species can outcompete native species for resources such as food, water, and shelter, leading to declines or extinctions of native flora and fauna.
Predatory invasive species can disrupt food webs by consuming or outcompeting native predators.
These species can alter ecosystem processes and functions. For example, they may change fire regimes, nutrient cycling, and water flow patterns.
Invasive plants may alter fire regimes in ecosystems, making them more susceptible to wildfires. Some invasive plants are adapted to thrive in post-fire conditions, further altering the composition of plant communities.
These species often outcompete native species for resources such as sunlight, water, nutrients, and space. This can lead to a decline in native plant and animal populations.
They may act as predators or herbivores, consuming native species that may not have evolved defenses against them. This can result in a decline or extinction of native species.
These can modify or destroy native habitats. This may occur through activities such as burrowing, nesting, or altering the physical characteristics of the environment, leading to changes in soil composition and hydrology.
Hybridization between invasive and native species can occur, leading to genetic introgression. This can result in the loss of unique genetic traits in native populations.
Economic Impact: Invasive species can have severe economic consequences. They may damage crops, reduce agricultural yields, and increase the cost of controlling their populations. Control and eradication efforts for them can be expensive and challenging.
Human Health: Some of these species can pose risks to human health. For example, certain plants and animals may be toxic or carry diseases that can affect humans and domestic animals.
Prevention and Management of invasive Species
Preventing the introduction of non-native species is often more effective and cost-efficient than trying to control established populations.
Management strategies may include physical removal, chemical control, biological control (introducing natural enemies of the invasive species), and public education.
International cooperation and regulations, such as the International Plant Protection Convention (IPPC) and the International Maritime Organization's (IMO) guidelines on ballast water management, play crucial roles in addressing the spread of invasive species.
It is important to implement measures that prevent and control the introduction and spread of invasive species to protect ecosystems and biodiversity.
Early identification of non-native species is crucial. Implementing rapid response plans allows for the quick control and containment of newly introduced species before they become established.
Conduct thorough risk assessments to evaluate the potential impact of species before they are introduced. Implement and enforce regulations to control the import, sale, and release of potentially invasive species.
non-native species often cross borders. International cooperation and information exchange help address the global nature of the problem. Regional agreements and collaborations are valuable for coordinated efforts.
Raise awareness among the public, industries, and stakeholders about the risks associated with non-native species. Promote responsible practices, such as cleaning boats and equipment to prevent the spread of invasive species.
Implement quarantine measures to inspect and regulate the movement of goods and organisms that may carry invasive species. This is particularly important for international trade.
Develop and enforce biosecurity protocols in agriculture, aquaculture, and other sectors to minimize the risk of introducing non-native species.
Introduce natural enemies or predators of the invasive species to control their populations. This method requires careful consideration to avoid unintended ecological consequences.
Use an integrated approach that combines various strategies, including biological, chemical, and mechanical methods, to manage invasive species sustainably and effectively.
Conclusion
The invasive species can be managed especially if detected early, then even complete eradication is also possible. Implementing control measures to manage established populations of invasive species is necessary. This may include the use of biological controls, chemical treatments, mechanical removal, or habitat manipulation.
Addressing non-native species requires a comprehensive and collaborative approach that involves governments, communities, scientists, and various stakeholders working together to prevent, detect, and manage these threats to ecosystems and biodiversity.
After controlling or eradicating non-native species, undertake restoration efforts to rehabilitate ecosystems. This may involve reintroducing native species, restoring habitats, and improving ecosystem resilience.
Continuously monitor ecosystems for the presence of invasive species and assess the effectiveness of management strategies. Ongoing research helps refine and develop new management techniques.
Involve local communities in invasive species management efforts. Community engagement fosters a sense of responsibility and can lead to more effective control and prevention measures.
Related articles:
-Article by Swathi Satish