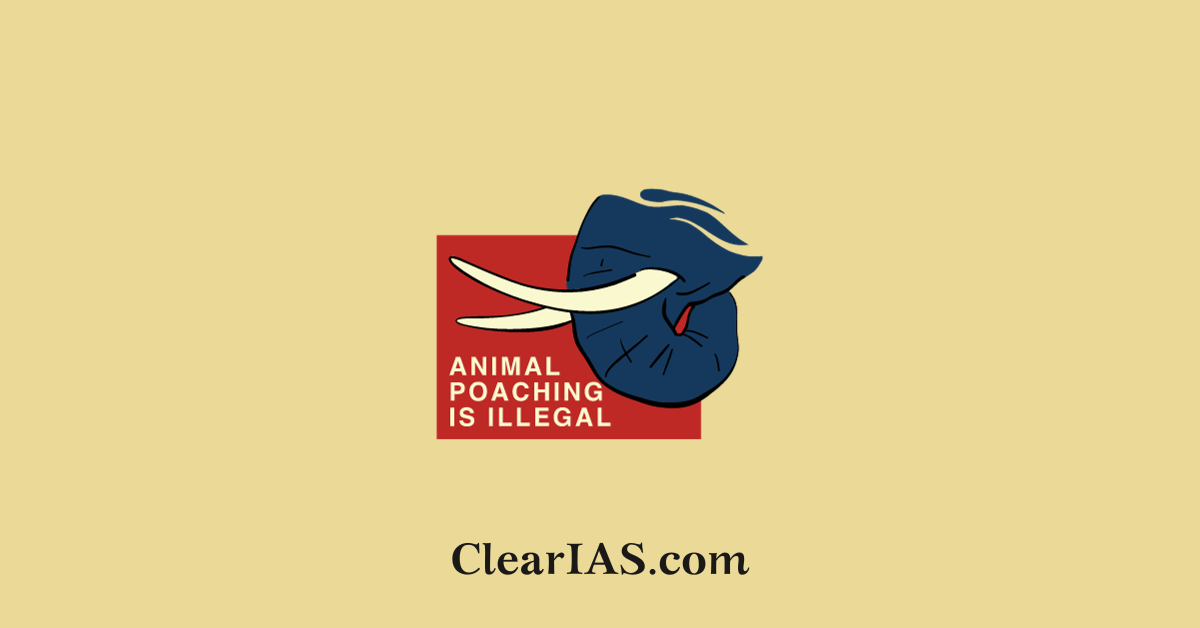 Wildlife crime refers to illegal activities that harm or exploit wildlife and their habitats, often resulting in the illegal trade of wildlife products. These activities pose a significant threat to biodiversity and can have negative ecological, economic, and social consequences. Read further to understand the menace better.
New evidence on the convergence of wildlife crime in tandem with other forms of organized crime has been found in a new report by the nonprofit Wildlife Justice Commission (WJC) working to dismantle organized crime.
The report Convergence of Wildlife Crime with Other Forms of Organized Crime: A 2023 Review, is a follow-up to the first report published in 2021, which mentioned 12 case studies linking wildlife trafficking with human trafficking, fraud, migrant smuggling, illicit drugs, corruption, and money laundering.
The report for the first time noted sand mining as a form of environmental crime.
Wildlife Crime
The delicate balance in our ecosystems relies on biodiversity, and wildlife crimes pose a great threat to this. From hunting elephants for ivory to smuggling endangered plant species, wildlife crimes often span many national borders so an international approach is needed.
The illegal wildlife trade is estimated to be worth up to USD 20 billion per year (Source: UNEP-INTERPOL Report: The Rise of Environmental Crime).
Wild flora and fauna can be exploited by criminals along the entire supply chain, from poaching and transportation to processing and selling.
Other illegal activities are often associated with wildlife crimes, including money laundering, corruption, and document fraud
Poaching: The illegal hunting, capturing, or killing of wildlife, often for their valuable body parts, such as tusks, horns, skins, or bones. Poaching is a major threat to many endangered species, including elephants, rhinoceroses, and tigers.
Illegal Wildlife Trade: The illicit trade in live animals and animal products, including exotic pets, bushmeat, traditional medicines, and luxury goods made from animal parts. This trade can be driven by demand in both domestic and international markets.
Habitat Destruction: Activities that lead to the destruction or degradation of natural habitats, such as deforestation, land conversion, and illegal logging. Habitat loss is a significant driver of wildlife decline.
Smuggling: The illegal transportation of wildlife or wildlife products across borders. Smugglers often use various tactics to avoid detection and customs inspections.
CITES Violations: Violations of the Convention on International Trade in Endangered Species of Wild Fauna and Flora (CITES), which regulates international trade in endangered species and their products. Violations can involve the illegal trade of species listed under CITES.
Bycatch and Illegal Fishing: The accidental capture of non-target species in fishing operations (bycatch) and illegal fishing practices can harm marine wildlife, including sea turtles, dolphins, and various fish species.
Cybercrime: The use of the internet to trade wildlife and their products, which has become an emerging threat. Online platforms are used to facilitate the sale of illegal wildlife items.
Trophy Hunting: Legal trophy hunting, when mismanaged, can pose threats to wildlife populations. The illegal trade in trophies, especially from protected or endangered species, is a form of wildlife crime.
Invasive Species: The illegal introduction and spread of invasive species, often through the illegal pet trade, can have detrimental effects on native ecosystems.
International bodies against wildlife crime
International Consortium on Combating Wildlife Crime
The International Consortium on Combating Wildlife Crime is the collaborative effort of five inter-governmental organizations.
The partner agencies to ICCWC are the CITES Secretariat, INTERPOL, the United Nations Office on Drugs and Crime (UNODC), the World Bank, and the World Customs Organization (WCO).
Frontline officers from national agencies are responsible for wildlife law enforcement and prosecuting authorities who bring criminals engaged in wildlife crime to justice.
ICCWC works directly with these authorities to support them, by building long-term capacity and providing them with the tools, services, and technical support they need to combat wildlife and forest crime effectively.
INTERPOL
The INTERPOL Wildlife Enforcement team helps to disrupt and dismantle transnational organized criminal networks involved in the illegal wildlife trade.
Project Predator: This project has been enhancing law enforcement's capacity to conserve Asian big cats and other wildlife since its creation in 2010. These big cats are killed due to the high value of their fur on the black market and the demand for their body parts for traditional medicines and other uses.
Project Wisdom: Elephants and rhinoceros are poached for their ivory and horn respectively. Ivory is carved and sold as artifacts, while rhino horn is reduced to powder and used in traditional medicine.
Operation Thunderstorm (2018): This operation targeted the people behind the illegal trade in wildlife and timber, and involved police, customs, border, environment, wildlife, and forestry agencies from 93 countries. The operation saw almost 2,000 seizures and the identification of some 1,400 suspects, triggering arrests worldwide.
Operation Thunderbird (2017): A global operation tackling the illegal trade in wildlife and timber that resulted in the identification of nearly 900 suspects and 1,300 seizures of illicit products worth an estimated USD 5.1 million. The operation involved police, customs, border agencies, environment, wildlife, and forestry officials from 49 countries and territories, and resulted in a range of seizures.
Operation Worthy II (2015): This operation targeted ivory trafficking in Africa and resulted in 376 arrests and the seizure of 4.5 tonnes of elephant ivory and rhino horn. We deployed specialized teams to assist in investigating 25 criminal groups involved in the illicit trade.
Operation Paws (Protection of Asian Wildlife Species) II (2015): More than 13 tonnes of pangolin products were seized in this operation, representing some 1,000 animals, at an estimated street value exceeding USD 2 million. Paws II sought to enhance communication and intelligence sharing between countries through cyber investigations, DNA analysis, and joint enforcement activities involving police, customs, and wildlife agencies.
TRAFFIC
TRAFFIC is an organization that was established in 1976 by WWF and IUCN as a wildlife trade monitoring network to undertake data collection, analysis, and provision of recommendations to inform decision-making on wildlife trade.
National bodies
Wildlife Crime Control Bureau of India
Wildlife Crime Control Bureau is a statutory multi-disciplinary body established by the Government of India under the Ministry of Environment and Forests, to combat organized wildlife crime in the country.
The Bureau has its headquarters in New Delhi and five regional offices at Delhi, Kolkata, Mumbai, Chennai and Jabalpur; three sub-regional offices at Guwahati, Amritsar, and Cochin; and five border units at Ramanathapuram, Gorakhpur, Motihari, Nathula and Moreh.
Under Section 38 (Z) of the Wild Life (Protection) Act, 1972, it is mandated:
To collect and collate intelligence related to organized wildlife crime activities and to disseminate the same to State and other enforcement agencies for immediate action to apprehend the criminals;
To establish a centralized wildlife crime data bank;
Co-ordinate actions by various agencies in connection with the enforcement of the provisions of the Act;
Assist foreign authorities and international organizations concerned to facilitate co-ordination and universal action for wildlife crime control;
Capacity building of the wildlife crime enforcement agencies for scientific and
Professional investigation into wildlife crimes and assist State Governments to ensure success in prosecutions related to wildlife crimes; and advise the Government of India on issues relating to wildlife crimes having national and international ramifications, relevant policies, and laws.
It also assists and advises the Customs authorities in the inspection of the consignments of flora & fauna as per the provisions of the Wild Life Protection Act, CITES, and EXIM Policy governing such an item.
Way forward
Wildlife crime is a global issue with significant environmental and socioeconomic consequences. It poses a serious threat to biodiversity and can lead to the extinction of species.
In addition to ecological damage, it can undermine the rule of law, promote corruption, and disrupt local communities that rely on natural resources for their livelihoods.
To combat wildlife crime, international organizations, governments, and conservation groups work to strengthen laws and regulations, enhance enforcement, raise public awareness, and support community-based conservation efforts. Collaboration between nations is crucial in addressing this transnational issue.
Related posts:
-Article written by Swathi Satish