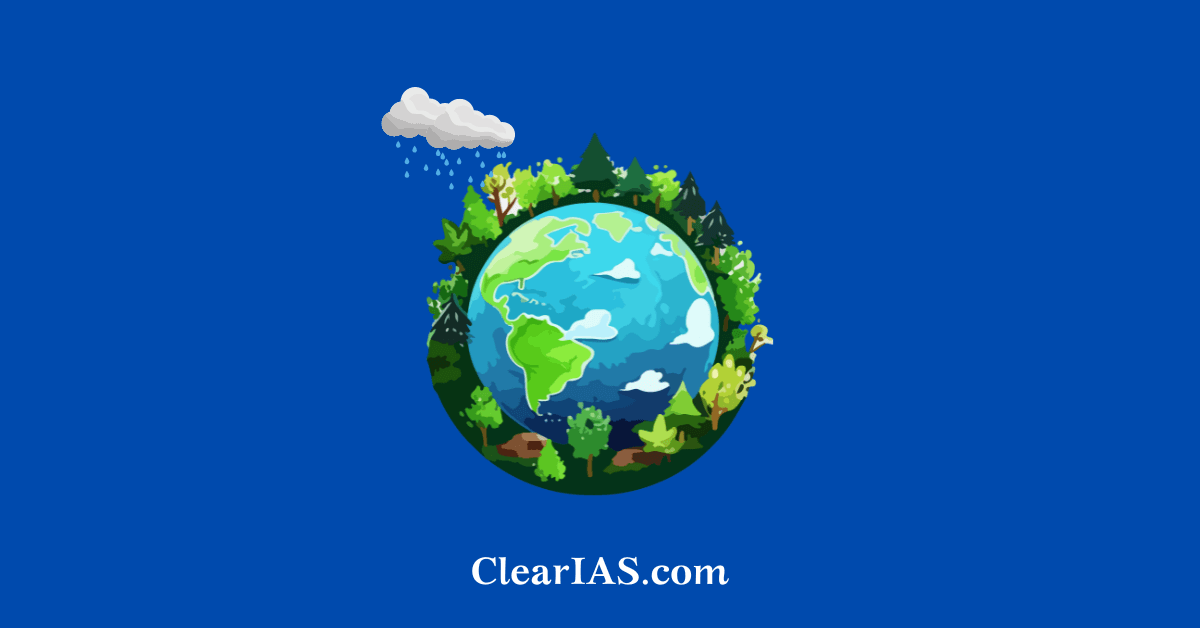 What are the general Issues on environmental ecology, bio-diversity and climate change? Read this post to know.
Before starting to learn this topic, let's try to understand the key terms first – Environmental Ecology, Bio-diversity, and Climate Change.
What is environmental ecology?
Ecology is the scientific study of the relationships between living organisms and their environments.
It encompasses the study of interactions among organisms and between organisms and their physical surroundings.
Environmental ecology is a specific branch of ecology that focuses on the study of how organisms interact with and respond to their physical environment, including the effects of human activities on ecosystems. It seeks to understand how environmental factors, such as climate, geology, and land use, influence the distribution, abundance, behaviour, and adaptation of living organisms in natural and human-altered landscapes.
What is Bio-diversity?
Biodiversity is the short form of biological diversity. It refers to the variety of life on Earth.
Biodiversity can be understood at several levels:
Species Diversity: This is the simplest level of biodiversity and refers to the variety of different species in a particular area or on the entire planet. A diverse range of species is important for ecosystem stability and resilience.
Genetic Diversity: Genetic diversity focuses on the genetic variation within species. It's crucial for the adaptability of species to changing environmental conditions and for breeding programs in agriculture and conservation.
Ecosystem Diversity: This level of biodiversity looks at the variety of ecosystems, such as forests, grasslands, wetlands, and coral reefs, and the interactions between different ecosystems in a region. Ecosystem diversity supports various ecological functions and services.
What is Climate Change?
Climate change refers to long-term alterations in the average weather patterns and conditions on Earth. It encompasses shifts in temperature, precipitation, wind patterns, and other climatic factors over an extended period, typically decades to millions of years. Climate change can manifest as both natural variations and human-induced alterations to the Earth's climate system.
There are two primary components of climate change:
Natural Climate Change: Earth's climate has undergone natural variations throughout its history. Factors such as changes in the Earth's orbit, volcanic eruptions, and variations in solar radiation have historically contributed to natural climate fluctuations over geological timescales.
Human-Induced Climate Change: In recent history, human activities have become a significant driver of climate change. The burning of fossil fuels (such as coal, oil, and natural gas), deforestation, industrial processes, and agricultural practices have released greenhouse gases, primarily carbon dioxide (CO2), into the atmosphere. These gases trap heat from the sun, leading to the greenhouse effect, which causes the Earth's average temperature to rise—an effect commonly referred to as global warming. The increase in global temperatures is a hallmark of modern human-induced climate change.
General Issues on Environmental Ecology, Bio-diversity and Climate Change
The world is at a pivotal moment in history, where environmental ecology, biodiversity, and climate change converge to create a complex web of challenges.
As we grapple with the consequences of our actions on the planet, it becomes increasingly evident that we must address these interconnected issues collectively and urgently.
In this blog post, we will explore the general issues surrounding environmental ecology, biodiversity, and climate change, highlighting their interdependence and the critical need for global action.
1. Environmental Ecology: Understanding Our Ecosystems
Environmental ecology is the study of the relationships between living organisms and their surrounding environments. It examines the intricate balance that sustains life on Earth, from the tiniest microorganisms to the grandest ecosystems. However, human activities have disrupted this balance in many ways:
a) Habitat Destruction: Urbanization, deforestation, and industrialization have led to the destruction of natural habitats. This disrupts ecosystems and threatens countless species with extinction.
b) Pollution: Pollution from industries, agriculture, and transportation has contaminated air, water, and soil. This not only harms wildlife but also endangers human health.
c) Over-exploitation: Overfishing, hunting, and the extraction of resources have pushed many species to the brink of extinction and depleted vital ecosystems.
Know more about Environmental Ecology…
2. Biodiversity: The Web of Life
Biodiversity, the variety of life on Earth, is a measure of an ecosystem's health and resilience. It encompasses the rich variety of species, genes, and ecosystems that make up our planet. Biodiversity provides numerous benefits to humanity, such as clean air and water, food security, and medicines. However, it faces severe threats:
a) Mass Extinctions: Human activities have accelerated the rate of species extinction to alarming levels, causing the sixth mass extinction event in Earth's history.
b) Invasive Species: The introduction of non-native species disrupts ecosystems and often outcompetes native species.
c) Genetic Erosion: The loss of genetic diversity within species reduces their ability to adapt to changing conditions.
3. Climate Change: The Looming Crisis
Climate change is perhaps the most pressing issue of our time. It is driven by the accumulation of greenhouse gases, primarily carbon dioxide, in the atmosphere. The consequences of climate change are profound:
Key aspects of climate change include:
a. Rising Global Temperatures: The Earth's average surface temperature has been steadily increasing over the past century, with the most rapid warming observed in recent decades. This increase in temperature has numerous far-reaching effects.
b. Melting Ice and Rising Sea Levels: As global temperatures rise, glaciers and polar ice caps are melting, leading to rising sea levels. This threatens coastal communities and low-lying areas.
c. Extreme Weather Events: Climate change contributes to more frequent and severe weather events, including hurricanes, heatwaves, droughts, floods, and wildfires.
d. Ocean Acidification: Increased CO2 levels in the atmosphere also lead to higher CO2 concentrations in the world's oceans, causing ocean acidification, which can harm marine ecosystems.
e. Shifts in Climate Patterns: Climate change can alter long-term climate patterns, affecting seasonal weather, precipitation patterns, and temperature ranges. This can disrupt agriculture, water resources, and ecosystems.
f. Impacts on Biodiversity: Changing climates can force species to adapt, migrate, or face extinction as their habitats shift or become inhospitable.
Know more about Climate Change…
The Interconnectedness of the Issues
General issues on Environmental Ecology, Biodiversity and Climate Change are not isolated; they are intricately linked.
For example, deforestation contributes to both habitat destruction and climate change.
The loss of forests reduces the planet's capacity to absorb carbon dioxide, exacerbating global warming.
Likewise, climate change can affect biodiversity by altering habitats and migration patterns.
The Call for Global Action
Addressing these issues requires collective and immediate action on multiple fronts:
a) Conservation Efforts: Protecting and restoring natural habitats, implementing sustainable practices in agriculture and fisheries, and combating pollution are vital for preserving biodiversity and mitigating climate change.
b) Renewable Energy Transition: Shifting from fossil fuels to renewable energy sources like solar and wind power is essential to reduce greenhouse gas emissions.
c) International Cooperation: Climate agreements like the Paris Agreement and conservation initiatives like the Convention on Biological Diversity exemplify the importance of global collaboration.
How to study General Issues on Environmental Ecology, Bio-diversity and Climate Change?
Readers may note that this article on Environmental Ecology, Bio-diversity and Climate Change is just an overview of the topic. There is a lot more to learn about the general issues of Environmental Ecology, Bio-diversity and Climate Change.
We recommend the below sources to learn the subject.
Conclusion
Environmental ecology, biodiversity, and climate change are inextricably linked, forming a complex tapestry of challenges that humanity must address.
The consequences of inaction are dire, with potential repercussions for our planet's ecosystems, species, and future generations. To secure a sustainable future, we must acknowledge the interconnectedness of these issues and take decisive action to protect the delicate balance of life on Earth.
By nurturing our environment, preserving biodiversity, and mitigating climate change, we can forge a path towards a more harmonious and resilient planet.