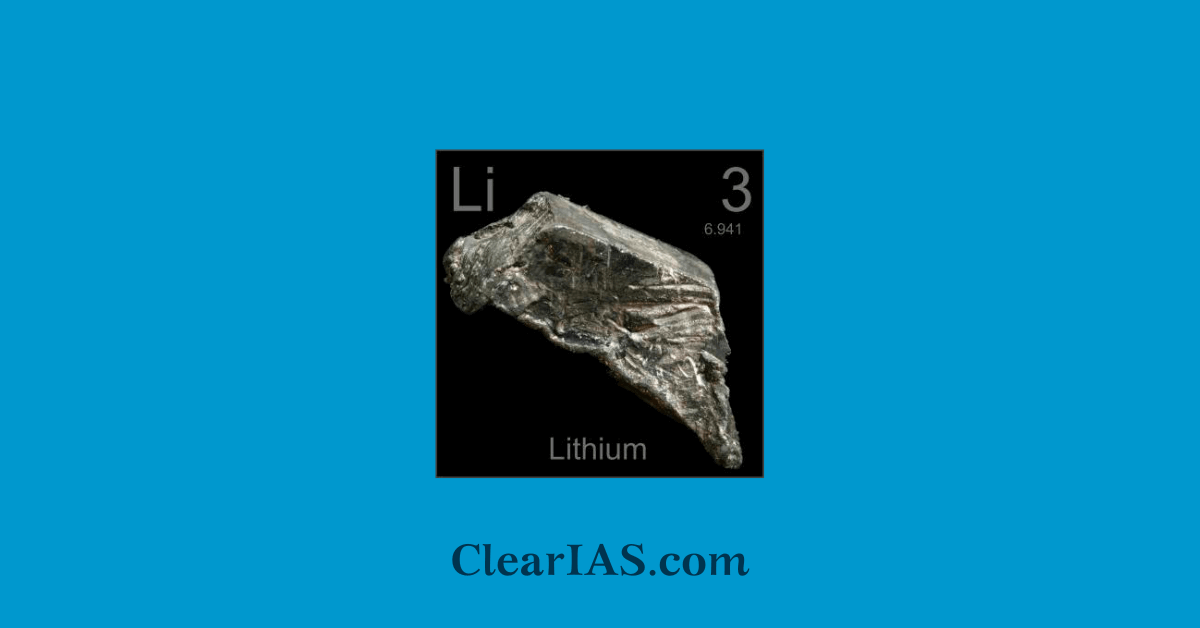 Recently, lithium resources were found in Jammu & Kashmir by the geological survey of India. Lithium is considered a crucial component for the production of rechargeable batteries, which are used in a variety of electronic devices, including smartphones, laptops, and electric vehicles. Read here to know more about the element and significance of the discovery.
The Geological Survey of India (GSI) has established "inferred" lithium resources of 5.9 million tonnes in the Salal-Haimana area of the Reasi District of Jammu and Kashmir. These resources have been established as part of the "Reasi Sersandu-Kherikot-Rahotkot-Darabi" mineral block, where prospecting has been ongoing since 2021-22.
The recent discovery of this large deposit of metal in India could potentially help the country to meet its domestic demand for the metal, which has been increasing in recent years due to the growing popularity of electronic devices and electric vehicles.
Lithium
The chemical element lithium has the chemical symbol Li and atomic number 3 and is derived from the Greek word lithos, meaning stone.
It is a delicate, white-silver alkali metal.
It is the least dense metal and the least dense solid element under typical conditions.
As with all alkali metals, Li must be stored under a vacuum, in an inert atmosphere, or an inert liquid such as mineral oil or pure kerosene.
It has a shiny sheen when cut, but damp air quickly corrodes it to a dull silvery grey, then a black patina.
It never occurs freely in nature, but only in (usually ionic) compounds, such as pegmatitic minerals, which were once the main source of Li.
Due to its solubility as an ion, it is present in ocean water and is commonly obtained from brines.
Li metal is isolated electrolytically from a mixture of lithium chloride and potassium chloride.
In trace levels, Li is found in biological systems; its roles remain unknown. In the treatment of mental illnesses including bipolar disorder, Li salts have shown promise as a mood stabilizer and antidepressant.
Many industrial products use lithium and its compounds, including lithium metal batteries, lithium-ion batteries, flux additives for the manufacturing of iron, steel, and aluminum, heat-resistant glass and ceramics, lithium grease lubricants, and lithium-ion batteries.
More than 75 percent of Li production is used for these purposes.
Applications of Li metal
Li is best known for its role in energy-storage technology.
Lithium-ion batteries, rechargeable and lightweight, power the most-used electronic devices on the planet, from cell phones to laptops.
The design of the battery laid the foundations for a wireless society.
Lithium-ion batteries do not just make for better electronic devices, but also allow for the storage of significant amounts of energy from renewable sources, such as solar and wind.
They are already used to power homes and commercial, industrial, and educational facilities around the world.
In addition, the batteries are what enable electric cars to operate with high autonomy.
These batteries also promote development through access to energy, because they allow a greater application of solutions with solar panels in isolated systems.
Solar radiation is converted into electrical energy through photovoltaic solar panels. This energy can be connected to the electricity grid or it can be conducted through isolated systems.
The excess energy produced by these panels is stored in batteries for night-time use or during periods of low solar radiation.
In isolated islands or remote areas not connected to the power grid, it is necessary to store the energy through batteries to use it 24 hours a day.
The lithium battery allows that surplus to be stored more efficiently. These batteries can store between 95 and 99% of the energy generated, while those of lead-acid which is still commonly used to store solar energy, only reach up to 85%.
With the development of this technology, it is possible to store the energy that supplies electricity to regions that do not yet have this service.
Lithium is widely used in a variety of applications due to its unique chemical and physical properties. Some of the other most important uses of the element include:
Pharmaceuticals: It is used as a mood stabilizer in the treatment of the bipolar disorder, depression, and other mental health conditions.
Glass and Ceramics: It is used in the production of special glass and ceramics, as it helps to reduce the melting temperature of these materials.
Aerospace and Military: It is used in the aerospace and military industries to cool the temperature-sensitive components in space vehicles and military equipment, such as radar systems and missile guidance systems.
Lubrication: It is used as an ingredient in high-temperature lubricating greases, due to its ability to withstand high temperatures and provide long-lasting lubrication.
Side-effects of lithium mining
The common environmental side effects of lithium mining are water loss, ground destabilization, biodiversity loss, increased salinity of rivers, contaminated soil, and toxic waste.
After the brine is pumped out from underneath the salt flat, it is left to evaporate through a series of ponds for 12-18 months, forming a mixture of potassium, magnesium, borax, and lithium salts.
For a tonne of lithium, up to 2 million liters of water are required. The majority of this is lost in evaporation.
Other major side-effects of Lithium Mining are-
Pollutes Water Sources
Increases Carbon Dioxide Emissions
Misuses Gallons of Water
Depletes Fertile Land
Causes Respiratory Problems
Creates Unsustainable Water Table Reduction
Produces Massive Mining Wastes
Tampers with the Water Cycle
Global lithium reserves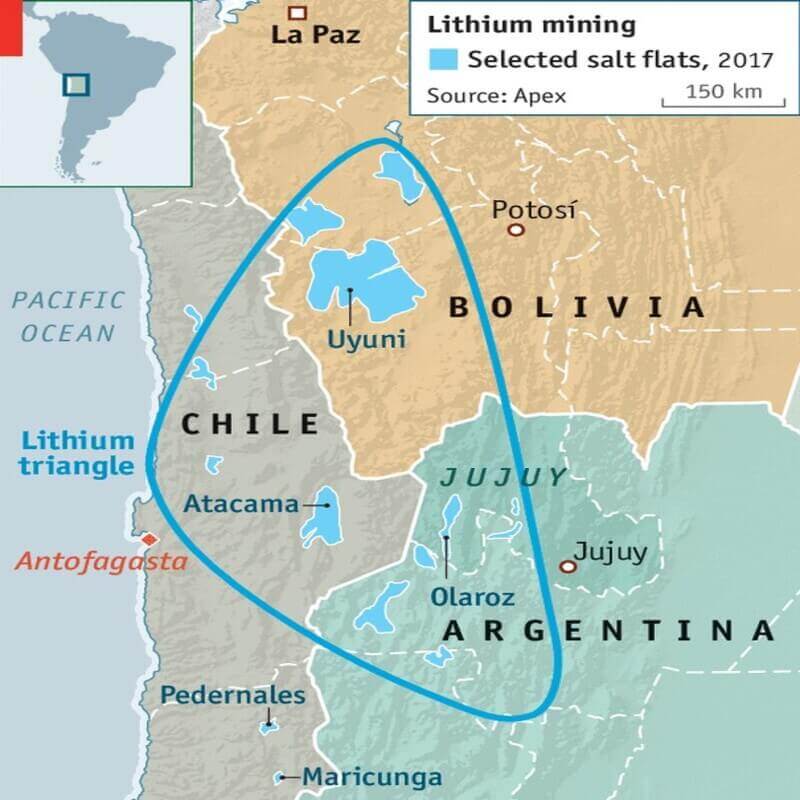 Chile, Australia, Argentina, China, US are a few of the countries in the world with the largest overall lithium reserves, regardless of their stage of development.
Argentina, Bolivia, and Chile make up the "lithium triangle." The three countries, along with Peru, contain about 67% of proven lithium reserves and produce about half of the global supply, according to the U.S. Geological Survey.
One-third of the "lithium triangle" in South America – which also comprises second and third-placed Argentina and Chile – Bolivia is home to the world's biggest lithium reserves.
With estimates of 21 million tonnes, Bolivia holds aboutone-quarterr of the entire global resource – including the world's single-biggest lithium deposit, the Salar de Uyuni salt flat, which is visible from space.
Argentina has the world's second-largest lithium reserves, totaling around 17 million tonnes. Likeneighboringg Bolivia and Chile, these reserves are contained in vast salt flats, where the solar evaporation of brine pools is the technique used to extract it.
The Salar del Hombre Muerto salt flat is a notable lithium resource in Argentina.
Chile accounts for around nine million tonnes of lithium reserves. Chile has succeeded in developing a prolific mining industry for the metal – and in 2019 had by far the world's largest mine reserves, totaling 8.6 million tonnes.
Although the US has the world's fourth-largest lithium reserves, measured at 6.8 million tonnes according to the US Geological Survey, production activity in the country is minimal.
Australia may only rank fifth on the list of largest overall reserves with 6.3 million tonnes, but it was by far the world's biggest lithium producer in 2019.
China is sixth-placed on the list, with overall lithium reserves estimated at 4.5 million tonnes. In 2019, the country produced 7,500 tonnes of the metal – the third-highest level worldwide.
Lithium reserves in India
The recently discovered lithium deposit is estimated to be 5.9 million tonnes in the Salal-Haimana area of the Reasi District of Jammu & Kashmir (UT), making it one of the largest deposits of lithium in the world.
Earlier, researchers at the Atomic Minerals Directorate (under India's Atomic Energy Commission) estimated lithium reserves of 14,100 tonnes in a small patch of land surveyed in Southern Karnataka's Mandya district.
Significance of lithium deposits in India
One of the reasons India has been dependent on other nations for Li-Ion batteries and other EV components is the lack of lithium availability.
The latest finding of lithium reserves in J&K does come in as a new lease of life as it furthers India's desire to become self-sufficient in its energy storage needs.
Lithium is one of the key components of Li-Ion batteries and taking into consideration the financial impact of obtaining Lithium, the new discovery is significant.
The recent discovery of this sizable lithium deposit in India may be able to assist the nation in supplying its expanding domestic metal demand, which has been driven up recently by the popularity of electronic gadgets and electric vehicles.
The finding of this significant lithium deposit in India may help the nation become a significant player in the global lithium market in addition to satisfying domestic demand.
Lithium mining is a challenging operation that calls for hefty infrastructural and technological investments.
The government of India will need to take action to guarantee that the development of this deposit is done in a sustainable and environmentally responsible manner because the environmental impact of lithium mining is a key worry.
China even though has only the 6th largest reserves, has the upper hand when it comes to manufacturing. China is estimated to have 60 percent of the world's capacity for processing and refining lithium.
India's lithium reserves, if manufactured and refined judiciously, can potentially make it compete against China.
Way forward
Lithium has been dubbed "white gold" for its widespread usage in items indispensable to modern-day living.
The world's lithium supply can barely keep up with its demand. A report from the International Energy Agency says that the world could face lithium shortages by 2025.
Lithium, nickel, and cobalt are just a few of the minerals that India now imports to satisfy its demand.
India is making audacious moves to establish itself as a rival in the electric vehicle supply chain as the globe works to wean itself off its reliance on China for essential battery materials.
India only has a small amount of the raw materials required to meet the domestic demand for lithium-ion batteries.
Therefore, it is anticipated that the government's aspirations to enter the EV market will receive a major boost from the discovery of lithium inferred resources (G3) of 5.9 million tonnes in Jammu and Kashmir.
-Article written by Swathi Satish