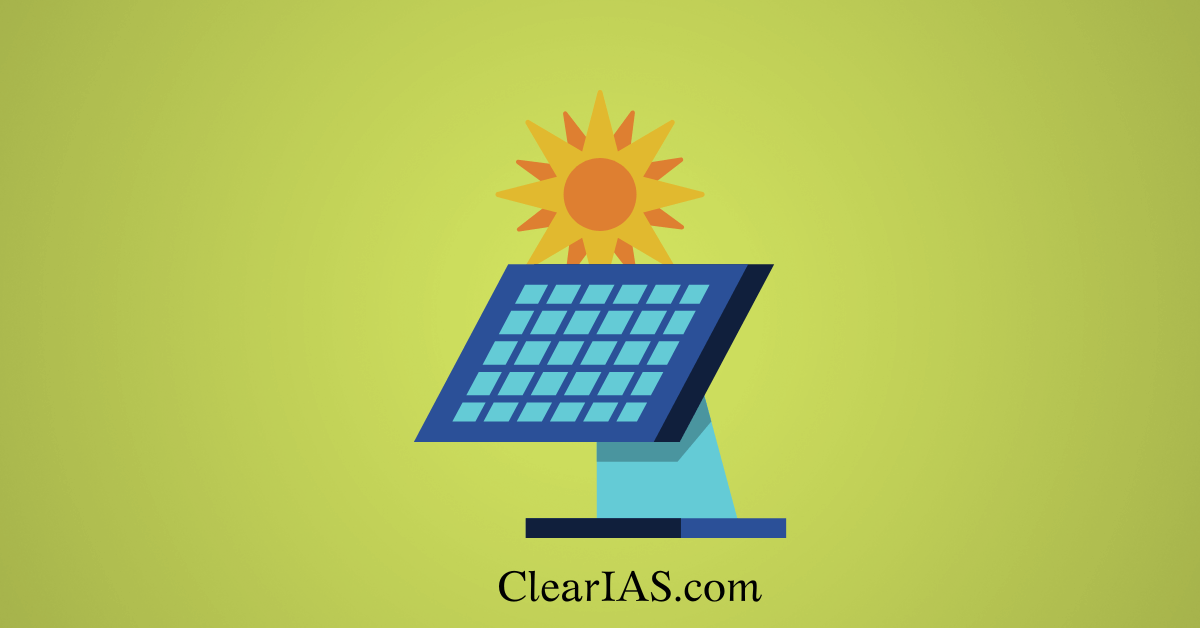 What is Solar energy? How can it be harnessed? What is the geographic advantage India enjoys over its location? Read further to know more.
In this article, we discuss solar energy and its importance. We will also see the Solar energy potential of India, India's installed solar energy capacity, various measures taken by the government to promote solar energy, and the various challenges in the adoption of solar energy.
Coal currently accounts for about 55% of India's energy requirements. However, this results in significant Green House gas emissions.
If India needs to achieve its Nationally Determined Contribution (NDC) under the Paris agreement, we need to rely more on renewable energy.
In this context, the adoption of renewable sources of energy assumes significance.
In news
Recently, the road transport and highway minister announced that the government is working on developing electric highways powered by solar energy.
This is expected to facilitate the charging of heavy-duty trucks and buses.
This signifies India's commitment to the adoption of renewable sources of energy in the present energy-strapped world.
In this context let us discuss the solar energy potential of India and analyze where India stands in the global arena in the march towards the attainment of energy security.
Importance of Solar energy
A limitless source of energy: Unlike conventional sources of energy like fossil fuels, solar energy is limitless.
Clean source of energy: Solar energy is a non-polluting source of energy.
No fuel required: Solar energy is itself the fuel: Once installed, solar energy becomes a cheap source of sustainable energy in the long run.
India's potential in building sustainable solar energy capacity
India is endowed with vast solar energy potential. About 5,000 trillion kWh per year of energy is incident over India's land area with most parts receiving 4-7 kWh per sq. m per day. Solar photovoltaics power can effectively be harnessed providing huge scalability in India.
The National Institute of Solar Energy has assessed the Country's solar potential of about 748 GW assuming 3% of the wasteland area to be covered by Solar PV modules.
Also read: Solar Radiation Management
Current status of India's solar energy capacity
India in its nationally intended has set an ambitious target to achieve a capacity of 175 GW worth of renewable energy by the end of 2022, which expands to 500 GW by 2030. This is the world's largest expansion plan in renewable energy.
India was the second largest market in Asia for new solar PV capacity and third globally (13 GW of additions in 2021). It ranked fourth for total installations (60.4 GW), overtaking Germany (59.2 GW) for the first time.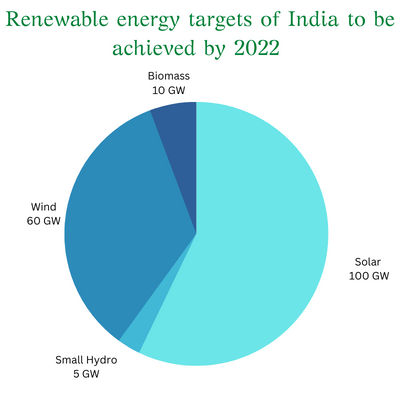 Major initiatives and policies of the Indian Government to promote solar energy
45 solar parks with an aggregate capacity of 37 GW have been approved in India.
Solar Parks in Pavagada (2 GW), Kurnool (1 GW), and Bhadla-II (648 MW) are included in the top 5 operational solar parks of 7 GW capacity in the country
The world's largest renewable energy park of 30 GW capacity solar-wind hybrid project is under installation in Gujarat
Various schemes to encourage the generation of solar power have been launched in the country like Solar Park Scheme, VGF Schemes, CPSU Scheme, Defence Scheme, Canal bank & Canal top Scheme, Bundling Scheme, Grid Connected Solar Rooftop Scheme, etc.
Various policy measures undertaken included a declaration of trajectory for Renewable Purchase Obligation (RPO) including Solar energy.
A waiver of Inter-State Transmission System (ISTS) charges and losses for inter-state sale of solar and wind power for projects to be commissioned up to March 2022 has been instituted.
Standards for the deployment of solar photovoltaic systems and devices have been clearly defined.
Building bye-laws have been suitably amended to include the mandatory provision of rooftop solar panel installation for new constructions or higher Floor Area Ratio
Solar projects have been accorded infrastructure status.
Recently, India achieved the 5th global position in solar power deployment by surpassing Italy. Solar power capacity has increased by more than 11 times in the last five years from 2.6 GW in March 2014 to 30 GW in July 2019.  Presently, solar tariff in India is very competitive and has achieved grid parity.
High-Efficiency Solar PV Modules have been included in the Production-Linked Incentive (PLI) Scheme for Enhancing India's Manufacturing Capabilities and Enhancing Exports.
Also read: Green Grids Initiative-one sun one world one grid
Challenges
Some of the most notable Solar Energy Challenges in India include:
Lack of Domestic Manufacturing of Solar Parts: The domestic manufacturing industry of solar PV cells and modules is severely lacking in India due to the lack of infrastructure, skilled workforce and high cost of production.
Space Scarcity: Another part of the major Solar Energy Challenges in India is the scarcity of land to install large-scale ground-mount solar systems, solving which scope for greater R&D and innovation could be increased tenfold in terms of installation.
Financing Mechanism: The absence of innovative financing options for installing large-scale solar PV parks is another big part of Solar Energy Challenges in India that could offer higher sums at lower interest with longer durations. However, some government initiatives like National Clean Energy and Environment Fund, Green Masala Bonds, etc., have slightly resolved this issue.
Low Tariffs: Since the Indian government enforces one of the lowest solar tariffs, it makes the prospect of purchasing solar parts unsustainable for some developers which further leads to compromise in the quality of solar panels. This forms another key part of the Solar Energy Challenges in India that need to be addressed.
Waste Management: India's solar waste has been predicted to grow by 1.8 million tonnes by 2050. Currently, India's e-waste rules are not mandatory on solar cell manufacturers which leads to a large generation of solar waste every year.
Way forward
Promote hybridization of solar and wind energy: The synergy in hybrid wind and solar plants will help reduce variability in power generation. Hybrid projects would also have much higher capacity utilization factors, thus practically eliminating the intermittency challenge.
Build enhanced evacuation infrastructure: We need greater investment in high-voltage transmission lines to transport bulk energy over vast distances quickly and efficiently from power-rich to power-scarce states. This is all the more important in a scenario where storage solutions are not well developed
Invest in digitalization: There is huge potential for advanced software solutions that can optimize grid-level operations besides impacting consumer behaviour.
Develop battery storage solutions: Grid operators can store electricity generated from renewable projects in large battery systems in low-demand situations, and then promptly release that electricity into the grid when demand increases.
Turnaround the distribution companies: Nearly a quarter of electricity generated is lost in transmission because India's distribution companies (known as DISCOMs) use outdated infrastructure, resulting in line faults and leakages, as well as undersized and over-utilized transformers. Immediate reforms are needed to revitalize the DISCOMs – privatization and greater autonomy may be the answer. There is a dire need to invest in upgraded infrastructure and formulate an action plan to enhance revenue collection.
Also read: Wind Energy: Potential Of India
Conclusion
India needs to enhance its solar manufacturing capacity as it cannot just rely on large-scale solar deployment by importing solar equipment.
There is an immediate necessity to develop the entire value chain ecosystem to become competitive and achieve sustainable growth in the long run.
Article written by: Caroline Abraham