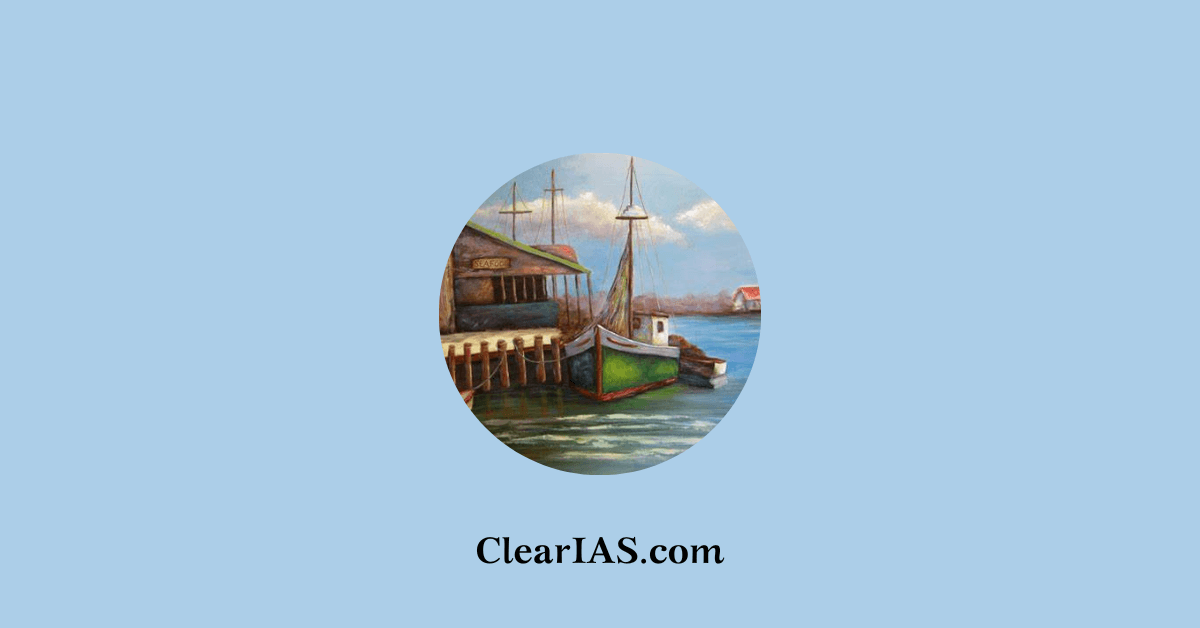 Which are the Major ports of India? How are ports administered in India? How are they classified? Read further to know more.
Port infrastructure is critical to the success of any country. The length of India's coastline is roughly 7,500 kilometres. In terms of volume and value, ports handle nearly 95% and 70%, respectively, of India's exports. Iron ore, coal, crude petroleum, and other vital items are imported via the sea route.
A nation's development is heavily reliant on its ports. Compared to other routes of transportation, ports are the most efficient in terms of price, volume, and ease of use.
The Indian government is an important supporter of the port industry's development. It has created an automatic path to 100% FDI for port and harbour construction and maintenance projects. It has also made it easier for firms who build, operate, and maintain ports, inland waterways, and inland ports to benefit from a 10-year tax relief.
Port administration in India
Major and minor ports are the two types of ports in India. Major ports are owned and operated by the Central Government, while minor ports are owned and operated by state governments. India has 205 designated minor and intermediate ports that handle a significant amount of business in addition to 13 major seaports (12 government-owned and one private).
Major  ports
Major ports are included in the Union list of the Indian Constitution and are administered under the Indian Ports Act of 1908 and the Major Port Trust Act of 1963. Each major port is overseen by a Board of Trustees appointed by the Government of India. Port development, management, and operations are among their tasks.
Minor ports
Minor ports, such as those in Gujarat, Maharashtra, and Tamil Nadu, are governed by the port department or, if one exists, the State Maritime Board. State marine boards perform similar functions to port trusts and have tariff-setting authority. They also work to attract private investment through concession contracts, incentives, exclusive rights, and land acquisition.
Port classifications based on cargo handled
Port classifications based on cargo handled are Commercial ports, Industrial ports, and Comprehensive Ports.
Industrial ports specialise in bulk items such as grain, sugar, minerals, oil, chemicals, and similar materials.
Commercial ports handle general cargo, such as packaged goods and manufactured things, as well as passenger traffic.
Comprehensive ports handle massive amounts of bulk and general cargo. The bulk of the world's major ports is comprehensive ports.
Port classifications based on location
Interior ports are those that are not on the coast. They are connected to the sea by a river or canal. These ports can be approached by flat-bottomed ships and barges. Kolkata, for example, is situated on the Hoogli River.
Out Ports: Deep-water ports that are located outside of the main ports. These ports help the parent ports by receiving ships that are too large to enter the parent ports.
Service port model versus the Landlord port model
The service port model: The port authority owns the land as well as all available equipment (both fixed and mobile) and performs all regulatory and port activities under the service port model.
The landlord port model: The landlord port concept involves a publicly controlled port body acting as both a regulator and a landlord, while private firms oversee port operations, notably cargo handling. The port is owned by the port authority, but the infrastructure is leased to private businesses that build and maintain their own superstructure as well as install their own cargo handling equipment.
Major ports in  India
All Indian ports are located in nine coastal states: Kerala, Karnataka, Maharashtra, Goa, Gujarat, West Bengal, Odisha, Andhra Pradesh, and Tamil Nadu.
The country's thirteen major ports handle a large volume of container and cargo traffic.
Mumbai is India's largest natural port.
As you are aware, the Indian government has a federal structure, and maritime transit is to be controlled by both the Central and State governments, according to the Indian constitution.
While the central government's shipping ministry is in charge of the major ports, the minor and intermediate ports are managed by the respective departments or ministries in the nine coastal states: Andhra Pradesh, Goa, Gujarat, Karnataka, Kerala, Maharashtra, Odisha, Tamil Nadu, and West Bengal.
Six of India's 13 major ports are located on the western coast. The other six ports are on the east coast, with one on the Andaman Nicobar Islands in Port Blair.
Also Read: Maritime India Vision 2030 – ClearIAS
List of Important Indian Ports
The following is a list of India's major ports:
| | | |
| --- | --- | --- |
| Coast | State | Port |
| Eastern Coast | Tamil Nadu | Chennai |
| Western Coast | Kerala | Kochi (Cochin) |
| Eastern Coast | Tamil Nadu | Ennore |
| Eastern Coast | West Bengal | Kolkata (Haldia) |
| Western Coast | Gujarat | Kandla |
| Western Coast | Karnataka | Mangalore |
| Western Coast | Goa | Mormugao |
| Western Coast | Maharashtra | Mumbai Port Trust |
| Western Coast | Maharashtra | Jawaharlal Nehru Port Trust (JNPT) |
| Western Coast | Maharashtra | Vadhavan Port |
| Eastern Coast | Odisha | Paradip |
| Eastern Coast | Tamil Nadu | Tuticorin |
| Eastern Coast | Andhra Pradesh | Visakhapatnam |
Ports on Western Coast
The ports of Mumbai, Kandla, Mangalore, JNPT, Vadhavan, Mormugao, and Cochin are located on the west coast.
Kochi (Cochin) Port
Cochin Port, also known as Kochi Port, is a major port on the Arabian Sea-Laccadive Sea-Indian Ocean water route in the city of Kochi and one of India's largest ports.
It is also India's first transhipment terminal.
The port is located on two islands in Lake Kochi, Willingdon Island and Vallarpadam, near the Fort Kochi river mouth, which opens onto the Laccadive Sea.
Kochi Port in Kerala is a tidal port.
The port is often regarded as the natural entryway to South-West India's industrial and agricultural produce markets.
Spices, tea, and coffee are exported.
It is one of the shipbuilding centres.
Kolkata Port
The Port of Kolkata, also known as Kolkata Port, is India's sole riverine major port, located in the city of Kolkata, West Bengal, approximately 203 kilometres from the sea.
It was built by the British East India Company and is India's oldest operating port.
Kolkata is a freshwater port with no salinity variations.
Diamond Harbour is its official name.
Noted for its two dock systems, Kolkata Dock on the eastern bank and Haldia Dock on the western bank of the Hooghly River.
Kandla Port
Deendayal Port Trust is a seaport and town in the Kutch district of Gujarat state in Western India, near the city of Gandhidham.
It is one of the largest ports on the west coast, located on the Gulf of Kutch.
It is a tidal port.
It was built after the partition when Karachi Port was given to Pakistan.
It also helps to reduce congestion at Mumbai Port.
The largest port in terms of cargo handled.
It has been designated as a Trade Free Zone.
Mangalore Port
It's a deep-water, battered port.
Concerned with the export of iron ore.
It is the only important port in Karnataka's coastal state.
Port of Mormugao
Located on the Juari River's estuary.
It serves as a natural harbour.
In the year 1963, it was designated as a major port.
It is India's most important iron ore exporting port.
Mumbai Port Trust
India's largest natural port and seaport.
Formerly, Shivaji's fleets used this port location.
There are three enclosed wet docks at this port: The Prince's Dock, Indira Dock, Victoria Dock
The most active port in India.
Jawahar Dweep is a port island used to handle crude and petroleum products.
Jawaharlal Nehru Port Trust (JNPT)
The Jawaharlal Nehru Port Trust (JNPT), popularly known as Nhava Sheva (Navi Mumbai), was the first major port in India to become a 100% Landlord port, with all berths run under the PPP model.
The name Nhava Sheva is derived from the names of two settlements that once existed in the area.
India's largest artificial port and leading container port.
JNP was inaugurated in 1989 and has evolved from a bulk-cargo terminal to the country's top container port in three decades of operation.
It is accessible via Thane Creek on the eastern edge of Mumbai harbour, off Elephanta Island.
This port serves as the terminus of Indian Railways' Western Dedicated Freight Route.
JNP satisfies all worldwide requirements with its cutting-edge facilities, user-friendly atmosphere, and good rail and road connectivity to the hinterland.
It is currently capable of processing vessels with a capacity of 9000 twenty-foot equivalent units (TEUs), but with the upgrade, it will be capable of handling vessels with a capacity of 12200 TEUs.
Textiles, sporting items, carpets, medications, chemicals, and so on are exported.
 Vadhavan Port
India's 13th major port.
With the expansion of this port, India will become one of the top ten container ports in the world.
To carry out the project, a special purpose vehicle (SPV) will be constituted with Jawaharlal Nehru Port Trust (JNPT) as the principal partner, with equity participation equal to or greater than 50%.
The port will be built on the landlord model.
The JNPT intends to build Vadhavan port as an 'All Weather, All Cargo' satellite port to improve capabilities in handling deep draught ships and larger vessels.
Ports on the Eastern coast
The east coast ports are Chennai, Tuticorin, Visakhapatnam, Paradip, Kolkata, and Ennore. The last one, Ennore, is a publicly traded firm.
Chennai Port
Chennai Port, formerly known as Madras Port, is India's second-largest container port, trailing behind Nhava Sheva in Mumbai (JNPT).
It is the largest port in the Bay of Bengal.
It is a man-made, all-weather harbour with wet docks.
Because of the port's existence, Chennai came to be known as the Gateway of South India.
Ennore Port (Kamarajar Port Ltd.)
It is India's 12th major port and the country's first publicly traded port.
It is roughly 24 kilometres north of the Chennai Port on the Coromandel Coast.
Iron ore, coal, petroleum products, and chemicals are all traded.
Paradip Port
After independence, the first major port was established.
It is situated at the junction of the Mahanadi and the Gulf of Bengal rivers.
Deals with the export of iron and aluminium and iron ore are sold in large amounts to Japan.
Tuticorin Port
This port is now known as V.O.Chidambaranar Port.
It is a man-made harbour in the Gulf of Mannar.
It is well-renowned for its pearl fishing in the Gulf of Bengal and is consequently nicknamed the Pearl City.
Coal, salt, petroleum products, and fertilisers are traded.
Visakhapatnam
This port is a natural harbour and the second-largest port in terms of cargo volume handled.
The port is approximately halfway between the ports of Chennai and Kolkata.
India's deepest port handles the shipment of iron ore to Japan. There are facilities for building and repairing ships.
Iron ore, coal, alumina, and oil are traded.
Port Blair
Port Blair is in Andaman and Nicobar Islands. The port was linked to the Indian mainland by ship and flight. This port is located between two international shipping lines, namely Saudi Arabia and the United States of America.
Also Read: Sagarmala Project: Explained – ClearIAS
Conclusion
Environmental licences, tariff laws, and land acquisition must all be unified and enforced in order to stimulate international investment in the port industry. Connecting large and minor ports by rail and road is crucial for enabling smooth multimodal transit and increasing efficiency.
Priority should be given to increasing capacity and improving operating efficiency. Modern cargo-handling techniques, process scalability, and mechanisation of port operations should all be prioritised. Big data and current GPS navigation systems, for example, should be fully utilised to improve port operations.
Article Written By: Atheena Fathima Riyas