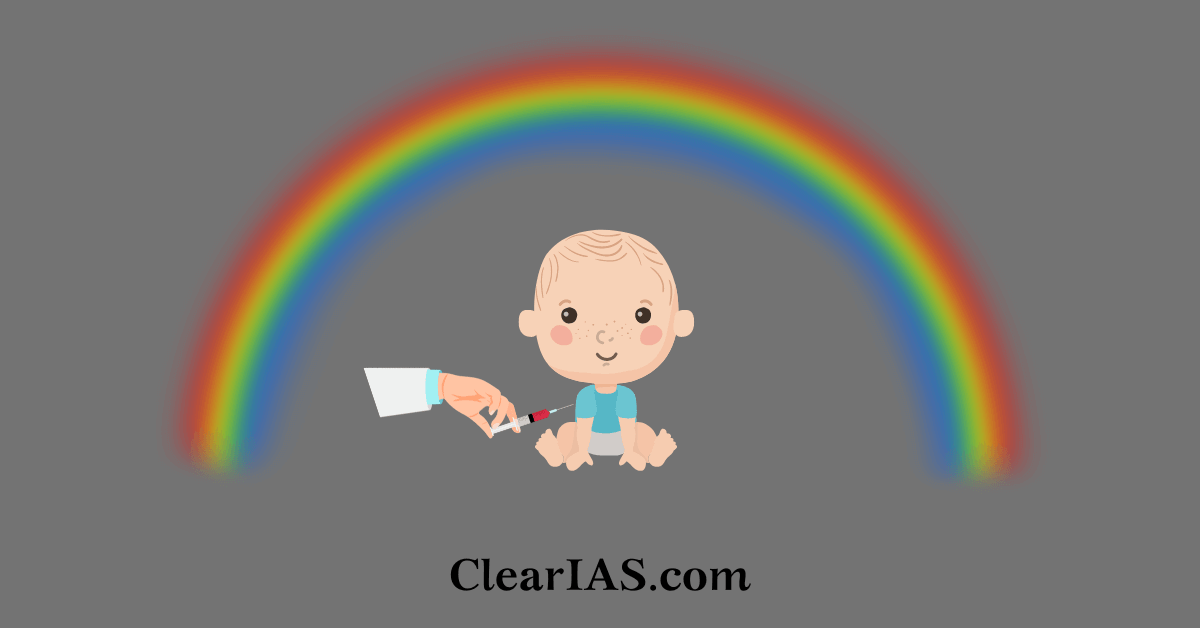 What is Mission Indradhanush? What are the objectives and goals of Mission Indradhanush? Why is routine immunization so critical for India and the South-East Asia Region? Read here.
During Intensified Mission Indradhanush (IMI) 3.0 around 9.5 lakh children and 2.2 lakh pregnant women were vaccinated.
The various States and UTs have started the implementation of the Intensified Mission Indradhanush 3.0.
Read more about Universal Immunisation Programme.
What is Mission Indradhanush?
The Ministry of Health and Family Welfare introduced Mission Indradhanush on December 25, 2014. Immunization coverage rose from 61% to 65% between 2009 and 2013, which represents a 1% annual increase.
To reach the goal of complete coverage by 2020, the Indradhanush mission has been undertaken to speed up the immunisation process by protecting 5% or more children each year.
The goal of Mission Indradhanush
Assuring that all infants under the age of two and pregnant women receive the full complement of immunizations is Mission Indradhanush's ultimate objective. The biggest concentration of children who are only partially or never immunised has been found in 201 high-priority districts spread throughout 28 states in the nation, according to the government.
Before the first two phases of Mission Indradhanush, the rise in full immunisation coverage was 1% per year, but it has now climbed to 6.7% each year.
Over 2.53 billion children and 68 lakh pregnant women have received vaccinations as a result of the four stages of Mission Indradhanush that have been carried out as of August 2017.
Objective
By 2020, all children who are either partially or completely immunised against diseases that can be prevented by vaccination will be covered by Mission Indradhanush. Every year, 26 million children in India receive free vaccinations against 12 serious diseases under the Universal Immunization Program (UIP).
All children in the country are given free access to vaccines that can save their lives against diseases like polio, measles, rubella, Japanese encephalitis (JE), rotavirus diarrhoea, tetanus, diphtheria, pertussis, tetanus, hepatitis B, and meningitis caused by Haemophilus influenza type b (Hib) (Rubella, JE and Rotavirus vaccine in select states and districts).
Areas under Focus
201 districts were the focus of Mission Indradhanush in 2014, 297 districts in 2015, and 216 districts in 2016. 82 of these districts are located in the states of Uttar Pradesh, Bihar, Madhya Pradesh, and Rajasthan. 25% of all children in these districts are either partially or entirely unvaccinated. Through specific immunisation efforts, this mission specifically targets the following crucial areas:
Areas with a high polio risk. This comprises nomadic people, migrants in urban slums, residents of brick kilns, building sites, residents of river areas with migratory populations, and remote communities like tribals.
Places with low routine immunisation (RI) coverage.
Areas with vacant sub-centres where there has not been an auxiliary nurse midwife (ANM) posted for a long duration.
Areas with missed routine immunisation sessions.
Small towns and villages were initially grouped with other villages rather than having their own RI sessions. Indradhanush mission will include independent routine immunisation programmes for them.
How is the government going about the implementation?
The goal of the phased implementation will be to "catch up" with all the children who have missed or been excluded from immunizations.
Phase 1 targets 201 districts | and Phase 2 targets 352 districts.
The first round of the first phase started on 7 April 2015-World Health Day.
What's interesting about the Phase 1 districts?
These 201 high-focus districts in the country have nearly 50% of all unvaccinated or partially vaccinated children!
Out of the 201 districts, 82 districts are in just four states UP, Bihar, Madhya Pradesh and Rajasthan
Also read: Global Alliance for Vaccines and Immunisation (GAVI)
Strategy for Mission Indradhanush
With a focus on districts with poor immunisation coverage, Mission Indradhanush will be a nationwide immunisation push to strengthen the major functional areas of immunisation to ensure high coverage throughout the nation.
The broad strategy, based on evidence and best practices, will include four basic elements-
Meticulous planning of campaigns/sessions at all levels: Revision of micro plans should be made in each district's blocks and urban regions to guarantee the availability of enough immunizers and all vaccines during routine vaccination sessions. Create unique strategies to reach unreached children in over 400,000 high-risk communities, including urban slums, building sites, brick kilns, nomadic camps, and difficult-to-reach locations.
Effective communication and social mobilization efforts: Increase community engagement in the routine vaccination programme by using need-based communication techniques, interpersonal communication (IPC) activities, school and youth networks, and corporate networks to raise knowledge of and demand for immunisation services.
Intensive training of the health officials and frontline workers: Build the capacity of health officials and workers in routine immunization activities for quality immunization services.
Establish accountability framework through task forces: By strengthening the district task forces for immunisation in all districts of India and ensuring the use of concurrent session monitoring data to plug the implementation gaps on a real-time basis, it is possible to increase participation, accountability, and ownership of the district administration and health machinery.
To encourage a coordinated and synergistic approach to boost routine immunisation coverage in the nation, the Ministry of Health and Family Welfare will develop partnerships with other Ministries, ongoing programmes, and international partners.
Intensified Mission Indradhanush (IMI)
The Government of India has started the Intensified Mission Indradhanush (IMI) to reach every child under the age of two and all pregnant women who were not covered by the regular immunisation programme. The campaign's purpose was to increase immunisation rates in a few districts and cities so that by December 2018, more than 90% of the population will be fully immunised.
Every month between October 2017 and January 2018, four successive immunisation rounds were carried out under the IMI in 173 districts, including 52 districts in 8 northeastern states and 121 districts and 17 cities in 16 states, with a sharper focus on high-priority districts and metropolitan regions. Low-performing neighbourhoods and urban regions were covered by Intensified Mission Indradhanush.
These regions were chosen through the triangulation of data from national surveys, data from the Health Management Information System, and data from concurrent monitoring by the World Health Organization. Unserved/low-coverage areas in urban slums and sub-centres with migrant populations received special attention. The National Urban Health Mission's specified urban settlements and cities are also emphasised (NUHM).
11 more agencies and ministries, including the Ministry of Women and Child Development, the Panchayati Raj, the Ministry of Urban Development, and the Ministry of Youth Affairs, among others, provide support for IMI. ASHA, ANMs, Anganwadi workers, and Zila under the National Urban Livelihood Mission (NULM), and self-help groups came together at the ground level to guarantee greater coordination and successful programme execution.
Mission Intensification At regular intervals, Indradhanush would be thoroughly monitored at the district, state, and federal levels. Additionally, it would be examined at the national level by the Cabinet Secretary and would continue to be overseen at the highest level as part of a special project called "Proactive Governance and Timely Implementation (PRAGATI)".
Also read: Vaccine: Definition, Types and Economic aspect
Why is routine immunization so critical for India and the South-East Asia Region?
The seven diseases for which vaccines are available under the immunisation programme will see a decrease in the rate of mortality if routine vaccination is strengthened.
One of the foundations for the eradication of polio is to achieve high routine immunisation coverage of children in the first year of life with the required three doses of oral polio vaccine. The South East Asia Region will continue to be polio-free thanks to the substantial population immunity to the disease. If this isn't done, there could be pockets of kids who aren't protected, which would increase the risk of poliovirus outbreaks.
The virus can spread from polio hotspots to any of the polio-free nations in the Region and around the world at any moment since it is ignorant of the SEA Region's certification as polio-free. As a result, we must remain watchful and observant. The National Polio Surveillance Project of the WHO has shifted its focus from polio eradication to routine immunisation, measles eradication, and the management of other vaccine-preventable diseases. The legacy of the fight against polio is now being applied to more general public health objectives. According to Dr Sunil Bahl, Medical Officer, Polio Eradication, Immunization and Vaccine Development at the WHO Regional Office, routine immunisation is now being improved using the knowledge and tools that were utilised to combat polio.
Risk analysis, which entails mapping high-risk settlements and pockets for inclusion in micro plans, capacity building and key personnel training, monitoring routine immunisation activities, and finally developing an accountability framework, are the four main ways in which WHO is assisting the Government of India.
Article Written by: Remya