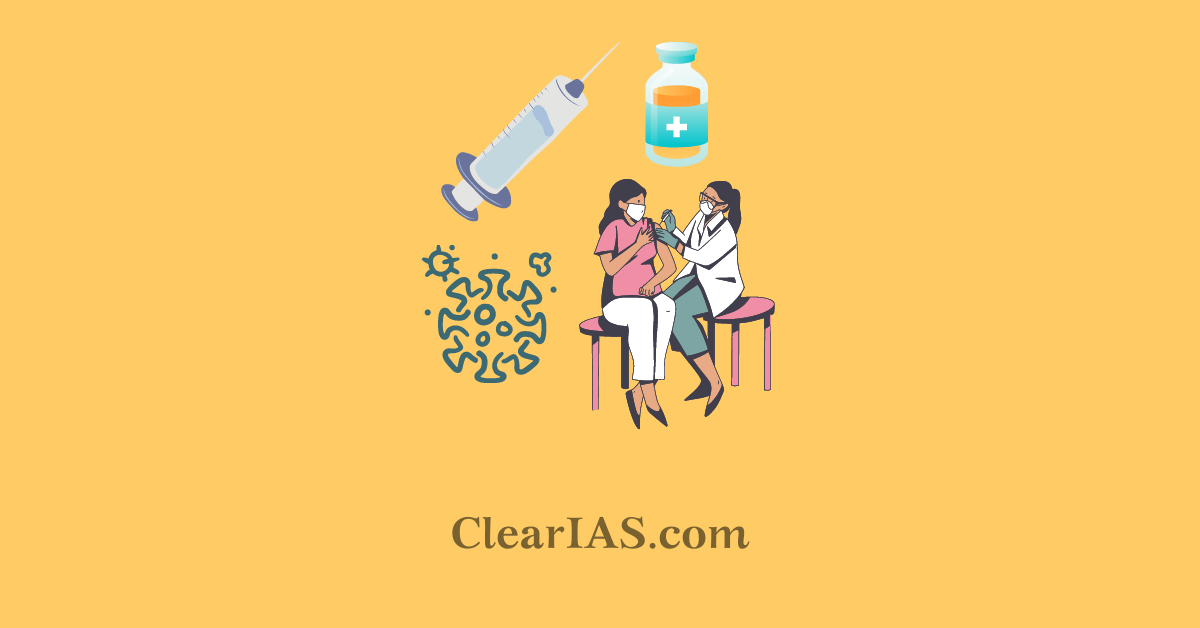 What are vaccines and their types? What are the types of Covid vaccinations? What is the economic aspect of vaccine development? Know here.
What are vaccines?
A vaccine is a biological preparation that develops acquired immunity to a particular infectious disease.
Acquired immunity is immunity one develops over a lifetime. It can come from a vaccine, exposure to an infection or disease, or another person's antibodies (infection-fighting immune cells). When pathogens (germs) are introduced into the body from a vaccine or a disease, the body's immune system learns to target those germs in the future by making new antibodies.
A vaccine usually contains an agent that resembles a disease-causing microorganism and is often made from weakened or killed forms of the microbe, its toxins, or its surface proteins.
The agent induces the body's immune system to recognize the agent as a threat and destroy it. The immune system further memorizes to destroy any of the microorganisms associated with that agent that it may encounter in the future.
How do vaccines work?
When viruses or bacteria (germs) invade our body, they attack and multiply. This invasion is called an infection, and the infection is what causes illness.
The first time the body encounters a germ, it can take several days for the immune system to make and use all the tools it needs to fight the infection.
After the infection has been eradicated, the immune system keeps a few "memory cells" that remember what it learned about how to protect against that disease.
If the body encounters the same virus or bacteria again, it will produce antibodies to attack the germ more quickly and efficiently.
Types of vaccines:
Vaccines are made up of viruses or bacteria that are altered or weakened so that they only cause an imitation of the disease and not the disease.
There are a variety of different ways to alter or weaken the viruses or bacteria so that vaccination develops immunity instead of serious disease.
Following are the different types of vaccines based on how they are made:
Live attenuated vaccines have weakened form of the living viruses in them. They are the closest to natural infections hence they quite effective, but everyone cannot get them because people with weakened immune systems like those undergoing chemotherapy, may have adverse reactions. Examples include MMR, chickenpox, and the flu vaccine nasal spray is also known as FluMist.
Toxoid vaccines prevent diseases caused by bacteria that produce toxins (poisons) in the body. These have weakened forms of toxins called toxoids in them. For example, DTaP and Tdap vaccines contain diphtheria and tetanus toxoids, in addition to protection against pertussis.
Inactivated vaccines have viruses in inactivated (killed) form. These vaccines produce immune responses, but cannot cause the disease itself.  Examples include hepatitis A, influenza (shot only), polio (shot only), and rabies.
Subunit vaccines use only a part of the virus or bacteria instead of the full organism. They contain only the essential antigens from the causative agent, hence they cannot cause illness. An example is pertussis (whooping cough) component of the DTaP vaccine.
Conjugate vaccines use part of the coating of bacteria called polysaccharides. It is a type of subunit vaccine which combines a weak antigen with a strong antigen as a carrier so that the immune system has a stronger response to the weak antigen. Examples include hepatitis B, HPV, shingles, pneumococcal (PCV13), and meningococcal (MenACY).
Types of CoVID-19 Vaccines:
There are four main types of CoVID 19 vaccinations-
Whole virus vaccine:
These have the live attenuated and inactivated vaccines types.
These require only conventional storage conditions.
India's COVAXIN is an inactivated type.
Protein sub-unit vaccine:
The viral subunit is mixed with adjuvants to help stimulate an immune response.
They are expensive to produce and may require booster doses.
NOVAVAX is of such category.
mRNA (nucleic acid) vaccine:
The RNA code of the SARS CoV-2 virus is inserted into the host cell whose protein machinery interprets it to produce viral antigens.
The host body then produces antibodies in response and develops immunity against the SARS CoV-2.
These are easy to make and cheaper to produce, but this has never been used by humans before.
They require extreme cold storage of -70 degrees Celsius.
Pfizer and Moderna vaccines are such types.
Viral vector vaccine:
They also work by giving cells genetic instructions to produce antigens.
But they differ from nucleic acid vaccines because they use harmless viral vectors like adenovirus to deliver these instructions.
Our cellular machinery is hijacked by them to produce antigens which then trigger the immune response.
They require only conventional cold storage.
COVISHIELD and Russia's Sputnik belong to this category.
What is herd immunity or community immunity?
Herd immunity occurs when a large percentage of a community (the herd) becomes immune to a disease, reducing the spread of disease from person to person. As a result, the whole community becomes protected along with those who are immune.
Community immunity protects everyone and is especially important for people who are vulnerable to diseases but cannot be vaccinated. This includes children too young to be fully vaccinated, people with serious allergies against certain vaccine ingredients, and people with weakened or failing immune systems like patients with cancer, HIV-AIDS, type 1 diabetes, or other health conditions, and people going through medical treatments like chemotherapy.
Community immunity plays an important role in protecting a very small group of people who don't have a strong immune response to vaccines. Such people who cannot get vaccinated depend on a high level of immunization in their communities to help protect them against potentially deadly diseases.
Each vaccine-preventable disease requires a certain percentage of people in a community to be vaccinated in order to prevent the disease from spreading. The exact percentage depends largely upon how easily a disease can spread from person to person.
The economic aspect of vaccine development:
Licensing:
Vaccine manufacturers do not receive licensing until a complete clinical cycle of development and trials prove that the vaccine is safe and has long-term effectiveness, which is followed by a scientific review by a multinational or national regulatory organization, such as the European Medicines Agency (EMA) or the US Food and Drug Administration (FDA).
Countries adopting World Health Organisation (WHO) guidelines for vaccine development and licensure, have their own responsibility to issue national licensure and to manage, deploy and monitor the vaccine throughout its use in each nation.
When a vaccine is licensed, the initial supply will be limited due to variable manufacturing, distribution, and logistical factors. It requires an allocation plan for the limited supply and which population segments should be prioritized to first receive the vaccine.
Vaccines developed for multinational distribution through the United Nations Children's Fund (UNICEF) require pre-qualification by the WHO to ensure international standards of quality, safety, immunogenicity, and efficacy for adoption by numerous countries.
The process requires manufacturing consistency at WHO-contracted laboratories following Good Manufacturing Practice (GMP). When UN agencies are involved in vaccine licensure, individual nations collaborate by issuing marketing authorization and a national license for the vaccine, its manufacturers, and distribution partners; and conducting post-marketing surveillance, including records for adverse events after the vaccination program.
The WHO works with national agencies to monitor inspections of manufacturing facilities and distributors for compliance with GMP and regulatory oversight.
In India, the Drugs Controller General of India who is the head of the department of the Central Drugs Standard Control Organization of the Government of India is responsible for the approval of licenses of specified categories of drugs such as vaccines and others like blood and blood products, IV fluids, and sera.
Patenting:
Vaccines are complex mixtures of biological compounds, and there are no generic vaccines like normal prescription drugs. The vaccine produced by a new facility must undergo complete clinical testing for safety and efficacy by the manufacturer.
For most vaccines, specific processes in technology are patented. These may be replaced by alternative manufacturing methods, but this requires R&D infrastructure and a skilled workforce.
When new vaccines are created, patenting may become a barrier to its wider reach. The peak of the Covid-19 pandemic required increased vaccine production and the intellectual property rights were hindering the cause. The World Trade Organization (WTO) and various governments evaluated if the patent process should be waived to eliminate potential barriers to access for all, though it never came through.
The history of vaccine production is a fascinating tale to know. You can know about when various vaccinations were discovered here- timeline of human vaccines.