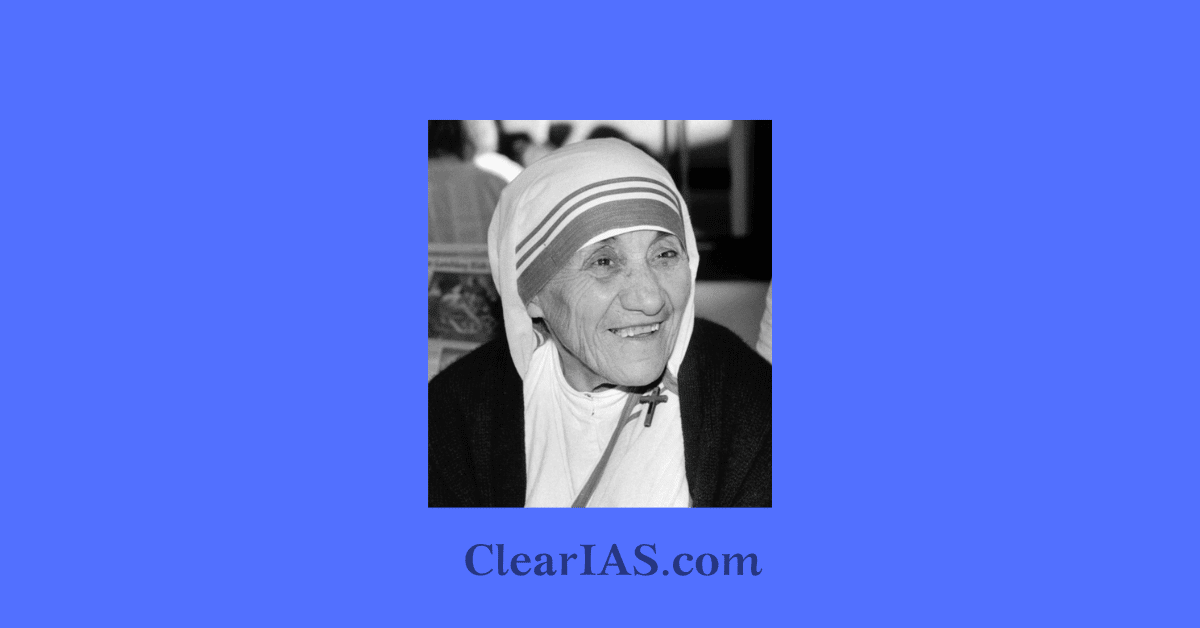 Mother Teresa or Saint Teresa of Calcutta was an Albanian-Indian, Roman Catholic missionary who worked in Bengal for the majority of her life. Her mission was to help the suffering of humanity. Read here to know more about the life of Saint Mother Teresa.
Mother Teresa was born Agnes Gonxha Bojaxhiu in Skopje, Macedonia in 1910. Her family was of Albanian descent.
By the age of 12, Mother Teresa had realized that her true interest lay in the lives of missionaries
In 1928, she left home at the age of 18 to join the Sisters of Loreto congregation in Ireland. It was there that she learned English with the motive of becoming a missionary.
She traveled to India in 1929 and first started working as a teacher in Darjeeling.
Life of mother Teresa in India
She came to India in 1929 as part of a missionary and a teacher. She taught for 17 years at the order's school, St. Mary's High School in Kolkata. In 1931 she took her religious vows.
Her initial years in India made her aware of the dismal state of the poor in the country, and in particular, she was deeply affected by the Bengal famine of 1943.
In 1946, she decided to leave the convent and help the poor and diseased. (This was the time when The Bengal famine of 1943 brought misery and death to the city, and the August 1946 Direct Action Day began a period of Muslim-Hindu violence).
She started an open-air school for slum children. Soon she was joined by voluntary helpers, and financial support was also forthcoming. This made it possible for her to extend the scope of her work.
In 1950, Mother Teresa received permission from the Holy See to start her order, "The Missionaries of Charity", whose primary task was to love and care for those persons nobody was prepared to look after.
In 1965 the Society became an International Religious Family by a decree of Pope Paul VI.
The Society of Missionaries has spread all over the world, including the former Soviet Union and Eastern European countries.
They provide effective help to the poorest of the poor in several countries in Asia, Africa, and Latin America, and they undertake relief work in the wake of natural catastrophes such as floods, epidemics, and famine, and for refugees.
The order also has houses in North America, Europe, and Australia, where they take care of the shut-ins, alcoholics, homeless, and AIDS sufferers.
Mother Teresa opened an ashram named Nirmal Hriday and Nirmala Shishu Bhavan.
The purpose of Nirmal Hriday was to help patients, the elderly, and the poor who had been boycotted from society.
The purpose of Nirmala Shishu Bhawan was to help orphans and homeless children.
Awards and honors received by Mother Teresa
Padma Shri (1962)
Magsaysay award in 1962
Jawaharlal Nehru Award for International Understanding (1969)
Pope John XXIII Peace Prize (1971)
Nehru Prize for her promotion of international peace and understanding (1972)
Pacem in Terris Award in 1976
Balzan Prize (1979)
Nobel Peace Prize (1979)
Bharat Ratna (1980)
The United States of America awarded her the Medal of Freedom in 1985
Templeton award
Death of Mother Teresa
She suffered from heart and kidney problems for many years. In 1997, when her condition worsened, she resigned from the post of Chief of Missionaries of Charity.
She died on 5th September 1997, in Calcutta.
Criticism
Her life as a missionary consisted of several controversies as well. In particular, her opposition to abortion rights and the poor condition in which her patients were kept has been severely criticized.
Suffering, according to her, was a gift from God. She dedicated her entire life to fighting against the only known solution to poverty which is the emancipation of women from a livestock-style system of forced reproduction. She received numerous accusations of hypocrisy for opting for cutting-edge treatment for her heart issue.
Mother Teresa stated that the charges of sexual assault against Jesuit priest Donald McGuire were false in 1994. Mother Teresa came to his defence after he was found guilty in 2006 of sexually abusing many minors.
Mother Teresa's opposition to abortion and contraception has also drawn criticism from pro-choice organizations.
Legacy of St. Teresa
In 2016, she was canonized by Pope Francis in Vatican City.
Mother Teresa has been commemorated by museums and named the patroness of several churches.
-Article written by Swathi Satish