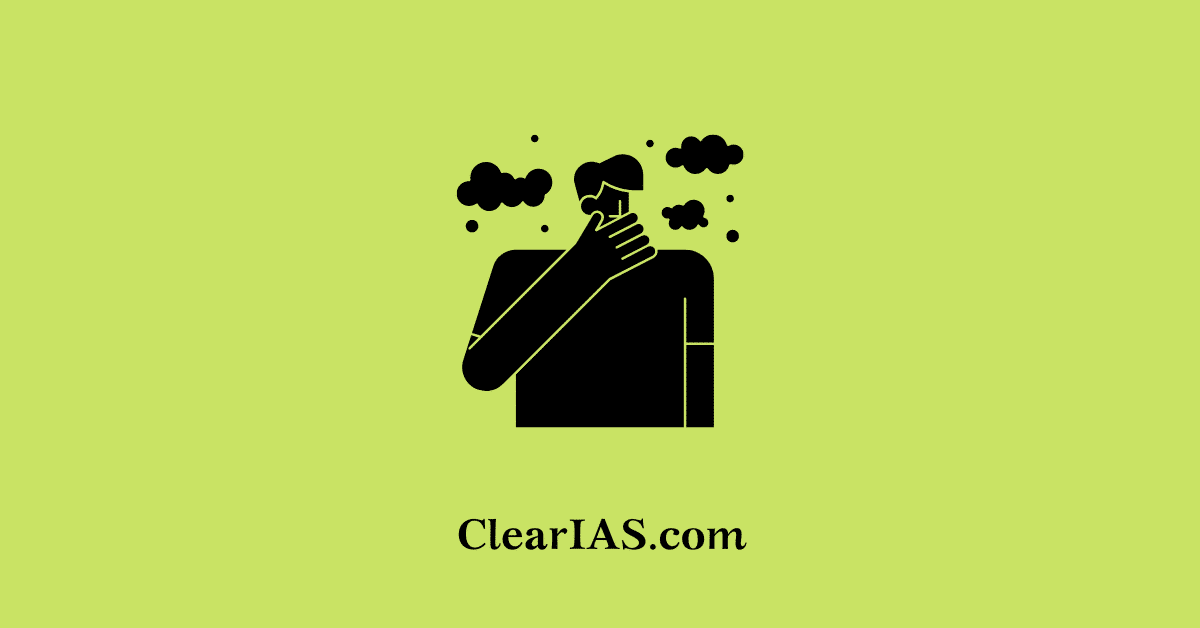 What is National Clean Air Program (NCAP)? What are the targets under it? What are the steps taken by the government for its implementation? Read on to know more.
Air pollution is one of the most significant causes of yearly human capital loss.
Tackling it requires collective efforts at global, national, and regional levels.
The National Clean Air Program (NCAP) is one such initiative taken at the national level.
What is National Clean Air Program (NCAP)?
National Clean Air Program (NCAP) is a long-term, time-bound, national-level strategy to tackle the air pollution problem across the country in a comprehensive manner, Launched by the central government in 2019.
What are the targets under NCAP?
To achieve a 20% to 30% reduction in Particulate Matter (PM) concentrations by 2024 keeping 2017 as the base year for the comparison of concentration.
Steps taken so far towards the implementation of NCAP
Under NCAP, 132 non-attainment cities have been identified across the country based on the Air Quality data from 2014-2018.
The city-specific action plans have been prepared which include measures for strengthening the monitoring network, reducing vehicular or industrial emissions, increasing public awareness, etc.
Implementation of the city-specific action plans is regularly monitored by Committees at the Central and State level namely Steering Committee, Monitoring Committee, and Implementation Committee.
The air quality of cities is monitored by State Pollution Control Boards which publish their results from time to time.
Some Smart Cities have established Integrated Command and Control Centres (ICCCs) which are also connected to Air Quality Monitors (AQMs) for effective monitoring.
NCAP has a focus on the enhancement of technical and scientific knowledge as well. A National Knowledge Network (NKN) has been constituted with a group of experts from different reputed academic or research institutes in the country. These institutes will help the State and city level administrations in strategizing and taking up measures to tackle air pollution at local levels in a scientific, effective and efficient manner.
The Ministry also launched recently a national portal for the National Clean Air Program "PRANA" -the Portal for Regulation of Air Pollution in Non-Attainment Cities which provides all information related to various policies or programs or schemes or activities of the stakeholders along with the progress made towards improvement in air quality across the country. This portal will be a platform for monitoring and feedback on all efforts made for air quality improvement.
Challenges
The most baffling part of NCAP is the absence of a robust fiscal and funding strategy.
The pollution reduction target in these cities is not 'legally binding' on respective states.
Inadequate PM2.5 monitoring.
A reduction of merely 20-30% from the 2017 level by 2024 will not be sufficient to bring the air quality to the desired level, i.e., the targets under the action plan are less ambitious.
Related topics: Environment Impact Assessment, Environment laws in India
Way forward
It is necessary to adopt regional air quality planning for all cities and regions to improve overall air quality.
A Large number of NCAP and non-NCAP cities need a substantial reduction in PM2.5 levels to meet the national ambient air quality standards in all climatic zones.
Even though the NCAP program has targets for both PM2.5 and PM10 reduction by 2024, due to inadequate PM2.5 monitoring, Central Pollution Control Board considers only PM10 for the first air quality performance assessment for fund disbursement. This makes dust control the primary focus of clean air action diverting attention and resources from combustion sources. This includes industry, vehicles, and waste burning.
State action plans under NCAP need to break the silos between NCAP and non-NCAP cities for region-wide air quality improvement and reduce emissions from industry, vehicles, waste, and solid fuels in households across all regions
Performance assessment also requires strong data quality control and standardized protocol for reliable and credible assessment of air quality
Also read: GS Paper 3 UPSC 2020 (Mains) – Question Paper and Analysis
Conclusion
While India is one of the few countries which is on track to meet its international climate commitments, the country's highest health burden due to air pollution makes it imperative for India to address this problem at its root cause and urgently. The need of the hour is to address the issue of air pollution in a comprehensive manner with the coordination and collaboration of all stakeholders, the Central Ministries and Departments, State and UT governments, urban local bodies, academic and research institutions, civil society organizations and citizens.
Article written by: Caroline