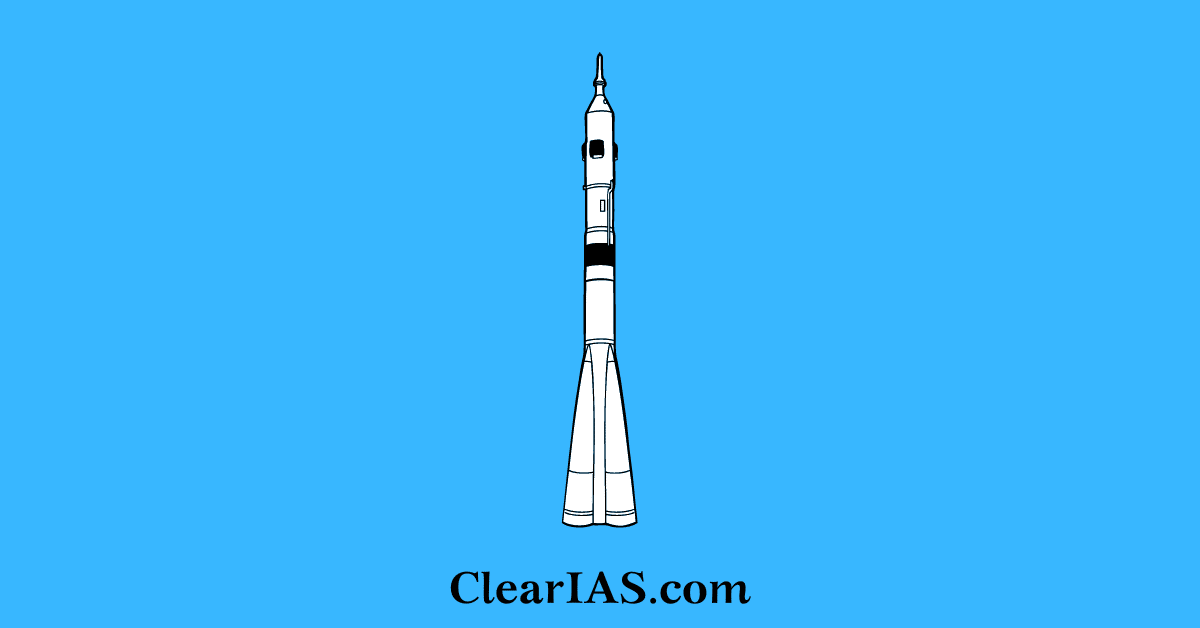 What is Polar Satellite Launch Vehicle (PSLV)? What is POEM? What is the difference between SSLV and PSLV? Read here to know more.
Polar Satellite Launch Vehicle (PSLV) and Geosynchronous Satellite Launch Vehicle (GSLV) are two operational launch vehicles of India. They are used to carry spacecraft into space.
Read more about PSLV in this article.
Also read about Small Satellite Launch Vehicle (SSLV) and Geosynchronous Satellite Launch Vehicle (GSLV).
What is PSLV?
PSLV (Polar Satellite Launch Vehicle) is an Indian Space Research Organization (ISRO) developed expendable launch system. It belongs to the medium-lift launcher class, with a range of orbits including the Geo Synchronous Transfer Orbit, Lower Earth Orbit, and Polar Sun Synchronous Orbit. PSLV activities are managed from the Satish Dhawan Space Center in Sriharikota, which is situated on India's east coast.
Description: PSLV has a four-stage system comprising a combination of solid and liquid-fuelled rocket stages.
The first stage, located at the very bottom, is solid-fueled and is surrounded by six strap-on solid rocket boosters. The second stage is liquid-fueled, whereas the third stage is solid-fueled. The launcher uses a liquid propellant to boost into orbit during the fourth stage.
The launch vehicle, which weighs 229,000, 296,000, or 320,000 kg, can be configured to fly in three distinct configurations depending on the mission requirements. The flagship rocket can carry a payload of 1,050 kg into Geo Synchronous Transfer Orbit and 1,600 kg into Polar Sun Synchronous Orbit.
PSLV is used in Core Alone and XL configurations in addition to the normal version. The Core Alone version is launched without six strap-on boosters and with less propellant in its upper stage – a configuration designed primarily for missions with tiny payloads. The XL version is launched with additional propellant in the strap-on solid rocket boosters, allowing for a larger payload capacity.
As of September 2015, PSLV had successfully launched 87 satellites into various orbits, including 51 foreign and 36 Indian spacecraft. PSLV's notable launches include Chandrayaan-1 (India's first moon probe), Mangalyaan-1 (India's first Mars orbiter mission), and Astrosat (First Indian dedicated multi-wavelength space observatory).
What is POEM?
The Polar Satellite Launch Vehicle (PSLV) Orbital Experimental Module is a platform that will aid in conducting in-orbit experiments using the final and otherwise discarded stage of ISRO's workhorse rocket.
The PSLV is a four-stage rocket where the first three spent stages fall back into the ocean, and the final stage (PS4) – after launching the satellite into orbit – ends up as space junk.
Recently in the PSLV-C53 mission, it is for the first time, that the PS4 stage has been utilised as a "stabilised platform" to perform experiments.
POEM is carrying six payloads, including two from Indian Space start-ups Digantara and Dhruva Space.
How will ISRO keep POEM 'alive and stable' in orbit?
POEM will derive its power from solar panels mounted around the PS4 tank, and a Li-Ion battery.
It will navigate using "four sun sensors, a magnetometer, gyros & NavIC".
It carries dedicated control thrusters using Helium gas storage. It is also enabled with a telecommand feature.
PSLV vs SSLV
Although both the PSLV and SSLV are used to launch satellites into Low Earth Orbit, they are fundamentally distinct from one another. The SSLV has a peak height of 34 metres compared to the PSLV's 44 metres.
The two satellites are both capable of lifting substantial constructions off the ground because of their large payload capacities. While the SSLV can launch payloads weighing between 10 and 500 kilogrammes into 500-kilometre planar orbits, the PSLV can deliver 1,750 kilogrammes of payload into 600-kilometre-high Sun-Synchronous Polar Orbits.
It is important to note that while SSLV wins when it comes to turnaround time, PSLV wins the overall comparison by a wide margin. Turnaround time refers to the amount of time it takes a rocket to get ready for the next flight, and SSLV may be readied and moved to the launch pad in less than 72 hours as opposed to the two months needed for PSLV.
Article Written by: Remya