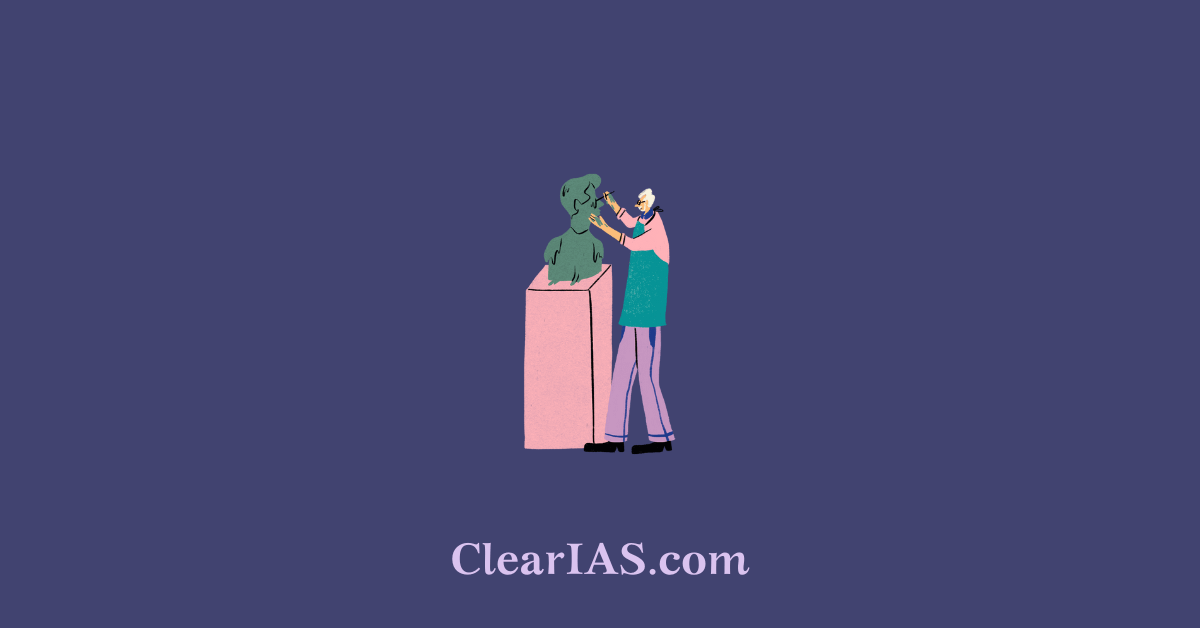 Indian sculpture has a rich and diverse tradition that spans centuries. Still, if we focus on more contemporary or modern Indian sculpture, we can see a fusion of traditional techniques with contemporary themes and materials. Read here to learn more.
The journey and features of modern Indian sculpture are similar to those of contemporary painting.
It began in the academic style, based on mid-Victorian ideas of naturalism and complacency, and was a legacy of the British.
However, this contemporary style evolved from academism to well-defined non-objectivism.
Journey of modern Indian sculpture
The history of modern Indian sculpture is a fascinating journey that reflects the socio-political and cultural changes in India from the late 19th century to the present.
During the colonial period, Western academic art had a significant influence on Indian artists. Academic realism and classical forms dominated the sculpture of this era.
Bengal School of Art (Early 20th Century):
The Bengal School, led by artists like Abanindranath Tagore and E.B. Havell, sought to revive traditional Indian art forms.
Though primarily focused on painting, the movement influenced sculptors to explore indigenous themes and materials.
Nandalal Bose is regarded as the most distinguished pupil of Abanindranath Tagore and his influence was considerable on more than one generation of artists.
Kshitindranath Majumdar was also a renowned pupil of Abanindranath.
Santiniketan and Rabindranath Tagore (Early to Mid-20th Century):
Rabindranath Tagore established Santiniketan, where artists like Ramkinkar Baij experimented with form and expression.
Baij's works, such as the iconic "Santhal Family," showcased a departure from classical norms.
Post-Independence Era (1947 Onwards):
The post-independence period saw a surge in public art projects and the use of sculpture to represent national identity.
Artists like Devi Prasad Roy Choudhury contributed to this era.
Progressive Artists' Group (1947 Onwards):
The Progressive Artists' Group, consisting of prominent artists like F.N. Souza and S.H. Raza, played a crucial role in shaping modern Indian art, including sculpture.
Abstract and Contemporary Trends (1960s Onwards):
Artists like Satish Gujral and Balbir Singh Katt explored abstract and contemporary forms.
Experimentation with materials expanded, including the use of metals, wood, and unconventional substances.
Sculpture Parks and Public Art Initiatives (Late 20th Century Onwards):
The establishment of sculpture parks and the integration of public art in urban spaces became more prominent.
Renowned sculptors like Himmat Shah and Subodh Gupta gained recognition for their contemporary works.
Contemporary Practices (21st Century):
Contemporary Indian sculptors, such as Anish Kapoor and Ravinder Reddy, have gained international acclaim.
Themes often revolve around globalization, identity, and the intersection of tradition and modernity.
Modern Indian Sculpture
In the mid-20th century, modernist influences began to shape Indian sculpture. Artists like Ramkinkar Baij and Sankho Chaudhuri embraced abstract and modern forms.
Modern Indian sculptors often use a variety of materials beyond traditional stone and metal. Fiberglass, plastic, and mixed media are increasingly common.
Some contemporary Indian sculptors have moved beyond traditional standalone sculptures to create installations that interact with the surrounding space. This reflects a global trend in contemporary art.
Artists like Satish Gujral have explored both abstract and figurative elements in their sculptures, creating pieces that are both modern and rooted in Indian culture.
Many modern Indian sculptors address themes related to identity, globalization, and social issues. Bharti Kher, for example, incorporates traditional Indian symbols into her work while addressing contemporary concerns.
Ram V. Sutar: He designed the "Statue of Unity," a colossal statue of Indian political leader Vallabhbhai Patel, which was inaugurated in 2018.
Nandagopal Menon: Known for his modernist approach, Menon's sculptures often depict human forms in dynamic, abstract compositions.
Arzan Khambatta: Khambatta is known for his contemporary metal sculptures. His works often have a futuristic, industrial aesthetic.
Sankho Choudhuri: The sculptor emphasizes the physical attributes in a most vital manner in the sculpture of a woman preening herself.
Davierwalla: An elongated sculpture of 'A Man' by Davierwalla carries the concept of figure in sculpture to an altogether different level. There is an attempt to reduce the essentials to the minimum. The character of the metal is emphasized.
Famous modern sculptures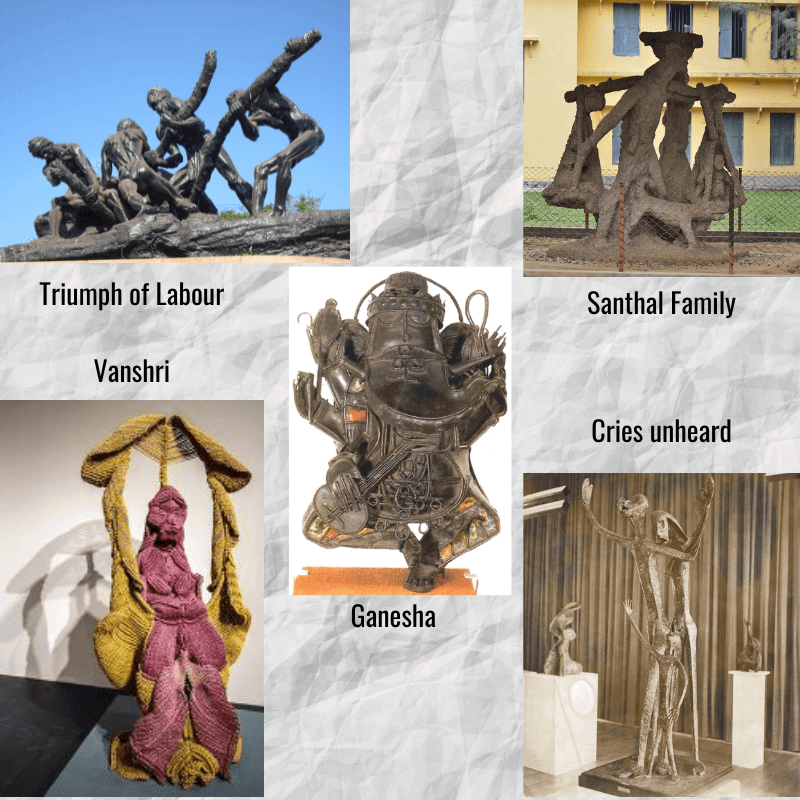 Triumph of labour
This is an open-air large-scale sculpture in bronze made by Debi Prasad Roy Chowdhury (1899–1975). It was installed at Marina Beach, Chennai, on the eve of the Republic Day in 1959. It shows four men trying to move a rock, rendering the importance and contribution of human labor in nation-building. Unconquerable men are wrestling with nature, doggedly, indeterminately, and powerfully. It is an image of labor against the elements of nature, a well-known romantic subject of the nineteenth century.
Santhal family
This is an open-air large-scale sculpture created by Ramkinker Baij in 1937. It is made out of metal armature and cement mixed with pebbles, and placed in the compound of Kala Bhavana, Shantiniketan, India's first national art school. It shows a scene of a Santhal man, carrying his children in a double basket joined by a pole, and his wife and dog walking alongside. Perhaps, it speaks of the family migrating from one region to another, carrying all their frugal possessions. This must be an everyday scene for the artist living amidst the rural landscape. However, he gives it a monumental status.
Cries unheard
This is a sculpture in bronze made by Amarnath Sahgal in 1958. Although the artist only uses abstraction, in which three figures are stick-like and shown in flat rhythmical planes, it is easy to understand them as a family—husband, wife, and child. They are shown flinging their arms above and crying out for help in vain. Through the medium of sculpture, their helplessness expressed by the hand gesture is turned into a permanent shape.
Ganesha
This sculpture in oxidized copper made by P. V. Janakiram in 1970 is in the collection of NGMA, Delhi. He used sheets of copper to create pictorial sculptures as free-standing forms and ornamented their surface with linear elements. Metal sheets are beaten into concave planes on which are welded linear details. These linear elements work as facial features and decorative motifs to suggest religious icons, inviting intimate contemplation. The ancient temple sculpture of South India influences Janakiram.
Vanshri (Goddess of Woods)
This artwork was created by Mrinalini Mukherjee in 1994. She uses an unusual material to make this sculpture. She uses hemp fibre, a medium that she experimented with from the early 1970s. Going by the intricate way, she has knotted together and woven a complex shape out of jute fiber. It seems to be the result of years of handling the new material. For many years, her works of this kind were dismissed as craft.
Conclusion
The history of modern Indian sculpture is diverse, reflecting the dynamic evolution of artistic expression in response to changing social, political, and cultural contexts. It's worth exploring individual artists and their contributions to gain a deeper understanding of this rich and multifaceted history.
The field of modern Indian sculpture is vast and dynamic, with many talented artists contributing to its evolution. It's worth exploring art galleries, exhibitions, and publications to discover the latest works and trends in modern Indian sculpture.
Related articles:
-Article by Swathi Satish