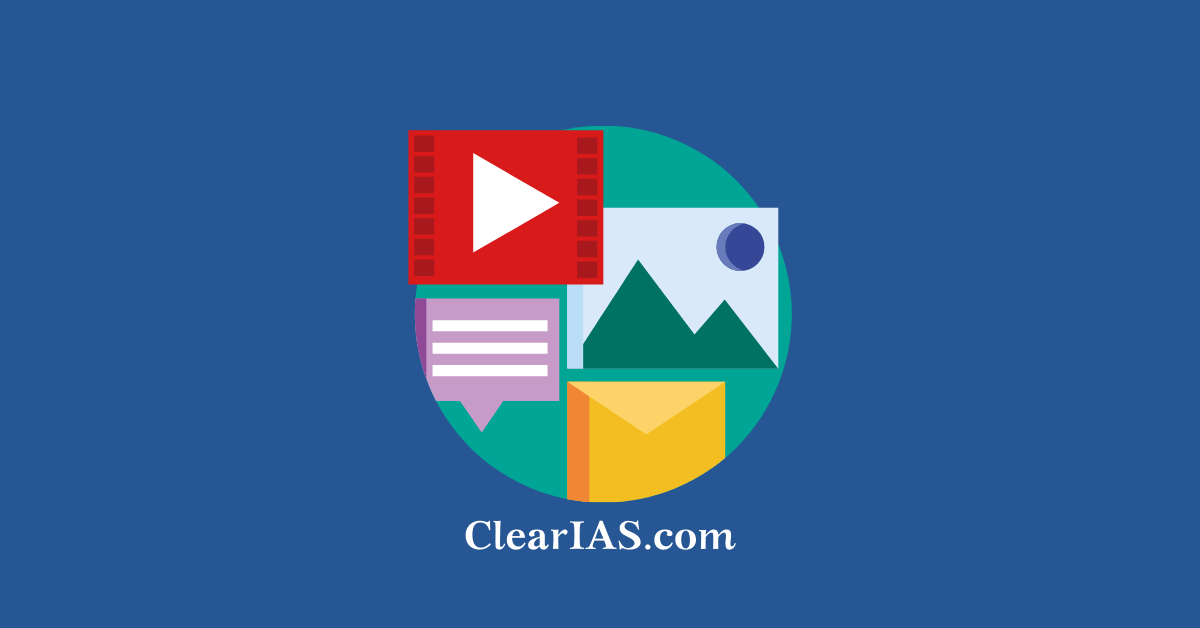 Social media plays a significant role in UPSC CSE Preparation. Here we are going to discuss about positive and negative role of social media in UPSC CSE Preparation.
The Civil Services Examination (CSE), conducted by the Union Public Service Commission (UPSC) in India, is arguably considered the toughest competitive exam in India.
Aspirants face severe competition and are required to prepare diligently to clear this examination.
While traditional methods of studying and coaching institutes continue to be important in this preparation journey, the role of social media in UPSC CSE preparation has gained prominence in recent years.
While social media can be a valuable tool for UPSC CSE aspirants, but along with a positive aspect, it has a negative side too. Both positive and negative aspects of using social media for UPSC CSE preparation can significantly impact an aspirant's journey.
Role of Social Media in UPSC CSE Preparation: Positive Aspects
There are several positive aspects of integrating social media into the UPSC CSE preparation. A few important of them are:
Access to Quality Content
Social media provide access to a large amount of quality content for UPSC CSE preparation which is the most significant benefit of social media as it provides aspirants an opportunity to choose the best among all.
Many educators, institutions, and expert mentors use social media platforms such as YouTube to share their lectures, study materials, and preparation tips.
This has made quality resources more accessible to aspirants, especially those who cannot afford coaching fees.
Daily News Updates
Current affairs are an important part of the UPSC CSE journey and social media emerged as a tool for staying updated with daily news and events.
Mock Tests and Quizzes
Practice is key to success in UPSC CSE, and social media provides a platform for mock tests and quizzes.
Many prominent websites and coaching institutes that provide UPSC-related content also share daily quizzes and practice questions on their social media pages that help aspirants judge their existing knowledge, help them improve it, and also know their weak areas.
ClearIAS, a reputable site also provides online mock tests. It provides a great compilation of mock tests that is completely in line with the recent trend of questions in the UPSC Civil Services Exam.
Motivation and Support
The UPSC CSE journey can be long and hectic, which often takes a year or more. In that case, social media also serves as a constant source of motivation and support for aspirants.
By following success stories, motivational quotes, and shared experiences of successful aspirants, individuals can stay focused and committed to their preparation.
Strategy Guidance
Many experienced civil servants and successful UPSC candidates are active on social media.
They often share their personal strategies and tips for tackling the examination. Aspirants can learn from their experiences and create their own strategies accordingly.
Mentorship
Some UPSC mentors and coaching institutes offer mentorship programs through social media.
These programs provide personalized guidance, feedback, and motivation, helping aspirants stay on the right track.
Exam Analysis
After each stage of the UPSC Civil Services Examination, there is a flurry of discussions and analysis on social media platforms.
Aspirants can benefit from the insights and opinions of experts and fellow candidates to improve their performance and strategize for the next stage.
Also Read:
UPSC CSE Mains GS Paper 1 Exam Analysis 2023
UPSC CSE Mains GS Paper 2 Exam Analysis 2023
UPSC CSE Mains GS Paper 3 Exam Analysis 2023
UPSC CSE Mains GS Paper 4 Exam Analysis 2023
Role of Social Media in UPSC CSE Preparation: Negative Aspects
While there are plenty of advantages of social media that can benefit a UPSC aspirant, it has several disadvantages too.
Distraction
One of the most important drawbacks of using social media during UPSC CSE preparation is its potential for distraction.
Social media platforms are designed to be engaging and can easily lead aspirants down a rabbit hole of irrelevant content, wasting their precious study time.
Misinformation
The internet, including social media, is often a breeding ground for misinformation.
Aspirants may come across inaccurate study materials, outdated information, or poorly researched content that could misguide them in their preparation.
Anxiety and Comparison
Social media is filled with success stories and the achievements of others. While this can be motivating, it can also lead to anxiety and self-comparison.
Lack of Personalization
Though social media provides lots of resources but it may not be suited for an aspirant's specific needs.
One-size-fits-all study materials and strategies may not address an individual's strengths and weaknesses which can lead to suboptimal preparation.
Privacy and Security Concerns
Sharing personal information, study schedules, or strategies on social media can pose privacy and security risks as well.
Aspirants are suggested to be cautious about the information they share to avoid any possible misuse or identity theft.
Time Management Issues
An aspirant's study routine and time management can easily get compromised with excessive use of social media.
Scrolling through feeds, participating in discussions, or engaging in arguments online can consume hours that would be better spent on focused study.
Addiction
Overuse of social media can lead to addiction, where aspirants compulsively check their profiles or engage in online activities, further disturbing their preparation.
Conclusion
Social media provides plenty of resources, support, and opportunities for learning. When used wisely, social media can enhance one's preparation and help in achieving success in the Civil Services Examination. On the other hand, it can hamper one's success easily. That is why balance and discernment are very important.
Remember, it is there to supplement your preparation. So, do not make it a primary source for UPSC CSE preparation. Ultimately, the key to success in the UPSC examination lies in a well-structured study plan, discipline, and effective time management, with social media being managed carefully to support, not hinder, these efforts.
Article Written By: Priti Raj