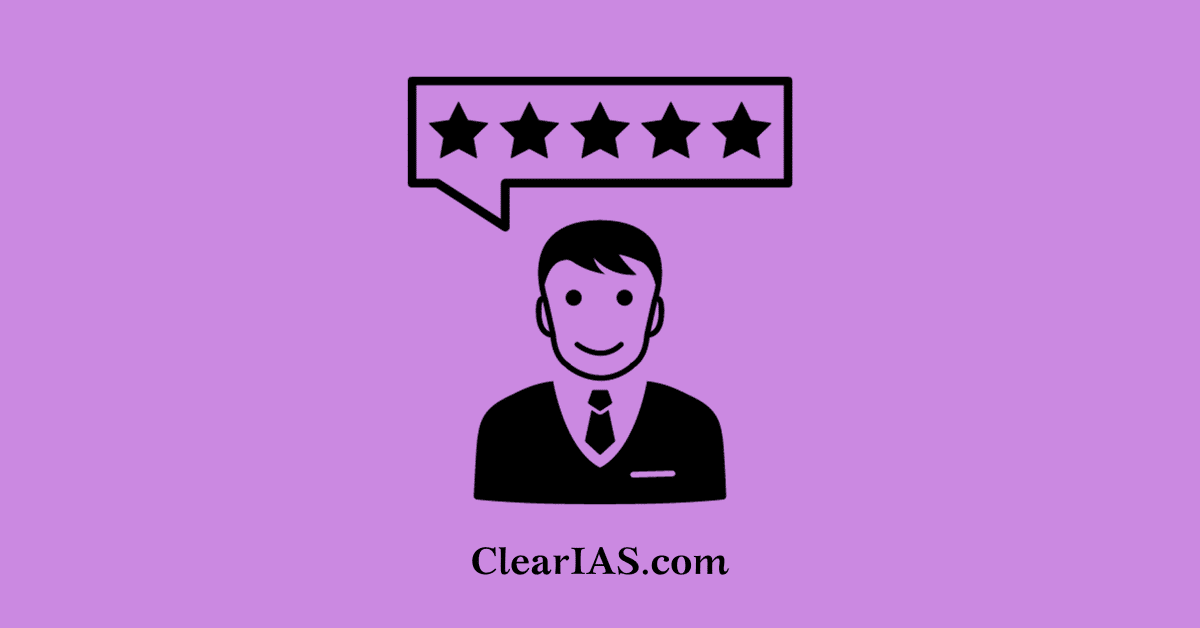 Read the highly motivating success story of Saurabh Bhuwania, an online student of ClearIAS.com who is now an IAS officer (Jharkhand cadre).
An ambitious youth who successfully achieved many milestones in life, which many others can only dream off – the story of Saurabh Bhuwania is really special.
What makes Saurabh extra-ordinary is that is he was a Chartered Accountant, Company Secretary, MBA from FMS, and RBI Manager before he became an Indian Administrative Service Officer.
Too old for IAS exam preparation?
Do you think that you are too old for the IAS exam preparation?
Even though the candidates can appear for the UPSC Civil Services Exam right from the age of 21, when Saurabh Bhuwania started his IAS preparation in 2016, he was 29 years and 6 months old.
As a working professional, it was not easy for him to manage his studies along with his job.
However, he did by finding time in spite of the pressure of work and raising a child.
Saurab emerged successfully and became an IAS officer – by securing All-India Rank 113 in the UPSC Civil Services Exam, adding another golden feather to his cap.
Saurabh Bhuwania – Online Student of ClearIAS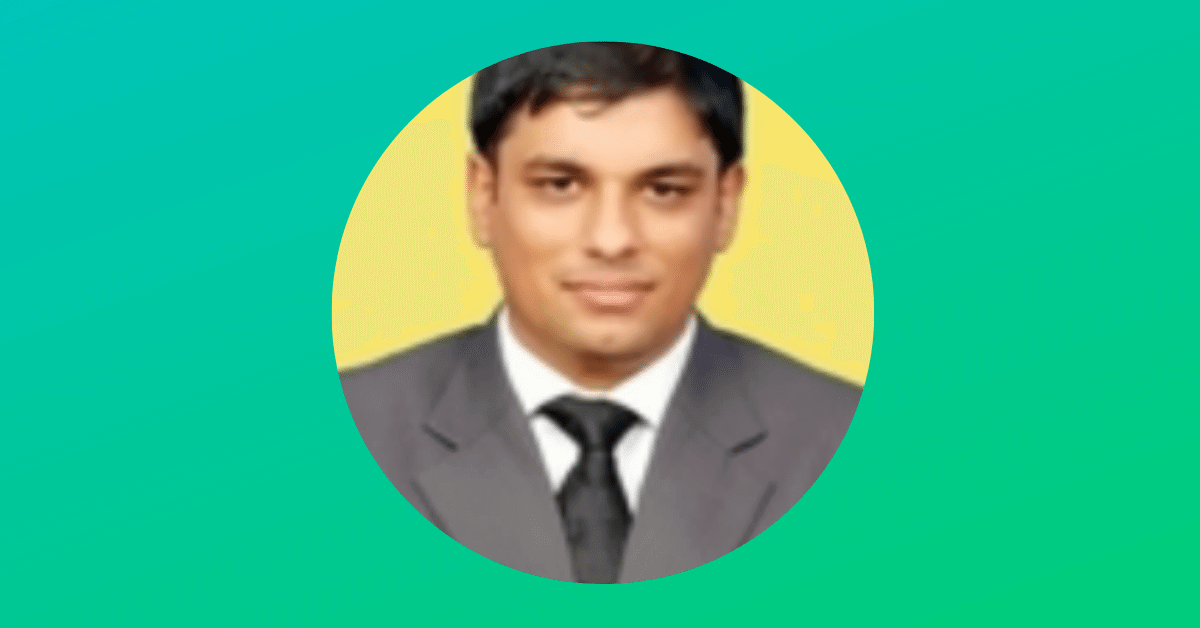 Saurabh had been associated with ClearIAS from his early days of IAS preparation.
A registered user in ClearIAS Mock Exam platform from 2016, he had enrolled in many online programs of ClearIAS including ClearIAS Prelims Test Series, and ClearIAS Interview Program.
Letter of Thanks from Saurabh Bhuwania to ClearIAS
Dear Sir/Madam
Being a working professional and a married man for 8 years with a toddler, it wasn't ever easy for me to even think of clearing this examination but for support of so many people including ClearIAS.
I am extremely grateful to ClearIAS for helping me with Prelims Test Series and also last minutes notes for mains along with free study material. It has a tremendous role in my success which I feel I won't be able to justify in words.
Regards
Saurabh Bhuwania
Rank 113 CSE 2018
ClearIAS Programs Used by Saurabh Bhuwania
Top Marks in UPSC Interview 2018
Saurab had secured 201 marks in 2018 UPSC Interview, which is one of the highest marks that year.
Marksheet of Saurabh Bhuwania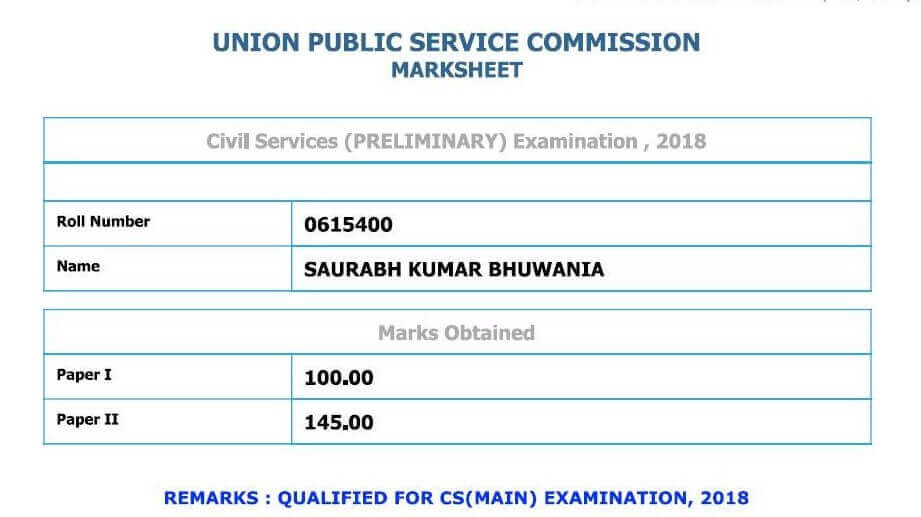 Prelims was very tricky in 2018 and I was extremely lucky to just sneak in as 1/2 wrong answers would have killed my chances for mains.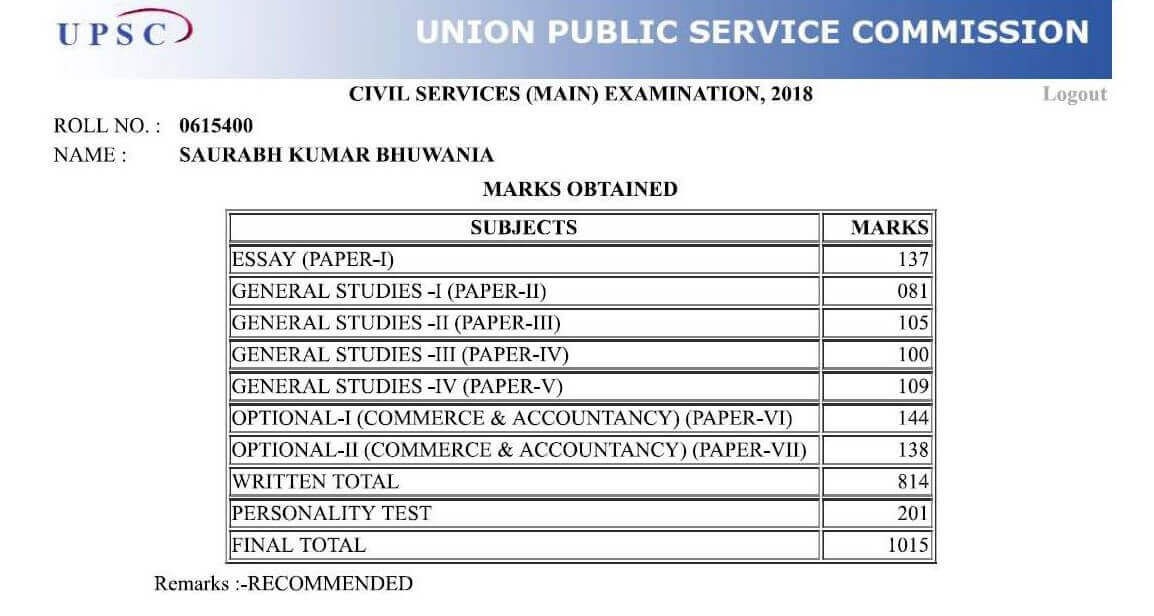 I had planned to improve Essay, Ethics and Optional papers significantly. It was so fulfilling to see my plans actually getting materialized in marks in all these papers. Interview marks were definitely the icing on the cake and helped me secure Rank 113.
Managing the pressure of work, raising a child, and academics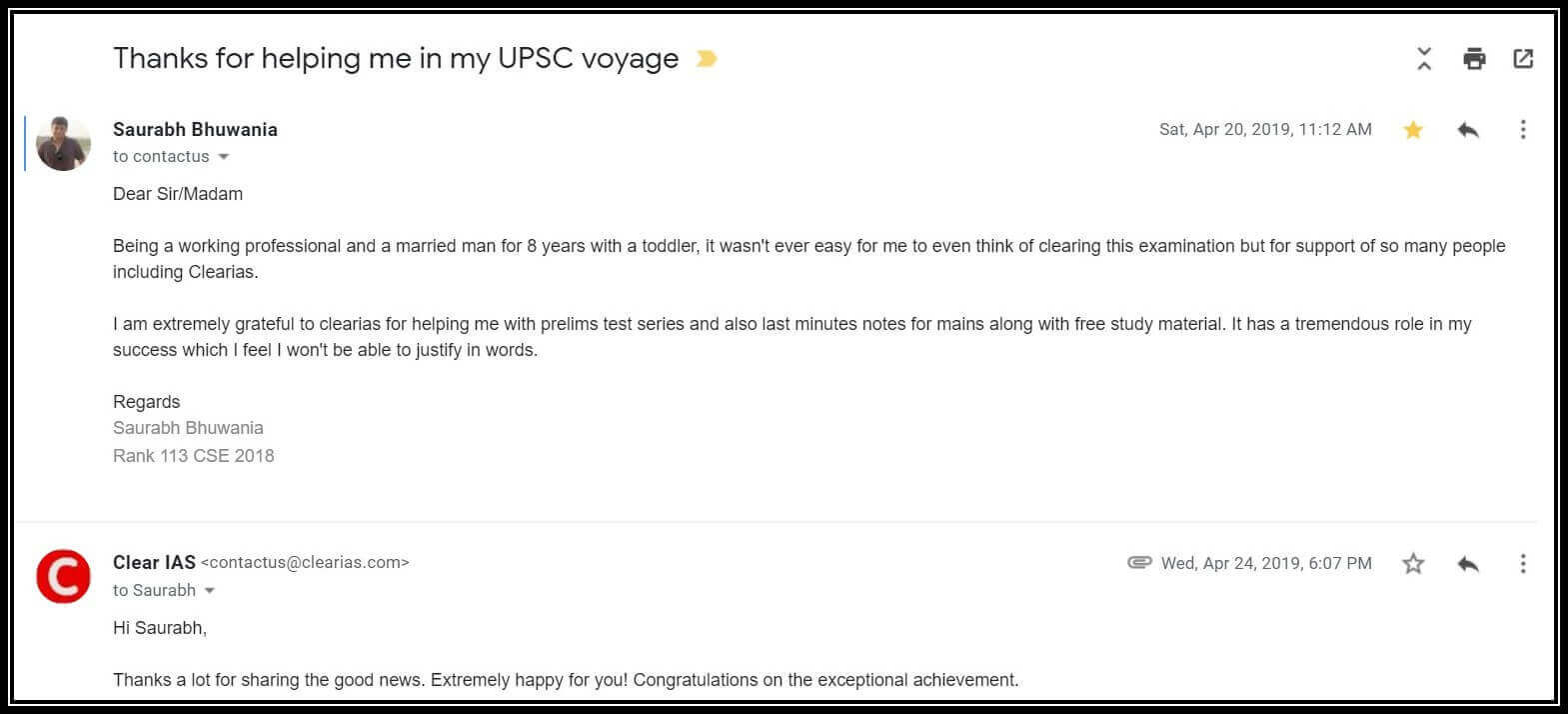 Saurab was determined to study a minimum 4-5 hours daily on weekdays and 7-9 hours on weekends.
He also tried to squeeze additional 10-15 minutes of time – when he was in office or was travelling.
His strategy was of smart work. He did a cost-benefit analysis before learning new sources. Saurab says limited-sources and mental fitness are some traits which worked wonders for him.
Saurab is a cricket enthusiast, and a poet at heart.
We wish him all the very best in life and career!