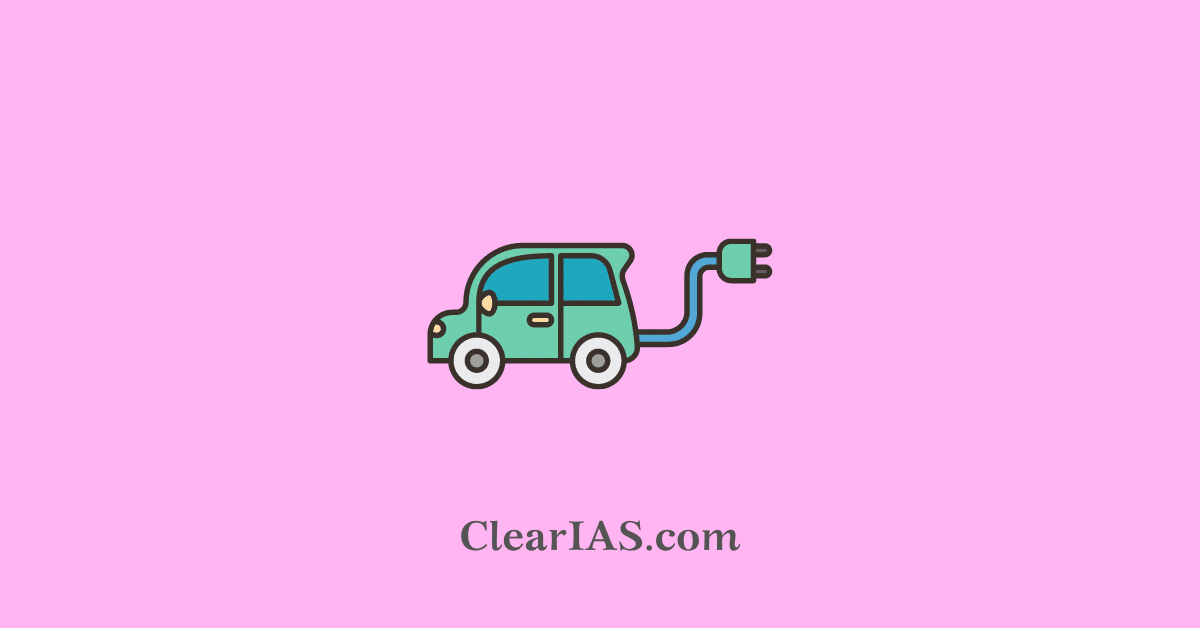 In 2021, NITI Aayog launched Shoonya Campaign with the support of Rocky Mountain Institute (RMI).
It is an effort to assist zero-pollution delivery vehicles by collaborating with customers and businesses.
The Shoonya campaign encourages the adoption of electric vehicles, bringing together industry and consumers to cut emissions from the urban freight sector.
The initiative is an attempt to raise awareness about EVs among consumers and recognizes industry efforts through an integrated combination of corporate branding, impact assessment, and consumer awareness.
Aim of the Shoonya Campaign
The Shoonya campaign aims to reduce air pollution in India by accelerating the adoption of electric vehicles for last-mile delivery. The campaign aims to:
Create awareness and demand among consumers for zero pollution delivery.
Recognize and support industry initiatives toward fleet electrification.
Put the sector of last-mile deliveries on a path to complete electrification.
Purpose of Shoonya
The transportation of goods is essential to the urban economy. Urban freight demand is anticipated to expand by 140% in this decade due to rising population, rapid urbanization, and growth in e-commerce.
Urban freight networks do, however, also contribute to externalities that are harmful to society, such as air pollution, health risks, excessive CO2 emissions, and high transportation costs.
In order to benefit consumers and society as a whole, e-commerce operations can be made more efficient by using electric delivery trucks for the final mile of distribution.
Components of the Shoonya Campaign
Shoonya Campaign has 3 major components-
1. Corporate Branding Programme
The corporate branding program rewards industry partners for their contributions to promoting the electrification of vehicles.
2. Consumer Awareness Drive
The advantages of EV adoption for health and the environment will be highlighted through a public awareness campaign.
The campaign aims to increase consumer awareness of and demand for zero-pollution rides and deliveries.
3. Resource Toolkit
The resource toolbox offers online tools for EV users to evaluate the costs and effects of the adoption of electric vehicles.
Benefits of Electric Vehicles
By 2050, it is anticipated that commercial passenger vehicle traffic would increase by 5 times. It will be expensive, unhealthful, and polluting to meet India's expanding transportation needs using internal combustion engine automobiles. The zero-emission vehicle has the potential to satisfy this demand while reducing costs and improving air quality.
Improvement in Air Quality: Electric Vehicles (EVs) emit zero particulate matter (PM) and nitrogen oxide (NOx) emissions.
Improvement in Public Health: By switching to electric fleets, harmful vehicle emissions like PM and NOx that cause respiratory problems and other diseases can be considerably reduced, and this will improve the status of public health in the longer run.
Lower Running Costs: EVs has lower operating costs than comparable petrol or diesel car. charging an EV is less expensive than buying gas or diesel to meet your travel needs. Electricity costs can be further decreased if charging is done with the help of renewable energy sources installed at home, such as solar panels, making the usage of electric vehicles more environmentally beneficial.
Tax and Financial Benefits: Registration and road taxes for electric vehicles are lower than for petrol or diesel vehicles. The government offers a variety of incentives and initiatives at the state level as well.
Improved Health of the Environment: Electric Vehicles produce 20 percent less CO2 than fossil-fuel vehicles.
Cost Savings: Fleet transition to all-electric vehicles results in lower fuel and maintenance expenses. As a result, operating an electric vehicle has a very low annual cost.
No Noise Pollution: Since there is no engine underneath the hood, EVs are capable of operating in silence.
Challenges Under Shoonya Campaign and Adoption of EVs
Lack of Technological Advancement: India lacks the technological capacity to manufacture the electronics, such as batteries, semiconductors, controllers, etc., that form the basis of the EV industry.
Infrastructure Support: Other barriers to the growth of the EV industry include uncertainty over AC versus DC charging facilities, grid dependability, and range anxiety (fear that batteries will soon run out of power).
Lack of Skilled Workers: Maintaining EVs costs more and calls for a higher level of expertise. For India to acquire these abilities, specialized training programs are required.
Dependency on Other Countries: India is dependent on countries like China and Japan for the import of lithium-ion batteries.
Expected Achievements under Shoonya Campaign
Through 2030, these industries are anticipated to expand at a CAGR of 8% in India.
EVs release no PM or NOx emissions at the tailpipe compared to ICE vehicles, and they cost 75% less to operate. They also emit 60% less CO2.
By April 2022, it was estimated that corporate partners had conducted roughly 20 million electric deliveries and 15 million electric rides through the Shoonya campaign, respectively. This results in a reduction of over 13,000 tonnes in carbon dioxide emissions.
In India, the electrification of the ride-hailing and delivery industries could reduce pollution by 537,000 tonnes of NOx, 16,800 tonnes of PM, and close to 54 MT of CO2, while also saving around 5.7 lakh crore in costs annually.
In support of India's five-point plan (Panchamrit), which was unveiled at COP 26, to cut carbon emissions and achieve its 2070 climate targets, Shoonya can thus result in significant emission reductions in the transportation sector.
Government initiatives for promoting the use of Electric Vehicles
To promote the adoption of electric vehicles, the Government of India has taken several initiatives. A few important of them are-
E-Amrit Portal
In November 2021, India unveiled "E-Amrit," an online platform on electric vehicles, at the COP26 Summit in Glasgow, UK.
The portal was created and is managed by NITI Aayog as part of the UK-India Joint Roadmap 2030, which is a collaborative information-sharing program.
E-Amrit is a one-stop destination for all information about electric vehicles, including buying one, investing in them, policies, incentives, and more.
The goal of E-Amrit is to support government efforts to educate the public about EVs and the advantages of switching to electric vehicles.
FAME Scheme
The National Mission on Electric Mobility announced the Faster Adoption and Manufacturing of (Hybrid &) Electric Vehicles in India (FAME-India) Scheme in 2011 and the National Electric Mobility Mission Plan 2020 were unveiled in 2013.
The program seeks to promote the gradual introduction of dependable, cost-effective, and efficient electric and hybrid vehicles in India.
Collaboration with Asian Development Bank (ADB)
NITI Aayog and Asian Development Bank (ADB) are collaborating through technical assistance on a number of high-level initiatives to promote EVs in India. Which includes credit enhancement, supply-chain assessment for EVs, and EV infrastructure component manufacturing in India.
Article Written By: Priti Raj