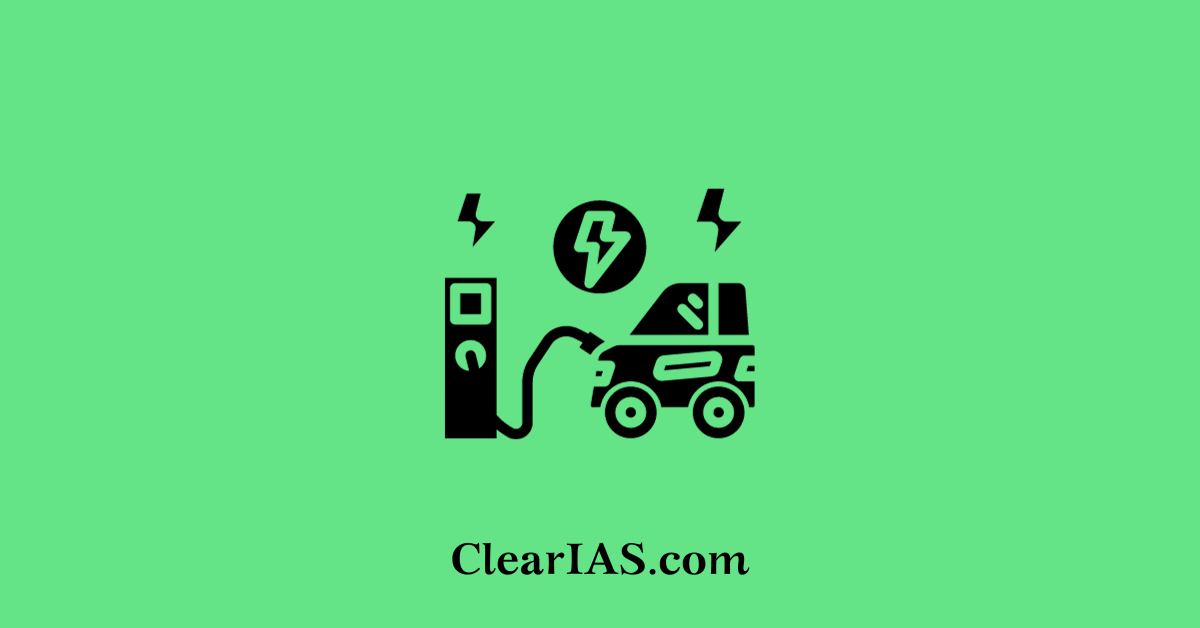 Vehicle-to-grid (V2G) technology is an innovative approach that involves the bidirectional flow of energy between electric vehicles (EVs) and the electrical grid. Read further to learn all about V2G technology.
V2G technology allows electric vehicles to not only consume electricity from the grid but also to return excess electricity to the grid when needed.
Recently, the Central Electricity Authority (CEA) has proposed battery standardization and interoperability measures to promote the integration of electric vehicles with the grid through reverse charging.
The call for standardization comes when the industry has raised concerns over battery standards as it may hurt the growth of battery adoption.
Vehicle-to-Grid (V2G) technology
Vehicle-to-grid, or V2G, technology is smart charging tech that allows car batteries to give back to the power grid.
The key features of the technology are:
Bidirectional Energy Flow: V2G enables the flow of electricity in two directions: from the grid to the vehicle (V2G) and from the vehicle to the grid (G2V). This bidirectional flow allows EVs to serve as mobile energy storage units.
Grid Support: During peak demand periods, electric vehicles can provide electricity back to the grid, acting as distributed energy resources. This feature can help utilities manage grid stability, balance load, and avoid the need for additional power generation sources.
Load Shifting: V2G technology enables load shifting, allowing electric vehicles to charge during periods of low electricity demand and discharge during peak demand. This helps in optimizing energy consumption patterns and reducing stress on the grid.
Renewable Energy Integration: V2G facilitates the integration of renewable energy sources, such as solar and wind, into the grid. EVs can store excess renewable energy when generation exceeds demand and discharge it during periods of low renewable energy availability.
Grid Ancillary Services: Electric vehicles equipped with V2G capabilities can provide ancillary services to the grid, such as frequency regulation, voltage support, and grid stabilization. These services contribute to grid reliability and efficiency.
Smart Charging and Communication: V2G relies on advanced communication technologies to enable smart charging and discharging. This involves bidirectional communication between the vehicle, charging infrastructure, and the grid to optimize energy flow.
Grid Resilience: V2G can contribute to grid resilience by providing backup power during grid outages. In emergencies or power failures, electric vehicles with V2G capabilities can supply stored electricity to critical infrastructure or homes.
Economic Benefits for EV Owners: EV owners participating in V2G programs may receive financial incentives or reduced electricity costs. By selling excess energy back to the grid during peak demand, owners can potentially offset the cost of charging their vehicles.
The adoption of V2G technology requires supportive regulatory frameworks. Regulations governing energy markets, electricity tariffs, and the interaction between electric vehicles and the grid play a crucial role in the successful implementation of V2G programs.
How does it work?
The basic concept of V2G charging sounds simple enough, but implementing it requires a complex suite of smart technology.
Charging stations must be equipped with software that communicates with the central grid to assess overall system demand at any given time.
Electric vehicles equipped with V2G capabilities are connected to a charging station that supports bidirectional power flow. These charging stations, also known as bi-directional chargers, enable the exchange of electricity between the vehicle and the grid.
When an EV owner plugs in their vehicle to charge, the charging station provides power to the EV's battery. This is a unidirectional flow where electricity moves from the grid to the vehicle.
In a V2G system, the EV can also discharge electricity from its battery back to the grid when needed. This bidirectional flow occurs when the vehicle is not actively being driven and is connected to the grid.
Communication protocols and control systems play a crucial role in V2G technology. Smart charging infrastructure and the vehicle's onboard systems communicate to determine when to charge the vehicle, when to discharge excess energy to the grid, and how much power to exchange.
V2G-capable electric vehicles can provide various grid services, depending on the requirements of the grid operator. These services may include:
Peak Shaving: Providing additional power during periods of high demand.
Load Balancing: Helping to balance the electricity load on the grid.
Frequency Regulation: Adjusting the frequency of the electrical grid to maintain stability.
Voltage Support: Providing voltage support during fluctuations.
Challenges of Vehicle-to-grid technology
V2G technology faces challenges such as standardization, interoperability, and concerns related to battery degradation. Addressing these challenges is essential for widespread adoption.
Battery Degradation: Frequent charging and discharging cycles, a characteristic of V2G, can lead to increased wear and tear on the vehicle's battery. This can result in faster degradation and reduce the overall lifespan of the battery, affecting its performance and efficiency.
Standardization Issues: Lack of standardized protocols and communication interfaces poses challenges for interoperability between different V2G systems and EV models. Standardization is crucial for ensuring compatibility and widespread adoption of V2G technology.
Regulatory Framework: The regulatory framework for V2G is still evolving in many regions. Issues related to grid interconnection, tariff structures, and compensation mechanisms for vehicle owners need to be addressed to create an enabling environment for V2G deployment.
Cybersecurity Concerns: V2G systems involve communication between vehicles, charging infrastructure, and the grid. The interconnected nature of these systems raises cybersecurity concerns, including the potential for hacking, data breaches, and unauthorized access to critical infrastructure.
Grid Stability and Capacity: Integrating a large number of EVs into the grid for bidirectional energy flow requires careful management to ensure grid stability. Sudden fluctuations in energy demand and supply can pose challenges to the overall stability and reliability of the grid.
Market and Business Models: Developing viable business models for V2G services and finding a balance between the interests of utilities, vehicle owners, and third-party service providers is a complex task. The lack of clear market structures can hinder the widespread adoption of V2G technology.
Consumer Awareness and Acceptance: Many consumers may not be aware of V2G technology or may be hesitant to participate due to concerns about battery degradation, privacy, and the perceived inconvenience of bidirectional charging. Educating and gaining acceptance from consumers is crucial for the success of V2G.
Infrastructure Investment: Widespread implementation of V2G requires significant infrastructure investment in smart charging stations, grid upgrades, and communication networks. The cost of deploying V2G infrastructure can be a barrier to its widespread adoption.
Grid Compatibility: Existing electricity grids may not be fully equipped to handle bidirectional energy flow and may require upgrades to accommodate V2G technology. Grid compatibility issues need to be addressed to integrate V2G seamlessly into existing infrastructure.
Economic Viability: The economic viability of V2G services is a critical factor for stakeholders. Determining the value proposition for vehicle owners, utilities, and other participants in the ecosystem is essential for creating sustainable V2G business models.
Conclusion
Vehicle-to-grid technology holds promise in contributing to a more resilient, sustainable, and efficient energy system by leveraging the flexibility of electric vehicles as both consumers and contributors to the electrical grid.
Ongoing research and pilot projects aim to further develop and optimize V2G capabilities.
Vehicle-to-grid technology can contribute to the integration of renewable energy sources into the grid. Electric vehicles can store excess energy generated from renewable sources and feed it back to the grid when needed, enhancing the overall sustainability of the energy system.
Related articles:
-Article by Swathi Satish