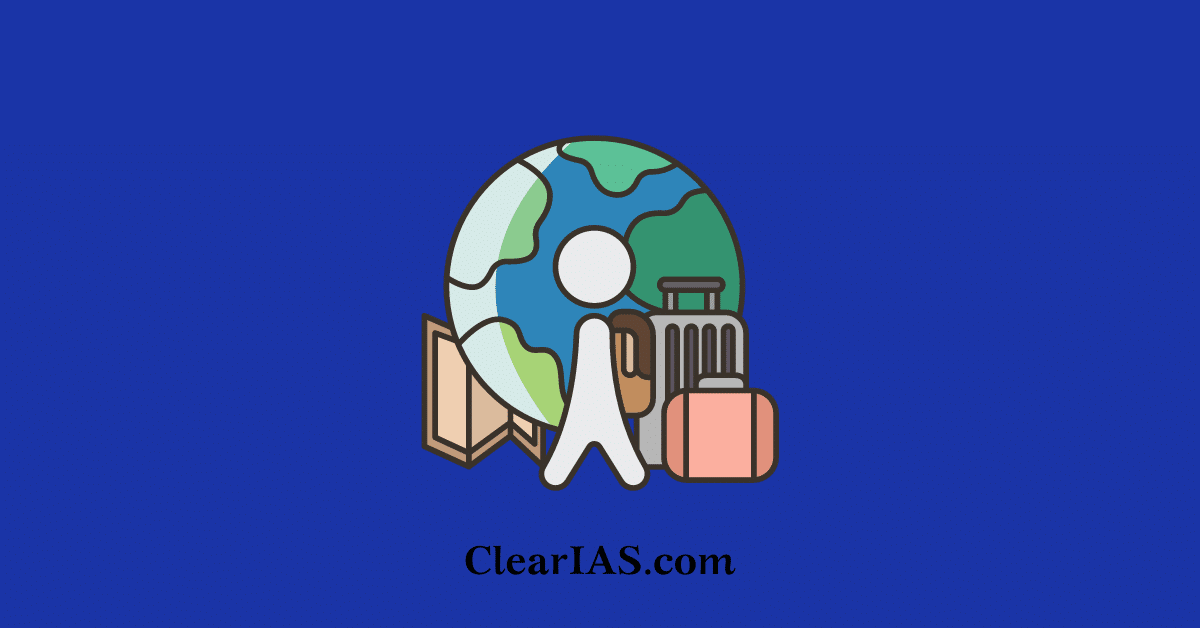 What is Space Tourism? What are the advantages and challenges of space tourism? Read further to know more.
The monetization of space technology has expanded with the involvement of the private sector in the space race.
The Indian Space Research Organization intends to create a unique spaceship that will transport people to and from space.
A business named Blue Origin just finished the online auction for the first seat on the New Shephard rocket system, which is intended to transport visitors into space.
What is Space Tourism?
Space tourism refers to the commercial activity of sending private individuals, often referred to as space tourists, into space for recreational, leisure, or adventure purposes.
While space exploration has traditionally been the domain of government agencies like NASA and Roscosmos, the emerging space tourism industry aims to make space travel accessible to private citizens.
Suborbital space tourism involves brief journeys beyond Earth's atmosphere, allowing passengers to experience a few minutes of weightlessness and see the curvature of the Earth.
Orbital space tourism, on the other hand, entails longer journeys, potentially involving stays aboard space stations.
Preparation for space tourists:
During the flight and the landing, passengers must be cushioned and protected from strong acceleration. To handle weightlessness, the cabin needs to be pressurized, and all furniture needs to be fastened.
To shield the craft from heat produced by friction, insulation is needed.
Space tourism has generated significant public interest and media attention. Successful test flights and high-profile events, such as the suborbital flights of billionaires Jeff Bezos and Richard Branson, have contributed to raising awareness about the possibilities of commercial space travel.
Significance
The following are the significance of space tourism.
Huge Market: The anticipated market size for these flights is 2.4 million people.
The base for Testing: By greatly reducing travel time, it can serve as a base for testing supersonic travel between various locations on Earth. Additionally, it signals the entrance of the private sector into this field.
Several private companies have entered the space tourism industry, aiming to offer commercial spaceflights. Prominent examples include Blue Origin, founded by Amazon's Jeff Bezos, and Virgin Galactic, founded by Sir Richard Branson. These companies have developed spacecraft designed to carry paying customers on suborbital journeys.
The future of space tourism
Wealthy adventure travelers may soon have access to space tourism. For instance, Virgin Galactic has received over 500 early reservations for the VSS Unity for $250,000.
To put it into perspective, people pay $50,000 to climb Everest as part of package excursions with guides, trainers, and devoted Sherpa teams.
The future of space tourism holds the promise of increased competition, reduced costs, and expanded offerings. Companies are exploring advancements in technology, infrastructure, and customer experience to make space tourism a more commonplace and accessible activity.
Beyond suborbital flights, there are visions for more ambitious space tourism endeavors, including orbital hotels, lunar tourism, and journeys to destinations beyond Earth's orbit. These concepts remain in the realm of future possibilities but highlight the potential evolution of the space tourism industry.
Concerns
The environmental impact of space tourism, particularly in terms of rocket emissions, is a topic of discussion. As the industry grows, there is increasing emphasis on developing environmentally friendly propulsion technologies and sustainable practices.
Climate Change: Unlike soot or black carbon found in the lower atmosphere, soot or black carbon resulting from rocket exhaust accumulates in the stratosphere (about 5 to 31 miles above the Earth). Black carbon may stay in the stratosphere for years as a result, accelerating climate change.
Health: There may be issues with passengers' health due to the possibility of motion sickness and disorientation, which can impair eyesight, cognition, balance, and motor control.
Challenges with the entry of private players: Private organizations frequently concentrate on relatively specialized technologies with immediate gratification. Publicly funded national space organizations that did not seek out quick gains have contributed to development in a wide range of fields, including contemporary communications, geolocation systems, renewable energy use, weather forecasting, etc.
What is New Shephard?
The spaceport of New Shephard, which bears the name of the first American astronaut Alan Shephard, offers payload space and flights to orbits more than 100 kilometers above the planet.
It is a rocket system developed to carry people and scientific payloads past the Karman line.
Access to space for activities like academic research, business technology development, and entrepreneurial endeavors, among others, is intended to be made simpler and more affordable.
By launching them 100 kilometers above the Earth, it will also enable space visitors to experience microgravity.
When anything or someone appears to be weightless, this is known as microgravity. Astronauts and things floating in space exhibit the effects of microgravity.
Private space tourism projects
Virgin Galactic, Blue Origin, and SpaceX—three significant private companies—made huge investments in space ventures.
Six people on the VSS Unity spacecraft just departed from New Mexico, traveled 85 kilometers away from Earth, and then returned.
The online auction for the first seat on the New Shephard rocket system was recently finished by Blue Origin, the space business founded by the founder of Amazon.
Even Mars is a goal for SpaceX. The International Space Station (ISS) is already stocked with SpaceX rockets, which also ferry astronauts there and back.
Advantages of Space tourism missions
The construction materials and design aspects could be applied to safety features in automobiles and high-speed trains.
The removal of space debris might provide another set of advantages. The current Artemis Accords and the 1976 Space Registration Convention both advocate for removing space junk. The presence of wealthy visitors will heighten the sense of urgency.
Indian Efforts
The first Gaganyaan manned mission, primarily a research mission to show an indigenous capability to conduct human space flight missions, has not yet been launched, and space tourism in India has been long delayed.
If all test missions are successful, the human mission is planned to launch between 2024 and 2025.
For the time being, space tourism is a pipe dream that ISRO must first make a reality by completing the Gaganyaan program flawlessly and through many iterations, developing and successfully launching a reusable rocket designed for tourist transportation, and ensuring that all systems are reliable, affordable, and economically viable.
Around 2028, it's expected that Indian space travel would be economically feasible. We will have to wait and see what happens till then.
What is IN-Space?
The Department of Space of the Indian government is the single-window independent organization known as the Indian National Space Promotion and Authorization Center (IN-SPACe). The Center coordinates and manages India's space operations.
IN-SPACe will work as a link between ISRO and private sector companies to establish "how effectively to exploit India's space resources and enhance space-based activity."
The center will evaluate the demands of private sector companies, including educational institutions, in cooperation with ISRO, and attempt to suit those demands.
According to Sivan, the decisions made by the center would apply to both ISRO and private-sector firms. Previously, ISRO oversaw the space sector, but it will now focus on its core mandate of research and development.
India and Global Space Tourism
The space tourism market has boomed in recent years, with commercial aerospace companies dominating it. The Dragon space spacecraft from SpaceX, which was founded by billionaire Elon Musk, is the industry leader in space tourism because of its ability to transport visitors through zero gravity.
Another significant rival in the market is the New Shepard spacecraft from Jeff Bezos' Blue Origin, which launches from West Texas and takes people on quick joyrides to space. The flights give the visitors a view of Earth from above and last for around ten minutes.
Also, read about Space Internet.
Way Forward
Considerations for health, comfort, and safety are essential. Before visitors travel to space, training, medical exams, and liability waivers will need to be reviewed.
Although it will only represent a minor portion of the market, space tourism will benefit the entire New Space sector.
When space travel does become commonplace, it will also have a favorable effect on many socioeconomic aspects of Earth's society, including the development of new solar-powered energy infrastructure and the creation of jobs.
Article Written by: Remya