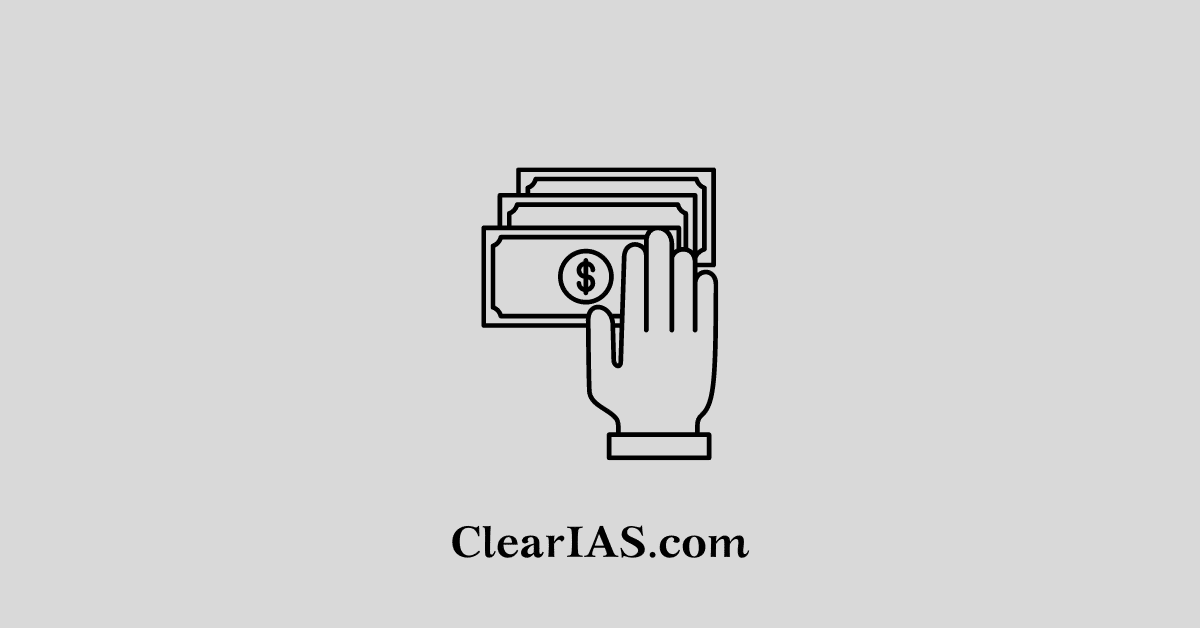 What do you mean by Subsidies? What is the rationale behind providing subsidies? Are subsidies burdening India as a developing country with limited budgetary resources? Read here to know more.
A benefit granted to a person, company, or institution is known as a subsidy.
It is generally provided by the government. Payments made in cash are an example of direct subsidies in India. Tax breaks and premium-free insurance are examples of indirect subsidies.
The purpose of the subsidy is often to alleviate some sort of hardship. It is frequently thought to be in the interest of the public to provide to promote a social good or economic policy.
Types of Subsidies
There are six primary categories of subsidies as follows, divided by purpose. They are as follows:
Export subsidies – Subsidies given on exports.
Subsidies contingent upon the use of domestic over imported goods – To promote domestic goods from the cheaper imported goods.
Industrial promotion subsidies – To promote certain industries.
Structural adjustment subsidies – To adjust or compensate for the structural deficiencies in an economy.
Regional development subsidies – It is given for the development of a particular region.
Research and development subsidies – To promote research and development.
By beneficiary, there are two primary categories –

Subsidies that are not limited to specific businesses or industries (non-specific subsidies).
Subsidies that are limited to specific businesses and industries (specific subsidies).
Other types
Product subsidy – Subsidies on products are payments made per unit of a produced article or service. A product subsidy is usually due when the good is manufactured, sold, or imported, but it may also be due when the good is transferred, leased, delivered, or utilised for one's consumption or capital development.
Production subsidy – The purpose of production subsidies is to increase the production of a specific good such that the market would support it without increasing the final cost to consumers.
Consumer/Consumption subsidies – These reduce the price of goods and services to the consumer.
Government subsidies – The government offers subsidies in a variety of types. Welfare payments and unemployment compensation are two of the most prevalent forms of individual subsidies. The main goal of these subsidies is to assist those who are momentarily experiencing financial hardship.
Further subsidies are provided to encourage people to pursue higher education and subsidised interest rates on student loans.
How do subsidies affect our budgetary resources?
India is a developing nation, thus there aren't many budgetary resources available to expand the reach of subsidies to a larger population.
The amount of food subsidy in the government budget is Rs. 2.06 lakh crore, or around 1.9% of GDP in 2018–19 and 2.5% in 2019–2020.
From 2010–11 to 2019–20, or roughly the narrow range of 18.4% to 20.3%, the revenue to GDP ratio has been stagnant for a considerable amount of time.
The ratio is much higher in many developed and emerging market economies. These ratios for the UK and the USA in 2019 were 36% and 30.1%, for Sweden and the Netherlands they were 48.6% and 43.6%, and for Brazil, it was 31.5%.
Also, read Direct Benefit Transfer and Freebies politics.
The rationale behind providing subsidies
Public subsidies can be justified for a variety of reasons: some are political, others are economic, and some are based on socioeconomic development theory. According to development theory, some businesses require protection from outside competition to maximise domestic advantage.
A free market economy is technically devoid of subsidies; adding one turns it into a mixed economy. The value of subsidies and, by extension, the degree to which an economy should be mixed are topics of frequent discussion among economists and decision-makers.
Its disadvantages
Although an increased supply of commodities is one benefit of subsidies, a lack of supply is also a possibility. This is so that manufacturers won't have to work as hard to fulfil a sudden increase in demand that can result from lower prices. In the end, it may result in extremely strong demand, which raises prices.
Often, subsidies are efficient and beneficial. The situation would be different if the government released a report on how well it had used subsidies. This is due to the difficulty in measuring the effectiveness of subsidies.
How will the government raise money to support industry subsidies? Naturally, by levying larger taxes. Therefore, the general public and businesses are the ones who give the resources needed for the government to subsidise industry.
Governments utilise several tools in their toolbox, including subsidies, to accomplish various policy objectives.
From the standpoint of sustainable development, it is essential to address the negative externalities of subsidies while maintaining their market-correcting role and the policy space for development. This is because the world is becoming more interdependent.
Article written by: Krishnapriya JR