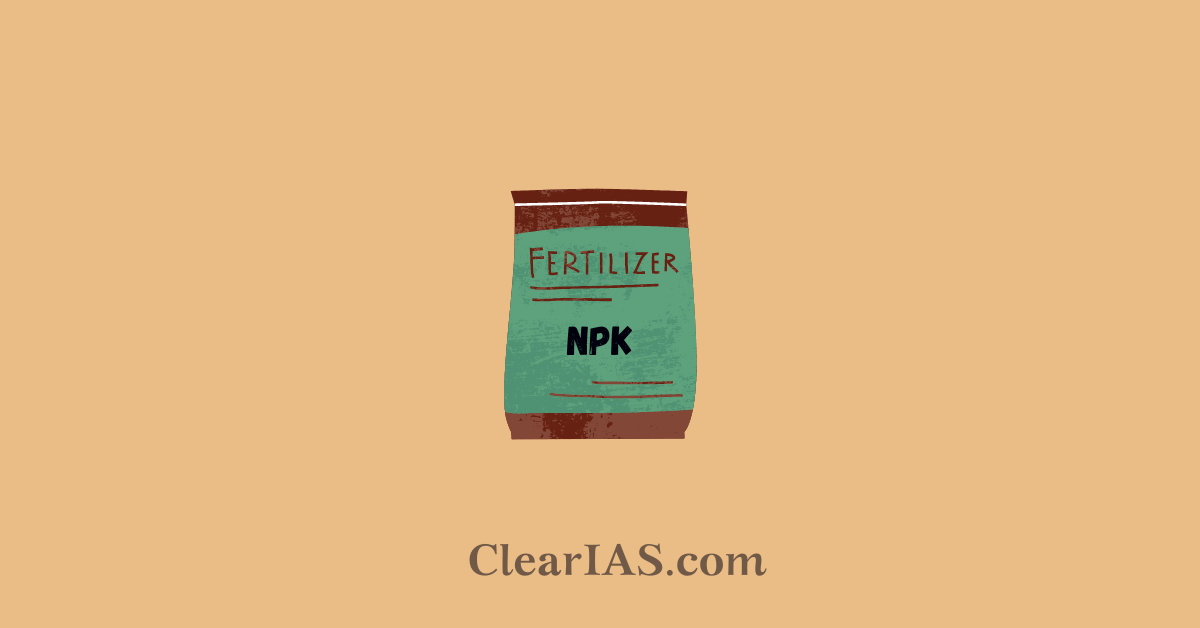 The Nutrient Based Subsidy Scheme provides subsidies for all non-urea-based fertilizers. The NBS scheme was created to encourage soil-balanced fertilization to increase agricultural productivity leading to improved farm returns. Read here to know more about the scheme.
There are three basic fertilizers used in India- Urea, Diammonium Phosphate (DAP), and Muriate of Potash (MOP).
Out of this Urea is the most produced, consumed, imported, and physically regulated of all. It is subsidized only for agricultural uses.
The NBS scheme does not cover Urea.
Nutrient Based Subsidy (NBS) Scheme
According to the Nutrient Based Scheme regime, farmers receive fertilizers at discounted rates based on the nutrients (N, P, K, and S) that these fertilizers contain.
Additionally, additional subsidies are provided for fertilizers that are enriched with secondary and micronutrients like zinc and molybdenum (Mo).
The government is making available fertilizers, namely Urea and 25 grades for P&K fertilizers to farmers at subsidized prices through fertilizer manufacturers/importers.
The subsidy on P&K fertilizers is being governed by NBS Scheme since 2010.
Through its farmer-friendly approach, the Government is committed to ensuring the availability of P&K fertilizers to farmers at affordable prices.
Given a steep increase in the international prices of fertilizers & inputs i.e., Urea, DAP, MOP, and Sulphur, Government has decided to absorb the increased prices by increasing subsidies on P&K fertilizers including DAP.
The subsidy would be released to fertilizer companies as per approved rates so that they can make fertilizers available to farmers at an affordable price.
The goal of the NBS policy is to boost the consumption of P&K fertilizers to reach the ideal balance (N:P: K= 4:2:1) of NPK fertilization.
As a result of the increased crop output brought about by this, the farmers would earn more money. This would improve the soil's health.
The MRP of phosphoric and potassium (P&K) fertilizers can be fixed at appropriate levels by manufacturers, marketers, and importers thanks to the Nutrient Based Subsidy Scheme (NBS).
The country's inventory levels, currency exchange rates, and domestic and international fertilizer costs are all taken into account while determining the MRP.
The NBS does not include urea-based fertilizers and is available for imported complex fertilizers except Ammonium Sulphate.
Fertilizer Subsidy Scheme 2022
The Fertilizer Subsidy Scheme is a centrally funded scheme launched in April 2022.
It is operated and maintained by the Department of Fertilizers.
The tagline of this scheme is PROSPEROUS FARMER, PROSPEROUS INDIA.
Its main objective is to provide Nutrient Based Subsidy (NBS) rates for Phosphatic and Potassic (P&K) fertilizers to the farmers.
At present, it is a short-term scheme for only Kharif Season.
Fertilizers Subsidy Scheme 2022 allows farmers to buy fertilizer bags at very low rates in comparison to the rates in the market.
In this scheme, the government will provide subsidies for the purchase of Phosphatic and Potassic (P & K) Fertilizers to the farmers.
This will help the farmers to procure the required quantity of fertilizers for their agricultural fields.
Under this scheme, farmers will directly get subsidized fertilizers at the government-managed Sehkari Store.
Farmers will only have to pay the subsidized amount of fertilizers
Concerns with the Nutrient Based Subsidy Scheme
Because urea isn't included in the plan, its price is still under control as the Nutrient Based Subsidy Scheme has only been applied to other fertilizers.
Technically, there is no price regulation for other fertilizers. Farmers are now using more urea than previously because of the increased cost of other deregulated fertilizers.
The imbalance in fertilizer as a result has gotten worse.
The NBS policy is not only harming the fiscal state of the economy but is also proving harmful to the soil health of the nation.
Fertilizer subsidies are the second-largest subsidy after food subsidies.
Subsidized urea is being diverted to large purchasers, traders, or even non-agricultural consumers like plywood manufacturers and producers of animal feed.
India's agrochemical usage is quite high and almost 55% of it is urea.
The Centre provides a subsidy for urea fertilizer based on the cost of manufacturing at each facility. Manufacturers of fertilizers are required to sell them.
NBS Scheme in news
The Union Cabinet has approved the proposal of the Department of Fertilizers for per Kilogram rates of Nutrient Based Subsidy (NBS) for various Nutrients that is Nitrogen (N), Phosphorus (P), Potash (K), and Sulphur (S) for Phosphatic and Potassic (P&K) fertilizers for Rabi Season 2022-23
This will enable the smooth availability of all P&K fertilizers to the farmers during Rabi 2022-23 at the subsidized / affordable prices of fertilizers and support the agriculture sector.
The volatility in the international prices of fertilizers and raw materials has been primarily absorbed by the Union Government.
Way forward
Urea must be included by the Nutrient Based Subsidy Scheme to redress the imbalance in fertilizer use.
A workable solution would be to raise the price of urea while concurrently lowering the NBS rates for phosphate, potash, and sulfur to lower the cost of other fertilizers.
Given that all three nutrients-nitrogen (N), phosphorus (P), and potassium (K) are essential for boosting crop yields and produce quality, the government must adopt a standard policy for all fertilizers.
A flat per-acre cash subsidy that may be used to buy any fertilizer should eventually take the place of NBS.
This subsidy must cover goods with added value and customization that deliver nitrogen more effectively than urea while also including other nutrients.
-Article written by Swathi Satish