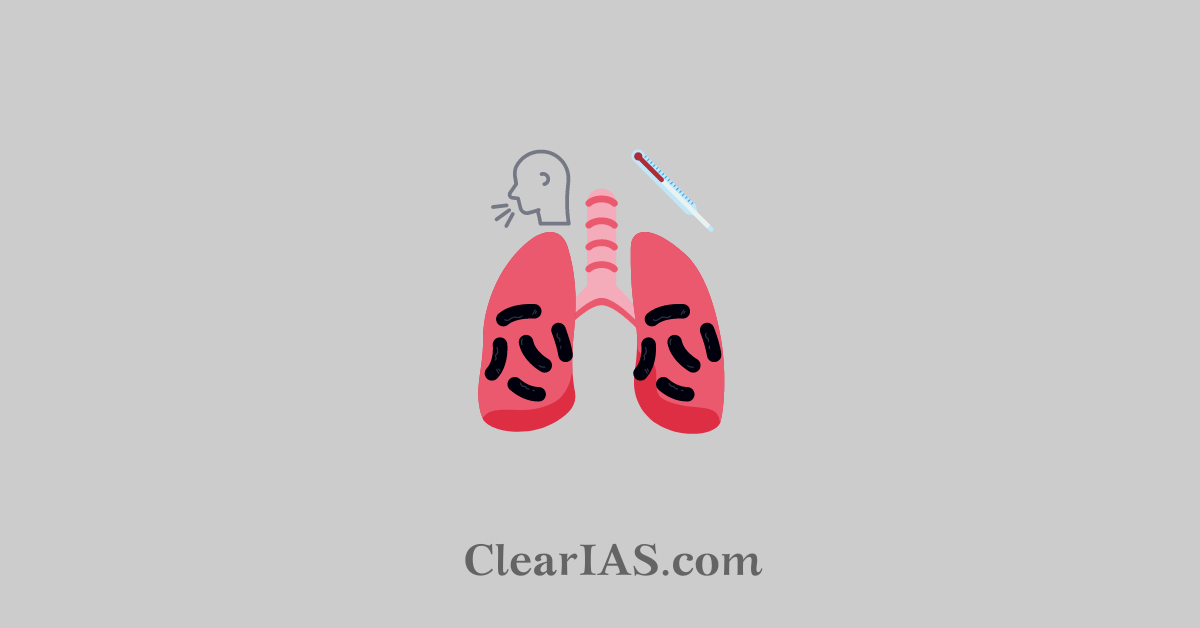 The Pradhan Mantri TB (Tuberculosis) Mukt Bharat Abhiyaan was launched recently. Read here to learn more about Tuberculosis.
Hon'ble President of India, Smt. Draupadi Murmu virtually launched the Pradhan Mantri TB Mukt Bharat Abhiyaan on September 9th, 2022, to reinvigorate the mission of TB elimination from the country by 2025.
The Pradhan Mantri TB Mukt Bharat Abhiyaan has been envisioned to bring together all community stakeholders to support those on TB treatment and accelerate the country's progress toward TB elimination.
Pradhan Mantri Tuberculosis (TB) Mukt Bharat Abhiyaan
It's an initiative of the Ministry of Health and Family Welfare (MOHFW).
The aim is to accelerate the country's progress towards TB elimination by 2025.
Objectives:
Provide additional patient support to improve treatment outcomes of TB patients
Augment community involvement in meeting India's commitment to end TB by 2025.
Leverage Corporate Social Responsibility (CSR) activities.
The Ni-kshay Mitra initiative was also launched which forms a vital component of the Abhiyaan.
The Ni-kshay Mitra portal provides a platform for donors to provide various forms of support to those undergoing TB treatment.
The three-pronged support includes nutritional, additional diagnostic, and vocational support.
The donors, called Ni-kshay Mitras, could be a wide range of stakeholders from elected representatives, and political parties, to corporates, NGOs, and individuals.
Tuberculosis (TB)
Tuberculosis (TB) is an infectious disease caused by the bacteria Mycobacterium Tuberculosis.
It generally affects the lungs but can impact other parts of the body.
Latent TB is when the infections do not show any symptoms which is the case most of the time. Statistically, about 10% of the patients progress to active disease which may lead to death if left untreated.
TB is spread from person to person through the air which makes it highly contagious. But people with latent TB do not spread the disease.
Typical symptoms of active TB are a chronic cough with blood in mucus, fever, night sweats, and weight loss.
Treatment requires the use of antibiotics for a long period. This problem of antibiotic resistance is affecting the treatment as multiple drug-resistant TB (MDR-TB) is also on the rise.
Treatment for TB
Active TB is treated with combinations of antibiotics for a prolonged period to reduce the risk of antibiotic resistance.
Latent TB treatment takes around 9-11 months to prevent conversion to active TB.
History of TB
Tuberculosis has been present in humans since ancient times. Earlier it was considered a very lethal disease with a high death rate with no treatment.
1689: Richard Morton, an English physician established the pulmonary form associated with tubercles as a pathology, but TB was not identified as a single disease until the 1820s.
1720: Benjamin Marten, another English physician, conjectured that consumption (weight loss due to TB) was caused by microbes that were spread by people living near each other.
1865: Jean Antoine Villemin, a French physician demonstrated that tuberculosis could be transmitted, via inoculation, from humans to animals and among animals.
1882: Robert Koch, the German physician, and microbiologist, identified and described Mycobacterium tuberculosis as the responsible bacteria. (He received the Nobel Prize in physiology or medicine for this in 1905).
1906: Albert Calmette and Camille Guérin achieved the first success in immunization against tuberculosis in 1906, using attenuated bovine-strain tuberculosis called bacille Calmette–Guérin(BCG).
1921: The BCG vaccine was first used on humans in 1921 in France, but achieved widespread acceptance in the US, Great Britain, and Germany only after World War II.
World Tuberculosis Day is marked on 24 March each year, the anniversary of Koch's original scientific announcement.
Global data on TB
In 2018, one-quarter of the world's population was thought to have a latent infection of TB with new infections occurring in about 1% of the population each year.
As of 2018, most TB cases occurred in the regions of South-East Asia (44%), Africa (24%), and the Western Pacific (18%).
More than 50% of cases being diagnosed were in seven countries: India (27%), China (9%), Indonesia (8%), the Philippines (6%), Pakistan (6%), Nigeria (4%), and Bangladesh (4%).
In 2020, an estimated 10 million people developed active TB, resulting in 1.5 million deaths.
This was the second leading cause of death from an infectious disease after COVID-19.
By 2021 the number of new cases per year was decreasing by around 2% annually.
About 80% of people in many Asian and African countries test positive while 5–10% of people in the United States population test positive via the tuberculin test.
The WHO (World Health Organisation) has launched a joint initiative "Find. Treat. All. EndTB" with the Global Fund and Stop TB Partnership.
WHO also releases the Global Tuberculosis Report.
Tuberculosis in India
More than 26% of Global TB cases are from India. India experienced a 19% increase in TB cases in 2021 compared to the previous year.
A total of 1.5 million people died from TB and an estimated 10 million people fell ill with tuberculosis (TB) worldwide in 2020.
India has the world's highest tuberculosis (TB) burden, with an estimated 26 lakh people contracting the disease and approximately 4 lakh people dying from the disease every year.
The problem in India is the poor primary health care infrastructure which does not reach the weaker and backward sections of the society.
Initiatives by the government for TB eradication
National Strategic Plan for Tuberculosis Elimination 2017-2025
National Tuberculosis Elimination Program (NTEP)- Centrally Sponsored Scheme
TB Harega Desh Jeetega Campaign
Bacillus Calmette–Guérin (BCG) vaccine included in the Indradhanush program.
National TB Elimination Programme to meet the goal of ending the TB epidemic by 2025 the country, five years ahead of the Sustainable Development Goals (SDG) for 2030
Two vaccines VPM (Vaccine Projekt Management) 1002 and MIP (Mycobacterium Indicus Pranii) have been developed and are under Phase-3 clinical trial.
Ni-kshay Poshan Yojana: It provides Rs 500 support through direct benefit transfer to the patients.
The government has also focused on utilizing technology and creating digital health IDs for TB patients under the Ayushman Bharat Digital Health Mission to ensure proper diagnostics and treatment are available.
-Article written by Swathi Satish