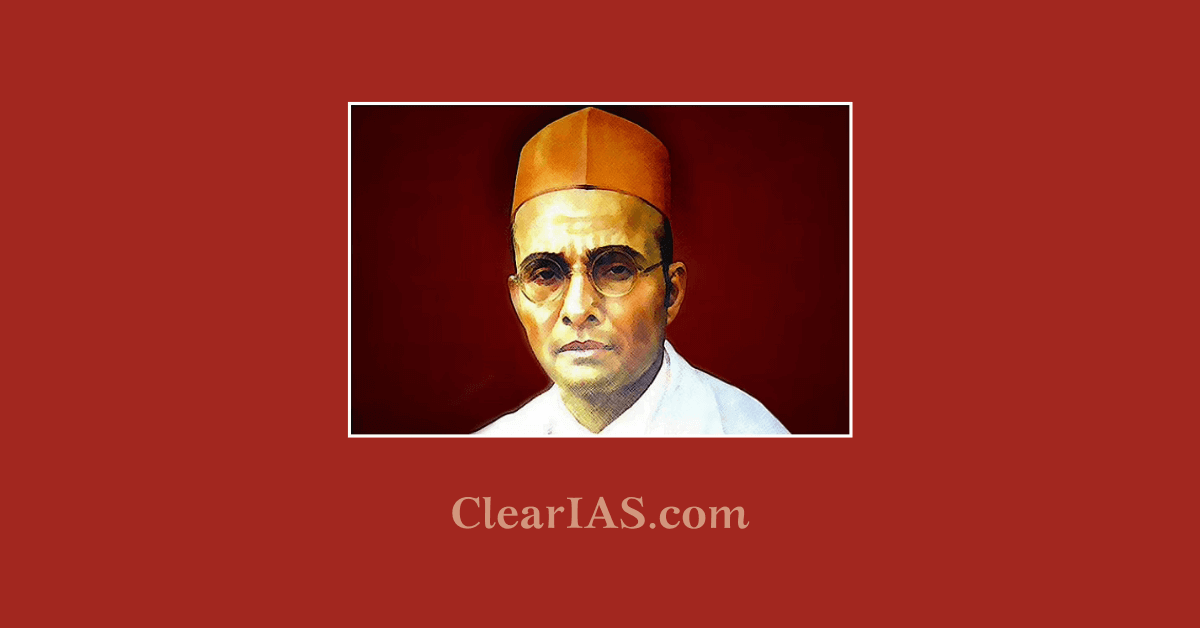 Veer Savarkar was a freedom fighter, social reformer, writer, and political thinker. Read to know about the life and legacy of Vinayak Damodar Savarkar.
Vinayak Damodar Savarkar was known among his followers by the prefix 'Veer'.
Savarkar published books advocating complete Indian independence by revolutionary means.
He was a leading figure of the Hindu Mahasabha, a political organisation in India.
Savarkar endorsed the idea of India as a Hindu Rashtra and popularized the term 'Hindutva' (previously coined by Chandranath Basu) to create a collective 'Hindu' identity as an essence of Bharat.
Early Life of Veer Savarkar
Birth: 28 May 1883
Vinayak Damodar Savarkar was born in Bhagur, near Nashik, present-day Maharashtra. He was born to Damodar and Radhabai Savarkar in a Marathi Chitpavan Brahmin family. He had three other siblings Ganesh, Narayan, and Mainabai Savarkar.
Education:
He completed his Bachelor of Arts from Fergusson College, Pune.
After obtaining his degree, Savarkar went to England to study law where he lived at India House, which was a place frequented by nationalists and political activists.
He was helped by Shyamji Krishna Varma to go to England to pursue his studies. He enrolled there at 'Gray's Inn Law College'.
The professional and political life of Veer Savarkar
He was greatly inspired by leaders like Bal Gangadhar Tilak, Lala Lajpat Rai, and Bipin Chandra Pal and by the protests against the partition of Bengal and the Swadeshi movement.
He was a staunch patriot who was involved in political activities at high school and college and was attracted to radical views and movements. He and his brother Ganesh Damodar Savarkar founded a secret society called 'Mitra Mela' in 1899 which later became 'Abhinav Bharat Society' in 1904.
In London, he established the Free India Society along with Madam Bhikaji Cama to organize students to fight for India's independence through a revolution.
Savarkar was a friend and guide to Madan Lal Dhingra who assassinated Curzon Wyllie, a British army officer. Even though Dhingra was executed by the British, Savarkar continued the further revolution.
The History of the War of Indian Independence
1909: During this time, he authored a book "The History of the War of Indian Independence".
It was Veer Savarkar who first named the 1857 rebellion the first war of independence. He referred to British rule as unjust and oppressive.
The book was banned by the British, but Madam Bhikaji Cama published the book in Netherlands, Germany, and France, which eventually gained popularity among many Indian revolutionaries.
He also led an armed revolt against the Morley-Minto reforms during this time.
Arrest and mercy petitions
In 1910, Savarkar was arrested and ordered to be extradited to India for his connections with the revolutionary group India House.
On return to India, Savarkar was sentenced to two life terms of imprisonment totalling 50 years and was moved to the Cellular Jail in the Andaman and Nicobar Islands in 1911.
He filed multiple mercy petitions and his release was also demanded by national leaders like Mahatma Gandhi and Tilak.
In 1921, he was transferred to a jail in Ratnagiri and then to the Yerwada Jail in Pune.
He was released in 1924 but could not move out of Ratnagiri or engage in political activities for five years.
Essentials of Hindutva
During his incarceration in Ratnagiri jail in 1922, he wrote his "Essentials of Hindutva" that formulated his theory of Hindutva.
He was a self-proclaimed atheist but a staunch believer of Hindutva and he believed all the religions are the same and can come together to form the Akhand Bharat (Unified or Great India).
He later joined Tilak's Swaraj Party and gave instigating patriotic speeches against the British Government. As a result, the British Government withdrew his B.A. degree.
He advocated for the use of Hindi as a national language. He also fought against untouchability and caste-based discrimination.
Savarkar's contributions as a social reformer
Savarkar built Patit Pavan Mandir in the Ratnagiri district to allow entry to all Hindus, including Dalits.
According to Savarkar, the rigid caste system "deserves to be thrown into the dustbins of history".
Savarkar wanted to break away from caste-based vocational rigidity and encourage persons to pursue any vocation of their choice based on aptitude and ability. In the absence of motivation of competition, or lack of aptitude, Savarkar believed, "merely following what one's father did, will make one both complacent and unproductive."
Savarkar wanted to break away from the taboo on inter-caste dining. He had said, "Religion is in the heart, the soul, the spirit; not the stomach!" He also promoted inter-caste marriage.
Veer Savarkar wanted to popularize Vedic literature to everyone, not only to a particular caste. He called Vedic literature civilizational knowledge for the entire human race and India's unique gift to mankind.
Savarkar believed in global mobility and the need for Indians to venture out into foreign lands so as to "bring back the best of the world and carry the fragrance of India and her culture to every corner of the globe."
Veer Savarkar underscored was the need to develop a scientific temper. "We are 200 years behind Europe", he had remarked adding, "It is through science, modern thoughts and industrialization that we can ensure that every man woman in India will have a job to do, food to eat, clothes to wear and a happy life to lead."
Savarkar and Hindu Mahasabha
In 1937, Savarkar became the president of the Hindu Mahasabha (till 1943).
It was founded by Veer Damodar Savarkar, Lala Lajpat Rai, Madan Mohan Malviya in 1933.
The organization was formed to protect the rights of the Hindu community, after the formation of the All India Muslim League in 1906 and the British India government's creation of a separate Muslim electorate under the Morley-Minto reforms of 1909.
Savarkar as president of the Hindu Mahasabha decided to support the British war effort in India seeking military training for the Hindus during the Second World War.
He gave the slogan "Hinduize all Politics and Militarize Hindudom".
Opposing stand during the Quit India Movement
Under Savarkar, the Hindu Mahasabha openly opposed the call for the Quit India Movement and boycotted it officially. He asked all the Hindu sabha members in the government to support the British government instead.
Hindu Mahasabha also opposed Gandhi's initiative to hold talks with Jinnah in 1944. Savarkar strongly attacked the British and Congress for making concessions for the Muslim separatists.
After the resignation of the Congress ministries in protest of Linlithgow's decision to drag India into WWII without their consultation, the Hindu Mahasabha, under Savarkar's presidency, joined hands with the Muslim League and other parties to form governments, in certain provinces like Sindh, NWFP, and Bengal.
The 'two nations in one country' theory
When he gave 'the two nations in one country' theory, he propounded that the Hindus and Muslims, though different can bury their differences and unite for India.
That's the reason he had opposed INC's acceptance of the partition of India. Note: The two nations theory adopted by Jinnah was given by Sir Syed Ahmed khan.
The assassination of Mahatma Gandhi: The charge and acquittal
In 1948, he was charged as the co-conspirator for the assassination of Mahatma Gandhi.
Nathuram Godse was a member of Hindu Mahasabha and a prolific follower of Savarkar's ideas.
Savarkar was however later acquitted from the charge due to lack of evidence.
Post-Independence India and Savarkar
He was under the constant scrutiny of the public after Gandhiji's assassination.
Later, he was also arrested by the government for making "Hindu nationalist speeches" but was released after agreeing to give up political activities. He continued addressing the social and cultural elements of Hindutva.
After the death of his wife in 1963, from February 1966, Savarkar gave up consuming food, water, and medicines. According to him, giving up life when one was no longer useful to society was better than waiting for death.
He died on February 26, 1966, due to ill health.
Legacy of Veer Savarkar:
Savarkar was the first political leader to set independence as India's goal in the 1900s. Almost immediately after joining college, he had started organizing and spreading his anti-British and revolutionary ideas through his efficient oratory and writing skills.
He was also known as Swantantryaveer or Veer Savarkar which was earned due to his courageous behaviour.
He was a proponent of a united India, which was inclusive and diverse — an India that was an organic result of all its diverse cultures. He believed in the idea of inclusivity for mobilizing the Indian masses.
Savarkar also openly embraced the "Era of Machines" and warned the Indian leaders to learn from Europe's mistakes.
His futuristic approach to Indian cinema, too, was commendable. He believed in the innovative spirit of the human mind.
Even though his ideology on Hindu Rashtra and Hindutva is controversial, Savarkar's ideas of modernity, social and religious reforms, cultivation of scientific temper, and embracing technological tools continue to be relevant for building a new India.
Some of his other literary works include:
Six Glorious Epochs of Indian History
My Transportation for Life
Kale Pani
1857 che Svatantrya Samar
Maazi Janmathep
Moplyanche Banda (about Moplah rebellion of 1921)
Hindu Rashtra Darshan