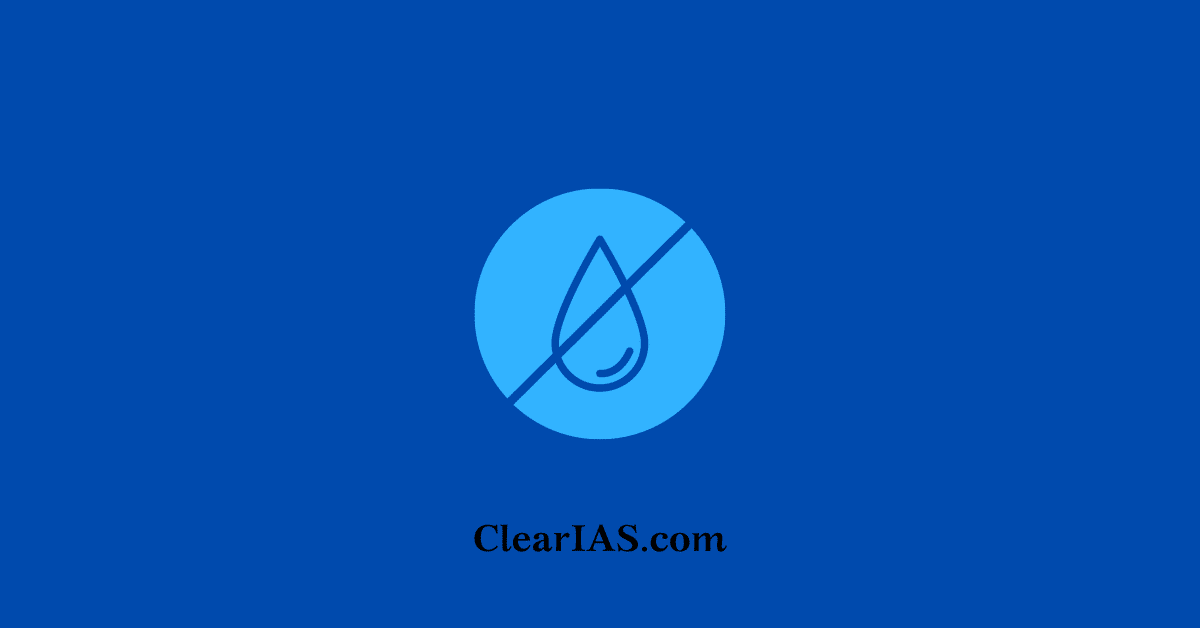 Despite having 17% of the global population, India only has 4% of the world's freshwater resources. Due to pollution and climate change, the water situation is getting worse. What is the current status of the water crisis in India? What are the causes of an increased water crisis in India? To know more, read further.
The yearly water availability per person has decreased by 75% in the 75 years after Independence, from 6,042 cubic meters in 1947 to 1,486 cubic meters in 2021;
India is dealing with a number of issues, including the disappearance of ponds, lakes, tanks, and wetlands, as well as the depletion of groundwater and the pollution of surface water.
According to preliminary statistics from the first water body census, 18.691 out of 9.45 lakh water bodies, or 2%, have been encroached upon;
As many as 256 of India's 700 districts have reported "critical" or "over-exploited" groundwater levels, according to the most recent Central Ground Water Board data.
Falkenmark Index
It is one of the most commonly used measures of water scarcity.
It measures water scarcity as the quantity of renewable freshwater that is accessible to each person each year. It describes water scarcity in terms of the total water resources that are available to the population of a region.
If the amount of renewable water per person per year in a country is

below 1,700 m3, the country is said to be experiencing water stress.
below 1,000 m3, it is said to be experiencing water scarcity.
below 500 m3, it is experiencing absolute water scarcity.
Water Crisis: Reasons
Pollutants are being discharged into the water
Sewage water and untreated industrial pollutants are dumped into rivers. This results from a lack of adherence to effluent standards.
Cities are severely short on sewage treatment facilities. Improper mining practices also deteriorate the water quality and damage the adjacent aquifers.
Climate Change
Weather patterns are changing as a result of climate change, and this leads to extreme weather events, uncertain water availability, a worsening of water scarcity, and tainted water sources.
The quantity and quality of water that humans need to survive can be significantly impacted by such effects.
Encroachment of water bodies
To suit the infrastructure needs of growing cities, water bodies are being encroached upon.
Water wastage
Due to excessive subsidies and ignorance, there is an overuse and waste of water.
Groundwater levels in Punjab and Haryana have been substantially reduced by uncontrolled irrigation water use and a lack of conservation efforts. More than 10% of rural areas' water bodies are no longer necessary.
Over-dependence on groundwater
According to reports, agriculture uses over 85% fresh water.
Due to an overreliance on groundwater for the cultivation of crops like paddy and sugarcane, which need a lot of water, there is currently a problem in numerous states, including Punjab, Haryana, and western UP.
Policy Paralysis
Irrigation is a major focus of the National Water Policy. Since the country's independence, the water administration has been afflicted with hydro-schizophrenia.
The management of the issue of water, including surface water, groundwater, drinking water, and irrigation, have been handled separately by various agencies such as the Central Water Commission (CWC) and Central Ground Water Board (CGWB) without any coordination.
What are the consequences of an increased water crisis?
Negative Effects on Health
Children's malformations are caused by the presence of pollutants in the water such as fluoride, chloride, and nitrate. Along with skin-related illnesses, it causes premature hair greying.
Water contaminated with uranium traces can lead to severe illnesses like cancer;
Economic consequences
According to a World Bank report, climate change-exacerbated water scarcity could cost certain regions up to 6% of their GDP.
Women hardships
The majority of women are in charge of running the home. Due to a lack of water, women and young girls bear the majority of the burden of collecting it.
According to a National Commission for Women report, rural women in Rajasthan travel nearly 2.5 kilometers each day to obtain a source of water.
In one Maharashtrian community that is prone to drought, severe water scarcity has resulted in polygamy. To collect water, you need more than one spouse. The relationship is known as "water wives";
Affecting food security
Agriculture's productivity will be impacted by water scarcity. In light of the increasing population strain on farms, will affect food security.
What are the steps taken by the government to reduce the water crisis?
Jal Shakti Abhiyan (JSA): In 256 water-stressed regions, it was launched in 2019 as a campaign for water conservation, recharge, and rainfall gathering. It now encompasses each of the nation's 740 districts.
Amrit Sarovars: Each district's 75 water bodies are to be developed and revitalized as part of the Mission. By August 2023, the Union Government plans to construct 50,000 Amrit Sarovars throughout India.
Atal Bhujal Yojana: The program is expected to lay emphasis on recharge and better use of groundwater resources. It seeks to strengthen the institutional framework and bring about behavioral changes at the community level for sustainable groundwater resource management;
Paani Bachao, Paisa Kamao (Save Water, Earn Money): It has been launched by Punjab Government. It incentivizes farmers to reduce groundwater and electricity usage. This has resulted in water savings of between 6-25% without any adverse effect on the yield.
Ganga Rejuvenation: The World Bank has been supporting the Government of India's efforts to rejuvenate the Ganga River since 2011. Two World Bank projects, worth US$ 1 billion, are helping set up the institutions needed to manage the river and build the infrastructure to keep it clean.
Ministry of Jal Shakti: The formation of the Ministry of Jal Shakti is an important step in the direction of overcoming hydro-schizophrenia. It will bring the irrigation and drinking water departments, together. within one ministry.
Way Forward
Enumerating, geo-tagging, and creating an inventory of all extant water bodies should be the main priorities according to the Jal Shakti Abhiyan. It is important to take all necessary precautions to ward off encroachments.
To improve water management and eliminate inter-state water conflicts, the states must cooperate along hydrological boundaries rather than just administrative ones.
The general public should be made aware of this issue by supporting public servants like Rajendra Singh (Waterman of India).
A better framework for water governance is required. To create a new National Water Commission, the CWC and CGWB should join, considerably expanding each organization's capabilities (NWC). It would enhance cooperation and provide the necessary skills for various water sources.
To read more on groundwater depletion and contamination click here.
Article written by: Jis John Sebastian