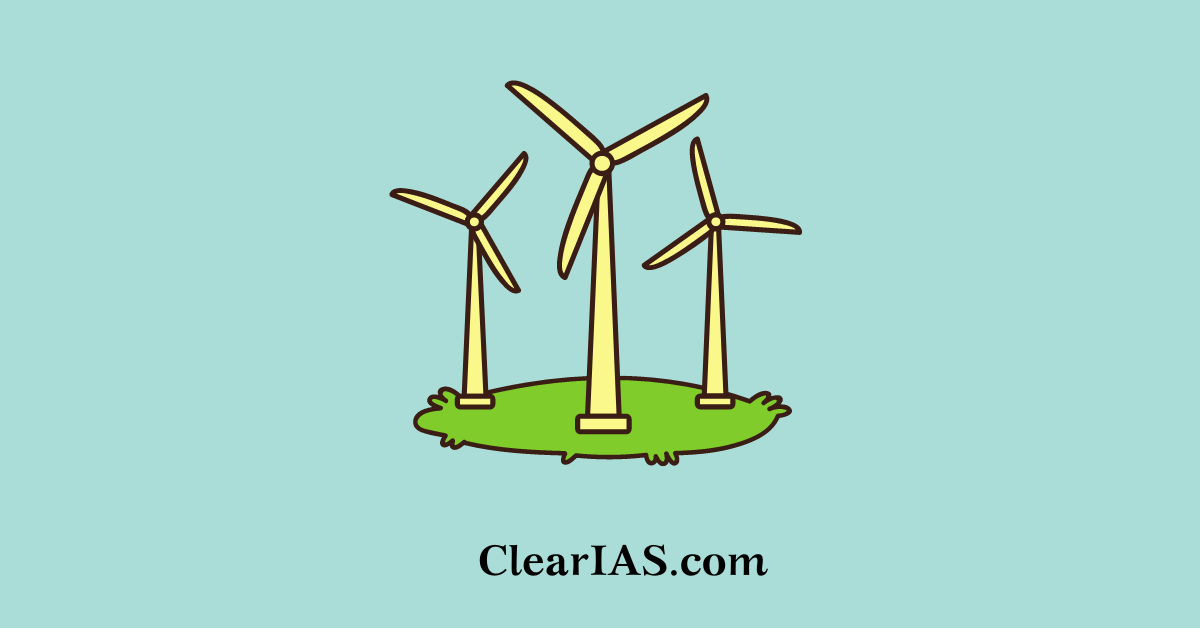 What is meant by Wind Energy? How can it be harnessed?Where are the major wind energy farms in Inida located?Read further to know more.
In this article, we shall discuss the significance of wind energy as a renewable resource. We shall also see India's installed wind energy capacity, various government measures taken for its promotion, the potential of wind energy in India, various challenges in its adoption and a suitable way forward.
Wind power is the energy obtained from the wind.
It is one of the oldest energy sources exploited by humans. Today, the wind is considered one of the most established and efficient renewable energy sources.
The academic term for wind power, eolic energy, is derived from the name of the Greek mythological figure, Aeolus, the keeper of the winds.
Why India should invest more in the wind energy sector?
Wind energy is a source of renewable energy, it is inexhaustible
Non-polluting source of energy: It does not contaminate and reduces the use of fossil fuels, which are the origin of greenhouse gasses that cause global warming.
Wind energy is "native" energy: It is available practically everywhere on the planet.
Contributes to reducing energy imports.
Helps in the creation of wealth and local employment.
For these reasons, producing electricity through wind energy and its efficient use contributes to sustainable development.
India's current installed wind energy capacity
Wind power generation capacity in India has significantly increased in recent years. As of 31 July 2022, the total installed wind power capacity was 40.893 GW, the fourth largest installed wind power capacity in the world. Wind power capacity is mainly spread across the Southern, Western and Northern Western regions.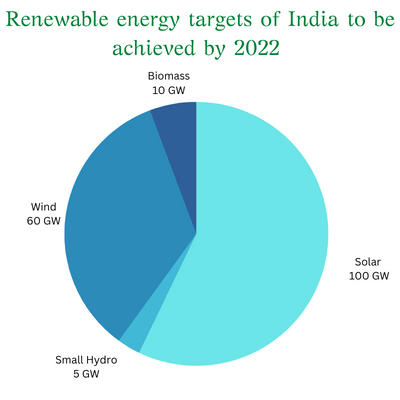 Government Policies and initiatives to promote wind energy
The Government is promoting wind power projects in the entire country through private sector investment by providing various fiscal and financial incentives such as Accelerated Depreciation benefit and concessional custom duty exemption on certain components of wind electric generators. Besides, Generation Based Incentive (GBI) Scheme is available for the wind projects commissioned before 31 March 2017.
In addition to fiscal and other incentives as stated above, the following steps also have been taken to promote the installation of wind capacity in the country:
Technical support including wind resource assessment and identification of potential sites through the National Institute of Wind Energy, Chennai.
In order to facilitate the inter-state sale of wind power, the inter-state transmission charges and losses have been waived off for wind and solar projects to be commissioned by March 2022.
Issued guidelines for Tariff-Based Competitive Bidding Process for Procurement of Power from Grid Connected Wind Power Projects with an objective to provide a framework for procurement of wind power through a transparent process of bidding including standardization of the process and defining roles and responsibilities of various stakeholders. These Guidelines aim to enable the Distribution Licensees to procure wind power at competitive rates in a cost-effective manner.
Also read:  Green grids initiative-one sun-one world-one grid
The potential of Wind Energy in India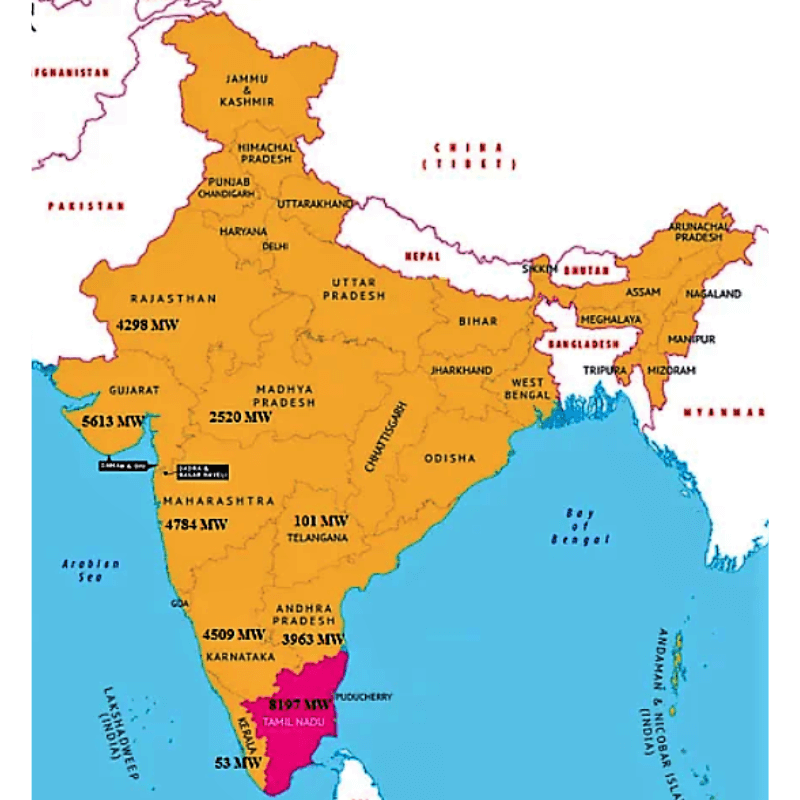 The wind is an intermittent and site-specific resource of energy. Therefore, an extensive Wind Resource Assessment is essential for the selection of potential sites.
The Government, through the National Institute of Wind Energy (NIWE), has installed over 800 wind-monitoring stations all over the country and issued wind potential maps at 50m, 80m, 100m and 120m above ground level.
The recent assessment indicates a gross wind power potential of 302 GW in the country at 100 meters and 695.50 GW at 120 meters above ground level.
Also read: Solar Radiation Management
Challenges
Wind power must compete with other low-cost energy sources: When comparing the cost of energy associated with new power plants, wind and solar projects are now more economically competitive than gas, geothermal, coal, or nuclear facilities. However, wind projects may not be cost-competitive in some locations that are not windy enough. Next-generation technology, manufacturing improvements, and a better understanding of wind plant physics can help bring costs down even more.
Ideal wind sites are often in remote locations: Installation challenges must be overcome to bring electricity from wind farms to urban areas, where it is needed to meet demand. Upgrading the nation's transmission network to connect areas with abundant wind resources to population centres could significantly reduce the costs of expanding land-based wind energy. In addition, offshore wind energy transmission and grid interconnection capabilities are improving.
Because winds do not blow strongly enough to produce power all the time, energy from wind machines is considered "intermittent," that is, it comes and goes. Therefore, electricity from wind machines must have a backup supply from another source.
Turbines produce noise and alter visual aesthetics: Wind farms have different impacts on the environment compared to conventional power plants, but similar concerns exist over both the noise produced by the turbine blades and the visual impacts on the landscape.
Wind plants can impact local wildlife: Although wind projects rank lower than other energy developments in terms of wildlife impacts, research is still needed to minimize wind-wildlife interactions. Advancements in technologies, properly sitting wind plants, and ongoing environmental research are working to reduce the impact of wind turbines on wildlife.
Way forward
Governments need to tackle issues such as planning barriers and grid connection challenges.
To sustain and increase growth in wind-based generation capacity, policymakers need to streamline the procedures to grant permits, including land allocation and grid connection projects.
Workforce planning for large-scale renewables deployment should be an early policy priority.
There is also a need for greater public-private cooperation to confront "the new geopolitics of the wind supply chain".
A stronger international regulatory framework is needed to address the increased competition for commodities and critical minerals.
Conclusion
India is continuously moving towards complying with its climate change commitments under the Paris Agreement (COP21).
India's pledge at the climate summit stated the country's intention to follow "a cleaner path than the one followed by others at a corresponding level of economic development".
To this end, investing in renewable sources of energy, particularly, wind and solar energy are crucial.
Article written by: Caroline Abraham