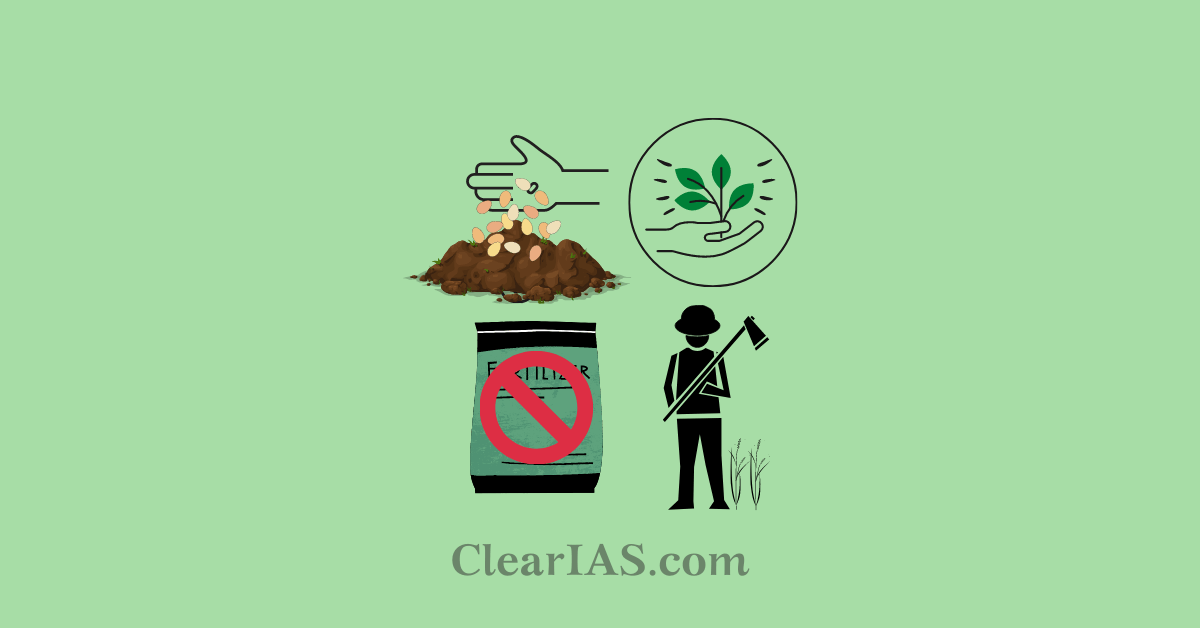 What is zero-budget natural farming (ZBNF)? What is the need and significance of ZBNF? What is Agroecology? Read to know more here.
Zero budget natural farming (ZBNF)
According to a case study by the Food and Agriculture Organisation (FAO) of the United Nations, "the neo-liberalization of the Indian economy has caused a deep agrarian crisis that is making small-scale farming an unviable vocation. Privatized seeds, inputs, and markets are inaccessible and expensive for peasants. Indian farmers increasingly find themselves in a vicious cycle of debt, because of the high production costs, high-interest rates for credit, the volatile market prices of crops, the rising costs of fossil fuel-based inputs, and private seeds. Debt is a problem for farmers in India in the end pushing them towards poverty as well."
Under such conditions, 'zero budget' farming promises to end a reliance on loans and drastically cut production costs, ending the debt cycle for desperate farmers.
The word 'budget' refers to credit and expenses, thus the phrase 'Zero Budget' means without using any credit, and without spending any money on purchased inputs. 'Natural farming' means farming with nature and without chemicals.
In other words, Zero Budget Natural Farming is a method of chemical-free agriculture drawing from traditional Indian practices. It relies on Agro-ecology.
It was originally promoted by Maharashtrian agriculturist and Padma Shri recipient Subhash Palekar, who developed it in the mid-1990s as an alternative to the Green Revolution's methods driven by chemical fertilizers and pesticides, and intensive irrigation.
What is Agro-Ecology?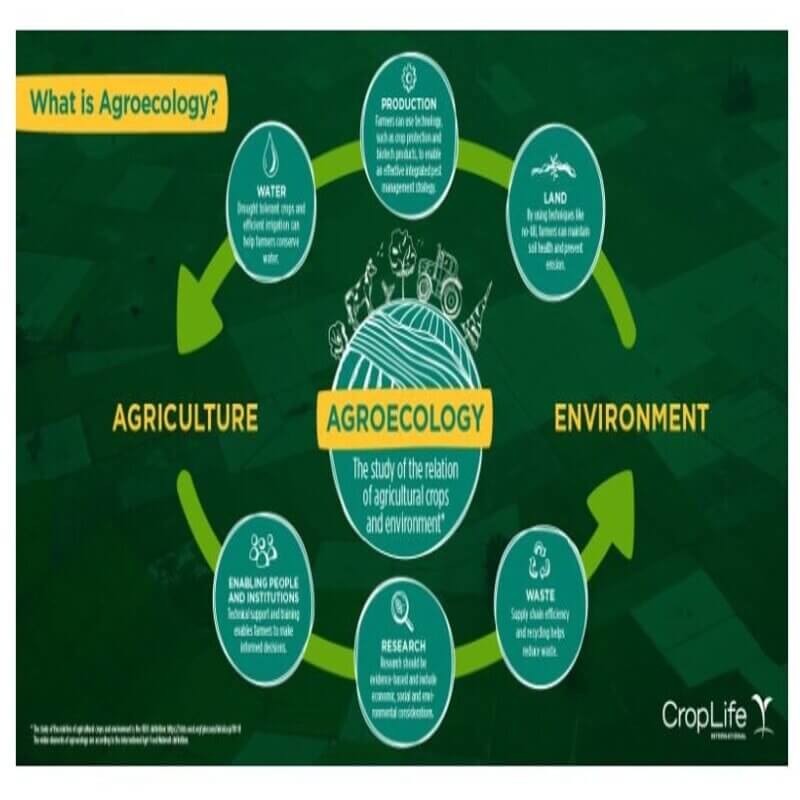 Agroecology is sustainable farming that works with nature. While ecology is the study of relationships between plants, animals, people, and their environment and the balance between these relationships.
Agroecology is the application of ecological concepts and principles in farming.
Agroecology promotes farming practices that:
Mitigate climate change by reducing emissions, recycling resources, and prioritizing local supply chains.
Work with wildlife by managing the impact of farming on wildlife and harnessing nature for functions like pollinating crops and controlling pests.
Helps farmers and communities by giving power to approaches that adapt agricultural techniques to suit the local area and its specific social, environmental, and economic conditions.
Agroforestry is the best example of agroecological practices. It is the practice of combining trees and farming; it demonstrates how food production and nature can co-exist.
Grazing farm animals under trees gives them shelter and fodder, whilst their manure enriches the soil.
Planting trees on land normally used to grow cereal crops can provide other benefits like fruits, nuts, or timber. This provides another income stream for farmers and also prevents soil erosion, as the deep roots of trees help create a healthy soil structure.
Why do we need zero budget natural farming?
The need was intensified by the rising cost of these external inputs causing indebtedness and suicide among farmers, while the impact of chemicals on the environment and long-term fertility was devastating.
Without the need to spend money on these inputs or take loans to buy them the cost of production could be reduced and farming made into a "zero budget" exercise, breaking the debt cycle for many small farmers.
Methods used in ZBNF
The four pillars of ZBNF are:
Bijamrutha (Seed treatment)
Jeevamrutha (No fertilizers and pesticides)
Mulching (Soil, straw, and live)
Whapasa (Soil moisture)
ZBNF promotes the application of jeevamrutha, a mixture of fresh desi cow dung and aged desi cow urine, jaggery, pulse flour, water, and soil on farmland.
This is a fermented microbial culture that adds nutrients to the soil and acts as a catalytic agent to promote the activity of microorganisms and earthworms in the soil.
About 200 liters of jeevamrutha should be sprayed twice a month per acre of land; after three years, the system is supposed to become self-sustaining.
Another mixture, called bijamrita, is used to treat seeds, and concoctions using neem leaves and pulp, tobacco, and green chilies are prepared for insect and pest management.
The ZBNF method also promotes soil aeration, minimal watering, intercropping, bunds, and topsoil mulching and discourages intensive irrigation and deep ploughing. Acchadana (Mulching) protects topsoil during cultivation and does not destroy it by tilling.
Whapasa is the condition where there are both air molecules and water molecules present in the soil, thereby helping in reducing irrigation requirements.
Surveys supporting the ZBNF
The National Sample Survey Office (NSSO) data shows that almost 70% of agricultural households spend more than they earn and more than half of all farmers are in debt.
In States such as Andhra Pradesh and Telangana, levels of indebtedness are around 90%, where each household bears an average debt of ₹1 lakh.
To achieve the Central government's promise to double farmers' income by 2022, one aspect being considered is natural farming methods such as the ZBNF which reduce farmers' dependence on loans to purchase inputs they cannot afford. Meanwhile, inter-cropping allows for increased returns.
The Economic Survey has also highlighted the ecological advantages.
The FAO (Food and Agriculture Organisation of the united nations) also supports and encourages the ZBNF methodologies.
In June 2018, Andhra Pradesh rolled out an ambitious plan to become India's first State to practice 100% natural farming by 2024.
Arguments against Zero budget natural farming
Though limited studies in Andhra Pradesh and Maharashtra have shown a decline in the input costs and improvement in yields; the long terms returns were seen dropping in a few years.
The wholesale move away from conventional methods to ZBNF without widescale studies on yield may result in a negative impact on the agro sector.
Sikkim, India's first organic state also has seen a drop in output and income after a few years.
ZBNF has helped preserve soil fertility, but its role in boosting productivity and farmers' income is not satisfactory yet.
ZBNF encourages the need for an Indian breed cow, whose numbers are declining at a fast pace. According to Livestock Census, the country's total population of indigenous and nondescript cattle has dropped by 8.1%.
The Paramparagat Krishi Vikas Yojana, which was meant to promote organic farming and soil health has been allocated Rs 325 crore only, whereas Rashtriya Krishi Vikas Yojana, a flagship Green Revolution scheme had an allocation of Rs 3,745 crore for the financial year 2019-20.
Present scenario
NITI Aayog has been promoting the idea of Zero budget natural farming and supporting multi-location studies for assessing the pros and cons of the methods.
The Indian Council of Agriculture Research (ICAR) is studying the ZBNF methods practised by basmati and wheat farmers in Uttar Pradesh, Punjab, Haryana, and Uttarakhand.
The funding shortage is also been looked into parallel with the scientific studies.
Zero-budget natural farming (ZBNF) in news
Prime Minister Modi announced on 19th November 2021 that the new farm laws enacted in 2019 will be repealed in the winter session of Parliament.
He also added that the government has decided to implement zero-budget natural farming.
Way forward
Other aspects in structural and economic marketing also need to be addressed to complement the Zero budget natural farming method which may include:
Improving agricultural market infrastructure
Expanding the procurement mechanisms to more foodgrains and non-foodgrains
Price deficiency payment systems for a few crops
MSP and cost of cultivation balance
Minimum export price for agricultural commodities should be a rethink
Other agricultural and farmer schemes should be linked with schemes like MGNREGS for reducing costs of cultivation.