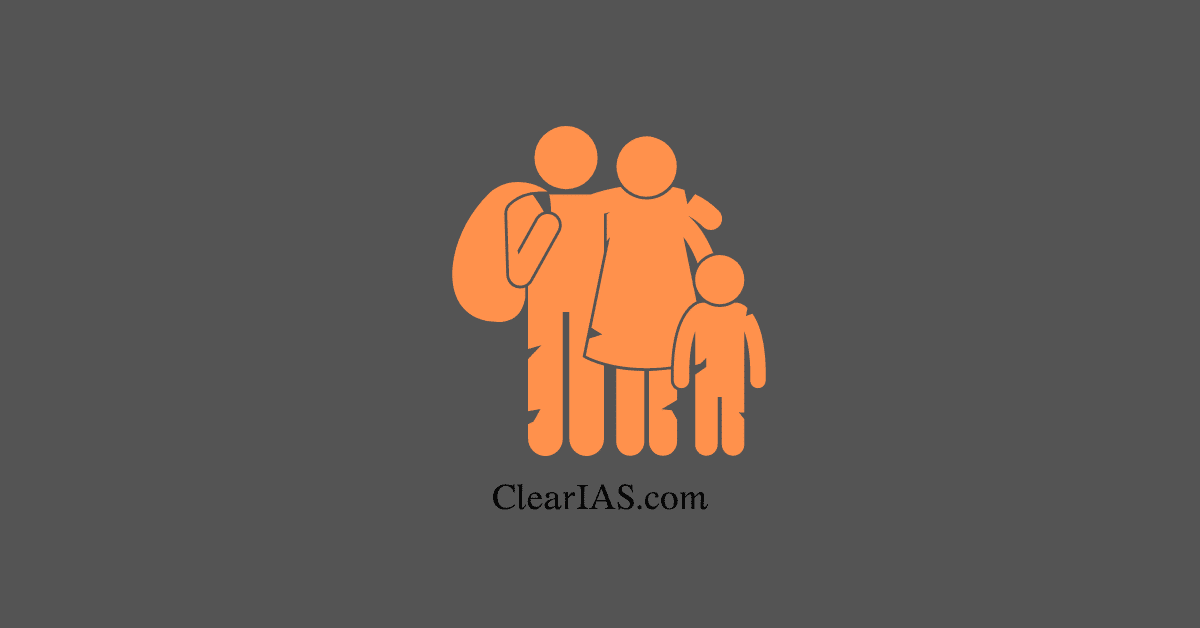 Poverty is a multidimensional concept.
Poverty is a state or condition in which a person lacks the resources for a minimum standard of living.
Traditionally, the term poverty refers to lacking enough resources to provide the basic necessities of life – food, clean water, shelter and clothing. But modern economists extend the term to include access to health care, education and even transportation.
Poverty is often further divided into absolute poverty and relative poverty.
Poverty Definition by the United Nations (UN)
Fundamentally, poverty is a denial of choices and opportunities, a violation of human dignity.
It means lack of basic capacity to participate effectively in society.
It means not having enough to feed and cloth[e] a family, not having a school or clinic to go to, not having the land on which to grow one's food or a job to earn one's living, not having access to credit.
It means insecurity, powerlessness and exclusion of individuals, households and communities.
It means susceptibility to violence, and it often implies living on marginal or fragile environments, without access to clean water or sanitation.
As per the United Nations Organisation (UN), poverty entails more than the lack of income and productive resources to ensure sustainable livelihoods. Its manifestations include hunger and malnutrition, limited access to education and other basic services, social discrimination and exclusion, as well as the lack of participation in decision-making.
Poverty Definition by the World Bank
In 1990, the World Bank introduced the concept of 'poverty line' to capture absolute poverty. Then, it was set at $1 per day.
As per the revised measures (2017), the World Bank defines extreme poverty as someone living on less than US$1.90 per day. This figure is known as the International Poverty Line (IPL).
In an attempt to be more precise with its classifications, the organization recently added new standards of poverty for people living in middle and high-income countries. Now, poverty lines are set at $3.20 a day for people in "lower-middle-income" countries, such as Egypt or India, and $5.50 a day for "upper-middle-income" countries, such as Jamaica or South Africa. The World Bank also released a third standard for high-income countries, like the US, at $21.70 a day.
In 2018, the World Bank introduced a Societal Poverty Line (SPL), to capture the relative aspect of poverty. The SPL is a hybrid line, combining the US$1.90-a-day absolute poverty line with a relative component that increases as median consumption or income in an economy rises.
But no single indicator can capture the multiple dimensions of poverty.
Poverty Estimation by Dr Amartya Sen
Dr Amartya Sen provided a useful alternative to understand poverty.
His capability approach to understanding poverty goes beyond income and stresses the whole range of means, available to achieve human capabilities such as literacy, longevity and access to income.
Poverty Line
The conventional approach to measuring poverty is to specify a minimum expenditure (or income) required to purchase a basket of goods and services necessary to satisfy basic human needs. This minimum expenditure is called the poverty line.
The basket of goods and services necessary to satisfy basic human needs is the Poverty Line Basket (PLB).
The proportion of the population below the poverty line is called the poverty ratio or headcount ratio (HCR).
Most countries and international institutions (World Bank, United Nations etc) follow a similar approach for counting the poor.
The Global Multidimensional Poverty Index (MPI)
The Global Multidimensional Poverty Index (MPI) is an international measure of multidimensional poverty covering 107 developing countries.
Global MPI was first developed in 2010 by Oxford Poverty and Human Development Initiative (OPHI) and the United Nations Development Programme (UNDP) for UNDP's Human Development Reports.
The Global MPI is released at the High-Level Political Forum (HLPF) on Sustainable Development of the United Nations in July, every year.
Global MPI 2020
The Global Multidimensional Poverty Index (MPI) compares acute multidimensional poverty for 107 countries in developing regions. These countries are home to 5.9 billion people, three-quarters of the world's population.
Of these people, 1.3 billion people (22%) are identified by the global MPI as multidimensionally poor as per the Global Multidimensional Poverty Index 2020.
According to Global MPI 2020, India is 62nd among 107 countries with an MPI score of 0.123 and 27.91% headcount ratio, based on the NFHS 4 (2015/16) data.
3 Dimensions and 10 Indicators in MPI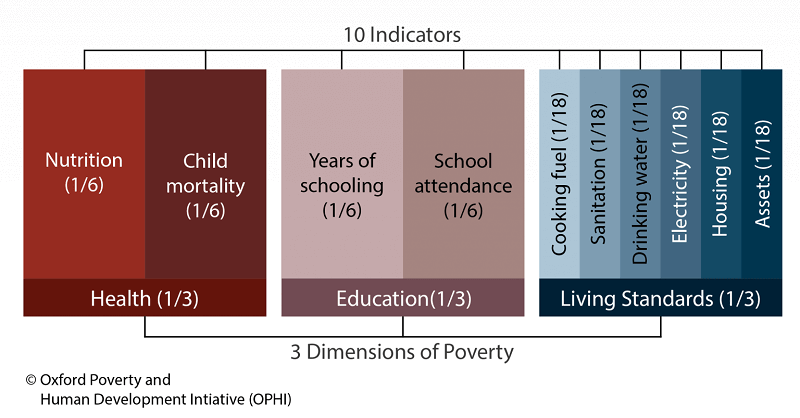 The MPI assesses poverty at the individual level.
If a person is deprived in a third or more of ten (weighted) indicators, the global MPI identifies them as 'MPI poor'.
The extent – or intensity – of their poverty is also measured through the percentage of deprivations they are experiencing.
Health
Nutrition
Any adult under 70 years of age or any child for whom there is nutritional information is undernourished.
Child mortality
Any child under the age of 18 years has died in the family in the five-year period preceding the survey.
Education
Years of schooling
No household member aged 'school entrance age + six years or older have completed six years of schooling.
School attendance
Any school-aged child is not attending school up to the age at which he/she would complete class eight.
Standard of living
Cooking Fuel
The household cooks with dung, wood, charcoal or coal.
Sanitation
The household's sanitation facility is not improved (according to SDG guidelines) or it is improved but shared with other households.
Drinking-Water
The household does not have access to improved drinking water (according to SDG guidelines) or improved drinking water is at least a 30-minute walk from home, round trip.
Electricity
The household has no electricity.
Housing
At least one of the three housing materials for roof, walls and floor are inadequate: the floor is of natural materials and/or the roof and/or walls are of natural or rudimentary materials.
Assets
The household does not own more than one of these assets: radio, television, telephone, computer, animal cart, bicycle, motorbike or refrigerator, and does not own a car or truck.
Other parameters include:
disempowerment
poor quality of work
social exclusion
rural-urban disparity
the threat of violence,
living in areas that are environmentally hazardous
The need for understanding multiple connotations
Monetary-based poverty measures are inadequate: In most cases, not all individuals who are income poor are multidimensionally poor and not all multidimensionally poor individuals are income poor.
Economic growth does not always reduce poverty or deprivation. Several studies have found that economic growth is not strongly associated with a reduction in other deprivations, such as child malnutrition or child mortality.
Poverty as multidimensional: Poor people describe ill-being to include poor health, nutrition, lack of adequate sanitation and clean water, social exclusion, low education, bad housing conditions, violence, shame, disempowerment and much more.
Need for more policy-relevant information on poverty, so that policymakers are better equipped to deal with it: For example, an area in which most people are deprived in education requires a different poverty reduction strategy from an area in which most people are deprived in housing conditions.
Poverty Estimation in India
In India, the first official rural and urban poverty lines at the national level were introduced in 1979 by Y. K. Alagh Committee and official poverty counts began for the first time.
Later, in 1993, D. T. Lakdawala Committee extended these poverty lines to states and over time allowing official poverty counts over time and in the states.
In 2005, recognizing that the rural poverty line was too low, the government appointed the Tendulkar committee to take a fresh look at the poverty lines. Reporting in 2009, the Tendulkar Committee revised upward the rural poverty line. Continued media criticisms led the government to appoint the Rangarajan Committee in 2012.
Reporting in June 2014, the Rangarajan Committee recommended raising further both the rural and urban poverty lines. The decision is yet to be taken on the Rangarajan Committee recommendations.
Therefore, the Tendulkar poverty line remains the official poverty line and is the basis of the current official poverty estimates in 1993-94, 2004-05 and 2011-12.
Note: As per the Tendulkar estimation, the percentage of people living below the poverty line in India is 21.9%. However, as pe Rangarajan estimation, the percentage of people living below the poverty line in India is 29.5%.
Poverty alleviation programs in India
India has been conducting various poverty alleviation programs.
Employment programmes and skill-building
Jawahar Gram Samriddhi Yojana: The JRY was meant to generate meaningful employment opportunities for the unemployed and underemployed in rural areas through the creation of economic infrastructure and community and social assets.
Mahatma Gandhi National Rural Employment Guarantee Act (MGNREGA) 2005: The Act provides 100 days assured employment every year to every rural household. One-third of the proposed jobs would be reserved for women. Under the programme, if an applicant is not provided employment within 15 days s/he will be entitled to a daily unemployment allowance.
National Rural Livelihood Mission: Ajeevika (2011): It evolves out the need to diversify the needs of the rural poor and provide them jobs with regular income on monthly basis. Self Help Groups are formed at the village level to help the needy.
National Urban Livelihood Mission: The NULM focuses on organizing urban poor in Self Help Groups, creating opportunities for skill development leading to market-based employment and helping them to set up self-employment ventures by ensuring easy access to credit.
Pradhan Mantri Kaushal Vikas Yojana: It will focus on the fresh entrant to the labour market, especially the labour market and class X and XII dropouts.
Food and shelter
Food for Work Programme: It aims at enhancing food security through wage employment. Foodgrains are supplied to states free of cost, however, the supply of food grains from the Food Corporation of India (FCI) godowns has been slow.
Annapurna: This scheme was started by the government in 1999–2000 to provide food to senior citizens who cannot take care of themselves and are not under the National Old Age Pension Scheme (NOAPS). This scheme would provide 10 kg of free food grains a month for the eligible senior citizens. They mostly target groups of 'poorest of the poor' and 'indigent senior citizens'.
Pradhan Mantri Awaas Yojana: It has two components: Pradhan Mantri Awaas Yojana (Grameen) and Pradhan Mantri Awaas Yojana (Urban). It was launched in 2015. It unites schemes like Ujjwala yojana (provides LPG to BPL), access to toilets, water, drinking water facilities and Saubhagya Yojana (electricity).
Other schemes like Integrated Child Development Program, Midday Meal scheme etc are also providing food to the needy sections like children and women.
Access to credit
Pradhan Mantri Kisan Samman Nidhi: This scheme aims to provide financial assistance to provide working capital support to all the landholding farmers. This brings in the idea of universal basic income for the farmers in India.
Pradhan Mantri Jan Dhan Yojana: It aimed at direct benefit transfer of subsidy, pension, insurance etc. and attained the target of opening 1.5 crore bank accounts. The scheme particularly targets the unbanked poor.
Integrated Rural Development Programme (IRDP): It was introduced in 1978-79 aimed at providing assistance to the rural poor in the form of subsidy and bank credit for productive employment opportunities through successive plan periods.
Challenges
Incidence of extreme poverty continues to be much higher in rural areas than in urban areas.
Despite rapid growth and development, an unacceptably high proportion of our population continues to suffer from severe and multidimensional deprivation. 
While a large number of poverty alleviation programmes have been initiated, they function in silos. There is no systematic attempt to identify people who are in poverty, determine their needs, address them and enable them to move above the poverty line.
The resources allocated to anti-poverty programmes are inadequate and there is a tacit understanding that targets will be curtailed according to fund availability. For instance, Mahatma Gandhi National Rural Employment Guarantee Act does not provide the guaranteed 100 days of work in many states.
There is no method to ensure that programmes reach everybody they are meant for.
Lack of proper implementation and right targeting
There has been a lot of overlapping of schemes.
Every year a huge number is added to the population pool of the country. This renders the scheme ineffective.
Way Forward
The World Health Organization has described poverty as the greatest cause of suffering on earth. Poverty eradication should not be the goal of the government but the goal of the government policies should be to create prosperity. Both monetary and non-monetary measures of poverty are needed to better inform the policies intended to address the needs and deprivations faced by poor populations.
Accelerating rural poverty reduction:
It's not just about agricultural growth, which has long been considered the key driver of poverty reduction. Rural India is not predominantly agricultural and shares many of the economic conditions of smaller urban areas.
Capitalizing on the growing connectivity between rural and urban areas, and between the agriculture, industry and services sectors, has been effective in the past.
Creating more and better jobs
Future efforts will need to address job creation in more productive sectors, which has until now been lukewarm and has yielded few salaried jobs that offer stability and security.
Focusing on women and Scheduled Tribes
The most worrying trends are the low participation of women in the labour market and the slow progress among scheduled tribes.
India's women have been withdrawing from the labour force since 2005and less than one-third of working-age women are now in the labour force. As a result, India today ranks last among BRICS countries, and close to the bottom in South Asia in female labour force participation.
Scheduled Tribes started with the highest poverty rates of all of India's social groups, and have progressed more slowly than the rest.
Women and Scheduled Tribes are at risk of being locked out of India's growth and prosperity.
Improving human development outcomes for the poor
The recent past shows that some problems, such as undernutrition and open defecation, are endemic and not only confined to the poor but others too, and have not improved with economic growth.
Better health, sanitation and education will not only help raise the productivity of millions, they will also empower the people to meet their aspirations, and provide the country with new drivers of economic growth.
Together with mooting the discussion on the need to provide a universal basic income, infrastructural and skill development combined with effective implementation of welfare policies will go a long way in eradicating poverty in the country.