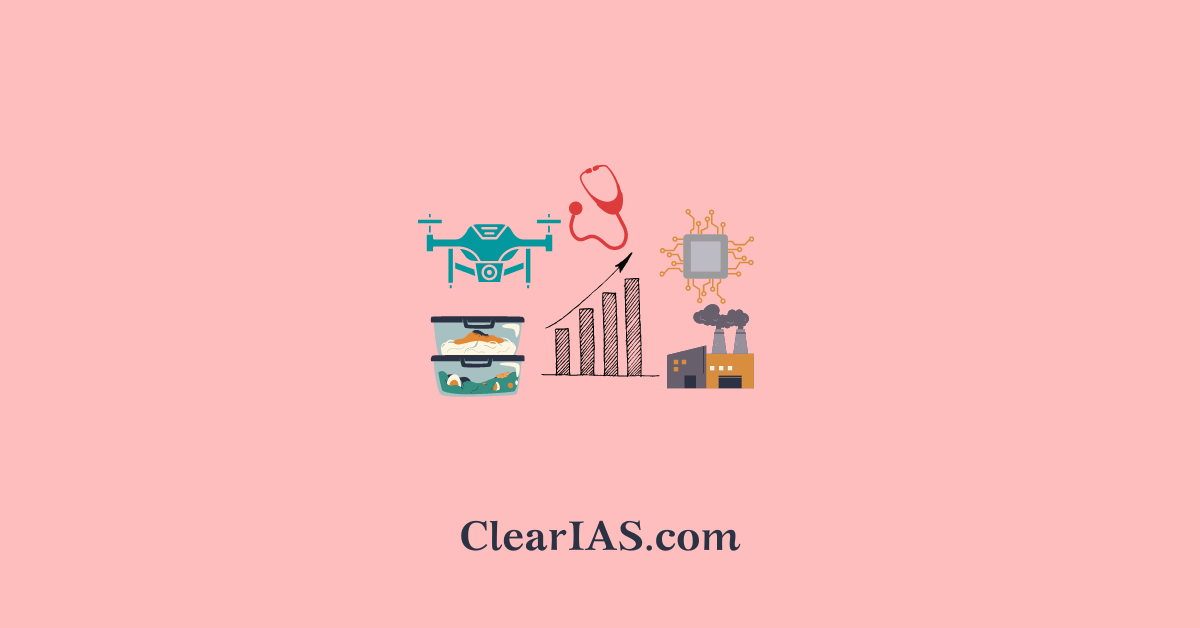 To enhance India's Manufacturing capabilities and Exports, Union Budget 2021-22 announced the Production Linked Incentive (PLI) scheme for 13 key sectors.
PLI Scheme was extended to one more sector (Drone Sector). So, at present, there are a total of 14 sectors under the PLI Scheme that involves a total outlay of Rs 3 trillion.
The scheme is in line of view India's vision of becoming 'Atmanirbhar'.
What is PLI Scheme?
The central government announced the scheme is to boost domestic manufacturing and cut down on import bills.
The scheme aims to give companies incentives for incremental sales from products manufactured in domestic units.
Moreover, the scheme also aims to encourage local companies to set up or expand existing manufacturing units along with focusing on inviting foreign companies to set up shops in India.
The scheme is targeting labor-intensive sectors in the hope to create new jobs for the ballooning employable workforce of India.
Objective
The major objective of the scheme is to make domestic manufacturing globally competitive and to create global Champions in manufacturing. It is important to make India more compliant with World Trade Organisation (WTO) commitments and also make it non-discriminatory and neutral with respect to domestic sales and exports. The further objectives of the scheme are:
Protect identified product areas
Introduce non-tariff measures that make imports more expensive
Acknowledge the relevance of exports in the overall growth strategy, with a renewed focus on the domestic market
Promote domestic manufacturing by offering production incentives and encouraging capital investments
Attract core knowledge competency and cutting-edge technologies
Create economies of scale and ensure efficiencies
Promote job generation and employment
Construct district-level export hubs
Reduce compliance burden
Improve ease of doing business
Cut down logistics costs
Boost domestic manufacturing output in five years
Sectors Under PLI Scheme
The program is specifically made to increase domestic manufacturing in strategic and sunrise industries, lower import costs and cheaper imports, improve the cost competitiveness of domestically produced goods, increase domestic capacity, and promote exports. Sectors under PLI Scheme are:
 Mobile Manufacturing and Specified Electronic Components
Critical Key Starting materials/Drug Intermediaries & Active Pharmaceutical Ingredients
Manufacturing of Medical Devices
Automobiles and Auto Components
Pharmaceuticals Drugs
Specialty Steel
Telecom & Networking Products
Electronic/Technology Products
White Goods (ACs and LEDs)
Food Products
Textile Products: MMF segment and technical textiles
High-efficiency solar PV modules
Advanced Chemistry Cell (ACC) Battery
Drones and Drone Components
Incentives Under the Scheme
The Scheme shall extend an incentive of 4% to 6% on incremental sales (over the base year) of goods manufactured in India and covered under target segments, to eligible companies, for a period of five years.
What are the Benefits of the PLI Scheme?
The government cannot keep investing in these capital-intensive industries since the returns take longer to reflect. Instead, it will invite large international corporations to establish capacities in India. So, there are several benefits of the scheme:
The PLI system is dependent on overall output.
The advantages are further increased by their accessibility.
It aids the anchor investors who are capable of overseeing new or existing projects as well as other investments.
Beneficiaries of this program receive assistance with affordable land acquisition, tax rebates, and concessions on import and export duties, among other things.
PLI also offers the advantage of reasonable product prices.
Challenges faced by PLI Scheme
As per a report, out of the 14 eligible sectors, only two or three were likely to meet their first-year targets under the PLI scheme.
There is no common set of parameters to understand the value added by companies that have received or are likely to receive incentives under the scheme.
According to the research, the industries think that further incentives are required to make India more appealing than China and Vietnam.
The companies are in need of more incentives to run the scheme properly and boost exports.
Country lack in creating a centralized database to monitor progress. The NITI Aayog plans to rope in an external agency – state-owned IFCI Ltd or Sidbi – to design and prepare the database.
Way Foward
In order to address challenges associated with demand, the investment must go beyond the PLI scheme.
It is important to address the key issues in parallel to schemes i.e., unemployment, skill development, and so on.
According to the Centre for Monitoring Indian Economy (CMIE), India's unemployment rate in October 2022 increased to 7.8 percent from 6.4 percent in the previous month.
It is important to create a set of parameters to understand the effectiveness of the companies.
Incentives must be given to all industries, not only manufacturing, and must take into account all relevant factors.
Conclusion
The World Bank projects that India's GDP would increase by 8.7% in 2022-23. When compared to emerging competitors within the same time period, such as China (5.1%), Indonesia (5.2%), and Bangladesh (6.4%), the growth is noticeably larger. The program is anticipated to contribute 1.7% to India's GDP by 2027 and generate $150 billion in new sales.
Manufacturing is playing a critical role in guiding the nation's progress toward becoming "Atmanirbhar Bharat."  The sector's percentage of the GDP has been range-bound for the past few years, circling around 17%. However, a number of initiatives related to "Atmanirbhar Bharat" are laying the groundwork for strengthening the country's manufacturing capacities and raising the sector's share of the GDP. Global supply chain disruptions caused by the pandemic paved the opportunity for future reforms, resulting in the introduction of policy initiatives like the Production Linked Incentive (PLI) scheme to reduce trade dependency.
Article Written By: Priti Raj