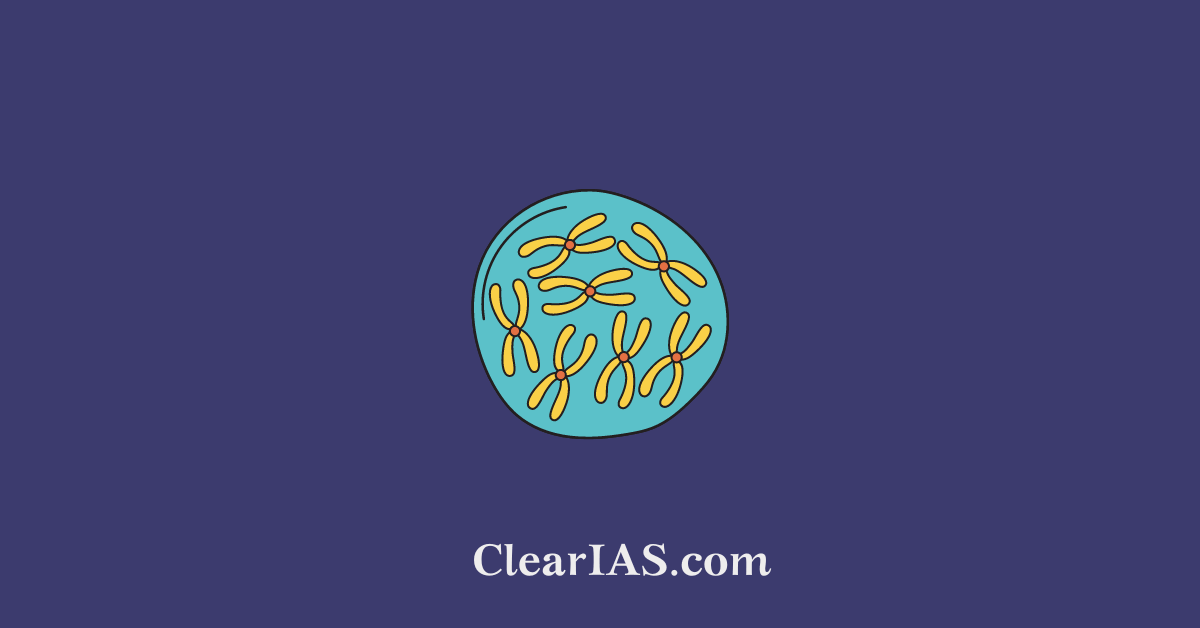 The human chromosome is the fundamental unit of life and one of the most crucial parts of the cell to be passed down from one generation to the next. It consists of a single chain of DNA that has been coiled and supercoiled to form thick thread-like sections. Read here to understand more about chromosomes and chromosomal disorders in humans.
Chromosomes are thread-like structures located inside the nucleus of animal and plant cells.
Each chromosome is made of protein and a single molecule of deoxyribonucleic acid (DNA). Passed from parents to offspring, DNA contains the specific instructions that make each type of living creature unique.
The term chromosome comes from the Greek words for colour (chroma) and body (soma). Scientists gave this name to them because they are cell structures, or bodies, that are strongly stained by some colourful dyes used in research.
Their unique structure keeps DNA tightly wound around spool-like proteins, called histones.
Without such packaging, DNA molecules would be too long to fit inside cells!
For example, if all of the DNA molecules in a single human cell were unwound from their histones and placed end-to-end, they would stretch 6 feet.
The nuclei of eukaryotic cells contain proteins called histones, which are very basic and rich in lysine and arginine residues. They serve as spools around which DNA is wound to form what is known as nucleosomes.
The fundamental structural component of DNA packing in eukaryotes is a nucleosome. A nucleosome's structure, which resembles a thread looped around a spool, is made up of a piece of DNA wound around eight histone proteins. The core component of chromatin is the nucleosome.
What is a chromosome?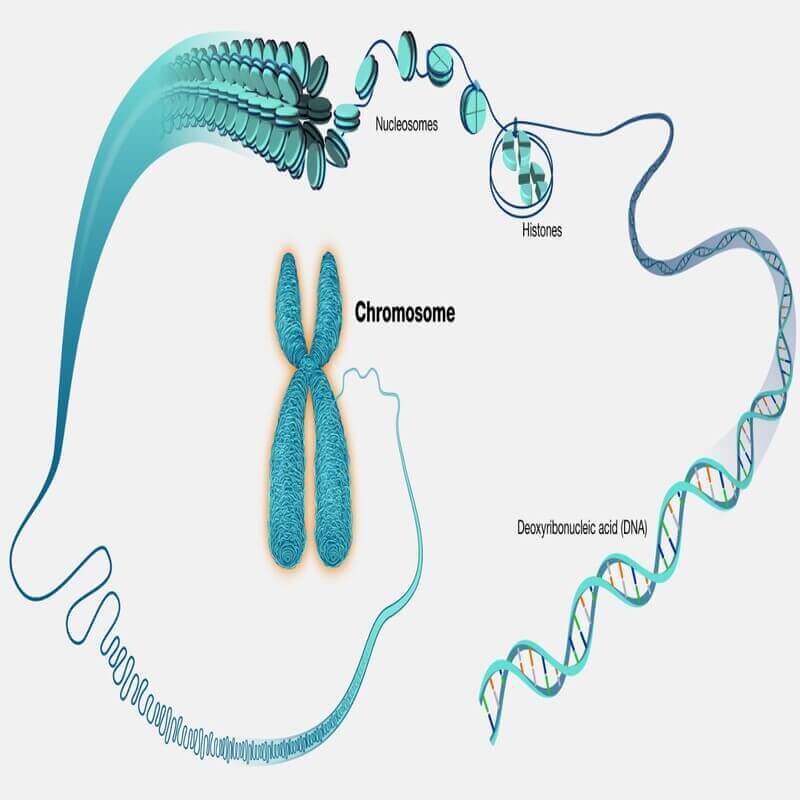 Chromosomes are threadlike structures made of protein and a single molecule of DNA that serve to carry the genomic information from cell to cell.
In plants and animals (including humans), these reside in the nucleus of cells.
Humans have 22 pairs of numbered chromosomes (autosomes) and one pair of sex chromosomes (XX or XY), for a total of 46.
Each pair contains two chromosomes, one coming from each parent, which means that children inherit half of their chromosomes from their mother and a half from their father.
They can be seen through a microscope when the nucleus dissolves during cell division.
They vary in number and shape among living organisms.
Most bacteria have one or two circular chromosomes.
Humans, along with other animals and plants, have linear chromosomes.
Each species of plant and animal has a set number of chromosomes.
A fruit fly has four pairs of chromosomes, while a rice plant has 12, and a dog has 39.
In humans, the twenty-third pair is the sex chromosomes, while the first 22 pairs are called autosomes.
Biologically female individuals have two X chromosomes (XX) while those who are biologically male have one X and one Y chromosome (XY). However, there are exceptions to these rules.
These are also different in size.
The human X chromosome is about three times larger than the human Y chromosome, containing about 900 genes, while the Y chromosome has about 55 genes.
The only human cells that do not contain pairs of chromosomes are reproductive cells, or gametes, which carry just one copy of each chromosome.
When two reproductive cells unite, they become a single cell that contains two copies of each chromosome.
This cell then divides and its successors divide numerous times, eventually producing a mature individual with a full set of paired chromosomes in virtually all of its cells.
Besides the linear chromosomes found in the nucleus, the cells of humans and other complex organisms carry a much smaller type of chromosome similar to those seen in bacteria.
This circular chromosome is found in mitochondria, which are structures located outside the nucleus that serves as the cell's powerhouses.
Scientists think that, in the past, mitochondria were free-living bacteria with the ability to convert oxygen into energy.
When these bacteria invaded cells lacking the power to tap into oxygen's power, the cells retained them, and, over time, the bacteria evolved into modern-day mitochondria.
What do chromosomes do?
Cells must continuously divide to make new cells and replace damaged or old ones for an organism to grow and function normally.
DNA must be intact and distributed equally among cells during cell division.
In the vast majority of cell divisions, DNA is accurately copied and distributed thanks in large part to chromosomes. Nevertheless, mistakes do happen from time to time.
Serious issues could arise if the number or structure of chromosomes in new cells changes. One type of leukemia and a few other cancers, for instance, are brought on by faulty ones, which are made up of linked fragments of damaged chromosomes in humans.
Furthermore, it is essential that reproductive cells, such as eggs and sperm, have the appropriate amount of chromosomes and the right kind of structure. If not, it's possible that the offspring won't grow up properly.
How are chromosomes inherited?
One copy of each chromosome is inherited from the female parent and the other from the male parent in humans and the majority of other sophisticated creatures. This explains why some traits are passed down through the mother and others through the father.
The tiny circular chromosome found in mitochondria has a distinct inheritance pattern.
During fertilization, only egg cells retain their mitochondria; sperm cells do not.
As a result, the female parent is always the source of mitochondrial DNA.
DNA discovered in the mitochondria has been linked to a few human diseases, such as diabetes and several types of hearing loss.
Chromosomal disorders in humans
Chromosomal disorders result from structural changes or numerical changes. Chromosomal aberrations are disruptions in the normal chromosomal content of a cell and are a major cause of genetic conditions or disorders in humans.
Abnormalities of development occur because of the unusual genetic signals transmitted by the chromosomes. One of these imbalances occurs in 0.5 percent of all births.
An abnormality may be numerical or structural and examples are described below:
Numerical abnormalities: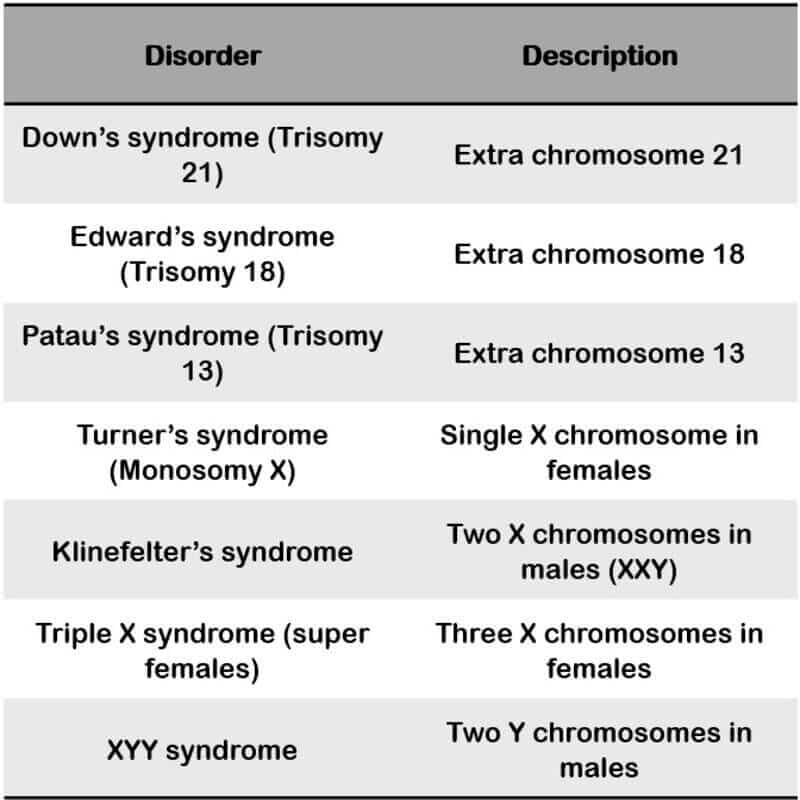 Normally humans have 23 pairs, giving a total of 46 chromosomes in each cell, called diploid cells. A normal sperm or egg cell contains only one-half of these pairs and therefore 23 chromosomes. These cells are called haploid.
The euploid state describes when the number of chromosomes in each cell is some multiple of n, which may be 2n (46, diploid), 3n (69, triploid) 4n (92, tetraploid), and so on.
When they are present in multiples beyond 4n, the term polyploid is used.
Aneuploidy refers to the presence of an extra or a missing chromosome and is the most common form of abnormality.
Trisomy: The cell has one extra chromosome (2n+1)
Monosomy: The cell has one chromosome less (2n-1)
In the case of Down's syndrome or Trisomy 21, there is an additional copy of chromosome 21, and a total of 47.
Turner's syndrome on the other hand arises from the absence of an X chromosome, meaning only 45 are present.
Structural abnormalities: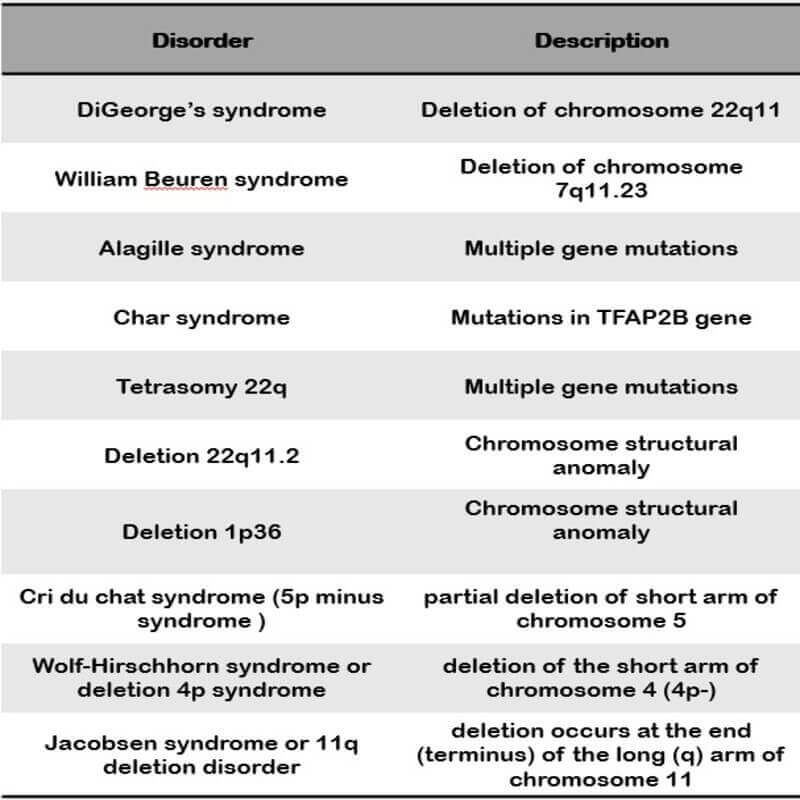 Structural abnormalities occur when the chromosomal morphology is altered due to an unusual location of the centromere and therefore abnormal lengths of the chromosomal short (p) and long arm (q).
Deletion: A portion of the chromosome is lost during cell division. The resulting chromosome lacks certain genes, that get inherited by offspring. This condition is usually lethal due to missing genes.
Duplication: The presence of part of a chromosome in excess is known as duplication. If the duplication is present only in one of the homologous pairs, the duplicated part makes a loop to maximize the juxtaposition of homologous regions during pairing.
Inversion: Inversion results from the breakage and reunion of a part of the chromosome rotating by 180° on its axis. So there occurs a rearrangement of genes. Its effects are not as severe as in other structural defects.
Translocation: The shifting or transfer of a set of genes or part of a chromosome to a non-homologous one is known as translocation. There is no addition or loss of genes, only the rearrangement occurs.
-Article written by Swathi Satish