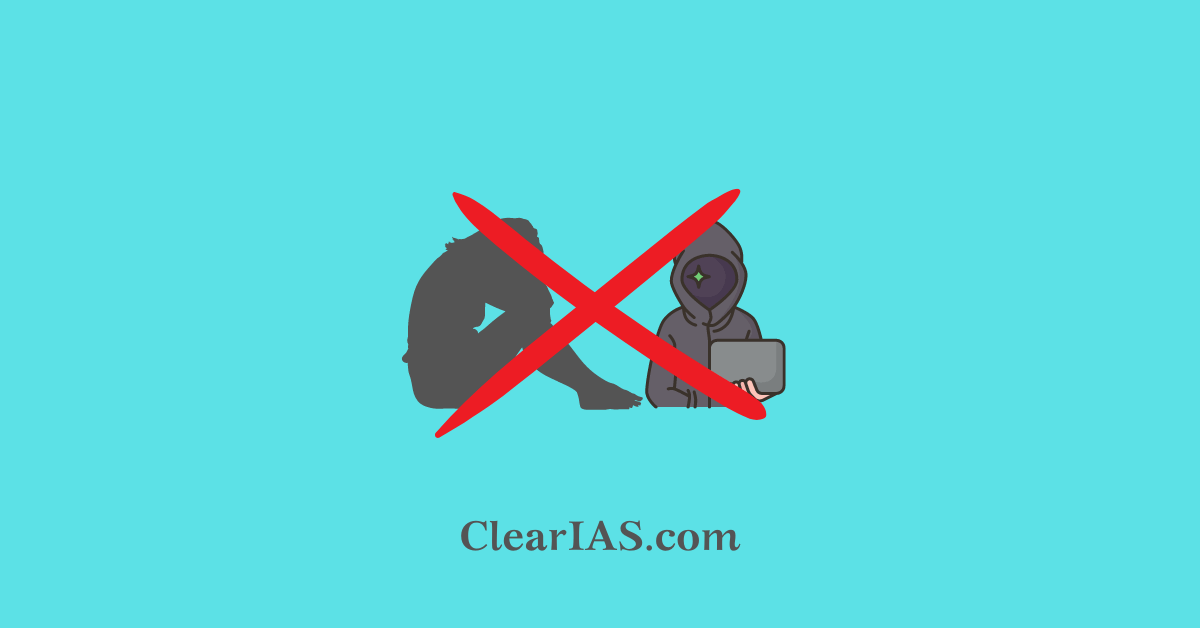 What is cybercrime and how the cybercrime against women have risen over the years? What are the reasons for an increase in cybercrime? Check all information in this article.
Citizens are becoming more empowered and experiencing a change in their lives as a result of the expansion of the internet and the products, services, and applications available on it.
Cybercrime is, however, also on the rise as a result of the expansion of the internet.
Cybercrime Meaning
In India, Cybercrimes are covered by the Indian Penal Code, of 1860 and the Information Technology Act of 2000.
The issues related to Cybercrime and electronic commerce are mentioned in the Information Technology Act 2000 which got amended in 2008 and outlined the definition and punishment of cybercrime.
Cybercrime can therefore be characterized as a mix of technology and crime. Simply described, "any act or crime that involves the use of a computer" is a cybercrime.
Cybercrime refers to crimes committed online in which the offender is concealed behind a computer screen.
Cybercrime Against Women
The most common cybercrimes committed against women are cyber blackmail, threats, cyberpornography, posting and publishing of obscene sexual content, stalking, bullying, defamation, morphing, and the establishment of fake profiles.
As of 2019, the total cybercrime incidents have gone up by 18.4% but the number of cybercrime cases against women has gone up by 28%, as shown by National Crime Record Bureau.
Data showed that 10,730 incidents, or 20.2% of the 52,974 incidents registered in 2021, were reported as crimes against women.
In 2021, Karnataka had the largest share of instances (2,243), followed by Maharashtra (1,697) and Uttar Pradesh (958).
The conviction rate for cybercrime cases against women 
The conviction rate or percentage of case disposal by courts for cybercrime against women is lower than the conviction rate of cybercrime cases. Though the percentage is still lower, it jumped up thrice between 2019 and 2021. That means the conviction rate went up from 10.8 percent in 2019 to 35.2 percent in 2021.
NCRB Report on Cybercrime: All Forms of Cybercrime
A total of 52,974 cases were registered under Cyber Crimes which shows an increase of 5.9% in registration over 2020 (50,035 cases in 2020), and if compared with 2019 data, the number of cybercrime incidents in 2021 has gone up by 18.4 percent.
If we talk about the share of the crime rate under total conducted crimes, it increased from 3.7 in 2020 to 3.9 in 2021.
The majority of cybercrime incidents reported in 2021 (32,230 out of 52,974) had fraud as their primary motivation, followed by sexual exploitation (8.6%; 4,555 cases) and extortion (5.4%).
However, Telangana accounted for the biggest percentage of cybercrime instances overall, with cases rising 282% from 2,691 in 2019 to 10,303 in 2021. The other four states with the most cases were Uttar Pradesh (8,829), Karnataka (8,136), Maharashtra (5,562), and Assam (4,846).
States reporting a decline in cybercrime
As compared to 2019, eight among the 28 states recorded a decline in cybercrime incidents in 2021.
Among all states, Uttar Pradesh shows a decline of 22.7 percent in cybercrimes, whereas Karnataka shows a down of 32.3 percent.
Offenses under the IT Act 2000
The IT Act addresses offenses including tampering with computer source documents, which include-
Section 65- deals with the hacking of computer system
Section 66- deals with the publishing of information that is obscene in electric form
Section 67- deals with Access to the protected system
Section 70- deals with Breach of confidentiality and privacy
Reason for increase in Cybercrime
There are several factors that are responsible for the rise in cybercrime.
Increase in online traffic
Lack of awareness
Lack of technical knowledge among police and people
Difficulties in investigating cybercrime cases
Why are cases not being registered?
There's a major difference between a traditional investigation and cyber investigation and to investigate cybercrime some technical skills are required. The police department is neither trained nor equipped for cyber and technical investigations.
Most of the crimes go unreported because women do not have any idea how to proceed further or of shame or fear. The trend is now changing because of better understanding and awareness.
Measures Taken by the Government
According to the Seventh Schedule of the Indian Constitution, "Police" and "Public Order" are State subjects.
Through their Law Enforcement Agencies  (LEAs), states and UTs are largely in charge of the prevention, detection, investigation, and prosecution of crimes, including cybercrime. Law enforcement agencies (LEAs) prosecute offenders in accordance with the law's provisions.
Whereas, the Central Government supports the efforts of the State Governments by providing guidance and financial support through various programs for their capacity building.
A few initiatives taken by the central government to improve the situation are mentioned below-
Cyber Crime Prevention against Women & Children (CCPWC) scheme
Ministry of Home Affairs has provided financial assistance to all the States & UTs to strengthen the mechanism to deal with cyber crimes under Cyber Crime Prevention against Women & Children (CCPWC) scheme.
The scheme is an effort to support the states in setting up cyber forensic-cum-training laboratories, training, and hiring junior cyber consultants.
Under the initiative, cyber forensic-cum-training laboratories have been established in 28 States.
Spreading awareness about cyber crimes
The Central Government has taken action to increase public awareness of cybercrimes, including the issue of alerts and advisories, capacity building and training for law enforcement, prosecutors, and judicial officials, as well as the development of cyberforensic technologies.
Programs are run by the Ministry of Electronics and Information Technology (MeitY) to raise people's understanding of information security. Information security-specific books, movies, and online resources are created for kids, parents, and general users.
Indian Cyber Crime Coordination Centre (I4C)
To offer a framework and ecosystem for LEAs to deal with cybercrimes in a thorough and coordinated manner, the government established the Indian Cyber Crime Coordination Centre (I4C).
In order to address the issue of jurisdictional complexity, based on hotspots/areas for cybercrime, the I4C has established "Joint Cyber Coordination Teams" in Mewat, Jamtara, Ahmedabad, Hyderabad, Chandigarh, Vishakhapatnam, and Guwahati.
These teams are responsible for providing a strong coordination framework to the LEAs.
National Cyber Crime Reporting Portal
To enable the public to report occurrences pertaining to all sorts of cybercrimes, with a focus on cybercrimes against women and children, the government has developed the National Cyber Crime Reporting Portal (www.cybercrime.gov.in).
A module of the Citizen Financial Cyber Fraud Reporting and Management System has also been introduced to allow for the immediate reporting of financial frauds and to prevent money from being siphoned off by fraudsters.
Conclusion
Information technology solutions have opened the door to a new world of corporate networking, e-banking, and the internet, which are emerging as solutions to cut costs and transform complex economic matters into simpler, faster, more efficient, and time-saving methods of transactions. With the advent of such facilities cybercrimes, especially against women have risen. Numerous criminals, including hackers and crackers, have discovered ways to tamper with online accounts and have been effective in getting illegal access to users' computers and stealing important data.
In conclusion, even though a society free from crime is merely a pipe dream, there should still be an ongoing effort to put laws in place that keep crime to a minimum. Legislators must take extraordinary measures to thwart impostors because criminality related to electronic law-breaking will inevitably increase, particularly in a society where technology is used more and more. Technology often has two sides and can be utilized for both good and bad purposes.
The legal system has approved a variety of legislation to address cybercrime against women. Rulers and lawmakers should continuously strive toward ensuring that technology advances in a healthy way and is used for legal and ethical economic growth rather than criminal activities.
Article Written By: Priti Raj