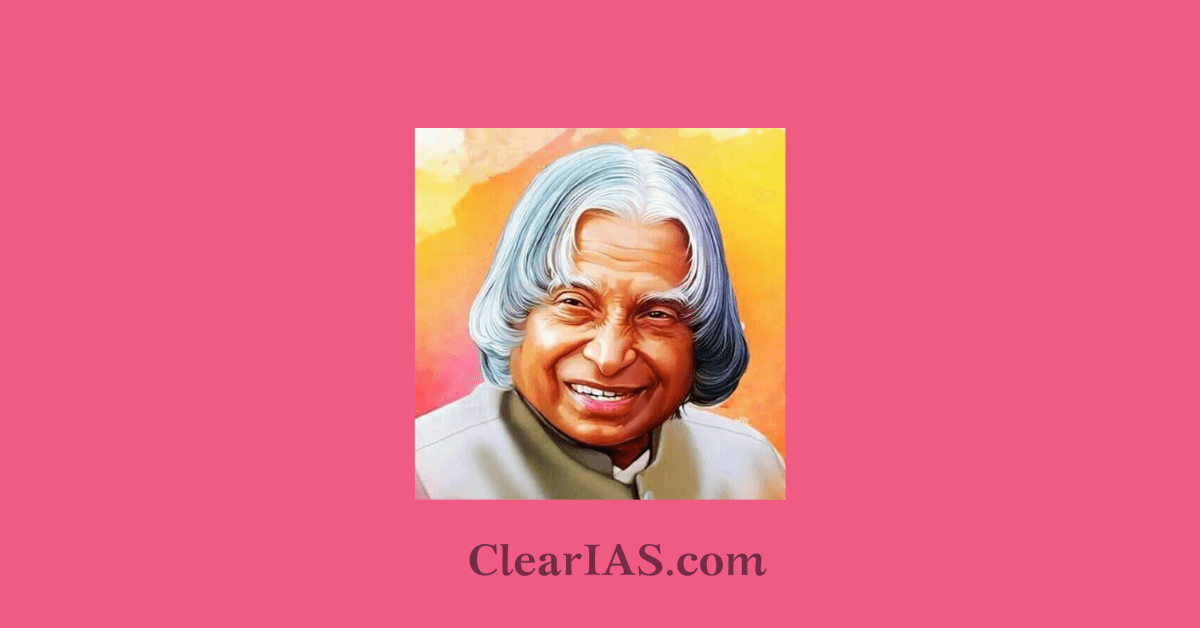 The 90th birth anniversary of the former president of India, Dr. APJ Abdul Kalam was observed on 15th October in India. Dr. Kalam was a renowned scientist also known as the Missile Man of India. Read here to know more about his life and achievements.
Dr. APJ Abdul Kalam was elected as India's 11th president from 2002-2007 and died in 2015 while he was delivering a lecture at the Indian Institute of Management Shillong at the age of 84.
The birth anniversary of Dr. Kalam is celebrated as National Innovation Day and World Students' Day.
He was a highly respected and world-renowned scientist and was known as the 'People's President' due to his relentless work to see the nation develop.
The early life of Dr. APJ Abdul Kalam
Avul Pakir Jainulabdeen Abdul Kalam was born on 15 October 1931, to a Tamil Muslim family in Rameswaram on Pamban Island, then in the Madras Presidency, and now in the State of Tamil Nadu.
After completing his education at the Schwartz Higher Secondary School in Ramanathapuram, Kalam continued his education at Saint Joseph's College in Tiruchirappalli, which was formerly a part of the University of Madras.
He earned a physics degree from this institution in 1954, and he moved to Madras in 1955 to pursue a degree in aerospace engineering there.
He came in ninth in the qualifiers, and there were only eight seats available in the Indian Air Force, thus he simply missed realizing his dream of becoming a fighter pilot.
After graduating from the Madras Institute of Technology in 1960, Kalam joined the Aeronautical Development Establishment of the Defence Research and Development Organisation (DRDO) as a scientist after becoming a member of the Defence Research & Development Service (DRDS).
Dr. Kalam the Scientist
He described his time at DRDO as "This was my first stage, in which I learned leadership from three great teachers, Dr. Vikram Sarabhai, Prof Satish Dhawan, and Dr. Brahm Prakash. This was the time of learning and acquisition of knowledge for me."
Dr. Kalam was also part of the INCOSPAR committee working under Vikram Sarabhai, the renowned space scientist.
In 1969 he moved to the Indian Space Research Organisation (ISRO), where he was the project director of the SLV-III, the first satellite launch vehicle that was both designed and produced in India.
The SLV-III successfully deployed the Rohini satellite in near-earth orbit in July 1980.
He was a pioneer in fiberglass technology and led a young team to initiate this effort in ISRO from design, and development leading to the production of composite rocket motor cases.
He visited NASA facilities in Greenbelt, Maryland's Goddard Space Flight Center, Hampton, Virginia's Langley Research Center, and Wallops Flight Facility in 1963 and 1964.
Between the 1970s and 1990s, Dr. Kalam worked to develop the Polar Satellite Launch Vehicle (PSLV) and SLV-III projects, both of which were ultimately successful.
He was invited by physicist Raja Ramanna to witness the country's first nuclear test, Smiling Buddha, as the representative of the Terminal Ballistic Research Laboratory (TBRL), even though he had not participated in its development.
In the 1970s, Dr. Kalam also directed two projects, Project Devil and Project Valiant, which sought to develop ballistic missiles from the technology of the successful SLV program.
His research and educational leadership prompted the government to initiate an advanced missile program under his directorship in the 1980s.
Rejoining DRDO in 1982, Dr. Kalam planned the program that produced several successful missiles, which helped earn him the nickname "Missile Man."
Among those successes was Agni, India's first intermediate-range ballistic missile, which incorporated aspects of the SLV-III and was launched in 1989.
Dr. Kalam served as the Chief Scientific Adviser to the Prime Minister and Secretary of the DRDO from July 1992 to December 1999.
The Pokhran-II nuclear tests were conducted during this period in which he played an intensive political and technological role.
Dr. Kalam served as the Chief Project Coordinator, along with Rajagopala Chidambaram, during the testing phase.
From 1999-2001 he served as the principal scientific adviser to the government with the rank of a cabinet minister.
Kalam-Raju Stent:
The "Kalam-Raju Stent," created by Kalam and physician Soma Raju in 1998, is a low-cost coronary stent.
In 2012, the team created the "Kalam-Raju Tablet," a tough tablet computer for use in rural health care.
In 1998 Kalam put forward a countrywide plan called Technology Vision 2020, which he described as a road map for transforming India from a less-developed to a developed society in 20 years.
The plan called for, among other measures, increasing agricultural productivity, emphasizing technology as a vehicle for economic growth, and widening access to health care and education.
Dr. APJ Abdul Kalam: The President of India
Dr. Kalam served as the 11th president of India, succeeding K. R. Narayanan. He won the 2002 presidential election surpassing Lakshmi Sahgal.
He was nominated by the NDA government that was in power but was backed fully by the opposition as well.
His term lasted from 25 July 2002 to 25 July 2007.
Sarvepalli Radhakrishnan (1954) and Zakir Hussain (1963) were the first two Bharat Ratna holders who later held the office of President of India. Dr. Kalam was the third President of India to get the award before taking office.
During his term, he was affectionately known as 'People's President" for his involvement with common people.
He was criticized for his inaction in deciding 20 out of 21 mercy petitions submitted to him. Most famous of which was from Afzal Guru, a terrorist.
Life after presidency
Upon returning to civilian life, Kalam remained committed to using science and technology to transform India into a developed country and served as a lecturer at several universities
visiting professor at the Indian Institutes of Management in Shillong, Ahmedabad, and Indore;
an honorary fellow at the Indian Institute of Science in Bangalore;
the chancellor of the Indian Institute of Space Science and Technology in Thiruvananthapuram;
a professor of aerospace engineering at Anna University; and
an adjunct professor at numerous other academic and research institutions nationwide.
He taught technology at Banaras Hindu University and Anna University as well as information technology at the International Institute of Information Technology in Hyderabad.
Honors and legacy of Dr. APJ Abdul Kalam
Dr. Kalam received 7 honorary doctorates from 40 universities.
The Government of India honored him with the Padma Bhushan in 1981 and the Padma Vibhushan in 1990 for his work with ISRO and DRDO and his role as a scientific advisor to the Government.
In 1997, Kalam received India's highest civilian honor, the Bharat Ratna, for his contribution to scientific research and the modernization of defence technology in India.
In 2013, he was the recipient of the Von Braun Award from the National Space Society "to recognize excellence in the management and leadership of a space-related project".
Several educational institutes and fellowships have been named in honor of him.
Wheeler Island, a national missile test site in Odisha, was renamed Abdul Kalam Island in September 2015.
Writings
Dr. Kalam wrote several books and numerous books were written on him as well. The most famous and inspiring works by him were:
India 2020: A Vision for the New Millennium by A P J Abdul Kalam, Y. S. Rajan.
Wings of Fire: An Autobiography by A P J Abdul Kalam, Arun Tiwari.
Ignited Minds: Unleashing the Power Within India by A P J Abdul Kalam.
Death
On 27 July 2015, Dr. Kalam traveled to Shillong to deliver a lecture on "Creating a Livable Planet Earth" at the Indian Institute of Management Shillong.
He died of cardiac arrest while delivering a lecture to the students.
He was a born leader, scientist, and above all a teacher who was enthusiastic about interacting with students and youth as he called them the future of the nation. He inspired many people and was liked and cherished by one and all equally.
He lived a life of a bachelor and plain simplicity. He was noted for his integrity and professionalism. Religion and spirituality were very important to Dr. Kalam throughout his life. He made his spiritual journey the subject of his final book, Transcendence: My Spiritual Experiences with Pramukh Swamiji.
He did not accumulate any personal belongings during his lifetime other than numerous books and a veena which he enjoyed playing.
Famous quotes by Dr. APJ Abdul Kalam
"Don't take rest after your first victory because if you fail in the second, more lips are waiting to say that your first victory was just luck."
"Dream, dream, dream. Dreams transform into thoughts and thoughts result in action."
"All of us do not have equal talent. But, all of us have an equal opportunity to develop our talents."
"Failure will never overtake me if my definition of succeeding is strong enough."
Previous year questions
"Where there is righteousness in the heart, there is beauty in the character. When there is beauty in the character, there is harmony in the home. When there is harmony in the home, there is order in the nation. When there is order in the nation, there is peace in the world." – A.P.J. Abdul Kalam (2019)
"If a country is to be corruption free and become a nation of beautiful minds, I strongly feel that there are three key societal members who can make a difference. They are father, mother, and teacher." – A.P.J. Abdul Kalam (2022)
-Article written by Swathi Satish