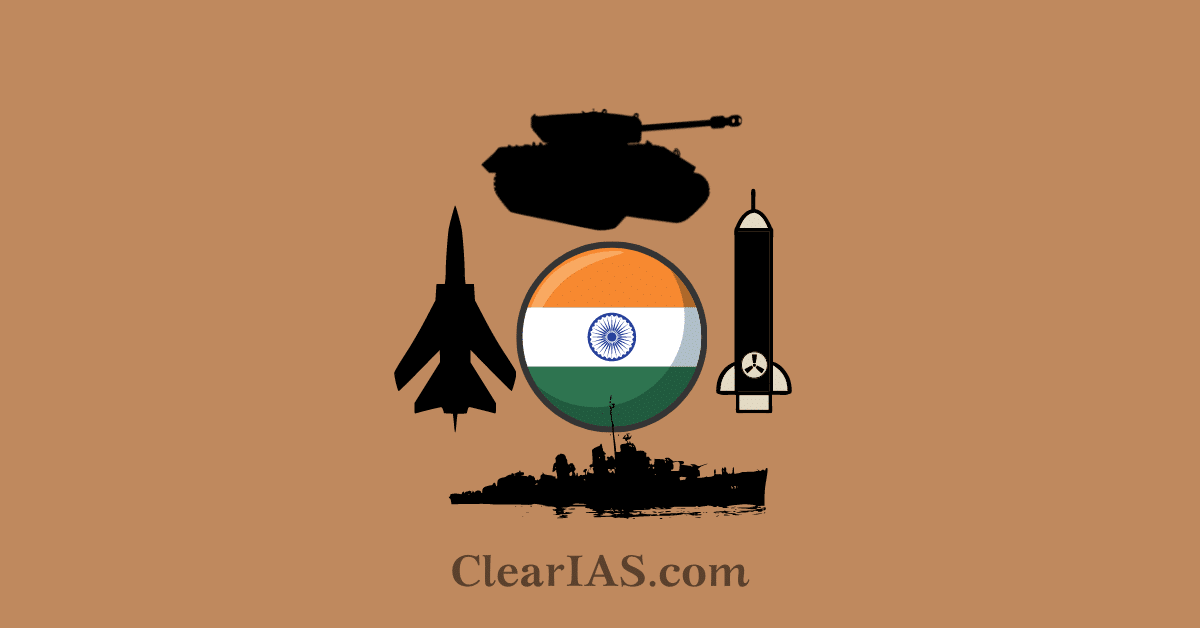 India has been pushing for the indigenisation of the Indian defence sector rapidly. Read here to know about the history, policies, and present projects under the indigenisation program.
Self-reliance in defence is of vital importance for both strategic and economic reasons, hence building an indigenous defence potential is essential. The presence of robust security architecture is primary for India's geopolitical ambitions and against hostile neighbours' actions.
What is meant by the indigenisation of Indian defence?
Indigenisation is the capability of developing and producing any defence equipment within the country to achieve self-reliance and reduce the burden of imports. It involves creating an ecosystem to design, develop and manufacture different types of equipment indigenously.
A country like India with its immense potential and strategic location requires to be self-reliant, hence it is important to pursue the idea of indigenisation for:
Self-defence: The presence of hostile neighbours like China and Pakistan makes it improbable for India to boost its self-defence and preparedness.
Strategic advantage: Self-reliance will make India's geopolitical stance strategically stronger as a net security provider.
Technological advancement: Advancement in the defence technology sector will automatically boost other industries hence catapulting the economy further ahead.
Economic drain: India spends around 3% of GDP on defence and 60% of that is spent on imports. This leads to an immense economic drain.
Employment: Defence manufacturing will need the support of numerous other industries which generate employment opportunities.
Why indigenisation?
The Stockholm International Peace Research Institute (SIPRI) reported that  India was the world's second-largest importer of major arms in 2014-18 and accounted for 9.5% of the global total and India's military expenditure rose by 3.1%.
C&AG report, 2011 to the Parliament, highlighted the 90% import dependency of Hindustan Aeronautics Ltd (HAL) for 'raw materials and bought-out items for the production of indigenous equipment.
India has been spending around 4% of its GDP on defence.
The Self-Reliance Index (SRI) (the ratio of indigenous content of defence procurements to the total expenditure on defence procurements in a financial year) is at a low of 0.3.
History of the Indian defence sector
The conflict with China in 1962 alerted India of her under-preparedness for war which led to increasing the defence expenditure to 2.3% of GDP.
In the Indo-Pak war of 1965, the US imposed an embargo on the export of arms led to the defence ties with the soviet union intensifying.
But over the years, the overdependence on the Soviet Union for defence equipment had forced a change in India's approach to defence industrialization from license-based production to indigenous design-based production.
In the mid-1980s, the government started pumping resources into research and development to help DRDO to undertake high-profile projects.
The most relevant development in defence indigenization was made in 1983 when the government-sanctioned the Integrated Guided Missile Development Programme (IGMDP)to develop five missile systems:
Prithvi (surface-to-surface)
Akash (surface-to-air)
Trishul (the naval version of Prithvi)
Nag (anti-tank)
Agni Ballistic missiles with different ranges, i.e. Agni (I, II, III, IV, V)
In 1990 Self Reliance Review Committee(SRRV) under A.P.J. Abdul Kalam, formulated a 10-year self-reliance plan which proposed a self-reliance index (SRI) (defined as the percentage share of indigenous content in total procurement expenditure), to be increased from 30% in 1992-1993 to 70 % by 2005. This target has not been achieved till today.
The efforts in indigenisation were not enough to meet the requirements of the armed forces, which caused a shift of focus towards co-development and co-production in partnership with foreign companies.
In 1998, India and Russia signed an inter-governmental agreement to jointly produce Brahmos supersonic cruise missiles.
India has also partnered with other countries such as Israel and France for several projects.
Also read: India's Defence Exports; India's Missile Systems
The current legal framework and regulators to support defence policies in India include:
Industries (Development and Regulation) Act, 1951
Defence Procurement Procedure, 2016
FDI policy and regulations under FEMA, 1999
Indian Army Act 1950, India Air Force Act 1950, Indian Navy Act 1957
Department of industrial policy and promotion(DIPP) (M/o commerce and industry)
Department of defence production (M/o defence)
Defence acquisition council (M/o defence)
Defence offsets management wing (M/o defence)
Current developments in indigenisation of the defence sector:
INS Vikrant: India's first indigenous aircraft carrier 1 (IAC 1).
Tejas aircraft: DRDO is trying to develop an indigenous Kaveri engine for the aircraft.
Project 75: Indian navy's submarine program dealt with France, Germany, Russia, Sweden, Spain, and Japan to build six advanced stealth submarines.
INS Kalvari, INS Khanderi, INS vela, S53,54,55 are constructed by Mazagaon Dock Ltd in Mumbai.
First indigenous Long-range artillery gun, "Dhanush".
Arihant: India's first indigenous nuclear submarine by BARC and DRDO
Agni V: The ICBM (intercontinental ballistic missile)
The Pinaka multi-barrel rocket launcher was developed by RDE, Pune.
Supersonic cruise missile Brahmos was developed by a joint venture with Russia.
Arjun tank: the third-generation main battle tank developed DRDO and produced by Indian Ordnance Factories.
Challenges to India's indigenisation plan
Deficiency in defence planning
Lack of institutional capacity for timely policymaking
Lack of infrastructure for increasing production and logistic support deficit.
The absence of a dispute settlement body to resolve issues hinders the process.
Land acquisition restrictions
Way forward:
The above-mentioned challenges faced by the indigenisation of the Indian defence plan need to be addressed by emphasizing the 'Make in India' plan.
The recent corporatization of the Indian Ordnance Factory Board (OFB) is an example of fine-tuning the defence production industry to make them more capable and competitive.
There needs a permanent arbitration cell to deal with disputes and objections which may otherwise hold up the process for a long time.
Ensure a level playing field for the private sector along with DRDO, DPSU, and OFB.
Aim to increase the export capability to attract funding of the indigenisation.
Administrative and financial autonomy to DRDO and satellite organization.
The infrastructure for in-house design and testing needs to be enhanced, and added software support of artificial intelligence and cyber security should be provided.
Potential mains question:
"Self-reliance in defence manufacturing is a crucial component for improving defence capability and to maintain national sovereignty and achieve military superiority." Analyze the statement with respect to defence manufacturing in India.