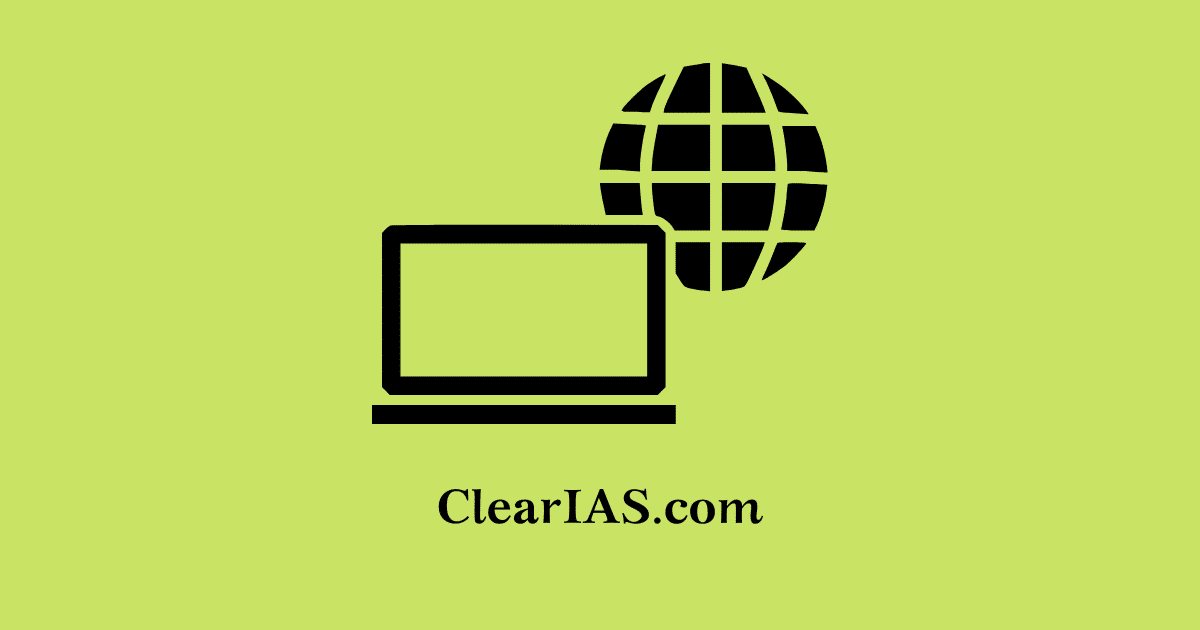 What is e-governance? Why is it needed? What are the challenges? Is there any government initiatives? To answer these questions, read further.
e-Governance is the use of information and communication technology (ICT) to provide government services, exchange information, conduct transactions, and integrate previously existing services and information portals.
The "e" in "e-Governance" refers for "electronic."
The Government of India's Mission e-Governance, in combination with Digital India, has undergone a paradigm shift.
There is new thinking about how it engages with its citizens, as well as inter-state and inter-governmental functions.
India has put healthcare, e-education, agricultural assistance, financial services, and other economic and social obligations on the mission.
e-governance includes the Digital India initiative, the National Portal of India, the Prime Minister of India's portal, Aadhaar, online tax filing and payment, digital land management systems, the Common Entrance Test, and so on.
India has undertaken numerous initiatives over the years to promote e-Governance holistically and improve the distribution of public services to its citizens. Its main pillars have been people, processes, technology, and resources.
Need for e-governance
E-government is the use of information and communication technology (ICT) in government services to increase the effectiveness of communication and transactions between citizens, businessman, and the government.
For government
It saves the cost of physical monitoring and administration and thus leads to cost saving for the government. Now there will be efficient usage of public funds as they will be less prone to neglect and waste expenses.
It will remove the barriers and make the government better at administration and thus result in better governance.
It will increase the data collection and thus will help the administration in better evaluation, implementation, and better scheme outcomes.
Public policies result in better outcomes and hence public trust in administration will also increase with the reduced gap because of minimum government and maximum governance.
Increased accountability, coordination, and communication will arise from efficient file transfers and work delegation.
It will lead to better accessibility as the online resources are easier to find and thus the issues of loss and duplication will be reduced.
Additionally, it will lower the time and resource costs associated with transactions between the government and its citizens.
For Citizens
It will empower the citizens to hold the government accountable for their work and policies, and thus increased transparency will lead to an empowered citizenry, as the digital services due to their inclusivity goes beyond the geographical barriers and thus increases the scope of governance.
e-Governance leads to speedy justice delivery and resolves grievances faster and thus increasing the public trust and faith in the governance system.
e-Governance reduces the gap between the citizens and the government to a large extent, especially those who are vulnerable and historically lacked access like women, Dalits, and tribals.
Women-centric schemes are better implemented and the data collection, on the implementation of schemes, crimes prevailing, trends followed, etc are better gathered through e governance, same is true for other sections of society.
For Business
It helps in ease of doing business by making the compliance and performance better. With digital resources the businesses can now expand their market and client base beyond the geographical barriers and thus leading to the country's growth and development and balance of trade.
With a paperless economy and fewer physical requirements the process of setting, maintaining, and coordinating businesses have become better and faster and thus results in reduced delays.
It helps in the implementation and formation of government policies and their objectives by promoting productivity gains inherent in the ICT thus resulting in the development of all.
Challenges of e-Governance
There will always be the risk of cybercrime and the private data of individuals and the state to be stolen. Along with this, there is a high cost of setting up the machines. The maintenance of such machines is also too high, making regular maintenance costs high. And many times the computers and the internet also break down resulting in delays in work.
Rural and remote areas of India still lack digital infrastructure and there persists the problem of the digital divide. Very less number of women have access to the internet, especially elderly women who don't have proper access and understanding of the digital world.
It results in the loss of interpersonal relations, communications and the personal touch is missing which many people still consider very vital. Because of this and the change in the old system shows signs of many people being reluctant to its application.
There is a lack of uniformity as the different states follow different methods, lack of authority in dealing with the e-governance system, and not all state governments are following the same policy on digitalization.
Mostly all the e-governance applications and websites are available in English which is not understood by all and thus results in a language barrier issue.
India has a low literacy rate and even among that literate people very few are still not comfortable and have knowledge of information technology.
Government Initiatives
Health: Sugamya Bharat app, aarogya setu app, vaccine tracker, electronic health record, mera aspataal, swasth Bharat app, etc.
Women: NARI portal, SHe Box, HIMMAT app, Mahila e Haat etc.
Education: Swayam Prabha, DIKSHA portal, National digital library of India, SWAYAM, etc
Agriculture: Kisan call centers, Agriculture mission mode project, AGMARKNET, etc.
Government service and monitoring:  Digital India, Aadhar, Digi Locker, UMANG, PRAGATI, e KRANTI, Lokvani, etc.
Way Forward
There is an urgent need for investment both from outside and internally from the government.
There is a need for active participation in civil society and for private sector involvement in innovation and management, especially those involved in the technology and the tech giants.
Make in India should be promoted as we should not rely on imports solely. Cloud computing is a way forward and Meghraj GI Cloud is a step in the right direction.
2nd ARC has also recommended that the state should create suitable opportunities for e-governance initiatives, public-private partnerships, re-engineering of the governance mechanisms, and skill development for both creating, maintaining, and monitoring to ensure the best outcomes.
Former Indian President Dr. APJ Abdul Kalam defined e-Governance in the Indian context as "a transparent smart Governance with seamless access, secure and authentic flow of information crossing the interdepartmental barrier and providing a fair and unbiased service to the citizen."
Article written by Chetna Yadav.