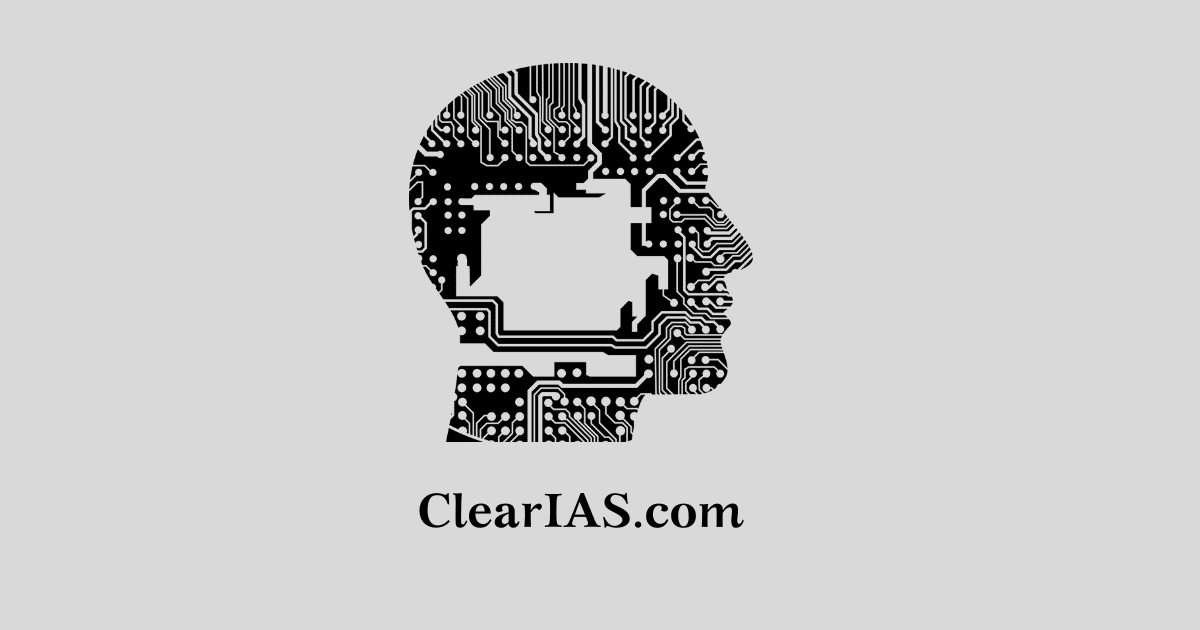 What is meant by Emotional Intelligence? What is the difference between Classic and Emotional Intelligence? What are the different models of  Emotional Intelligence? Why is it needed? What is its significance for civil servants? To answer these questions, read further.
Emotional intelligence is about the emotions of humans which should be regulated so that there is socially desirable behaviour.
Formally, it is about knowing one's own emotions and understanding others' emotions, and behaving in a socially desirable way by regulating the emotions.
It is about emotional, social, and behavioural competency that a person is behaviourally competent in different social conditions.
Definition of Emotion Intelligence
Emotion Intelligence has been defined by Peter Salovey and John Mayor as the ability to monitor one's own emotions and others' emotions to discriminate between the different emotions and label them appropriately and use them to guide critical thinking and behaviour. The amount and level of emotional intelligence in a person are known as the emotional quotient.
There is a difference between Classic Intelligence and Emotional Intelligence. Classic intelligence can be defined as what is measured by IQ tests. These tests are about the skills which are required to analyze and solve problems. However, implementing the solution requires emotional intelligence. Classical intelligence alone is not enough to produce consistent results. Intelligent actions are now a result of both emotions as well as reasoning. Emotional intelligence is about being intelligent about your emotions. IQ gets you hired whereas EQ gets you promoted.
For example, Suppose you are an SP handling a mob lynching situation in your district. Some of your men get injured while doing their duty. As you do not have orders from above you and your team are not left with many options. Here you would need emotional intelligence to handle the situation.
Emotional Intelligence can be identified in people based on positive and negative characteristics of their behaviour, whether good or bad or high or low EI.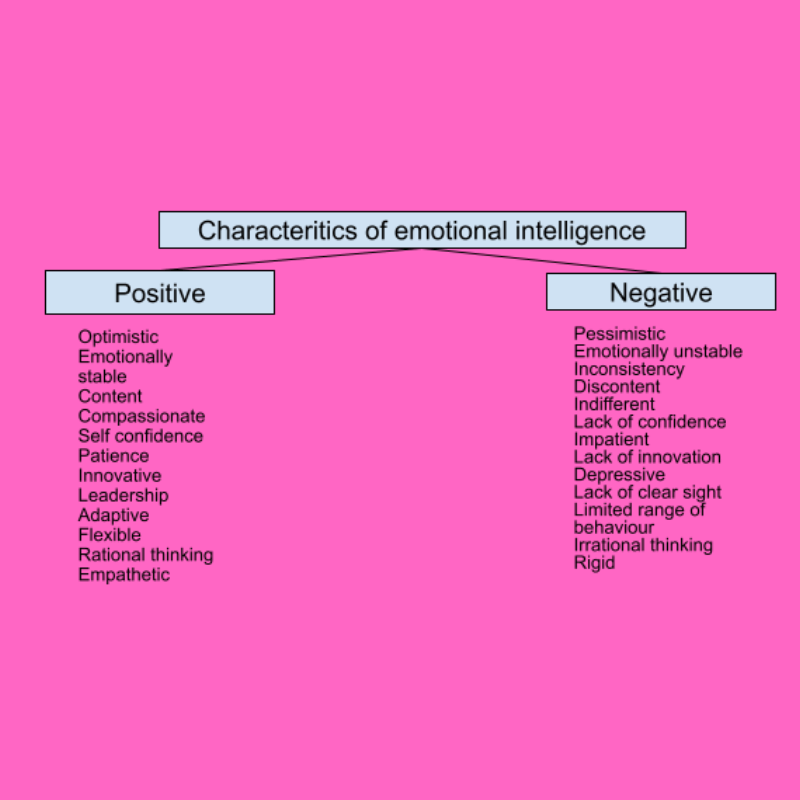 Ability model by Mayer and Salovey
Emotional perception: It is the ability to recognize emotional cues and help a person to gauge and understand problems through the application of emotions better. For example, if a person is sad he will show signs of discontent and underperformance at work.
Emotional Reasoning: It is the ability to use emotions for application in thinking and organizing activities. For example, the policies of the government are enacted after proper reasoning and belief and taking the needs of every section of society into consideration.
Understanding the emotions: It is important to understand the emotions of others and consider them as the causal factor. For example, understand that if your senior is angry at you, it may be because his mood is not good today or he might not is satisfied with his performance.
Management of emotions: It is important to manage emotions and show flexibility and optimism in the approach while dealing with situations.
Goleman's Model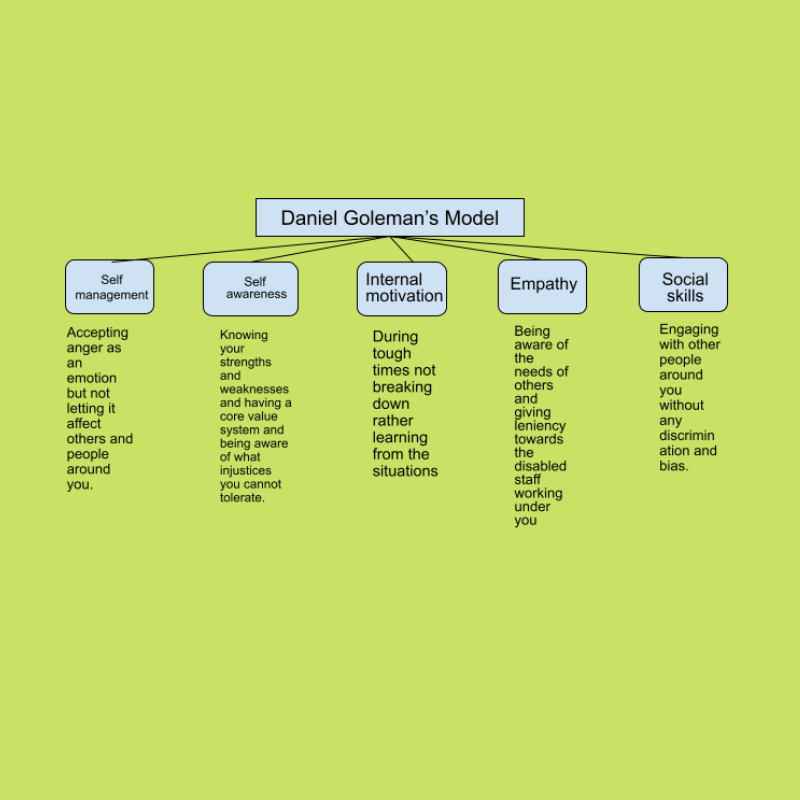 Emotional Intelligence at an individual level
In today's world when everything is so fast and it is very easy to be excited and overwhelmed by professional duties which can affect mental health, thus emotional intelligence becomes important to prevent such situations and have a positive outlook. For example, it can help in dealing with anxiety and depression and keeping a negative outlook away.
It helps in creating a suitable work-life balance which is the need of the hour in this busy world with regard to professional and personal responsibilities. For example, time management will help in giving ample time to hobbies and family apart from the busy office schedule.
This helps in inculcating stronger relationships as it allows us to communicate more effectively and forge stronger relationships both at work and in our personal life. For example, taking emotional cues can help in better understanding colleagues and dealing with them with sensitivity.
There is a positive effect of emotional intelligence on the success of individuals at work and will help in better job performance. For example, a more motivated person will work efficiently without excuses, fatigue, and disinterest.
Emotional intelligence for a civil servant
An administrator is expected to resolve conflicts more efficiently. For example, if there is a riot in his district, he will be able to understand the people's emotions and use law and order, he will also try to pacify people by using emotional intelligence.
An emotionally intelligent civil servant doesn't take anything personally while discharging his duties. For example, an administrator while doing his duties sometimes gets hurt with insults too and an emotionally intelligent administrator will associate it with professional obligation and will depersonalize with it.
The administrator needs to be empathetic while discharging their duties. For example, when a disabled person was unable to sit on a chair, IAS Kaustubh himself sat on the floor with him.
It helps in managing difficult situations while discharging duties during hard times. For example, during floods, an administrator has to take care of various things from managing the flood-affected areas to the people involved in it along with the proper care provided, such as temporary homes.
It helps an administrator to be true to the fundamental values and abide by the core values even in difficult situations. For example, IAS Ashok Khemka exposed irregularities in the DLF group even after immense political pressure and bureaucratic harassment.
Need for Emotional Intelligence
Aristotle has said that anyone can be angry which is easy but to be angry with the right person at the right time and for the right purpose is not within everyone's power and is not easy.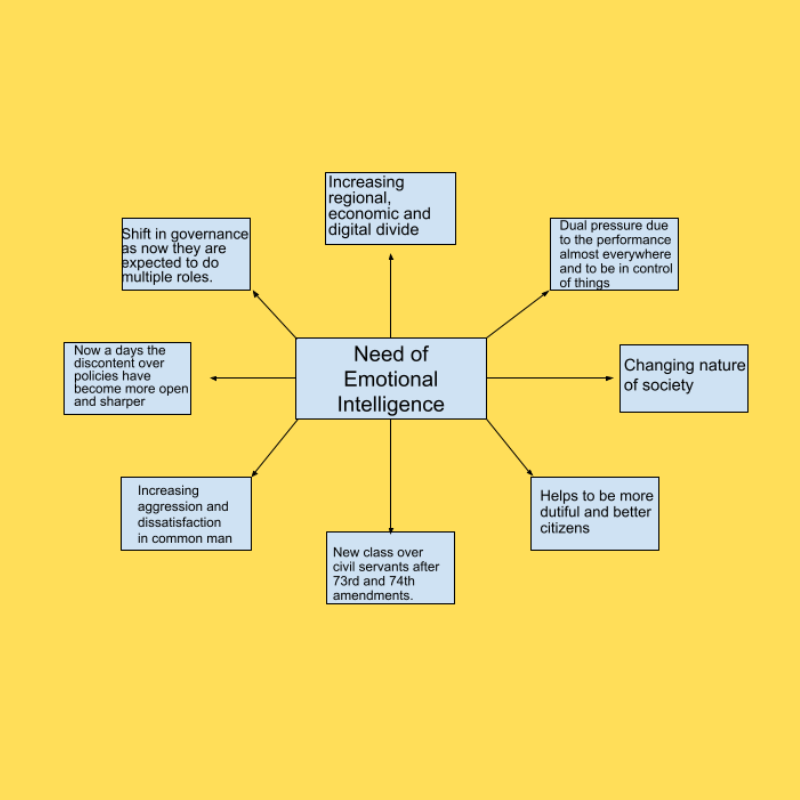 When our emotional health is in a bad state so is our level of self-confidence and self-esteem. We have to slow down and deal with what is troubling us so that we can enjoy the simple joy of being happy and at peace with ourselves.
– Jess C. Scott
It is often said that people don't care how much you know until they know how much you care. Emotional intelligence enables you to influence yourself first, then influence others, to enable a more stable and productive work environment.
Article written by Chetna Yadav.