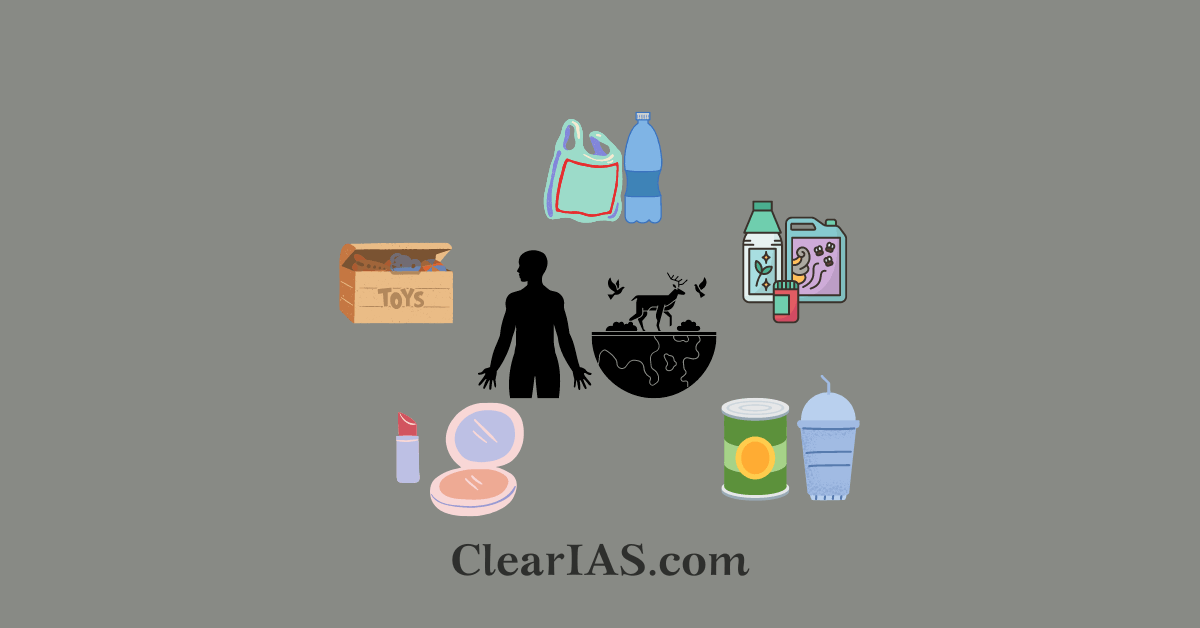 Endocrine-disrupting chemicals (EDCs) are found in many everyday products, including plastic bottles and containers, liners of metal food cans, detergents, flame retardants, food, toys, cosmetics, and pesticides. They have the potential to interfere with the body's hormones. EDCs have become a menace to the environment with their array of harmful effects. Read here to learn all about EDCs and their impact on the environment.
UNEP and WHO released a report almost a decade ago "State of the Science of Endocrine-Disrupting Chemicals – 2012" which identifies concerns, including evidence in humans, laboratory animals, and wildlife that exposure to endocrine-disrupting chemicals can result in adverse effects and highlighted that an important focus should be on reducing exposure.
Even though the harmful consequences of EDCs have been exposed a long time ago, the use and subsequent impact of these chemicals are still rampant globally.
What are Endocrine-Disrupting Chemicals (EDCs)?
The endocrine system, which regulates the body's hormones, may be mimicked or interfered with by a variety of chemicals, both natural and man-made.
These substances, often known as endocrine disruptors, have been associated with developmental, reproductive, brain, immunological, and other issues.
Human and wildlife health depends on the ability to reproduce and develop normally. This is not possible without a healthy endocrine system.
Endocrine-Disrupting Chemicals can obstruct the steps involved in hormone signaling.
By imitating a hormone, they can deceive a receptor, activating an incorrect hormonal response and hormonal processes.
The appropriate hormonal processes cannot occur if they bind to a hormone's receptor and impede activation.
Some endocrine disruptors take a long time to degrade in the environment. They are possibly dangerous as a result of that trait.
Animals experience negative effects from endocrine-disrupting substances.
However, there is little scientific data on potential human health issues. It is challenging to evaluate the consequences on public health since people are frequently exposed to many endocrine disruptors at once.
The endocrine system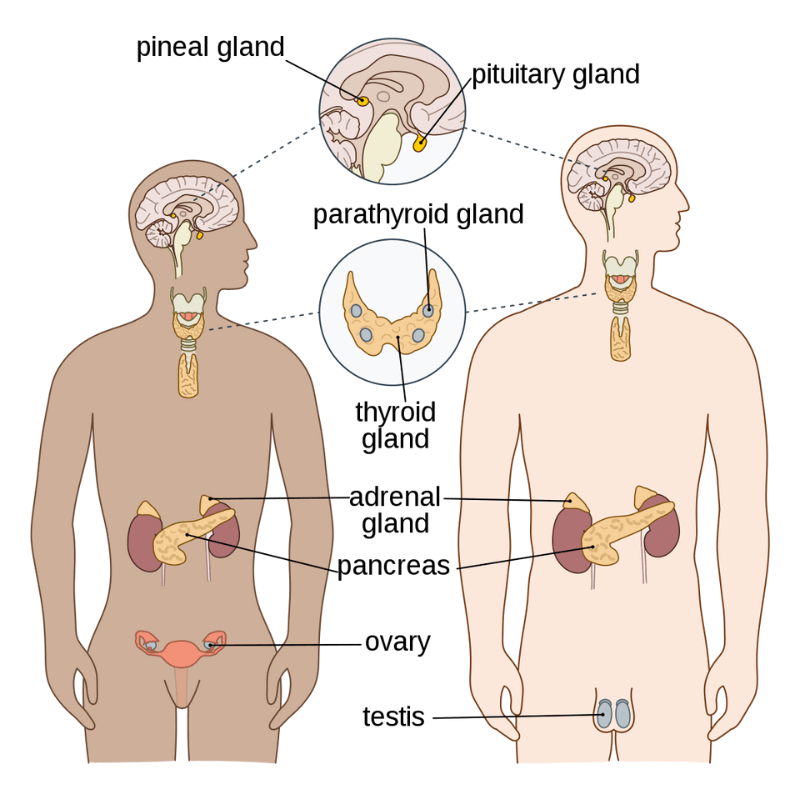 The endocrine system is a complex network of glands and organs. It uses hormones to control and coordinate your body's metabolism, energy level, reproduction, growth and development, and response to injury, stress, and mood.
The following are integral parts of the endocrine system:
Hypothalamus: The hypothalamus is located at the base of the brain, near the optic chiasm where the optic nerves behind each eye cross and meet. The hypothalamus secretes hormones that stimulate or suppress the release of hormones in the pituitary gland, in addition to controlling water balance, sleep, temperature, appetite, and blood pressure.
Pineal body: The pineal body is located below the corpus callosum, in the middle of the brain. It produces the hormone melatonin, which helps the body know when it's time to sleep.
Pituitary: The pituitary gland is located below the brain. Usually no larger than a pea, the gland controls many functions of the other endocrine glands.
Thyroid and parathyroid: The thyroid gland and parathyroid glands are located in front of the neck, below the larynx (voice box). The thyroid plays an important role in the body's metabolism. The parathyroid glands play an important role in the regulation of the body's calcium balance.
Thymus: The thymus is located in the upper part of the chest and produces white blood cells that fight infections and destroy abnormal cells.
Adrenal gland: An adrenal gland is located on top of each kidney. Like many glands, the adrenal glands work hand-in-hand with the hypothalamus and pituitary gland. The adrenal glands make and release corticosteroid hormones and epinephrine that maintain blood pressure and regulate metabolism.
Pancreas: The pancreas is located across the back of the abdomen, behind the stomach. The pancreas plays a role in digestion, as well as hormone production. Hormones produced by the pancreas include insulin and glucagon, which regulate levels of blood sugar.
Ovary: A woman's ovaries are located on both sides of the uterus, below the opening of the fallopian tubes (tubes that extend from the uterus to the ovaries). In addition to containing the egg cells necessary for reproduction, the ovaries also produce estrogen and progesterone.
Testis: A man's testes are located in a pouch that hangs suspended outside the male body. The testes produce testosterone and sperm.
Common endocrine-disrupting chemicals
Bisphenol A (BPA) is used to make polycarbonate plastics and epoxy resins, which are found in many plastic products including food storage containers
Dioxins are produced as a byproduct in herbicide production and paper bleaching, they are also released into the environment during waste burning and wildfires
Perchlorate is a by-product of aerospace, weapon, and pharmaceutical industries found in drinking water and fireworks
Perfluoroalkyl and Polyfluoroalkyl Substances (PFAS) are used widely in industrial applications, such as firefighting foams and a non-stick pan, paper, and textile coatings
Phthalates are used to make plastics more flexible, they are also found in some food packaging, cosmetics, children's toys, and medical devices
Phytoestrogens are naturally occurring substances in plants that have hormone-like activity, such as genistein and daidzein that are in soy products, like tofu or soy milk
Polybrominated diphenyl ethers (PBDE) are used to make flame retardants for household products such as furniture foam and carpets
Polychlorinated biphenyls (PCB) are used to make electrical equipment like transformers, and in hydraulic fluids, heat transfer fluids, lubricants, and plasticizers
Triclosan may be found in some anti-microbial and personal care products like liquid body wash.
How do people encounter endocrine-disrupting chemicals?
Endocrine disruptors can be ingested through food and beverages, applied through pesticides, and utilized topically through cosmetics. In essence, your cuisine, air, skin, and water may expose you to these substances.
Endocrine-disrupting substances may be dangerous even in small quantities.
It is known that even very tiny variations in hormone levels can have substantial developmental and biological implications as part of the body's normal endocrine functioning.
According to this observation, endocrine-disrupting chemical exposures, even in little doses, might affect the body's delicate systems and result in health issues.
How do animals encounter EDCs?
These chemicals can leach into our soil and water. They can move through the animal kingdom as animals eat plants and bigger animals eat smaller ones.
Numerous potent effects of exposure to EDCs have been observed in the environment by scientists:
The reproductive and immune systems of mammals have been adversely affected.
Eggshell thinning and altered sex organ development have been observed in birds of prey exposed to the pesticide DDT, resulting in severe population declines.
Birth defects, the especially neural defect is pronounced in aquatic animals exposed to EDCs.
Population declines in amphibians, such as frogs, have been seen in both unpolluted and polluted habitats worldwide.
Why Endocrine-Disrupting Chemicals are a cause of concern?
Many endocrine-related diseases and disorders are on the rise:
Large proportions (up to 40%) of young men in some countries have low semen quality, which reduces their ability to father children.
The incidence of genital malformations, such as non-descending testes (cryptorchidisms) and penile malformations (hypospadias), in baby boys, has increased over time or leveled off at unfavorably high rates.
The incidence of adverse pregnancy outcomes, such as preterm birth and low birth weight, has increased in many countries.
Neurobehavioural disorders associated with thyroid disruption affect a high proportion of children in some countries and have increased over the past decades.
Global rates of endocrine-related cancers (breast, endometrial, ovarian, prostate, testicular, and thyroid) have been increasing over the past 40–50 years.
There is a trend towards the earlier onset of breast development in young girls in all countries where this has been studied. This is a risk factor for breast cancer.
The prevalence of obesity and type 2 diabetes has dramatically increased worldwide over the last 40 years.
WHO estimates that 1.5 billion adults worldwide are overweight or obese and that the number with type 2 diabetes increased from 153 million to 347 million between 1980 and 2008.
Despite substantial advances in our understanding of EDCs, uncertainties and knowledge gaps still exist that are too important to ignore.
These knowledge gaps hamper progress toward better protection of the public and wildlife. An integrated, coordinated international effort is needed to define the role of Endocrine-Disrupting Chemicals in current declines in human and wildlife health and wildlife populations.
Indian scenario in controlling EDCs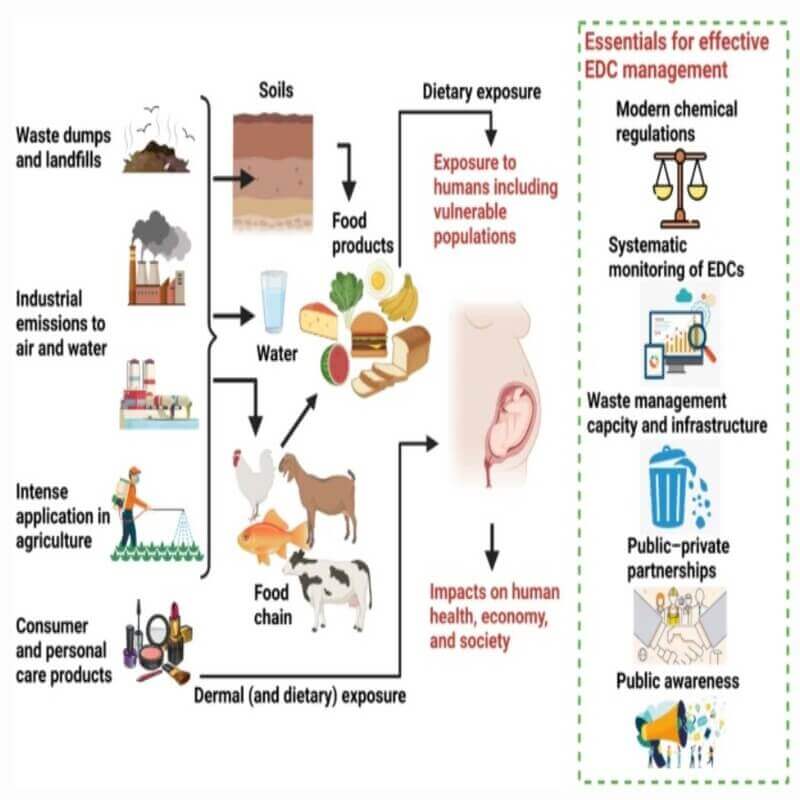 India's economy has grown tremendously in recent times and with a heavy toll on the environment. In the last two decades, the cost of damage done by pollution and natural disasters in India has risen.
Moreover, poverty, malnutrition, illiteracy, poor living conditions, and limited access to healthcare by a substantial fraction of the population are likely to make India more susceptible to the severe social and health impacts of EDCs.
A review of data on prioritized EDCs like DDT, lindane, PCBs, etc. reported elevated concentrations in the Indian environment and human population compared to the international context including emerging economies like China.
Similarly, a recent global survey measuring selected EDCs (in particular DDT) in breastmilk, carried out by WHO and UNEP, highlighted that Indian women and infants are among the most exposed in the world.
Furthermore, recent studies have also linked elevated EDC burden in the Indian population to adverse health effects such as childhood obesity, which is a major risk factor for other health issues including type 2 diabetes in later life stages.
Currently, India is updating its regulatory approach toward managing chemicals by drafting a new regulation, the Chemical (Management and Safety) Rules (CMSR).
These rules are intended to replace two existing regulations- the Manufacture, Storage, and Import of Hazardous Chemical Rules and the Chemical Accidents (Emergency Planning, Preparedness, and Response) Rules.
India has numerous regulations and ad hoc acts that indirectly and loosely check the EDCs like:
The Insecticides Act 1968 and Rules 197
The Pesticides Management Act 2020
The Indian Drugs and Cosmetic Act of 1940
Central Insecticide Board and Registration Committee's guidelines for biocides
The Food Safety and Standards (Packaging) Regulations 2006
There are several institutions currently engaged in actions for chemical management in India.
The CSIR-National Environmental Engineering Institute (NEERI) in India conducts research and development (R&D) studies for solving environmental pollution problems, including those involving some of the EDCs.
Other laboratories, institutions like the Food Safety and Standards Authority of India (FSSAI), Central Pollution Control Board (CPCB), State Pollution Control Boards (SPCBs), and university centers produce independent research on the occurrence, effects, and impacts of EDCs.
But there is no comprehensive approach in place specifically targeting the regulation of Endocrine-disrupting chemicals.
Establishing a comprehensive and nationwide monitoring and control system for EDCs in environmental (including food) and human samples is the key to addressing baseline exposure, evaluating the effectiveness of chemical management, and addressing early-stage possible emergencies such as those caused by new pollution hotspots.
Promotion of organic farming in India (National Mission for Sustainable Agriculture) has been started which is the right step in the direction of reducing EDCs load from harmful farming practices.
In addition to the farming processes, food-contact materials (packing) also contribute to EDC content in the food. It would be crucial in that regard to regularly check food products for EDCs and other harmful substances, and to make these results available to consumers.
NGOs, in addition to research and legislative institutions, play a significant role in several areas in the development and promotion of health-preserving consuming habits and the reduction of health risks from exposure to Endocrine-Disrupting Chemicals.
In particular, it is anticipated that NGOs would play a significant role in raising awareness of the issue of EDCs among the general public, particularly among those residing in disadvantaged megacities and rural and semi-urban areas.
Also, India can take advantage of developed countries' experience in managing Endocrine-Disrupting Chemicals and set an example for developing countries.
Way forward
Many organizations like the OECD, WHO and European Commission have regulations in place for the control of endocrine-disrupting chemicals.
In the late 1990s, OECD countries decided to take action to develop tools to identify endocrine-disrupting chemicals. Based on scientific works and research efforts, OECD started to investigate test methods that could be standardized and used in chemical regulations to detect and characterize hazards posed by endocrine-disrupting chemicals.
WHO has identified the role of EDCs in children's environmental health and has put in place various resolutions in this regard.
Through the International Programme on Chemical Safety (IPCS), WHO works to establish the scientific basis for the sound management of chemicals, and to strengthen national capabilities and capacities for chemical safety.
The EU has introduced specific legislative obligations aimed at phasing out endocrine disruptors in water, industrial chemicals, plant protection products, and biocides.
In the EU, the regulation on Registration, Evaluation, Authorisation, and Restriction of Chemicals (REACH) and the General Food Law (focused on the risk posed by plant protection product residues, artificial food additives, and contaminants in food) are regulations that centralize risk analysis relevant also for EDCs and human health.
Endocrine-Disrupting Chemicals pollution in India and several other developing countries is a prime concern in managing EDCs and attaining the SDGs globally. Reducing EDC exposure and minimizing health consequences across the globe is paramount for achieving the Sustainable Development Goals (SDGs).
-Article written by Swathi Satish