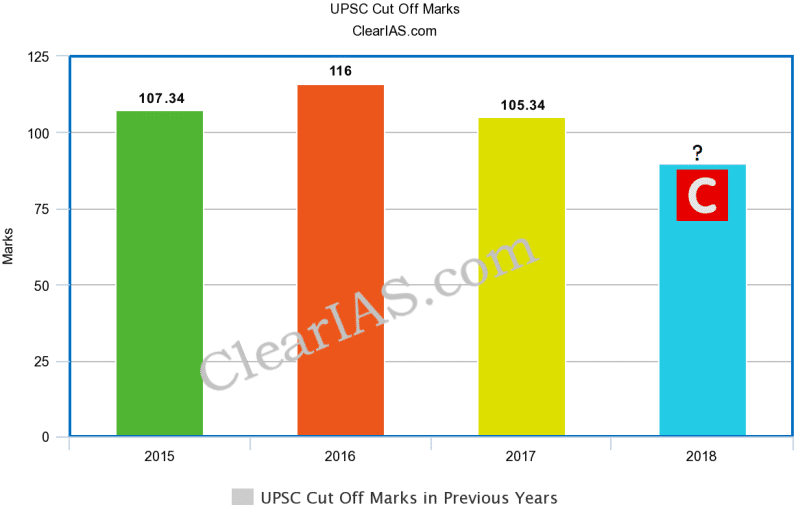 UPSC has conducted Civil Services Preliminary Exams 2018 GS Paper 1 from 9.30 AM – 11.30 AM on June 03, 2018. The overall feedback is that the exam was one of the toughest in the last 7 years. Do you want to know our view on the expected cut off marks of UPSC Prelims 2018?
If it is tough for you, it is tough for all!
The road is tough. But the driver is tougher.
There is nothing to be worried about exams being difficult. In-fact, those who prepared well, should be happy. This is because a tough exam considerably eliminates the scope of easy marks by guesswork.
Much more than that, if the exam is tough for you, it is tough for almost all others as well.
In a competitive exam, whether marks your score is high or low really don't matter.
Only the 'edge' above others matter.
We are sure that ClearIAS Mock exams, ClearIAS Current Affairs Capsules (Monthly MCQs), ClearIAS Probable Questions via Email (Daily Practice), and ClearIAS study materials, did give you that extra-edge!
100+ marks of UPSC Prelims 2018 questions could have been easily answered from ClearIAS Prelims Test Series 2018, and Study Materials. For details, you can refer to the question-by-question comparison PDF.
Expected Cut Off Marks of UPSC Prelims 2018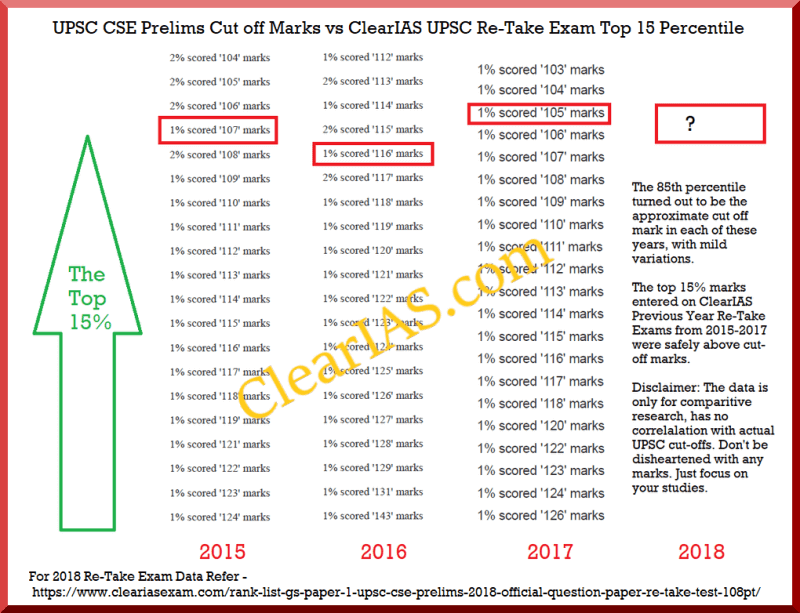 ClearIAS, like we did in previous years, has come up with a rank list which helps you to analyse the all-India trend of marks in UPSC Civil Services Prelims 2018. This rank-list and related performance reports will help many aspirants to have a realistic idea about the expected cut off marks of UPSC Prelims 2018.
This rank list gets updated every time a new user takes the test UPSC CSE Prelims 2018 Official Question Paper Re-take Test (108PT). Scroll down to find the name of the toppers and percentage of aspirants who scored a particular mark. Note: Please ignore the extra high marks if you notice at the top (somebody will always try to inflate their marks).
Update: After emailing the latest trends to all our email subscribers, we have deleted the records of the re-take exam before the launch of ClearIAS Prelims Test Series 2019. Check your email for more details.
The top 15 percentile candidates have a high chance of clearing prelims!
In 2015, 2016 and 2017, the cut-off percentile happened to be the mark of the candidates around the 85th percentile range. (despite the fact that UPSC will select only the top 3% candidates, this value has turned out as roughly around top 15-20% with respect to internet population)
However, this may not be the case in 2018 as the vacancies are so low (792), when compared to the 1000+ in the previous years.
We expect the cut-off score of UPSC Prelims 2018 to be significantly lower!
Our cut off estimations are based on ClearIAS rank-list of UPSC Prelims 2018 Re-Take, and it's comparison with previous year trends (2015, 2016, and 2017).
Though we leave the cut-off analysis to candidates themselves, we usually see the top 15 percentile candidates as having a high probability of clearing prelims. (if the number of entries is more than 2000)
Analyzing this year trend so far, we won't be surprised if the cut-off score for Prelims 2018 comes down to significantly. Note: The last year cut-off score was 105/200.
You need more entries to come up with a more accurate statistical analysis. The above data is based on ClearIAS answer key. Share with your friends the ClearIAS answer key and rank-list, and ask them to take the re-take test for detailed analysis.
Did you Check ClearIAS Answer Key of UPSC Prelims 2018?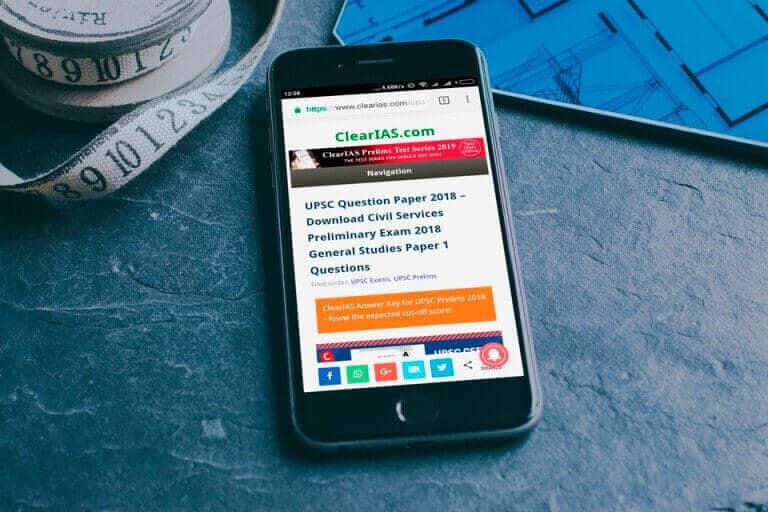 Here is the link of ClearIAS Answer Key of UPSC Prelims 2018. The same key can be used for all versions A, B, C, and D.
Those who are at the top…
Considering our sample size and internet population, we consider the top 15% candidates in ClearIAS mock test platform when the total entries touch 2000+ to have high chance to clear Prelims 2018. You may remain hopeful for a mains call and start working on GS Topics as well as Optional Subject.
Those who are at the bottom…
Those who are at the bottom of the graph may start preparing for UPSC CSE 2019. There is nothing to feel bad. Most of today's toppers were unsuccessful yesterday.
Feel proud of the effort you put so far. Add to what you have done so far.
Get that extra-edge. You will clear.
What matters in UPSC CSE exam is perseverance and hard work.
If you need to make your basics strong, we strongly recommend you to join ClearIAS Prelims Test Series 2019 to get an early advantage and learn concepts well.
If you are a veteran, then you may devote time to finishing specific areas in Mains like World History, Internal Security, Ethics, India Since Independence etc. Last but not least, whether beginner or veteran it's also the time to finish your optional subject.
Registrations are open for ClearIAS Prelims Online Mock Test Series 2019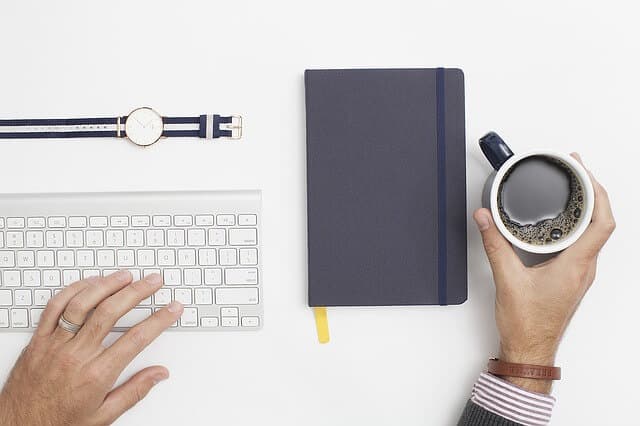 Early bird catches the worm.
Preparing for Prelims 2019?
Get the extra-edge with ClearIAS Prelims Online Mock Test Series 2019!
We have started ClearIAS Prelims Test Series 2019. You can enroll now, and take exams at any convenient time before Prelims 2019.
Our students who are already registered on ClearIAS Mock Exam platform in previous years can use the same username and password.