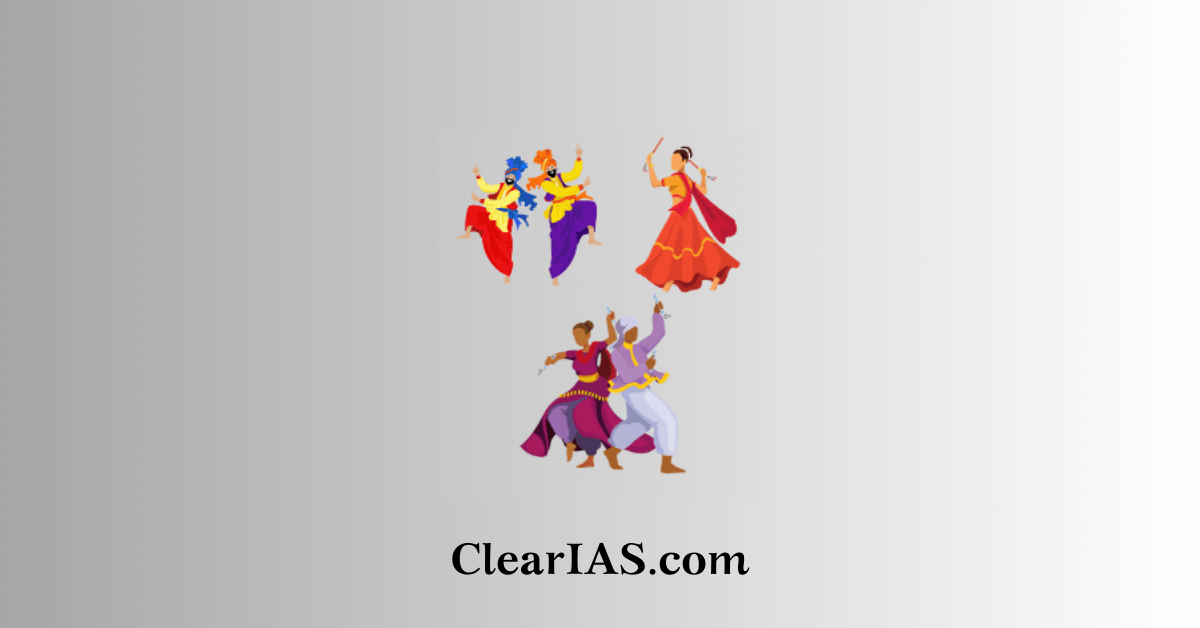 India is a culturally diverse country with a rich tradition of folk dances. These dances are an integral part of the country's cultural heritage and are often performed during festivals, celebrations, and social gatherings. Each state and region in India has its unique folk dances, showcasing the diversity of Indian culture. Read here to learn more.
Folk dances are traditional, cultural, and often celebratory forms of dance that have been passed down through generations within a specific community, region, or culture.
These dances are an integral part of a culture's heritage and are performed during various festivals, social gatherings, and significant events. Folk dances vary widely around the world, with each culture having its unique styles, music, and attire.
Indian traditional dances are vibrant and bursting with life. In certain performances, men and women dance together, whereas in others, they dance separately.
The majority of folk dance clothes are brightly colored, heavily embellished, and feature intricate motifs. Let's examine some Indian folk dances.
Folk dances of Northern India
Dumhal (Jammu and Kashmir): This age-old dance is still kept alive by the Rauf tribe of Jammu & Kashmir and is performed by men who wear long and colorful robes, accompanied by tall conical caps. The performers place a banner into the ground at a fixed location, and the dance is performed around this banner.
Hikat (Kashmir): Performed in groups, the dancers hold each other's hands and go around dancing in circles. The pace of their movement is adjusted according to the tempo of the music being played. Usually, it all begins slowly and the pace gradually picks up until the women gain full momentum.
Hurka Baul (Uttarakhand): It is performed during maize and paddy cultivation in the state, this dance form is more of a storytelling. While a singer incorporates heroic stories of battles in his song, the dancers enact the stories with the help of their moves.
Chapeli (Uttarakhand): Chapeli is a traditional dance of the Kumaoni region in Uttarakhand. It is a graceful, slow-paced dance performed by women during various cultural and social gatherings.
Nati (Himachal Pradesh): Nati is a lively folk dance of Himachal Pradesh. It involves group dancing and singing in a circular formation. Dancers wear traditional Himachali attire and often use wooden sticks for rhythmic movements.
Bhangra (Punjab): Bhangra is one of the most well-known folk dances of India, originating from the state of Punjab. It is a high-energy dance traditionally performed by men during the harvest season and other festive occasions. Bhangra features dynamic footwork, lively music, and distinctive costumes, including colorful turbans.
Giddha (Punjab): Giddha is a folk dance from Punjab, primarily performed by women. It is a graceful and expressive dance that involves singing, clapping, and storytelling through dance movements. Giddha often centers around themes of everyday life and love.
Dhamyal (Haryana): 'Dhamyal' or 'Dhuph' is one of the most popular folk dances of Haryana. 'Dhuph' is a circular drum and is played by male dancers. The dance is performed as a part of a celebration after a long day's work in the fields.
Raslila (Uttar Pradesh): Raslila is a traditional dance drama that originated in the Braj region of Uttar Pradesh. It depicts the divine love story of Lord Krishna and Radha. Manipur, in the northeastern region, also has its form of Raslila, which is a classical dance drama.
Mayur Nritya (Uttar Pradesh): This dance form is prevalent in the state of Uttar Pradesh. Also known as peacock dance, 'Mayur Nritya' is performed by dancers who wear specially designed clothes to resemble a peacock. It is performed while worshipping Lord Krishna.
Charkula (Uttar Pradesh): It is a dance performed in the Braj region of Uttar Pradesh. 'Charkula' is a multi-tiered circular pyramid and it's believed that Goddess Radha's grandmother announced the birth of her granddaughter while balancing a 'Charkula' on her head. Hence women dancers carry huge 'Charkulas' which hold many lighted oil lamps.
Eastern India
Chhau (Jharkhand, West Bengal, and Odisha): Chhau is a tribal martial dance form that can be found in several states of Northern India, including Jharkhand, West Bengal, and Odisha. Dancers often wear elaborate masks and perform acrobatic movements to depict stories from Hindu epics and tribal traditions.
Brita Dance (West Bengal): 'Brita' or 'Vrita' dance is usually performed to thank the local deity after recovering from a contagious disease – usually smallpox.
Dalkhai (Odisha): The dance is performed by young women who are later joined by men, playing drums and other instruments. Interestingly, the men address the women as their girlfriends throughout the play.
Gotipua (Odisha): 'Gotipua' is a unique dance form since the performers are dressed as women. The dance form is taken seriously by the boys so much so that they don't cut their hair just to look like women.
North-Eastern India
Bardo Chham (Arunachal Pradesh): It is performed by Sherdukpens, a small community living in the West Kameng District of Arunachal Pradesh. The Sherdukpen tribe believes that every month an evil force appears to mar the good qualities of humans. Thus, to ward off those evil forces, they wear masks representing different animals and dance together.
Ponung (Arunachal Pradesh): It is performed before the harvest of staple crops; it has women dancers. They often hold each other's hands and dance in formations. These dancers are led by a man who sings various songs and uses a sword-like musical instrument known as 'Yoksha.' This is the only instrument used in the entire act. The participants wear traditional dresses, which comprise a long black-colored shirt and red-colored skirt-like garment.
Bihu (Assam): Bihu forms the most important part of the Bihu festival celebration. The dance is performed by young men and women, accompanied by the playing of pipes & drums. Lyrics used in the songs, which support the dance performance, play a vital role as they propagate love. Dancers are usually seen forming circles or rows before commencing the dance.
Bagurumba (Assam): The Bodo tribe of Assam practices this dance form. Usually performed by women, the dance is accompanied by instruments like drums and flutes. Since Bagurumba is believed to have been inspired by nature, it can be further classified into different dance forms – each inspired by elements of nature like animals, plants, birds, insects, water, and air.
Nongkram (Meghalaya): The Nongkram dance is performed during May and November by the inhabitants of the Khasi hills. Performed by boys and girls of the region, this particular dance form requires tremendous skills and energy. The dance is a form of paying respects to the deity worshipped by the tribe.
Hojagiri (Tripura): The dance is performed during festivals, such as 'Laxmi Puja', 'Durga Puja', and the third day of 'Dusshera'. While women dance gracefully by balancing bottles or earthen lamps on their heads, men take care of the musical part. Hojagiri is one of the most important dance forms of Tripura.
Dhol Cholom (Manipur): One of the instruments that dominate Manipuri dances is the drum. Dhol Cholom, a drum dance is one of the dances performed during the Holi festival in Manipur. The dance is performed by men who display acrobatic moves while playing the dhol. The dance usually begins with a slow tempo and gradually gathers pace.
Cheraw (Mizoram): The dance is a set of skillfully formulated moves that involve the movement of bamboo staves. While the men move horizontally and vertically held bamboo staves, women dance in between them, and the challenge is not to get caught between the staves. The movement of the staves makes a unique beat and it helps the dancers to move accordingly.
Chang lo (Nagaland): The Chang Lo dance is traditionally performed to celebrate victory over an enemy. Since it is a war dance, dancers don costumes worn by warriors and display war tactics. The costumes are often dramatic, which adds color to the entire act. Women on the other hand drool over their heroes and the same is performed in the dance.
Maruni (Sikkim): Maruni is the main attraction of Sikkim weddings. The performers are accompanied by a joker called 'Dhatu Waray' who makes fun of others. Nine different musical instruments, collectively called 'Naumati Baja,' are used in the performance. Though the dance traces its origin to Nepal, it forms an important part of the culture of Sikkim as well.
Folk Dances of Southern India
Yakshagana (Karnataka): Yakshagana is a traditional folk theater form from Karnataka that combines dance, music, and storytelling. The performers, often in elaborate costumes and makeup, enact stories from the Mahabharata, Ramayana, and other epic narratives.
Dollu Kunitha (Karnataka): Dollu Kunitha is a lively drum dance from Karnataka. It features dynamic and rhythmic drumming, along with energetic movements and leaps. This dance is often performed during cultural celebrations and rituals.
Karagattam (Tamil Nadu): Karagattam is a traditional folk dance from Tamil Nadu that involves balancing a pot (karagam) on the head while performing various intricate steps and movements. It is often performed during festive occasions.
Kolannalu (Andhra Pradesh): Popularly known as the 'stick dance', 'Kolannalu' involves a group of dancers forming two circles. While the inner circle receives a strike on their sticks, the dancers forming the outer circle deliver the strike.
Kolattam (Tamil Nadu and Andhra Pradesh): Kolattam is a group dance in which dancers form patterns and move rhythmically, often accompanied by sticks. It is a celebratory dance performed during harvest festivals and other special events.
Perini Shivatandavam (Telangana): Perini Shivatandavam is a traditional dance from the Telangana region. It is characterized by vigorous and acrobatic movements, with male dancers depicting Lord Shiva's Tandava dance.
Oyilattam (Tamil Nadu): Oyilattam is a traditional folk dance in Tamil Nadu that features intricate patterns created by dancers who carry small sticks. The dance is often performed during temple festivals and celebrations.
Parai Attam (Tamil Nadu): Men folk play a percussion instrument called 'Parai' and dance to the rhythm they come up with. Traditionally, the dance was performed for various reasons and is one of the oldest dance forms in India.
Karagattam (Tamil Nadu): Karagattam is performed while worshipping the goddess of rain. Dancers balance huge pots on their heads and dance to the tunes of musicians.
Mayil Attam (Tamil Nadu and Kerala): This dance is similar to the 'Mayur Nritya' of Uttar Pradesh. Young girls are dressed to look like peacocks and perform to the beats of the musicians. The dancers often imitate the moves of a peacock.
Kummi(Tamil Nadu and Kerala): Since this dance form originated when there were no musical instruments, it just involves women singing and clapping.
Padayani (Kerala): Padayani is not only popular but is also pleasing to the eyes as colors form an important aspect of the dance. The dancers wear massive masks which often represent deities.
Oppana (Kerala): Oppana belongs to the Mappila community of Kerala and is performed by young girls at weddings. The bride sits in the middle and the dancing happens around her. Girls dance and clap rhythmically and are duly supported by a host of musicians. Pump organs, Tabla, Ganjira, and cymbals are used to create music.
Theyyam (Kerala): Theyyam/Kaliayattam/Tira is performed in the temples and sacred groves of the northern region (Malabar). It is an ode to different regional deities and major gods. It is performed by men belonging to specific communities. Theyyams are believed to be a channel to the god.
Thiruvathira (Kerala): It is a popular group dance performed during the harvest festival of Kerala, Onam. This dance is performed by women folk, moving in a circular movement, rhythmically at the Thiruvathira songs' tune.
Thidambu Nritham (Kerala): Thidambu dance is a ritual temple art form performed in the temples of North Malabar and Kasaragod District. Thidambu denotes the decorated replica of the deity in a temple that is usually taken outside for purposes like festivals and poojas. The dancing involves hopping on one leg which makes it that much more difficult.
Western India
Lavani (Maharashtra): While Lavani primarily belongs to the state of Maharashtra in Western India, it is also popular in parts of Northern India, such as Vidarbha. Lavani is a dynamic and sensual dance form accompanied by traditional Maharashtrian music.
Koli (Maharashtra): Since the dance is performed by fishermen, it involves elements of fishing and sea. Both men and women are involved in this interesting dance form which is a treat to watch.
Garba (Gujarat): Garba is a lively folk dance form that originated in Gujarat but is popular in many parts of Northern India during the Navratri festival. It involves dancing in a circular formation to traditional music, and participants often wear colorful attire.
Dandiya Raas (Gujarat): Dandiya Raas is a partner dance that is performed alongside Garba during the Navratri festival in Gujarat and other parts of Northern India. Dancers use colorful sticks (dandiyas) and engage in intricate patterns and footwork.
Ghodemodni (Goa): Ghodemodni is also called a 'warrior dance ' as the performers are dressed as warriors and wield swords. The dance portrays a war since a king once captured the village in which the dance form originated.
Folk Dances of Central India
Gaur Maria Dance (Madhya Pradesh): The Gaur Maria dance is performed by the Maria tribal community of Madhya Pradesh. It is a vibrant and energetic dance that features men and women dancing in pairs. The dance portrays the everyday life and activities of the community, often with themes of hunting and farming.
Phulpati Dance (Chhattisgarh): The Phulpati dance is a traditional folk dance of Chhattisgarh, mainly performed by women. It involves balancing a pot filled with flowers on the head and dancing gracefully. The dance is often performed during festivals and special occasions.
Karma Dance (Jharkhand and Chhattisgarh): The Karma dance is a significant tribal dance in both Jharkhand and Chhattisgarh. It is performed to worship the deity of fertility, "Karma Devta." The dance is characterized by the rhythmic movements of the performers, who dance in circles to the beats of traditional instruments.
Rai Dance (Chhattisgarh): The Rai dance is a traditional folk dance of the Kamar tribe in Chhattisgarh. It is typically performed during agricultural festivals and weddings. The dance involves graceful movements and storytelling through expressions.
Matki Dance (Madhya Pradesh): Matki Dance is a popular folk dance in the Malwa region of Madhya Pradesh. It is performed during the Holi festival. Dancers balance small earthen pots (matkis) on their heads and dance to the rhythm of traditional music.
Pandwani (Chhattisgarh): While not a dance, Pandwani is a traditional folk art form from Chhattisgarh. It involves storytelling through song and music. The narratives often revolve around the epic stories of the Mahabharata, with the singer-poet narrating the tales.
Gendi (Chhattisgarh): The Gendi dance is a playful folk dance performed by women in Chhattisgarh. It involves balancing a clay pot or "gendi" on the head while dancing. The dance is often associated with festivities and celebrations.
Saila Dance (Chhattisgarh): The Saila dance is performed by the Gond tribal community of Chhattisgarh. It is a traditional dance that reflects their cultural identity. The dance is marked by the use of traditional instruments and colorful attire.
Panthi Dance (Chhattisgarh): The Panthi dance is an important folk dance in Chhattisgarh. It is performed during religious and cultural events and depicts the religious fervor and devotion of the performers. The dance often includes singing and storytelling.
Conclusion
These are just a few examples of the rich diversity of folk dances found across the globe. Folk dances play a vital role in preserving cultural traditions, telling stories, and bringing communities together in celebration.
These folk dances of India are not only a form of entertainment but also a way to preserve and pass on the cultural heritage and traditions of the diverse communities in the region. They offer a glimpse into the history, rituals, and everyday life of the people of India.
Related articles:
-Article by Swathi Satish