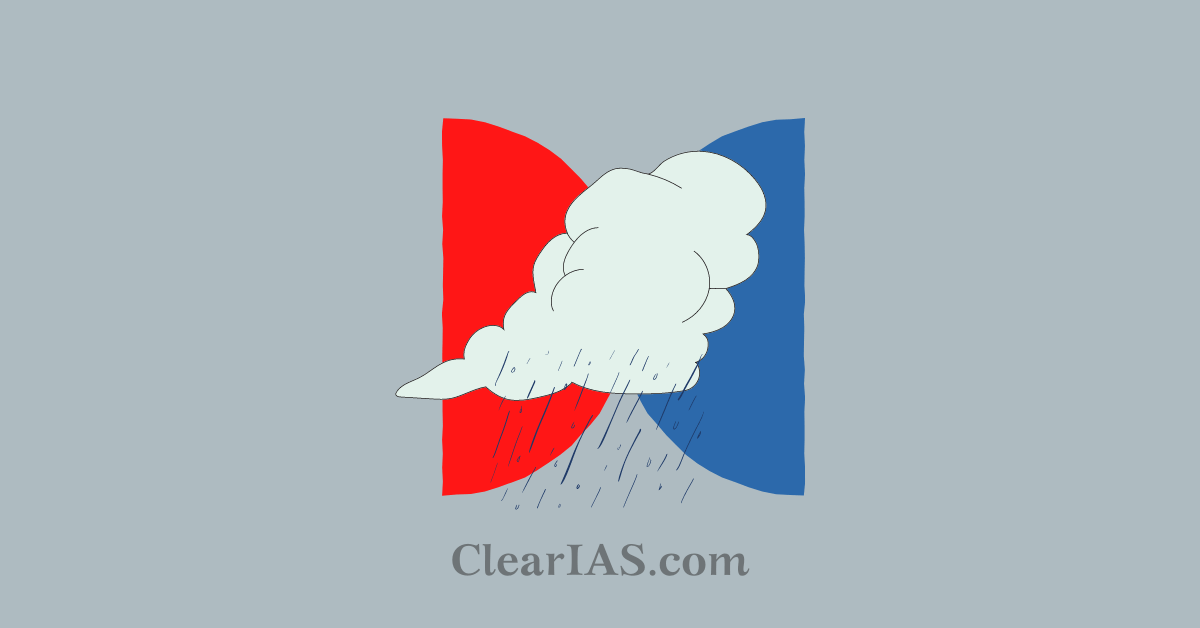 What are Fronts and their types? How are they formed? What is their significance concerning global climate? Know more here.
What is a front?
It is an inclined zone along which two opposing air masses having contrasting characteristics in terms of air temperature humidity density pressure converged together.
An extensive transitional zone between two converging air masses is called a frontal zone. The frontal zone is inclined at a low angle to the Earth's surface.
They are characterized through common characteristics such as large differences in air temperature across the convergence zone and bending isobars.
It is also a zone of intensification of low pressure, cooling of rising hot and humid air, condensation, cloud formation, and precipitation
The process associated with the creation of a new front is called frontogenesis. The process of destruction or dying or dissolution of the front is called frontolysis.
In the northern hemisphere, frontogenesis happens in an anti-clockwise direction, and the southern hemisphere in the clockwise direction due to the Coriolis effect.
Mid-latitude cyclones or temperate cyclones or extra-tropical cyclones also occur due to frontogenesis.
Necessary conditions for frontogenesis
The presence of two opposing air masses having contrasting properties of air temperature, air pressure, density, and humidity is important.
Two opposing air masses must have contrasting temperatures that are one air mass should be called dry and heavier while the other should be hot humid and light.
In such conditions, the cold and denser air mass being heavier invades the area of the warm and light Air mass.
The two masses must move in a face-to-face direction or converge.
When air masses diverge they move in opposite directions and frontogenesis does not form.
Types of Fronts
Based on the nature of convergence, relative acceleration of air masses, and stages of front formation, four types are identified-
Stationary
Warm
Cold
Occluded
Stationary front:
In this type two air masses having contrasting physical properties rest against each other without showing any major movement.
Weather generally remains stable but sometimes it might rain.
Atmospheric conditions are stable within the front however atmospheric conditions can suddenly change across the stationary front also.
Cyclones migrating along stationary frontogenesis can dump heavy amounts of precipitation, resulting in significant flooding along the front.
Warm front:
When a warm air mass collides against the cold air mass, it rises above the cold air mass which is relatively heavier and denser.
The warm front is a gently sloping frontal surface along which warm and light air becomes active and aggressive and rises slowly over cold and dense air. Due to this condensation takes place gradually.
It leads to nimbostratus, altostratus and cirrostratus cloud formation. These clouds produce moderate to gentle precipitation over a relatively large area for several hours.
Cold front:
This is formed when cold air mass takes initiates the movement and hits the warm air and makes it rise.  Here, condensation takes place rapidly.
It is a sloping frontal surface along which cold air becomes active and aggressive and in the warm air territory.
Severe storms can occur and during the summer months, thunderstorms are common in the warm sector.
In some regions like USA, tornadoes occur in the warm sectors.
Cumulonimbus clouds are formed and heavy rainfall with lightning and thundering takes place.
Sometimes cold frontal precipitation is also associated with snowfall and hail storms.
Occluded front:
When warm air mass is completely raised over the cold air mass it is called an occluded front.
Weather along this sector is complex—a mixture of cold front type and warm front type weather. These are common in western Europe.
The formation of Mid-latitude cyclones (temperate cyclones or extra-tropical cyclones) involves the formation of an occluded front.

Climatic Significance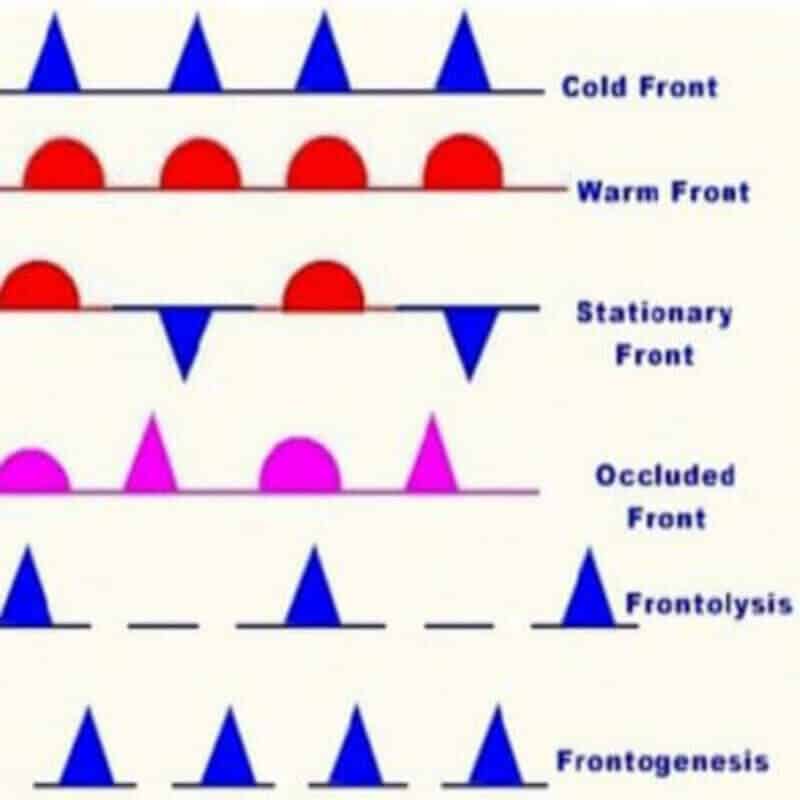 When a front passes over an area, it causes a change in the weather. The phenomenon causes weather events such as rain, thunderstorms, gusty winds, and tornadoes. On a cold front, there may be dramatic thunderstorms. At a warm front, there may be low stratus clouds. Usually, the skies clear once the front has passed.
Instead of causing clouds and storms, some frontogenesis just causes a temperature change but some front formations can start Earth's largest storms. Tropical waves are a front that develops in the tropical Atlantic Ocean off the coast of Africa. These can also develop into tropical storms or hurricanes if conditions allow.
They move across the Earth's surface over multiple days and the direction of movement is often guided by high winds, such as Jet Streams.  Landforms like mountains can also change the path of convergence.
On weather maps, the cold front is illustrated by blue lines with sharp "teeth" pointing in the direction of the wind. A warm front is illustrated by red lines with rounded bumps pointing in the direction of the wind.