Events in Earth's history are "calendared" according to the geologic time scale. Eons, eras, periods, epochs, and ages are a few of the named units of abstract time that it divides all of the time into. Read here to learn in detail about the geologic time scale.
Earth's history has been classified into many periods by geologists. The length of these periods is not uniform like the hours in a day.
The modern geologic time scale was formulated in 1911 by Arthur Holmes. But ancient Greek philosophers like Xenophanes and Aristotle had put forth observations about rock beds, fossils, and changes in the positions of lands and seas.
The geologic time scale is a way of representing deep time based on events that have occurred throughout Earth's history, a period of about 4.54 billion years.
The most widely used standard chart showing the relationships between the various intervals of geologic time is the International Chronostratigraphic Chart, which is maintained by the International Commission on Stratigraphy (ICS).
Geologic time scale
A representation of time-based on Earth's rock record is called the geologic time scale.
It is a method of chronological dating that makes use of geochronology and chronostratigraphy, which relate strata to time (a scientific branch of geology that aims to determine the age of rocks).
It is largely used to explain the timing and linkages of events in the history of the Earth by Earth scientists, such as geologists, paleontologists, geophysicists, and geochemists.
The study of rock layers, observation of their correlations, and identification of elements like lithologies, paleomagnetic characteristics, and fossils have all contributed to the development of the time scale.
Formal geologic time begins at the start of the Archean Eon (4.0 billion to 2.5 billion years ago) and continues to the present day.
Modern geologic time scales additionally often include the Hadean Eon, which is an informal interval that extends from about 4.6 billion years ago (corresponding to Earth's initial formation) to 4.0 billion years ago.
Because they have undergone evolutionary changes over geologic time, living things have played crucial roles in the creation of geologic time scales.
Additionally, specific regions of the geologic record are characterized by specific types of life.
The geologic history of distinct regions and Earth as a whole can be reconstructed by comparing the strata in which particular types of fossils are discovered.
By using absolute dates derived using radiometric dating techniques, the relative geologic time scale that emerged from the fossil record has been numerically measured.
Division of geologic time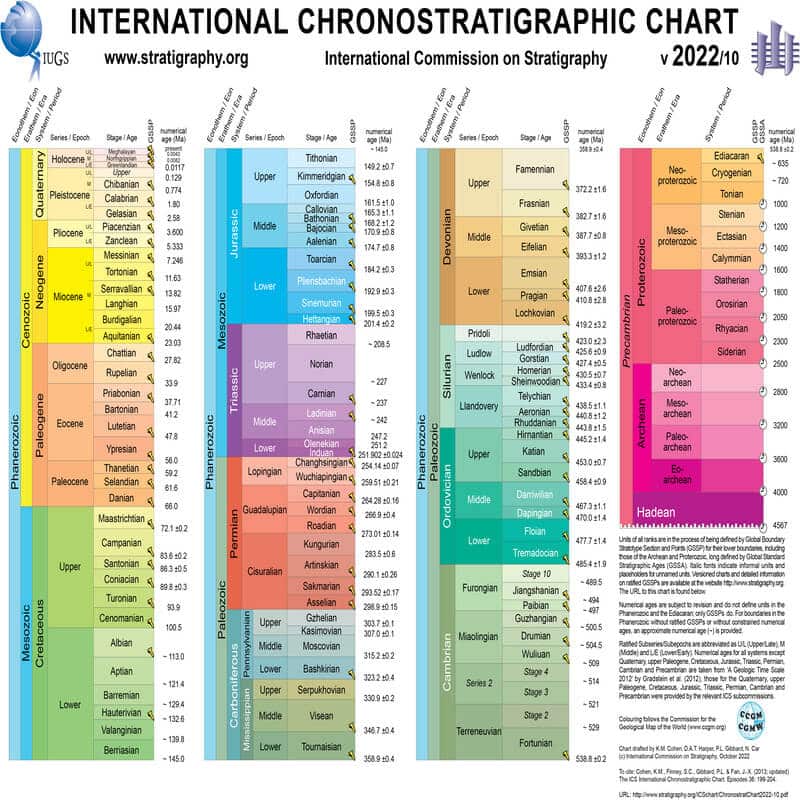 The geologic time scale is divided into several magnitudes of units of time. The names of geologic time units are defined for chronostratigraphic units with the corresponding geochronologic unit.
Eons
Eons are the largest intervals of geologic time and are hundreds of millions of years in duration.
The Precambrian is an informal unit of geologic time, subdivided into three eons (Hadean, Archean, Proterozoic) of the geologic time scale.
The Phanerozoic Eon is the most recent eon and began more than 500 million years ago.
Phanerozoic- 538.8 to 0 million years ago
Proterozoic- 2,500 to 538.8 million years ago
Archean- 4,000 to 2,500 million years ago
Hadean- 4,567.3 to 4,000 million years ago
Eras
Eons are divided into smaller time intervals known as eras. The Phanerozoic is divided into three eras: Cenozoic, Mesozoic, and Paleozoic.
Very significant events in Earth's history are used to determine the boundaries of the eras.
Cenozoic- 66 to 0 million years ago (Recent)
Mesozoic- 251.9 to 66 million years ago (Middle)
Palaeozoic- 538.8 to 251.9 million years ago (Ancient)
Neoproterozoic- 1,000 to 538.8 million years ago
Mesoproterozoic- 1,600 to 1,000 million years ago
Paleoproterozoic- 2,500 to 1,600 million years ago
Neoarchean- 2,800 to 2,500 million years ago
Mesoarchean- 3,200 to 2,800 million years ago
Paleoarchean- 3,600 to 3,200 million years ago
Eoarchean- 4,000 to 3,600 million years ago
Periods
Eras are subdivided into periods. The events that bound the periods are widespread in their extent but are not as significant as those which bound the eras.
The Paleozoic is subdivided into the Permian, Pennsylvanian, Mississippian, Devonian, Silurian, Ordovician, and Cambrian periods.
Quaternary- 2.6 to 0 million years ago (Cenozoic)
Neogene- 23 to 2.6 million years ago (Cenozoic)
Paleogene- 66 to 23 million years ago (Cenozoic)
Cretaceous- 145 to 66 million years ago (Mesozoic)
Jurassic- 201.4 to 145 million years ago (Mesozoic)
Triassic- 251.9 to 201.4 million years ago (Mesozoic)
Permian- 298.9 to 251.9 million years ago (Palaeozoic)
Carboniferous- 358.9 to 298.9 million years ago (Palaeozoic)
Devonian- 419.2 to 358.9 million years ago (Palaeozoic)
Silurian- 443.8 to 419.2 million years ago (Palaeozoic)
Ordovician- 485.4 to 443.8 million years ago (Palaeozoic)
Cambrian- 538.8 to 485.4 million years ago (Palaeozoic)
Ediacaran- 635 to 538.8 million years ago
Cryogenian- 720 to 635 million years ago
Stenian- 1,200 to 1,000 million years ago
Ectasian- 1,400 to 1,200 million years ago
Calymmian- 1,600 to 1,400 million years ago
Statherian- 1,800 to 1,600 million years ago
Orosirian- 2,050 to 1,800 million years ago
Rhyacian- 2,300 to 2,050 million years ago
Siderian- 2,500 to 2,300 million years ago
The Cenozoic era also has a tertiary period considered by some which have five epochs- Paleocene, Eocene, Oligocene, Miocene, and Pliocene. It was during this era that the vegetation increased and the ape-man appeared.
Epochs and Age
Subdivision of periods into epochs can be done only for the most recent portion of the geologic time scale.
This is because older rocks have been buried deeply, intensely deformed, and severely modified by long-term earth processes.
As a result, the history contained within these rocks cannot be as clearly interpreted.
An age is the smallest hierarchical geologic unit.
The International Commission on Stratigraphy named the most recent geologic age, often known as the topmost stage of the Quaternary, the Meghalayan age in 2018.
Additionally, the Holocene era or series is divided into three higher, or most recent, subdivisions.
The Meghalayan age starts 4,200 years ago (about 2251 BCE), allowing for the potential emergence of the Anthropocene. Meghalayan history began between 2190 and 1990 BCE.
A 200-year drought that affected the Eastern Mediterranean, Mesopotamia, the Indus Valley, and the Yangtze River Valley marked the start of the period.
How are geologic time scale divisions decided?
A variety of event categories are used to determine the division dates of the numerous eons, eras, periods, epochs, and ages. These occasion categories comprise, but are not restricted to:
The first occurrence of a species: All biological forms are included in this (plants, animals, bacteria, etc). The "first of first" species are of particular interest (e.g., the first oxygen-breathing organism, the first seed-producing plant, and so on).
Key species going extinct or catastrophic extinctions: A huge number of species going extinct in a short period of geologic time is known as a mass extinction. The Cretaceous-Paleogene extinction event, when most dinosaur species became extinct, is a well-known illustration of mass extinction.
Major worldwide climate shifts: when the climate significantly diverges from the average for the time, as during ice ages.
Supercontinental formation and/or breakup: When all significant landmasses on the surface of the Earth combine to form one landmass, supercontinents are created.
Catastrophic events: Major catastrophes can result in or set off other occurrences like extinctions and climate change. Major floods, meteorite impacts, and volcanic eruptions are examples of catastrophic catastrophes.
Global magnetic polarity shifts: The planet's magnetic polarity "flips" on an irregular basis, with the North pole switching places with the South pole.
Various significant events throughout history have been considered to divide the geologic time scale.
For instance, a significant portion of Earth's plant and animal species disappeared during a global extinction that occurred during the transition between the Permian and Triassic periods.
Another illustration is the transition from the Precambrian to the Paleozoic, which is shown by the emergence of the first animals with hard parts.
-Article written by Swathi Satish