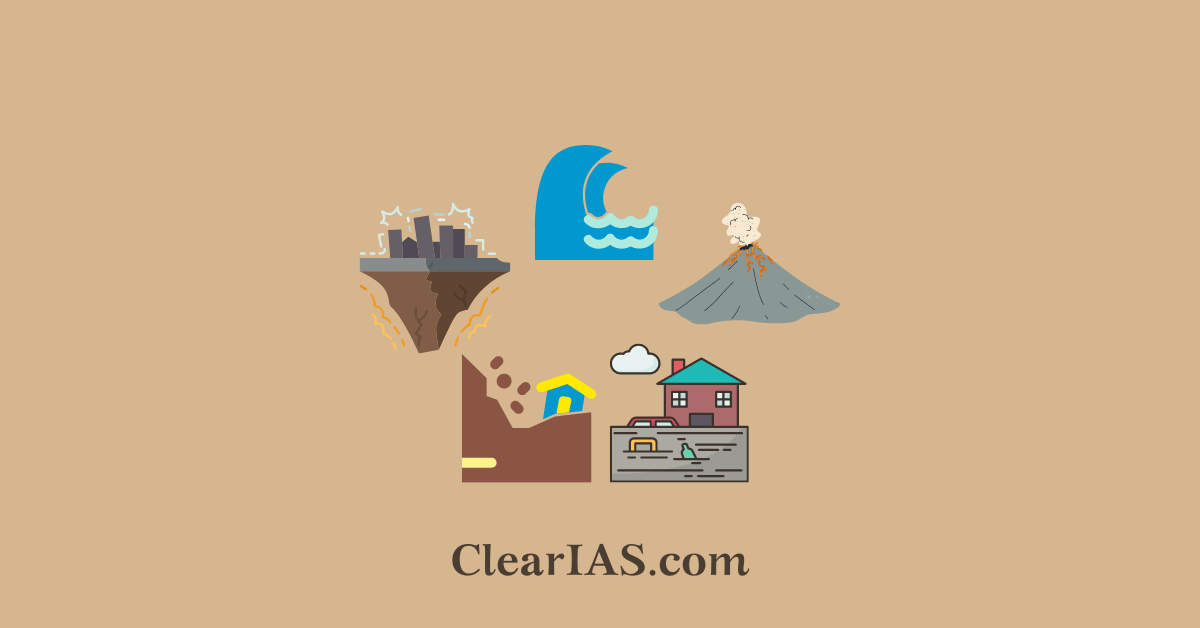 Geohazards and their management are essential for global well-being and development, especially in changing climates. Geological hazards cause economic setbacks and impact citizens' security and access to critical infrastructure such as hospitals, schools, or shelters. Read here to know more about the geohazards, risks, and mitigation strategies.
Geological hazards are quickly becoming the biggest threat to life and infrastructures today as industries advance, communities expand, and the rate of global warming quickens.
Geohazards can occasionally be caused by the thoughtless placement of projects or construction where environmental factors weren't taken into account.
In a better understanding of geohazards, their prerequisites, causes, and repercussions, mitigation, and prevention of human activities like drilling through over-pressured zones, which could result in severe danger, are of utmost importance.
Also read: Geologic Time Scale
Geohazards
A geologic hazard, sometimes known as a geohazard, is an unfavorable geologic state that has the potential to cause significant harm to property or human life.
Long-term or short-term geological processes are involved in these dangers, which are caused by geological and environmental factors.
Geohazards can have very modest features, but they can also grow to enormous sizes (such as subsurface or surface landslides) and have a significant impact on local and regional socio-economics (e.g., tsunamis).
Geohazards can be a slow or sudden phenomenon. The slow or gradually developing geohazards include:
alluvial fans (e.g., at the exit of canyons or side valleys)
caldera development (volcanoes)
geyser deposits
ground settlement due to consolidation of compressible soils or due to collapsible soils (see also compaction)
ground subsidence, sags, and sinkholes
dune migration
shoreline and stream erosion
The sudden or quickly developing ones include:
avalanches (snow or rock) and its runout
earthquakes and earthquake-triggered phenomena such as tsunamis
forest fires leading to deforestation
gulls associated with cambering of valley sides
ice jams on rivers or glacial lake outburst floods below a glacier
landslide (displacement of earth materials on a slope or hillside)
mudflows (avalanche-like muddy flow of soft/wet soil and sediment materials, narrow landslides)
pyroclastic flows
rockfalls, rock slides, (rock avalanches), and debris flows
torrents (flash floods, rapid floods, or heavy current creeks with irregular courses)
liquefaction (settlement of the ground in areas underlain by loose saturated sand/silt during an earthquake event)
volcanic eruptions, lahars, and ash fall.
Also read: Geomorphic Processes and Earth Movements
Geohazard management in India
India is home to more than 17% of the world's population despite having only 2% of the planet's total land area.
The country experiences a variety of geohazards, including earthquakes, landslides, tsunamis, glacial lake outburst floods, landslide-dammed lake outburst floods, etc., that negatively impact life, the economy, and the environment.
Various calamities, which also result in the deaths of thousands of people, cost the economy on average 2% of its gross domestic product and 12% of its income each year.
59% of the earth's surface is impacted by earthquakes, and seismic intensities of VII, VIII, and IX are possible in seismic zones III, IV, and V, respectively.
In addition to being very susceptible to earthquakes, the Himalayan belt in the country's north is also dynamically active, climatically sensitive, and vulnerable to landslides and flash floods.
The frequencies and effects of these geohazards are growing as a result of changing climatic conditions, expanding population, and dangerous development and urbanization practices.
The national disaster management authority in India has made efforts to evaluate the types and severity of these disasters that have previously affected the nation and identified potential risks to various vulnerable elements based on inputs from various sectors and disciplines.
Professional geologists and engineers have made significant contributions to improving our understanding of geohazards and developing practical solutions for more secure, sustainable development.
In 2021 the Ministry of Road Transport and Highways entered into an MoU with the Defence Research and Development Organisation (DRDO) to strengthen cooperation in sustainable geohazard management.
The Ministry and DRDO had agreed to work together in areas that would be beneficial to both parties, such as conceptual planning of integrated avalanche/landslide protection schemes or all-weather connectivity in our country's snowy regions, including the preliminary feasibility of tunnels and viaducts.
Additionally, they agreed to work together on the planning and construction of various avalanche and landslide control structures, as well as on the creation of tunnel proposals and project reports.
This effort was designed to protect users of the nation's national highways from the damaging impacts of landslides and other natural disasters.
With an emphasis on terrains and avalanches, the Defence Geo Informatics Research Establishment (DGRE), a DRDO laboratory, is the pioneer in the creation of vital technologies for boosting combat effectiveness.
Map-making, forecasting, monitoring, controlling, and mitigating landslides and avalanches in the Himalayan terrain are all part of its responsibilities and mandate.
Both organizations had agreed to employ DRDO's knowledge through DGRE to provide long-term solutions to damage brought on by landslides, avalanches, and other natural disasters on different national highways across the nation.
The integration of disaster risk reduction and development has been a focus of national-level policy, guidelines, plans, programs, initiatives, and procedures as well as regulatory measures focused on technical, administrative, financial, legal, and sociocultural issues.
Geohazard risk reduction- UNESCO
UNESCO's work on Geohazard Risk Reduction operates by the four Priorities for Action of the Sendai Framework for Disaster Risk Reduction 2015-2030:
Understanding disaster risk
Strengthening disaster risk governance to manage disaster risk
Investing in disaster risk reduction for resilience
Enhancing disaster preparedness for effective response and Build Back Better in recovery, rehabilitation, and reconstruction.
Geological hazard mitigation
Geotechnical engineers work to avoid or lessen issues brought on by geohazards. Geological Hazards Mitigation is the application of geological engineering principles to minimize or prevent the effects of naturally occurring geologic hazards.
A risk assessment and analysis of natural and artificial systems in urban and coastal zones are necessary to successfully defend geotechnical engineering projects that are likely to be endangered by geohazards.
Geotechnical engineers may precisely ascertain the material characteristics of geomaterials including soils, rocks, minerals, and concrete through site investigations and afterward evaluate the potential risk they offer to people, property, and the environment.
Risk reduction technologies that are based on the detection, analysis, and assessment of possible geohazards must be developed because geohazards cannot be discovered until they occur.
Therefore, improving safety risk assessment and management approaches as well as creating tools and processes to quantify the uncertainties of geomaterials is of utmost importance.
Way forward
Geohazards are increasing across the globe due to climate change and increase the risk of long-term disruption to transport systems. A reliable and efficient transport system/network is a major catalyst for the development of a country and the backbone of its functioning.
Disruption of the transport system will cause economic setbacks and impact citizens' security and access to critical infrastructure such as hospitals, schools, or shelters.
Therefore, a geohazard risk management perspective that incorporates people, the environment, hydrology, geology, and transportation infrastructure needs to be adopted for a robust and resilient transport network.
The traditional approach to maintaining a transport network is reactive and remediates geohazard events as they occur. A proactive approach that evaluates hazards, monitors the network and manages the infrastructure can result in 60-80% life-cycle cost savings.
-Article written by Swathi Satish