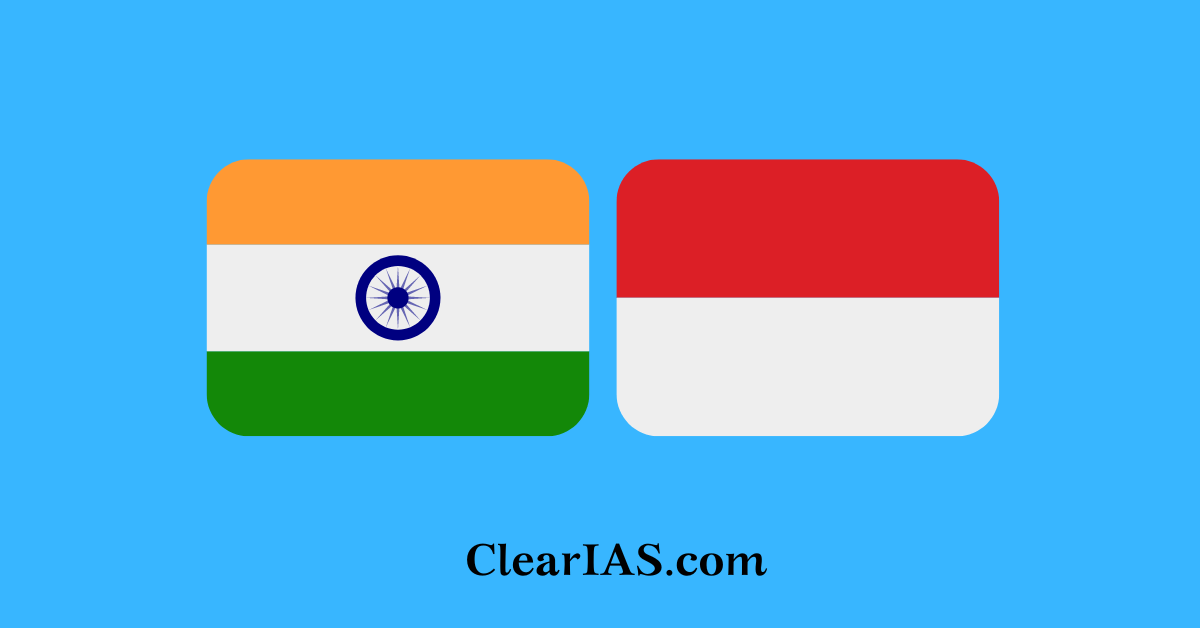 India – Indonesia has traditionally been close and friendly. What are the recent developments in the India-Indonesia relationship? Read here to know more.
India has had a long-standing relationship with Indonesia for almost two millennia marked by cultural exchange and ancient maritime links.
Learn bilateral relations of India with neighbouring countries (Click here).
Facts about Indonesia
Some of the interesting facts about Indonesia are listed below.
It is the World's largest Island country with more than 17,000 islands.
It has the 4th largest population in the world.
Indonesia is a transcontinental country located between the Indian Ocean and the Pacific Ocean.
It is the country having the highest Muslim population, India is ranked in 2nd position for the same.
The world's most populous island in the world is Java, which is in Indonesia.
Indonesia was one of the founding members of the Non-Aligned Movement along with India.
In September 2019, Indonesia announced that the country's capital would be relocated to East Kalimantan province on Borneo island from Jakarta.
India – Indonesia
External Affairs Minister of India Dr S Jaishankar and Indonesia's foreign minister Retno Marsudi discussed issues including the Aceh and Andaman Nicobar Island connectivity recently.
Economic and Commercial Relations
Indonesia has risen to become India's second-largest trading partner in the ASEAN region. India-Indonesia bilateral trade has increased from 6.9 billion USD in 2007-08 to 19.03 billion USD in 2014-15. India is Indonesia's largest buyer of crude palm oil, as well as a major importer of coal, minerals, rubber, pulp and paper, and hydrocarbon reserves.
Indonesia receives Indian exports of refined petroleum products, maize, commercial vehicles, telecommunications equipment, oil seeds, animal feed, cotton, steel products, and plastics. India also exports pharmaceuticals and formulations in bulk to Indonesia.
Cultural Relations
The Hindu, Buddhist, and later Muslim faiths migrated to Indonesia from India's shores. The stories from the great epics of Ramayana and Mahabharata inspire Indonesian folk art and drama. The shared culture, colonial history, and post-independence goals of political sovereignty, economic self-sufficiency, and independent foreign policy all serve to unite the two countries.
The two countries have an active cultural exchange. The mission runs the Jawaharlal Nehru Indian Cultural Centre (JNICC), which offers regular classes in Indian classical music, Indian classical dances (Kathak and Bharatnatyam), Yoga, and Hindi and Tamil language instruction.
Sahabat India: Festival of India in Indonesia 2015: H.E. Ms Megawati Soekarnoputri, former President of Indonesia, inaugurated 'Sahabat India- The Festival of India in Indonesia' on January 26, 2015. The festival was held from January 26 to August 15, 2015. During the Festival of India, more than 35 different events were held in several prestigious locations in Jakarta, including folk dances, dance drama, puppet shows, musical shows, exhibitions, seminars, mall promotions, screenings of Bollywood cinema, documentaries, and the like.
Indian Community in Indonesia
Around 100,000 Indonesians of Indian origin live in Indonesia, mostly in Greater Jakarta, Medan, Surabaya, and Bandung. They primarily engage in the textile and sporting goods trade. Engineers, consultants, chartered accountants, bankers, and other professionals are among the 10,000 Indian nationals who live in Indonesia.
The Indian community in Indonesia is highly regarded, and prosperous. This includes individuals holding senior positions in both local and multinational corporations. In August 2012, the Embassy established the Indian Cultural Forum (ICF), an umbrella organisation of thirty-one Indian social organisations.
Significance of India – Indonesia Relations
The strategic location of Indonesia at the intersection of the Indian and Pacific Oceans is critical for securing the major sea lanes of communication, given that the South East Indian Ocean is a hotbed of piracy and smuggling of people, arms, drugs, and money; illegal, unreported, and unregulated fishing; and terrorist movement, among other things.
Recently, Indonesia agreed to grant Indian investors access to the strategic island of Sabang, which is close to the Malacca Strait. This would assist India in becoming a provider of security in the Indian Ocean region. Both countries are G20, Non-Aligned Movement (NAM), East Asia Summit, and United Nations members.
China's growing assertiveness in the region has necessitated greater cooperation among the region's various players. Indonesia's support will strengthen its Act East Policy because it is the most populous and economically powerful country in Southeast Asia. In addition, India's SAGAR (Security and Growth for All in the Region) vision aligned with Indonesia's Global Maritime Fulcrum. Both countries are concerned about the rise of religious-based terrorism. As a result, both countries agreed to establish interfaith dialogues to address this issue.
Bilateral Exercises:
Exercise Samudra Shakti is a bilateral maritime exercise.
Garuda Shakti is a joint military exercise between India and Indonesia.
Challenges in India – Indonesia Relations
Even after the Comprehensive Economic Partnership with India, Indonesia would be hesitant to go against China's interests due to its close relationship with China since the Cold War.
After independence, India had good relations with Indonesia because both countries were founders of the Non-alignment movement; however, these relations deteriorated later as India leaned toward the USSR and Indonesia leaned toward the US. Indonesia backed Pakistan during India's war with Pakistan.
The demarcation of the two countries maritime borders in the Andaman Sea has not been completed. During the visit, however, both parties reiterated their intention to resolve the matter as soon as possible.
Article Written by: Remya