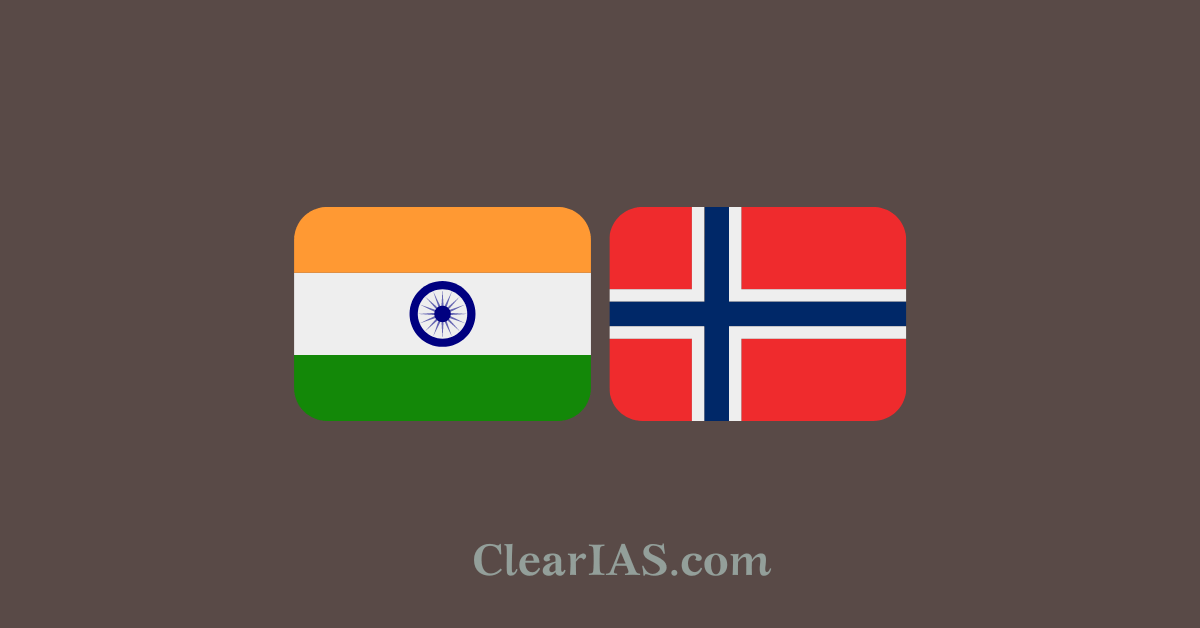 India-Norway relations are on the upswing in economic and commercial platforms. There has been a spurt in trade, investments, transfer of technology, and other contacts.  The two nations have maintained a strong and friendly relationship like India's relations with other Nordic countries. Read here to know more about the bilateral relationship.
The current growth in Indo-Norwegian eco-commercial ties has been fuelled by a common interest, in sectors such as deep off-shore, shipping, hydroelectricity, Information Technology, Bio-Technology, and light consumer goods.
Norwegian IT companies are also looking at offshoring their business to India or investing in Indian start-ups.
Recently, it was reported that the bilateral trade between India and Norway has doubled to $2 billion in the last two years (2020-22).
History of India-Norway relations
Ties between Norway and India have deep historical roots.
As early as the 1600s, a Danish-Norwegian trading station was established in Tranquebar (Tharangambadi), which today lies in the Indian state of Tamil Nadu.
Norway's first Consulates in India opened in Kolkata and Mumbai in 1845 and 1857, respectively.
After independence, the first official contact was in February 1947 through a telegraphed message from Foreign Minister Halvard Lange to India's Special Envoy V.K. Krishna Menon in Stockholm confirming the Norwegian Government's in-principle agreement to establish bilateral relations.
In 1952, the "India fund" was established" with the aim to provide development assistance with a focus on fisheries. The same year, Norway opened its Embassy in New Delhi.
India signed a Double Taxation Avoidance Agreement (DTAA) with Norway in 1986 which was revised in February 2011.
Norway had extended its support to India's bid for a permanent seat in the UN Security Council.
Norway has supported India's membership to export control regimes the Missile Technology Control Regime (MTCR), the Wassenaar Arrangement (WA), and the Australia Group (AG).
Trade and economic relations
Norway sees India as an important partner for economic development.
There has been growth in economic and commercial relations between India and Norway in recent years, especially in areas such as oil and gas, shipping and maritime industries, renewable energy, offshore projects, and service sectors.
Exports from Norway to India include Nonferrous metals, gas natural manufactured, plastic in primary form, crude minerals, chemical material, and products, scientific control equipment, and artificial resins.
The main items of export from India to Norway include articles of apparel and accessories, textile yarns, manufactures of metals, rice, cashew, furniture, travel goods, leather items, coffee, tea, and miscellaneous manufactured articles.
India-Norway Bilateral relations
In 2018, the Norwegian government launched a new 'India Strategy'. The strategy sets clear priorities for the Norwegian government until 2030 and gives renewed impetus to develop our bilateral cooperation.
The India Strategy outlines five thematic priorities:
Democracy and a rules-based world order
The oceans
Energy
Climate and Environment
Research, higher education, and global health
To achieve these objectives, India-Norway focuses on political contact and cooperation between the authorities, business cooperation, and research cooperation.
The joint launch of the India-Norway Task Force on Blue Economy for Sustainable Development took place in 2020.
This task force was inaugurated during the Norwegian Prime Minister's visit to India earlier in 2019.
The task force's goal is to create and maintain cooperation efforts between the two nations.
It also aims to ensure ongoing commitment and advancement across ministries and agencies by bringing together pertinent stakeholders at the highest level from both India and Norway.
Norway and India have a culture cooperation exchange agreement, which is the basis of our government-to-government partnership in this field.
In 2019, Norway and India signed a Memorandum of Understanding (MoU) establishing structured and strategic cooperation on the oceans.
The Indo-Norwegian cooperation on energy aims to develop energy sources that power economic growth, alleviate poverty, and foster peace and prosperity.
Science and Technology
Three Arctic Missions from India have so far visited Norway, in 2007, 2008, and 2009.
India's Polar Research Station "Himadri" was inaugurated at Ny Alesund in Svalbard in July 2008. Teams of our research scientists are regularly visiting the station for conducting research between April and October of each year.
IndARC is India's first underwater moored observatory in the Arctic region. It was deployed in 2014 at Kongsfjorden fjord, Svalbard, Norway. Its research goal is to study the Arctic climate and its influence on the monsoon.
India and Norway are for instance engaging in ways to ensure integrated ocean management through the development of ocean management plans and have initiated large-scale projects to combat marine litter and plastic pollution.
Other areas of cooperation
Norway's commercial ship fleet ranks sixth in the world, and ship recycling was essential to maintaining a contemporary fleet for both competitive and environmental reasons.
Norway and India work closely together in the field of ship recycling and shipbuilding.
The Indian Institute of Technology-Madras and the Institute of Wind Energy in Chennai collaborate academically with Norwegian institutions.
For Indian landmarks like the Taj Mahal, the Norwegian business Piql was involved in building a digital record.
Additionally, the organization worked on the digitalization of ancient sites like Dholavira in Gujarat and the Bhimbhetka Caves in Madhya Pradesh.
In 2010, the Research Council of Norway established the Norwegian Program for Research Cooperation with India (INDNOR) to strengthen and promote cooperation between Norway and India on research and research funding.
India-Norway: Future developments
Norway committed to investing $1 billion from its climate investment fund over the course of five years, with the amount funded in India depending on the projects.
For projects pertaining to wind energy, Norway collaborates with the National Institute of Wind Energy.
To find a strategy to convince enough nations to ratify the Hong Kong Convention, Norway is collaborating closely with India. It will be a legally binding document on a global scale.
Way forward
India-Norway relations are crucial on various fronts but especially for climate change mitigation efforts.
India's developments will have a significant impact on how successful the world is in achieving the Sustainable Development Goals (SDGs) and global climate targets.
Its geopolitical role, its large population, its long coastline, and, not least its booming economy make India an increasingly influential regional and global player and an important partner for Norway.
Norway and India both prioritize stability and predictability. Norway seeks to cooperate with India to strengthen the multilateral governance systems, the international trading system, and the international legal order, not least regarding the oceans.
The Indian government has set a target to double the proportion of gas in its energy mix by 2022. Norway, with its leading expertise and large fossil fuel reserves, can work with India to secure energy supplies through trade and effective resource utilization.
-Article written by Swathi Satish